.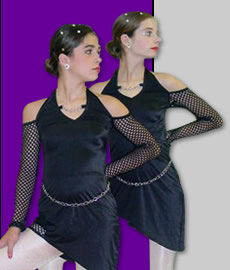 Tommie's Dance Academy, Little Rock School of Dance, Lana's Dance Studio, Ballet Arkansas, are just a few of the dance companies, Arkansas dance schools, dancing organizations and dance wear suppliers that that can be found in our comprehensive Directory of Arkansas Dance Companies.
Featured Arizona Dance Company
Tommie's Dance Academy is family owned and operated and has a rich history in the state of Arkansas. We have been serving dancers and their families for the past 34 years. Our teaching staff has twelve professional dance instructors. Tommie's prides itself on developing a well-rounded dancer by incorporating all three disciplines: Jazz, Ballet and Tap. We also offer classes in Hip-Hop, Pom, Lyrical and Pointe. Classes are offered for 3 yr. olds through Adult.
Tommie's Dance Academy would like to invite those of you who are visiting our website to come by and meet our friendly and professional staff. You can observe us teaching classes and see our wonderful facility. We have two comfortable waiting rooms, two restrooms, a playroom with TV, individual dressing rooms and a study hall. All 3 dance rooms have professional dance floors and several observation windows. Our observation windows allow our parents to see the progress their children are making each week.
---
There are many fine dance schools in Arkansas . I know I am in contact with them as we supply a range of high quality dancewear products like leotards, dance pants, dance dresses and other dancing apparel.
Bangkok Companies supplies an amazing range of dancewear from Thailand. I have looked at these dance garments and dance accessories in detail. There is only one word to describe them Superb. For more details click on the pictures or send an email to bangkokcompanies@gmail.com We regret at this time we can only satisfy Arkansas wholesale dancewear requests.
"Dancewear designed by dancers for dancers"
| | | | | |
| --- | --- | --- | --- | --- |
| Dance Dresses | Kids Leotards | Adult Leotards | Dance Bras | |
| | | | | |
| | Dance Pants | Tutu's | Dance Shorts | |
| | | | | |
| Dancewear | Dancewear Organizers | Dance Bags | Dance Backpacks | |
| | | | | |
Bangkok Companies is a full service product sourcing company in Thailand. For All your dancewear needs please email bangkokcompanies@gmail.com with your requests.
---
Dance Schools in Arkansas, Dancewear Suppliers, Arkansas Dancing Organizations
Plenty Mystic
236 Cedar Street AR 71901 Hot Springs, Arkansas U.S.A.
501-624-6871
Dance school, teach, Cabaret, Tribal Belly Dance, Hip Hop, Flamenco, Gypsy, Gothic styles.
--------------------------------------------------------------------------------
Inge Rogers
236 Cedar Street AR Hot Springs Arkansas U.S.A.
501-624-6871
Dance Tribal, Gothic, Hip Hop, Flamenco
--------------------------------------------------------------------------------
Academy of Dance Joy Murphy
1809 Weir Road AR 72802 Russellville, Arkansas U.S.A. Tel.
(1.501)968.1620
Dance School, dance tuition
--------------------------------------------------------------------------------
Amy's Dance Studio
1419 North 8th Street KS 67005 Arkansas City, Kansas U.S.A.
Tel. (1.316)442.2188
Dance School, dance tuition
--------------------------------------------------------------------------------
Anderson Studio of Dance
Park Street AR 72634 Flippin, Arkansas U.S.A.
Tel. (1.870)453.8382
Dance School, dance tuition
--------------------------------------------------------------------------------
Andrea's Foundation for the Arts
1739 Airport Road AR 71913 Hot Springs, Arkansas U.S.A.
Tel. (1.501)760.2202
Dance School, dance tuition
--------------------------------------------------------------------------------
Antonio Mesa's Dancers' Studio
3515 Old Cantrell Road AR 72202 Little Rock, Arkansas U.S.A. Tel.
(1.501)661.9900
Dance School, dance tuition
--------------------------------------------------------------------------------
Antonio Rhu School of Dance
217 Hicks Circus AR 71913 Hot Springs, Arkansas U.S.A.
Tel. (1.501)623.8441
Dance School, dance tuition
--------------------------------------------------------------------------------
Ark City Dance Etc.
817 North 3rd Street KS 67005 Arkansas City, Kansas U.S.A.
Tel. (1.316)442.8298
www.arkcitydance.com
Terri Schroeder is the Director and employs 2 instructors. We offer
classes in Tap, Jazz, Ballet, Lyrical, Hip Hop, Pom, and Basic Tumbling. Dance School, dance tuition
--------------------------------------------------------------------------------
Arkadelphia Dance Academy
1801 Forrest Park Drive AR 71923 Arkadelphia, Arkansas U.S.A.
Tel. (1.870)246.4233
Dance School, dance tuition
--------------------------------------------------------------------------------
Arkansas Arts Council
1500 Tower Bldg, 323 Center Street AR 72201 Little Rock U.S.A.
Tel. 501.324.9766
www.arkansasarts.com
Foundation, financial assistance to dancers
--------------------------------------------------------------------------------
Arthur Murray Little Rock
4710 John F. Kennedy Blvd. AK 72116 Little Rock, Arkansas U.S.A.
1(501)753-1050; fax 1(501)753-0062
www.lrdance.com
Dance School, teacher, ballroom, couple, social dances
--------------------------------------------------------------------------------
Ballet Arkansas
7509 Cantrell Road # 112 AR 72207 Little Rock, Arkansas U.S.A.
Tel. (1.501)664.9509
www.balletarkansas.org
Ballet Arkansas is committed to providing the vital artistic world of ballet. Whether it is through the performers or through the audience, the productions of Ballet Arkansas promise to enrich the lives of all of those involved.
--------------------------------------------------------------------------------
Shuffles Dance Studios
Shuffles and Ballet II
PO Box 24208
Market & Merill center
501.223.9224
Little Rock - Arkansas
http://www.shufflesdancestudio.com
In addition to our fine reputation in the areas of classical ballet, tap, jazz, modern and musical theatre, we offer a pre-professional program for those students considering dance as a career.
--------------------------------------------------------------------------------
Ballet Westside
121 East Poplar Street AR 72756 Rogers, Arkansas U.S.A.
Tel. (1.501)636.6678
Dance School, dance tuition, ballet
--------------------------------------------------------------------------------
Barb's School of Dance
104 Se 6th Street AR 72712 Bentonville, Arkansas U.S.A.
Tel. (1.501)273.7576
Dance School, dance tuition
--------------------------------------------------------------------------------
Batesville Ballet Etc.
161 West Main Street AR 72501 Batesville, Arkansas U.S.A.
Tel. (1.870)698.9098
Dance School, dance tuition, ballet
--------------------------------------------------------------------------------
Belmont School of Dance
26 Chapel Village AR 71603 Pine Bluff, Arkansas U.S.A.
Tel. (1.870)879.3940
Dance School, dance tuition
--------------------------------------------------------------------------------
Boot Kicker International
871 Honey Creek Road AR 72631 Holiday Island, Arkansas U.S.A.
Tel. (1.501)253.1225
Dance School, dance tuition
--------------------------------------------------------------------------------
Brighton Studio of Performing Art
20 Saint Andrews Drive AR 72212 Little Rock, Arkansas U.S.A.
Tel. (1.501)664.2800
Dance School, dance tuition
--------------------------------------------------------------------------------
Casey's Dance Studio
112 West Main Street AR 71730 El Dorado, Arkansas U.S.A.
Tel. (1.870)863.7217
Dance School, dance tuition
--------------------------------------------------------------------------------
Centerstage
2510 North 17th Street # 201 AR 72756 Rogers, Arkansas U.S.A.
Tel. (1.501)271.0474
School, dance tuition
--------------------------------------------------------------------------------
Christie McNeill Dance Studio
3006 Peabody Drive AR 72404 Jonesboro, Arkansas U.S.A.
Tel. (1.870)932.2377
Dance School, dance tuition
--------------------------------------------------------------------------------
Cindy's School of Dance
1513 North 8th Street KS 67005 Arkansas City, Kansas U.S.A.
Tel. (1.316)442.3680
Dance School, dance tuition
--------------------------------------------------------------------------------
City Limit Club & Dance Ranch
9022 Highway 271 S AR 72908 Fort Smith, Arkansas U.S.A.
Tel. (1.501)649.9600
Dance School, dance tuition
--------------------------------------------------------------------------------
Class Act Studio
South Arkansas LA 71075 Springhill, Louisiana U.S.A.
Tel. (1.318)539.2603
Dance School, dance tuition
--------------------------------------------------------------------------------
Clinton School of Dance
Griggs Street AR 72031 Clinton, Arkansas U.S.A.
Tel. (1.501)745.8366
Dance School, dance tuition
--------------------------------------------------------------------------------
Connie Booth School of Dancing
1590 California Avenue SW AR 71701 Camden, Arkansas U.S.A.
Tel. (1.870)836.5166
Dance School, dance tuition
--------------------------------------------------------------------------------
Country Dance Club
1400 South Young Street AR 72764 Springdale, Arkansas U.S.A.
Tel. (1.501)751.9845
Dance School, dance tuition
--------------------------------------------------------------------------------
Dance & Fitness Connexion
Highway 62 # 5 AR 72542 Hardy, Arkansas U.S.A.
Tel. (1.870)856.4555
Dance School, dance tuition
--------------------------------------------------------------------------------
Dance Arkansas
307 West C Street AR 72801 Russellville, Arkansas U.S.A.
Tel. (1.501)967.8643
Dance School, dance tuition
--------------------------------------------------------------------------------
Dance Connection
607 Broadway Street AR 71762 Smackover, Arkansas U.S.A.
Tel. (1.870)862.3483
Dance School, dance tuition
--------------------------------------------------------------------------------
Dance Connection
2100 North College Avenue AR 71730 El Dorado, Arkansas U.S.A.
Tel. (1.870)862.3483
Dance School, dance tuition
--------------------------------------------------------------------------------
Dance Factory
8402 Dollarway Road AR 71602 Pine Bluff, Arkansas U.S.A.
Tel. (1.870)247.0773
Dance School, dance tuition
--------------------------------------------------------------------------------
Dance Machine
125 1/2 North Market Street AR 72015 Benton, Arkansas U.S.A.
Tel. (1.501)778.7886
Dance School, dance tuition
--------------------------------------------------------------------------------
Dance Shop
1823 Grant Avenue # F AR 72401 Jonesboro, Arkansas U.S.A.
Tel. (1.870)935.3262
Dance Supplier, dancewear, shop
--------------------------------------------------------------------------------
Dance Studio
7509 Cantrell Road # 118 AR 72207 Little Rock, Arkansas U.S.A.
Tel. (1.501)664.6168
Dance School, dance tuition
--------------------------------------------------------------------------------
Dance Unlimited
2823 Bryan Road AR 72956 Van Buren, Arkansas U.S.A.
Tel. (1.501)474.2199
Dance School, dance tuition
--------------------------------------------------------------------------------
Dance Work Shop
218 South Main Street AR 71671 Warren, Arkansas U.S.A.
Tel. (1.870)226.2077
Dance School, dance tuition
--------------------------------------------------------------------------------
Dancingly Yours
Village Mall # 77 AR 72653 Mountain Home, Arkansas U.S.A.
Tel. (1.870)424.5990
Dance School, dance tuition
--------------------------------------------------------------------------------
Danz Gallery
1621 Arkansas Boulevard AR 71854 Texarkana, Arkansas U.S.A.
Tel. (1.870)773.7667
Dance School, dance tuition
--------------------------------------------------------------------------------
De Queen Dance Academy
304 West Collin Raye Boulevard AR 71832 De Queen, Arkansas U.S.A.
Tel. (1.870)642.5011
Dance School, dance tuition
--------------------------------------------------------------------------------
Dorothy Soto's School of Dance
3102 West 36th Avenue AR 71603 Pine Bluff, Arkansas U.S.A.
Tel. (1.870)534.9153
Dance School, dance tuition
--------------------------------------------------------------------------------
Ed's School of Dance
19231 Interstate 30 # A AR 72015 Benton, Arkansas U.S.A.
Tel. (1.501)776.3331
Dance School, dance tuition
--------------------------------------------------------------------------------
Elite School of Performing Arts
4 Miller Street AR 72616 Berryville, Arkansas U.S.A.
Tel. (1.870)423.5304
Dance School, dance tuition
--------------------------------------------------------------------------------
Erika Johnson Abernathy School
3606 Jefferson Avenue AR 71854 Texarkana, Arkansas U.S.A.
Tel. (1.870)772.1921
Dance School, dance tuition
--------------------------------------------------------------------------------
First Presbyterian Music & Art
717 West 32nd Avenue AR 71603 Pine Bluff, Arkansas U.S.A.
Tel. (1.870)534.7831
Dance School, dance tuition
--------------------------------------------------------------------------------
Flame Dance Academy
5912 South 28th Street AR 72908 Fort Smith, Arkansas U.S.A.
Tel. (1.501)646.1616
Dance School, dance tuition
--------------------------------------------------------------------------------
Footlights
1282 Maul Road AR 71701 Camden, Arkansas U.S.A.
Tel. (1.870)836.0319
Dance School, dance tuition
--------------------------------------------------------------------------------
Fort Smith School of Ballet
1604 Rogers Avenue AR 72901 Fort Smith, Arkansas U.S.A.
Tel. (1.501)785.4055
Dance School, dance tuition, ballet
--------------------------------------------------------------------------------
Foundation Arts Education Center
328 South Main Street AR 72401 Jonesboro, Arkansas U.S.A.
Tel. (1.870)935.2726
Dance School, dance tuition
--------------------------------------------------------------------------------
Frances Stokes Dance Studio
3075 East Mission Boulevard AR 72703 Fayetteville, Arkansas U.S.A.
Tel. (1.501)442.6040
Dance School, dance tuition
--------------------------------------------------------------------------------
Fred Astaire Dance Studio
10500 West Markham Street # 107 AR 72205 Little Rock, Arkansas U.S.A.
Tel. (1.501)224.6798
Dance School, dance tuition, ballroom
--------------------------------------------------------------------------------
Fred Astaire Dance Studio
2911 Lakewood Village Drive AR 72116 N Little Rock, Arkansas U.S.A.
Tel. (1.501)758.5560
Dance School, dance tuition, ballroom
--------------------------------------------------------------------------------
Gayle's Studio of Dance
915 Arkansas Street AR 71730 El Dorado, Arkansas U.S.A.
Tel. (1.870)863.9307
Dance School, dance tuition
--------------------------------------------------------------------------------
Greenbrier School of Dance
23 Broadview # A AR 72058 Greenbrier, Arkansas U.S.A.
Tel. (1.501)679.7343
Dance School, dance tuition
--------------------------------------------------------------------------------
Harrison Academy of Dance Arts
112 Mockingbird Street AR 72601 Harrison, Arkansas U.S.A.
Tel. (1.870)741.3117
Dance School, dance tuition
--------------------------------------------------------------------------------
Heart of the Lake Dance & Gym
7010 Greers Ferry Road AR 72067 Greers Ferry, Arkansas U.S.A.
Tel. (1.501)825.6899
Dance School, dance tuition
--------------------------------------------------------------------------------
Huff n' Puff Fitness Dance Center
613 North 1st Street AR 72076 Jacksonville, Arkansas U.S.A.
Tel. (1.501)985.1818
Dance School, dance tuition
--------------------------------------------------------------------------------
Irby Dance Studio
1032 Front Street AR 72032 Conway, Arkansas U.S.A.
Tel. (1.501)327.7600
Dance School, dance tuition
--------------------------------------------------------------------------------
Irby Studio of Dance
124 North Division Street AR 72110 Morrilton, Arkansas U.S.A.
Tel. (1.501)354.6022
Dance School, dance tuition
--------------------------------------------------------------------------------
Joel's House of Dance
5604 West 12th Street AR 72204 Little Rock, Arkansas U.S.A.
Tel. (1.501)663.8090
Dance School, dance tuition
--------------------------------------------------------------------------------
Judi King School of Dance
103 South 3rd Street AR 72543 Heber Springs, Arkansas U.S.A.
Tel. (1.501)362.3107
Dance School, dance tuition
--------------------------------------------------------------------------------
Judy's School of Dance
1418 Highway 52 West AR 71635 Crossett, Arkansas U.S.A.
Tel. (1.870)304.2746
Dance School, dance tuition
--------------------------------------------------------------------------------
Kathy's Dance Arts Studio
620 East North Street AR 71753 Magnolia, Arkansas U.S.A.
Tel. (1.870)234.2069
Dance School, dance tuition
--------------------------------------------------------------------------------
Kim's Dance Factory
105 West Gaines Street # B AR 71655 Monticello, Arkansas U.S.A.
Tel. (1.870)367.3655
Dance School, dance tuition
--------------------------------------------------------------------------------
Lana's Dance Studio
314 Jacuzzi Lane AR 72086 Lonoke, Arkansas U.S.A.
Tel. (1.501)676.3350
Dance School, dance tuition
--------------------------------------------------------------------------------
Linda's School of Dancing
211 NE 2nd Street AR 72022 Bryant, Arkansas U.S.A.
Tel. (1.501)847.4693
Dance School, dance tuition
--------------------------------------------------------------------------------
Lips Fingers & Toes
827 3rd Street AR 71913 Hot Springs, Arkansas U.S.A.
Tel. (1.501)624.4331
School, dance tuition
--------------------------------------------------------------------------------
Little Rock School of Dance
8620 Cunningham Lake Road AR 72205 Little Rock, Arkansas U.S.A.
Tel. (1.501)225.6232
Dance School, dance tuition
--------------------------------------------------------------------------------
Lorene Lloyd McAfee Ballet
3604 Kavanaugh Boulevard AR 72205 Little Rock, Arkansas U.S.A.
Tel. (1.501)666.9538
Dance School, dance tuition
--------------------------------------------------------------------------------
Marion Burgess Dance Studio
620 West Broadway Street West AR 72301 Memphis, Arkansas U.S.A.
Tel. (1.870)732.1781
Dance School, dance tuition
--------------------------------------------------------------------------------
Marjory Hall School of Dance
126 West 3rd Street AR 72104 Malvern, Arkansas U.S.A.
Tel. (1.501)337.4966
Dance School, dance tuition
--------------------------------------------------------------------------------
Monticello Academy of Self Defense
107 North Main Street AR 71655 Monticello, Arkansas U.S.A.
Tel. (1.870)367.1967
Dance School, dance tuition
--------------------------------------------------------------------------------
Mountain View School of Ballet
306 Maple Drive AR 72560 Mountain View, Arkansas U.S.A.
Tel. (1.870)269.4555
Dance School, dance tuition, ballet
--------------------------------------------------------------------------------
Ms. Karen's Dance Studio
4625 John F Kennedy Boulevard AR 72116 N Little Rock, Arkansas U.S.A.
Tel. (1.501)771.2351
Dance School, dance tuition
--------------------------------------------------------------------------------
Nite on the Towne Dance Studio
3100 West Arkansas Lane TX 76016 Arlington, Texas U.S.A.
Tel. (1.817)274.1372
Dance School, tuition
--------------------------------------------------------------------------------
Ozark Folk Center, Ozark Dance Festival
PO Box 500 AR 72560 Mountain View, Arkansas U.S.A.
Tel. (1.870)269.3851
Dance School
--------------------------------------------------------------------------------
Performing Arts Studio
211 Albert Pike Road AR 71913 Hot Springs, Arkansas U.S.A.
Tel. (1.501)623.3421
Dance School, dance tuition
--------------------------------------------------------------------------------
Pine Bluff Dance Academy
2526 East Harding Avenue AR 71601 Pine Bluff, Arkansas U.S.A.
Tel. (1.870)534.1053
Dance School, dance tuition
--------------------------------------------------------------------------------
Renee Stokes School of Dance
106 East 3rd Avenue AR 71635 Crossett, Arkansas U.S.A.
Tel. (1.870)364.8298
Dance School, dance tuition
--------------------------------------------------------------------------------
Rhythm & Shoes Dance Studio
75 Via Detonti AR 72762 Springdale, Arkansas U.S.A.
Tel. (1.501)361.2236
Dance School, dance tuition
--------------------------------------------------------------------------------
Rising Star Dance Academy
117 East Stephenson Avenue AR 72601 Harrison, Arkansas U.S.A.
Tel. (1.870)743.3746
Dance School, dance tuition
--------------------------------------------------------------------------------
Ronnie's Dance Studio
105 Wingate Street AR 72315 Blytheville, Arkansas U.S.A.
Tel. (1.870)763.1794
Dance School, dance tuition
--------------------------------------------------------------------------------
Russellville Dance & Gymnastic
1402 South Ofwago Road AR 72801 Russellville, Arkansas U.S.A.
Tel. (1.501)968.4321
Dance School, dance tuition
--------------------------------------------------------------------------------
Sharon's School of Baton Dance
213 North James Street AR 72076 Jacksonville, Arkansas U.S.A.
Tel. (1.501)982.3898
Dance School, dance tuition
--------------------------------------------------------------------------------
Southern All-Star Cloggers
2306 East Matthews Avenue AR 72401 Jonesboro, Arkansas U.S.A.
Tel. (1.870)933.9744
Dance School, dance tuition, clogging
--------------------------------------------------------------------------------
Stage Door Dance Company
413 Highway 64 West AR 72396 Wynne, Arkansas U.S.A.
Dance Company, tap, jazz, hip hop, ballet, pointe
--------------------------------------------------------------------------------
Star Dance Studio
606 Lillian Street AR 72015 Benton, Arkansas U.S.A.
Tel. (1.501)315.7827
Dance School, dance tuition
--------------------------------------------------------------------------------
Steppin' Out Dance Studio
1912 South University Avenue AR 72204 Little Rock, Arkansas U.S.A.
Tel. (1.501)663.1907
Dance School, dance tuition
--------------------------------------------------------------------------------
Studio Allegro
1820 South Buerkle Street AR 72160 Stuttgart, Arkansas U.S.A.
Tel. (1.870)673.3101
Dance School, dance tuition
--------------------------------------------------------------------------------
Stuttgart Dance & Gymnastics
305 West 22nd Street AR 72160 Stuttgart, Arkansas U.S.A.
Tel. (1.870)673.3771
Dance School, dance tuition
--------------------------------------------------------------------------------
Superstars Performing Arts
6929 John F Kennedy Boulevard AR 72116 N Little Rock, Arkansas U.S.A.
Tel. (1.501)834.2500
Dance School, dance tuition
--------------------------------------------------------------------------------
T.J.'s Dance Studio
105 West Main Street AR 72315 Blytheville, Arkansas U.S.A.
Tel. (1.870)763.7150
School, dance tuition
--------------------------------------------------------------------------------
Tena's Gymnastics Academy
815 Reasoner Lane AR 72802 Russellville, Arkansas U.S.A.
Tel. (1.501)968.6713
Dance School, dance tuition
--------------------------------------------------------------------------------
Tommie's Dance Academy
5 Innwood Circus AR 72211 Little Rock, Arkansas U.S.A.
Tel. (1.501)225.6601
Dance School, dance tuition
--------------------------------------------------------------------------------
Loraine Backus
PO Box 17128 AR 72222-7128 Little Rock, Arkansas U.S.A.
Tel. (1.501)312.2264; Fax (1.501)312.7611
Dance Teacher, square dance
--------------------------------------------------------------------------------
David Roddy
PO Box 5714 AR 72913-5714 Fort Smith, Arkansas U.S.A.
Tel. (1.501)646.6272
Swing dance club