.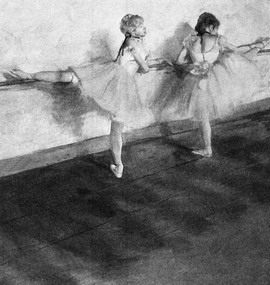 The New Haven Ballet, New England Ballet, Stamford City Ballet, are just a few of the dance companies, Connecticut dance schools, dancing organizations and dance wear suppliers that that can be found in our comprehensive Directory of Connecticut Dance Companies.
Featured Connecticut Dance Company
The New Haven Ballet
Now in its 20th year, the New Haven Ballet provides the finest classical ballet training in southern Connecticut. The school's curriculum is designed to develop strong, flexible, and versatile dancers who can adapt to a variety of styles and dance forms.

The faculty of the New Haven Ballet is committed to helping students reach their full potential regardless of whether they plan a professional career in dance. The skills acquired by students of the New Haven Ballet can take them far beyond the studio and stage and help them succeed in every area of life.

Pre-Primary 1 and Pre-Primary 2 combine elements of creative movement, body awareness, and rhythmic exercises using games, visualization, props, stories, and improvisation all in a ballet context. Primary 1 begins formalized ballet training while retaining creative elements from the Pre-Ballet levels. Junior Division Primary 2, (1 class per week) Pre-Elementary (1 or 2 classes per week) Elementary 1, ( 1, 2 or 3 classes per week)

Students learn all of the primary exercises and steps in these levels. Extra concentration is placed on flexibility, body alignment, terminology, and dance history. Special emphasis is also placed on strengthening the students for pointe work.

Elementary 2 is the introductory level for pointe work. Students also learn to fully integrate head, arm and leg movements. In Intermediate 1 through Advanced 2, the emphasis is on detail and quality of movement, concentrating on developing each student's individual artistry as well as addressing any weaknesses. Placement at these levels is based on previous training, strength, natural ability, and age.

Within six months to a year most students will be prepared to start the Beginners/Intermediate course, in which steps are assembled to create combinations in a more challenging format. The Intermediate/Advanced level gives students the opportunity to perform more challenging combinations as they work on artistry and stamina.
---
There are many fine dance schools in Connecticut. I know I am in contact with them as we supply a range of high quality dancewear products like leotards, dance pants, dance dresses and other dancing apparel.
Bangkok Companies supplies an amazing range of dancewear from Thailand. I have looked at these dance garments and dance accessories in detail. There is only one word to describe them Superb. For more details click on the pictures or send an email to bangkokcompanies@gmail.com We regret at this time we can only satisfy Connecticut wholesale dancewear requests.
"Dancewear designed by dancers for dancers"
| | | | | |
| --- | --- | --- | --- | --- |
| Dance Dresses | Kids Leotards | Adult Leotards | Dance Bras | |
| | | | | |
| | Dance Pants | Tutu's | Dance Shorts | |
| | | | | |
| Dancewear | Dancewear Organizers | Dance Bags | Dance Backpacks | |
| | | | | |
Bangkok Companies is a full service product sourcing company in Thailand. For All your dancewear needs please email bangkokcompanies@gmail.com with your requests.
---
Dance Schools in Connecticut, Dancewear Suppliers, Connecticut Dancing Organizations
Briarwood College and Nutmeg Ballet
2279 Mount Vernon Road CT 06489 Southington, Connecticut U.S.A.
Tel. (1.800)952.2444
www.briarwood.edu
Dance School, ballet, courses
--------------------------------------------------------------------------------
John C. Carney
New Haven Ballet
70 Audubon St. CT 06510 New Haven, Connecticut U.S.A.
(203) 782-9038, fax (203) 776-5390
www.newhavenballet.org
Ballet
--------------------------------------------------------------------------------
Karen T. Goodman
New England Ballet
200 Boston Post Rd. CT 06477Orange, Connecticut U.S.A.
(203) 799-7950
www.newenglandballet.org
Ballet
--------------------------------------------------------------------------------
Kenneth Hopkins
New England Ballet
200 Boston Post Rd. CT 06477Orange, Connecticut U.S.A.
(203) 799-7950
www.newenglandballet.org
Ballet
--------------------------------------------------------------------------------
Steven Hyde
New England Ballet
200 Boston Post Rd. CT 06477Orange, Connecticut U.S.A.
203) 799-7950
www.newenglandballet.org
Ballet
--------------------------------------------------------------------------------
Helen Stevenson
P.O. Box 461 CT 06095 Windsor, Connecticut U.S.A.
(860) 688-6436; Fax (860) 298-8489
Ballet
--------------------------------------------------------------------------------
Ballet Academy of Westport
CT 06880 Westport, Connecticut U.S.A.
Dance School, dance tuition, ballet
--------------------------------------------------------------------------------
Ballet East
CT 06790 Torrington, Connecticut U.S.A.
Dance School, dance tuition, ballet
--------------------------------------------------------------------------------
Beiling Ballet School
CT 06604 Bridgeport, Connecticut U.S.A.
Dance School, dance tuition, ballet
--------------------------------------------------------------------------------
Berkshire Foothills Ballet
CT 06098 Winsted, Connecticut U.S.A.
Dance School, dance tuition, ballet
--------------------------------------------------------------------------------
Connecticut Ballet Center
CT 06902 Stamford, Connecticut U.S.A.
Dance School, dance tuition, ballet
--------------------------------------------------------------------------------
Connecticut Ballet Theatre
CT 06490 Southport, Connecticut U.S.A.
Dance School, dance tuition, ballet
--------------------------------------------------------------------------------
Connecticut Concert Ballet
CT 06040 Manchester, Connecticut U.S.A.
Dance School, dance tuition, ballet
--------------------------------------------------------------------------------
Greenwich Ballet School
Glenville Road CT 06831 Greenwich, Connecticut U.S.A.
Tel. (1.203)625.0280
Dance School, dance tuition, ballet
--------------------------------------------------------------------------------
Greenwich Ballet Workshop
339 Round Hill Road CT 06831 Greenwich, Connecticut U.S.A.
Tel. (1.203)661.0614
Dance School, dance tuition, ballet
--------------------------------------------------------------------------------
Lisa Denaro School of Ballet
500 Purdy Hill Road CT 06468 Monroe, Connecticut U.S.A.
Tel. (1.203)261.1181
Dance School, dance tuition, ballet
--------------------------------------------------------------------------------
Marthe Krueger Ballet Studio
257 Katydid Lane CT 06897 Wilton, Connecticut U.S.A.
Tel. (1.203)762.9643
Dance School, dance tuition, ballet
--------------------------------------------------------------------------------
Northeast School of Ballet
136 Market Square CT 06111 Newington, Connecticut U.S.A.
Tel. (1.860)667.9940
Dance School, dance tuition, ballet
--------------------------------------------------------------------------------
Northern Connecticut Ballet
599 Matianuck Avenue CT 06095 Windsor, Connecticut U.S.A.
Tel. (1.860)688.6436
Dance School, dance tuition, ballet
--------------------------------------------------------------------------------
Ridgefield Civic Ballet
444 Main Street CT 06877 Ridgefield, Connecticut U.S.A.
Tel. (1.203)438.5597
Dance School, dance tuition, ballet company
--------------------------------------------------------------------------------
Stamford City Ballet Inc
50 Atlantic Street CT 06901 Stamford, Connecticut U.S.A.
Tel. (1.203)964.0506
Dance School, dance tuition, ballet
--------------------------------------------------------------------------------
Studio of Ballet & Jazz Tech
84 Rainville Avenue CT 06340 Groton, Connecticut U.S.A.
Tel. (1.860)445.1459
Dance School, dance tuition, ballet, jazz
--------------------------------------------------------------------------------
Studio Vacker Ballet School
39 Wall Street CT 06850 Norwalk, Connecticut U.S.A.
Tel. (1.203)855.1404
Dance School, dance tuition, ballet
--------------------------------------------------------------------------------
Torrington School of Ballet
21 Water Street CT 06790 Torrington, Connecticut U.S.A.
Tel. (1.860)482.7375
Dance School, dance tuition, ballet
--------------------------------------------------------------------------------
Valley Ballet
51 Bridge Street CT 06022 Collinsville, Connecticut U.S.A.
Tel. (1.860)693.6042
School, dance tuition, ballet
--------------------------------------------------------------------------------
Noble Barker
70 Audubon Street CT 06510 New Haven, Connecticut U.S.A.
Tel. (1.203)782.9038; Fax (1.203)776.5390
Dance Company, ballet, professional, performing
--------------------------------------------------------------------------------
Donna Bonasera
523 Main Street CT 06795 Watertown, Connecticut U.S.A.
Tel. (1.860)274.0004; Fax (1.860)274.0004
Dance Company, modern, Ballet, Musical Theatre Pre-Professional Training Programs,
Professional Performances
--------------------------------------------------------------------------------
Sharon E. Dante
21 Water Street CT 06790 Torrington, Connecticut U.S.A.
Tel. (1.860)482 4413; Fax (1.8600482 7614
www.nutmegballet.org
Dance Company
--------------------------------------------------------------------------------
Judy Dworin
300 Summit Street CT 06106-3100 Hartford, Connecticut U.S.A.
Tel. (1.860)297.2409
Dance School, ballet, modern
--------------------------------------------------------------------------------
Kenneth Hopkins
200 Boston Post Road CT 06477 Orange, Connecticut U.S.A.
Tel. (1.203)799.7950
Dance School, ballet, modern
--------------------------------------------------------------------------------
Vanessa Logan
523 Main Street CT 06795 Watertown, Connecticut U.S.A.
Tel. & Fax (1.860)274.0004
Ballet, Musical Theatre Pre-Professional Training Programs, Professional Performances
--------------------------------------------------------------------------------
Peggy Lyman
224 Farmington Avenue CT 06105 Hartford, Connecticut U.S.A.
Tel. (1.860)525.9396
www.hartford.edu/hartt/hartt/www/html/pr
Dance School, dance tuition, ballet
--------------------------------------------------------------------------------
Stephanie Marini
25 Bedford Street, 2nd floor CT 06901 Stamford, Connecticut U.S.A.
Tel. (1.203)358.8853
Dance School, ballet
--------------------------------------------------------------------------------
Kirk Peterson
224 Farmington Avenue CT 06105 Hartford, Connecticut U.S.A.
Tel. (1.860)525.9396; Fax (1.860)249.8116
Dance Company, modern, ballet
--------------------------------------------------------------------------------
Brett Raphael
20 Acosta Street CT 06902 Stamford, Connecticut U.S.A.
Tel. (1.203)964 1211; Fax (1.203)961 1928
www.connecticutballet.com
Dance Company, modern, ballet
--------------------------------------------------------------------------------
Lise Reardon
435 Boston Post Road CT 06333 East Lyme, Connecticut U.S.A.
Tel. (1.860)739.7899
Dance Company, ballet, professional, performing, school
--------------------------------------------------------------------------------
David Richardson
Amy Wilder, Placement Dir. 50 Atlantic Street CT 06901 Stamford, Connecticut U.S.A.
Tel. (1.860)964.0506
Dance School, ballet
--------------------------------------------------------------------------------
Betty Seibert
233 Magee Drive CT 06514 Hamden, Connecticut U.S.A.
Tel. (1.203)288.2863; Fax (1.287)0853
Dance School, ballet
--------------------------------------------------------------------------------
Angela D'Valda Sirico
1580 Post Road CT 06430 Fairfield, Connecticut U.S.A.
Tel. (1.203)255.9440; Fax (1.203.255.9640
Ballet, Jazz, Tap, Lyrical
--------------------------------------------------------------------------------
Helen Stevenson
PO Box 461 CT 06095 Windsor, Connecticut U.S.A.
Tel. (1.860)688.6436; Fax (1.860)298.8489
Dance Company, ballet, professional, performing
--------------------------------------------------------------------------------
Alan A. Woodard
PO Box 865 CT 06490 Southport, Connecticut U.S.A.
Tel. (1.203)255.3701
Dance School, ballet, modern
--------------------------------------------------------------------------------
Albano Ballet and Performing Center
CT 06105 Hartford, Connecticut U.S.A.
Dance School, dance tuition, ballet
--------------------------------------------------------------------------------
Cheryl Cutler
CT 06459 Middletown, Connecticut U.S.A.
Tel. (1.203)685.2290
Dance School, ballet, modern
--------------------------------------------------------------------------------
Barbara Baran
69, Mulcahy Drive 06118 East Hartford, Connecticut U.S.A.
(860) 568-1401
www.ballroomdancect.com
The Greater Hartford Chapter promotes amateur ballroom dance by introducing the physical,
mental, and social benefits of ballroom dance and by promoting social, performance and
competitive ballroom dancing
--------------------------------------------------------------------------------
Marla Cohen
377 Cornwall Street CT 06112 West Hartford, Connecticut U.S.A.
(860)242-4130
Community Center. Coordinator of Israel Folk Dance programs/choreographer of resident dance company
--------------------------------------------------------------------------------
Anita Deprey Studio of Dance
CT 06118 East Hartford, Connecticut U.S.A.
Dance School, dance tuition
--------------------------------------------------------------------------------
Connecticut Commission on the Arts
1 Financial Plaza, 755 Main Street CT 06103 Hartford U.S.A.
Tel. 860.566.4770
www.ctarts.org
Foundation, financial assistance to dancers
--------------------------------------------------------------------------------
Cultural Dance Troupe
CT 06120 Hartford, Connecticut U.S.A.
Dance School, dance tuition
--------------------------------------------------------------------------------
Dance Express of Tolland
68 Hartford Turnpike CT 06084 Tolland, Connecticut U.S.A.
Tel. (1.860)871.1922
Dance School, dance tuition
--------------------------------------------------------------------------------
Dawn's Studio of Creative Dance
32 Hartford Turnpike CT 06066 Vernon Rockville, Connecticut U.S.A.
Tel. (1.860)645.9031
Dance School, dance tuition
--------------------------------------------------------------------------------
Estelle Jones School of Dance
20 Raymond Road CT 06107 West Hartford, Connecticut U.S.A.
Tel. (1.860)236.1422
Dance School, dance tuition
--------------------------------------------------------------------------------
Fred Astaire Dance Studio
1128 New Britain Avenue # A CT 06110 West Hartford, Connecticut U.S.A.
Tel. (1.860)232.2678
Dance School, dance tuition, ballroom
--------------------------------------------------------------------------------
Grossi Conservatory of Music
1135 Hartford Turnpike CT 06066 Vernon Rockville, Connecticut U.S.A.
Tel. (1.860)872.1498
Dance School, dance tuition
--------------------------------------------------------------------------------
Hartford Camerata Conservatory
834 Asylum Avenue CT 06105 Hartford, Connecticut U.S.A.
Tel. (1.860)246.2588
Dance School, dance tuition
--------------------------------------------------------------------------------
Jane Hart School of Dancing
699 Broadview Ter CT 06106 Hartford, Connecticut U.S.A.
Tel. (1.860)953.2816
Dance School, dance tuition
-------------------------------------------------------------------------------
Jo-Ann Ferrero School of Dancing
8 Mountford Street CT 06114 Hartford, Connecticut U.S.A.
Tel. (1.860)247.4772
Dance School, dance tuition
--------------------------------------------------------------------------------
Mary M. Morlock School of Arts
988 Main Street CT 06108 East Hartford, Connecticut U.S.A.
Tel. (1.860)289.7338
Dance School, dance tuition
--------------------------------------------------------------------------------
Shirley's Country Dance Center
460 Hartford Turnpike CT 06066 Vernon Rockville, Connecticut U.S.A.
Tel. (1.860)870.7360
Dance School, dance tuition, country
--------------------------------------------------------------------------------
Sonia Plumb Dance Company
101 Pearl Street CT 06103 Hartford, Connecticut U.S.A.
Tel. (1.860)246.0406
Dance School, dance tuition
--------------------------------------------------------------------------------
Works & Laura Glenn Dance
233 Pearl Street # 16 CT 06103 Hartford, Connecticut U.S.A.
Tel. (1.860)527.0226
Dance School, dance tuition
--------------------------------------------------------------------------------
Worlds Inc.
214 Farmington Avenue CT 06105 Hartford, Connecticut U.S.A.
Tel. (1.860)527.0226; Fax (1.860)278.5461
Dance Company
--------------------------------------------------------------------------------
Leora Berns
16 Willowbrook Road CT 06107-1638 West Hartford, Connecticut U.S.A.
Tel. (1.860)521.6440
Dance Group, folk, International, recreational
--------------------------------------------------------------------------------
Jim Cowles
192 Hartford Road CT 06040 Manchester, Connecticut U.S.A.
Tel. (1.860)646.6505)
Freestyle dance & movement
--------------------------------------------------------------------------------
Judy Dworin
300 Summit Street CT 06106-3100 Hartford, Connecticut U.S.A.
Tel. (1.860)297.2409
Dance School, ballet, modern
--------------------------------------------------------------------------------
"Shalimar" Robin Kelsey
134 Brown Street CT 06114 Hartford, Connecticut U.S.A.
Tel. (1.860)296.5360
Dance Company
--------------------------------------------------------------------------------
Peggy Lyman
224 Farmington Avenue CT 06105 Hartford, Connecticut U.S.A.
Tel. (1.860)525.9396
www.hartford.edu/hartt/hartt/www/html/pr
Dance School, dance tuition, ballet
--------------------------------------------------------------------------------
Enid Lynn
224 Farmington Avenue CT 06105 Hartford, Connecticut U.S.A.
Tel. (1.860)525.9396; Fax (1.860)249.8116
Dance School
--------------------------------------------------------------------------------
Patrick Nollet
224 Farmington Avenue CT 06105 Hartford, Connecticut U.S.A.
Tel. (1.860)525.9396; Fax (1.860)249.8116
http://uhavax.hartford.edu/~nollet
Dance School
--------------------------------------------------------------------------------
Kirk Peterson
224 Farmington Avenue CT 06105 Hartford, Connecticut U.S.A.
Tel. (1.860)525.9396; Fax (1.860)249.8116
Dance Company, modern, ballet
--------------------------------------------------------------------------------
David Schonfeld
16 Willowbrook Road CT 06107-1638 West Hartford, Connecticut U.S.A.
Tel. (1.860)521.6440
Dance Group, folk, International, recreational
--------------------------------------------------------------------------------
Margaret Wood
224 Farmington Avenue CT 06105 Hartford U.S.A.
Tel. (1.860)525 9396; Fax (1.860)249 8116
www.danceconnecticut.com
Dance
--------------------------------------------------------------------------------
Albano Ballet and Performing Center
CT 06105 Hartford, Connecticut U.S.A.
Dance School, Dance Tuition, Ballet School