.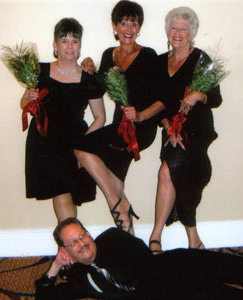 Let's Dance Club in Indiana, Beautiful Feet Dance Ministry, Academy of Indianapolis Ballet, are just a few of the dance companies, Indiana dance schools, dancing organizations and dance wear suppliers that that can be found in our comprehensive Directory of Indiana Dance Companies.
Featured American Dance Company
Let's Dance Club

Learn ballroom dance at the Let's Dance Club. Located in Indianapolis, the Let's Dance Club has been teaching ballroom dance for over 27 years. Learn Swing, Tango, Fox Trot, Samba, Salsa, Waltz, Cha Cha, Mambo, Rumba, and more.

Dance is Magic... it transforms your feelings, attitudes, goals, self image, and your life. It motivates, disciplines, encourages, amuses, excites, calms, refreshes, enchants, and relaxes.

Let's Dance Club is an exciting club concept offering expert dance instruction, a variety of dance programs and memberships to fit every budget. As a school we teach you to dance with the best of them and as a Club we provide you with the best of them to dance with.

We feel that we have one of the finest teaching systems in the country. We use the interrelated award system, which is teaching the relationship between several dances, patterns, and dance concepts. This has been Proven to be the Fastest Way to make you a good and versatile social dancer. Our club has taught thousands of members since 1978 to become excellent dancers using this Award System.
---
There are many fine dance schools in Indiana. I know I am in contact with them as we supply a range of high quality dancewear products like leotards, dance pants, dance dresses and other dancing apparel.
Bangkok Companies supplies an amazing range of dancewear from Thailand. I have looked at these dance garments and dance accessories in detail. There is only one word to describe them Superb. For more details click on the pictures or send an email to bangkokcompanies@gmail.com We regret at this time we can only satisfy Indiana wholesale dancewear requests.
"Dancewear designed by dancers for dancers"
| | | | | |
| --- | --- | --- | --- | --- |
| Dance Dresses | Kids Leotards | Adult Leotards | Dance Bras | |
| | | | | |
| | Dance Pants | Tutu's | Dance Shorts | |
| | | | | |
| Dancewear | Dancewear Organizers | Dance Bags | Dance Backpacks | |
| | | | | |
Bangkok Companies is a full service product sourcing company in Thailand. For All your dancewear needs please email bangkokcompanies@gmail.com with your requests.
---
Dance Schools in Indiana, Dancewear Suppliers, Indiana Dancing Organizations
Donna Martelli
Beautiful Feet Dance Ministry
P.O. Box 55915 IN 46220 Indianapolis, Indiana U.S.A.
317-255-7283
www.beautifulfeetdanceministry.com
Christian Dance Ministry, Ballet, Praise Dance, Dance Workshops, Dance Conferences, Private Dance Instruction, Group Dance Instruction, Dance Ministry Presentations
--------------------------------------------------------------------------------
Marek Cholewa
4600 Sunset Ave. IN 46208 Indianapolis U.S.A.
Tel. 317-940-9664, FAX 317-926-0533
Graduate of the N. Rimsky-Korsakov Music Conservatoire in St. Petersburg, Russia; areas of
expertise: Ballet, Pas de Deux, Classical Repertoire, Slavic Character School,
--------------------------------------------------------------------------------
Marcia Heintzberger
3669, Lakeshore Drive 46506 Bremen, Indiana U.S.A.
1-574-546-3325
Dance Training-Bently Stone, Walter Camryn, Rosemary Doolas. Style is eclectic in ballet, jazz, modern. Director of Co-Arts Productions, dances as a soloist ,dances abroad with Fountainhead Tanz Theatre.
--------------------------------------------------------------------------------
Doricha Sales
100 N. Jordan Ave , MAC 308 IN 47405 Indiana U.S.A.
Tel. 812-855-6787, FAX 812-855-2753
Dance teacher, administrator, ballet mistress, choreographer of ballet; associate director of Pre- College Ballet Program
--------------------------------------------------------------------------------
Academy of Ballet Theatre
55 South Jackson Street Fl 2 IN 46041 Frankfort, Indiana U.S.A.
Tel. (1.765)654.0183
Dance School, dance tuition, ballet
--------------------------------------------------------------------------------
Academy of Indianapolis Ballet
502 North Capitol Avenue # B IN 46204 Indianapolis, Indiana U.S.A.
Tel. (1.317)637.8979
Dance School, dance tuition, ballet
--------------------------------------------------------------------------------
Ball State University
Dance Department IN 47306 Muncie, Indiana U.S.A.
Dance School, ballet, jazz, modern
--------------------------------------------------------------------------------
Ballet Academy of Performing Arts
206 West Ireland Road # A IN 46614 South Bend, Indiana U.S.A.
Tel. (1.219)291.1147
Dance School
--------------------------------------------------------------------------------
Ballet Center
3111 North 1st Avenue IN 47710 Evansville, Indiana U.S.A.
Tel. (1.812)424.2344
Dance School, dance tuition, ballet
--------------------------------------------------------------------------------
Bloomington Civic Ballet
3900 Industrial Boulevard # 1 IN 47403 Bloomington, Indiana U.S.A.
tel. (1.812)331.0030
Dance School, dance tuition, ballet
--------------------------------------------------------------------------------
Children's Ballet
51 South Tennessee Street IN 46122 Danville, Indiana U.S.A.
Tel. (1.317)745.5110
Dance School, dance tuition, ballet
--------------------------------------------------------------------------------
Dance World Bazaar
1553 Commerce East Drive IN 47240 Greenburg, Indiana U.S.A.
Tel. (1.812)663.7679; Fax (1.812)663.4150
Dance School, ballet
--------------------------------------------------------------------------------
Fairview Ballet Studio
4609 North Capitol Avenue IN 46208 Indianapolis, Indiana U.S.A.
Tel. (1.317)253.5982
Dance School, dance tuition, ballet
--------------------------------------------------------------------------------
Imperial Dance Studios ISTD, Indiana Ballet Theatre NW
8390 East 109th Avenue IN 46307 Crown Point, Indiana U.S.A.
Tel. (1.219)663.6242
Dance School, ballet
--------------------------------------------------------------------------------
Indiana University, Ballet Department, School of Music
IN 47405 Bloomington, Indiana U.S.A.
Tel. (1.812)855.6787
Dance School, ballet
--------------------------------------------------------------------------------
Lafayette Ballet School
628 Main Street IN 47901 Lafayette, Indiana U.S.A.
Tel. (1.765)423.1633
Dance School, dance tuition, ballet
--------------------------------------------------------------------------------
Muncie Ballet Studio
130 West Jackson Street Fl 2 IN 47305 Muncie, Indiana U.S.A.
Tel. (1.765)289.7361
Dance School, dance tuition, ballet
--------------------------------------------------------------------------------
Performing Arts School of Ballet
State Road 48 IN 47041 Sunman, Indiana U.S.A.
Tel. (1.812)623.2247
Dance School, dance tuition, ballet
--------------------------------------------------------------------------------
Eldar Aliev
502 North Capitol Avenue, suite B IN 46204 Indianapolis, Indiana U.S.A.
Tel. (1.317)637.8979; Fax (1.317)637.1637
www.balletinternationale.org
Classical ballet company
--------------------------------------------------------------------------------
Jean B. Galan
502 North Capitol Avenue, suite B IN 46204 Indianapolis, Indiana U.S.A.
Tel. (1.317)637.8979; Fax (1.317)637.1637
Dance Company, modern, ballet
--------------------------------------------------------------------------------
Carolynn Hine-Johnson
3214 South Michigan Street IN 46614 South Bend, Indiana U.S.A.
Tel. (1.219)291.1904
Dance School, ballet
--------------------------------------------------------------------------------
Irina Kolpakova
502 North Capitol, Suite B IN 46204 Indianapolis U.S.A.
Tel. (1.317)637 8979; Fax (1.317)637 1637
www.balletinternationale.org
Dance Company, modern, ballet
--------------------------------------------------------------------------------
Kennet Oberly
324 Penn Avenue IN 46805 Fort Wayne, Indiana U.S.A.
Tel. (1.219)484.9646; Fax (1.219)484.9647
Dance Company, modern, ballet
--------------------------------------------------------------------------------
Tusa Rebecca Schap
211 South 6th Street IN 47901 Lafayette, Indiana U.S.A.
Dance Company, ballet
--------------------------------------------------------------------------------
Lou Ann Young
29 East Dillon Street IN 46016 Anderson, Indiana U.S.A.
Tel. (1.765)643.2184
Dance Company, ballet, School, dance tuition
--------------------------------------------------------------------------------
Virginia Cesbron
Ballet Dept. Mac 306, School of Music IN 47405 Bloomington, Indiana U.S.A.
Dance Company
--------------------------------------------------------------------------------
Clara E.-Henderson
Morrison Hall 005, 1165 E 3rd St IN 05 Bloomington, Indiana U.S.A.
Tel. (812) 856-1323, FAX (812) 856-3133
http://webdb.iu.edu/sem/scripts/groups/s
The SEM Dance Section membership understands dance and movement as relevant aspects of musical life; considers dance on its own terms and in relationship to music; advocates the study of dance
--------------------------------------------------------------------------------
Katya Faris
900, Bay Pointe Dr. IN 47401 Bloomington, Indiana U.S.A.
Tel. 812-824-7813
www.katyafaris.com
Katya Faris has been dancing in the traditions of the Middle East for 15 years. Her academic
background is in Socio-Cultural Anthropology, which she started studying at Butler University in Indianapolis
--------------------------------------------------------------------------------
Elizabeth Limons-Shea
1025 E. 7th Street IN 47405 Bloomington, Indiana U.S.A.
Tel. (812) 855-7020
www.indiana.edu/~kines
Major in Dance (B.S.)
--------------------------------------------------------------------------------
Sarah Quick
47404 Bloomington, Indiana SB 130,
Department of Anthropology IN Bloomington Indiana U.S.A.
Tel. 803-309-9107
Anthropology of Dance, Ethnomusicology, Native North America
--------------------------------------------------------------------------------
Arthur Murray Dance Studio
2534 East 3rd Street IN 47401 Bloomington, Indiana U.S.A.
Tel. (1.812)334.0553
Dance School
--------------------------------------------------------------------------------
Bloomington Civic Ballet
3900 Industrial Boulevard # 1 IN 47403 Bloomington, Indiana U.S.A.
Tel. (1.812)331.0030
Dance School, dance tuition, ballet
--------------------------------------------------------------------------------
Dance Center
233 South Pete Ellis Drive # 14 IN 47408 Bloomington, Indiana U.S.A.
Tel. (1.812)336.7616
Dance School, dance tuition
--------------------------------------------------------------------------------
Indiana University, Ballet Department, School of Music
IN 47405 Bloomington, Indiana U.S.A.
Tel. (1.812)855.6787
Dance School, ballet
--------------------------------------------------------------------------------
International Dance Discovery
108 1/2 East Kirkwood IN 47408 Bloomington, Indiana U.S.A.
Tel. (1.812)336.3632
Dance School
--------------------------------------------------------------------------------
One Step Above Dance & Gymnastic Studio
4070 West Gifford Road IN 47401 Bloomington, Indiana U.S.A.
Tel. (1.812)339.5365
Dance School, dance tuition
--------------------------------------------------------------------------------
Donna Carlton
108 1/2 E. Kirkwood Avenue #5 IN 47408 Bloomington, Indiana U.S.A.
Tel. (1.812)336.3632
http://ourworld.compuserve.com/homepages
Dance Company
--------------------------------------------------------------------------------
Cornelia Mayer Herrfeld
1702 South High Street IN 47401-6746 Bloomington, Indiana U.S.A.
Dance Teacher
--------------------------------------------------------------------------------
Bette Lucas
8236 S. Mt. Zion Road IN 47403 Bloomington, Indiana U.S.A.
Tel. (1.812)824.7787
http://www.angelfire.com/biz2/bette
Dance Company
--------------------------------------------------------------------------------
Marek Cholewa
4600 Sunset Ave. IN 46208 Indianapolis U.S.A.
Tel. 317-940-9664, FAX 317-926-0533
Graduate of the N. Rimsky-Korsakov Music Conservatoire in St. Petersburg, Russia; areas of
expertise: Ballet, Pas de Deux, Classical Repertoire, Slavic Character
--------------------------------------------------------------------------------
Frankie Friedman
Jewish Community Center, 6701 Hoover Road IN 46260 Indianapolis, Indiana U.S.A.
317-251-9467
Israeli folk dance
--------------------------------------------------------------------------------
Karen Frye Knotts
4603 Clarendon, Road Room 32 IN 46208 Indianapolis U.S.A.
317.940.8463, FAX 940.6557
www.dancekal.org
Professional contemporary dance company
--------------------------------------------------------------------------------
Barry Levitt
PO Box 68280 IN 46268-0280 Indianapolis, Indiana U.S.A.
Tel. (1.317)872.7220; (1.317)388.0632
Dance Group, folk, international dance, recreational
--------------------------------------------------------------------------------
Jean Nichols
Let's Dance Club in Indiana
2640, East 62nd St. 46220 Indianapolis, Indiana U.S.A.
Tel./Fax 317-259-1147
www.letsdanceclub.com
Teaching Ballroom, Latin, Swing and Salsa -Private and Group lessons - weekly practice dance parties - Teaching beginners through competitive dancing.
--------------------------------------------------------------------------------
Helena Zahara
Box 19725 IN-24201 Indianapolis U.S.A.
317-357-8858
www.navelmaneuvers.com
Dancer, middle-eastern dance
--------------------------------------------------------------------------------
Academy of Indianapolis Ballet
502 North Capitol Avenue # B IN 46204 Indianapolis, Indiana U.S.A.
Tel. (1.317)637.8979
Dance School, dance tuition, ballet
--------------------------------------------------------------------------------
Allied Dance Productions
1221 Country Club Road IN 46234 Indianapolis, Indiana U.S.A.
Tel. (1.317)271.3706
Dance School, dance tuition
--------------------------------------------------------------------------------
American Ballroom Enterprise
5502 East 82nd Street IN 46250 Indianapolis, Indiana U.S.A.
Tel. (1.317)570.8754
Dance School, dance tuition, ballroom
--------------------------------------------------------------------------------
Arthur Murray Dance Studio
8902 Saint Peter Street IN 46227 Indianapolis, Indiana U.S.A.
Tel. (1.317)881.7762
Dance School, dance tuition, ballroom
--------------------------------------------------------------------------------
Arthur Murray Dance Studio
4263 Lafayette Road IN 46254 Indianapolis, Indiana U.S.A.
Tel. (1.317)293.6145
Dance School, dance tuition, ballroom
--------------------------------------------------------------------------------
Arthur Murray Dance Studio
8506 East Washington Street IN 46219 Indianapolis, Indiana U.S.A.
Tel. (1.317)899.1071
Dance School, dance tuition, ballroom
--------------------------------------------------------------------------------
Barb & Company Dance Indiana
2502 Lake Circle Drive IN 46268 Indianapolis, Indiana U.S.A.
Tel. (1.317)872.6486
Dance School, dance tuition
--------------------------------------------------------------------------------
Beth Lucas School of Dance
5131 West Thompson Road IN 46221 Indianapolis, Indiana U.S.A.
Tel. (1.317)856.4566
Dance School, dance tuition
--------------------------------------------------------------------------------
Bill Ward Dance Studio
10295 East 59th Street IN 46236 Indianapolis, Indiana U.S.A.
Tel. (1.317)823.4659
Dance School, dance tuition
--------------------------------------------------------------------------------
Broadripple Arthur Murray Studio
723 B. Broadripple Avenue IN 46254 Indianapolis, U.S.A.
1(317) 251-3700
www.indyarthurmurray.com
Dance School, teacher, ballroom, couple, social dances
--------------------------------------------------------------------------------
Center Stage
5002 Madison Avenue IN 46227 Indianapolis, Indiana U.S.A.
Tel. (1.317)783.4306
Dance School, dance tuition
--------------------------------------------------------------------------------
Curtain Call Dance Academy
8240 Indy Lane Fl 1 IN 46214 Indianapolis, Indiana U.S.A.
Tel. (1.317)271.6688
Dance School, dance tuition
--------------------------------------------------------------------------------
Danc 'n' time
6901 East 10th Street # E IN 46219 Indianapolis, Indiana U.S.A.
Tel. (1.317)357.4844
Dance School, dance tuition
--------------------------------------------------------------------------------
Dance Arts
5062 East 10th Street IN 46201 Indianapolis, Indiana U.S.A.
Tel. (1.317)357.3237
Dance School, dance tuition
--------------------------------------------------------------------------------
Dance Company
7410 Madison Avenue IN 46227 Indianapolis, Indiana U.S.A.
Tel. (1.317)783.2510
Dance School
--------------------------------------------------------------------------------
Dance Company
2344 East Stop 11 Road IN 46227 Indianapolis, Indiana U.S.A.
Tel. (1.317)882.7587
Dance School, dance tuition
--------------------------------------------------------------------------------
Dance Connection
7135 Southeastern Avenue IN 46239 Indianapolis, Indiana U.S.A.
Tel. (1.317)359.5222
Dance School
------------------------------------------------------------------------------
Dance Conservatory
921 Southwood Drive IN 46227 Indianapolis, Indiana U.S.A.
Tel. (1.317)784.4298
Dance School, dance tuition
--------------------------------------------------------------------------------
Dance Conservatory
3125 East Thompson Road # A IN 46227 Indianapolis, Indiana U.S.A.
Tel. (1.317)783.1073
Dance School
--------------------------------------------------------------------------------
Dance Dynamics
10159 East US Highway 40 IN 46231 Indianapolis, Indiana U.S.A.
Tel. (1.317)839.7270
Dance School, dance tuition
--------------------------------------------------------------------------------
Dance Enterprises Unlimited
5255 North Tacoma Avenue # 3 IN 46220 Indianapolis, Indiana U.S.A.
Tel. (1.317)257.3723
Dance School, dance tuition
--------------------------------------------------------------------------------
Dance Magic Studios
10605 Deme Drive IN 46236 Indianapolis, Indiana U.S.A.
Tel. (1.317)823.9117
School, dance tuition
--------------------------------------------------------------------------------
Dance Magic Studios
3410 North Shadeland Avenue IN 46226 Indianapolis, Indiana U.S.A.
Tel. (1.317)547.3113
Dance School, dance tuition
--------------------------------------------------------------------------------
Dance Master Studio
2210 East Southport Road IN 46227 Indianapolis, Indiana U.S.A.
Tel. (1.317)783.5260
Dance School, dance tuition
--------------------------------------------------------------------------------
Dancedreams
925 East Castle Avenue IN 46227 Indianapolis, Indiana U.S.A.
Tel. (1.317)786.9953
Dance School
--------------------------------------------------------------------------------
Don Rene Dance Studio, Don Carroll Dance Studio
6024 East Washington Street IN 46219 Indianapolis, Indiana U.S.A.
Tel. (1.317)357.2447
Dance School, dance tuition
--------------------------------------------------------------------------------
Don Whitridge Dance Studio
533 East Westfield Boulevard IN 46220 Indianapolis, Indiana U.S.A.
Tel. (1.317)255.7691
Dance School
--------------------------------------------------------------------------------
Fairview Ballet Studio
4609 North Capitol Avenue IN 46208 Indianapolis, Indiana U.S.A.
Tel. (1.317)253.5982
Dance School, dance tuition, ballet
--------------------------------------------------------------------------------
George Verdak Collection
4658 Hinesley Avenue IN 46208 Indianapolis U.S.A.
Tel. (317)283.5496
Dance Library, Archive, Collection
--------------------------------------------------------------------------------
Indiana Arts Commission
402 W Washington Street, Rm W072 IN 46204 Indianapolis U.S.A.
Tel. 317.232.1268
www.state.in.us/iac
Foundation, financial assistance to dancers
--------------------------------------------------------------------------------
Indianapolis Ballroom Company
6213 La Pas Trail # 200 IN 46268 Indianapolis, Indiana U.S.A.
Tel. (1.317)291.6500
Dance School, dance tuition, ballroom
--------------------------------------------------------------------------------
Jazzercise
6462 Oaklandon Road IN 46236 Indianapolis, Indiana U.S.A.
Tel. (1.317)826.1012
Dance School, dance tuition
--------------------------------------------------------------------------------
Jean's Dance Academy
822 East Mills Avenue IN 46227 Indianapolis, Indiana U.S.A.
Tel. (1.317)787.8601
Dance School, dance tuition
--------------------------------------------------------------------------------
Kinnear's Kenneth East Studio
1010 East 86th Street IN 46240 Indianapolis, Indiana U.S.A.
Tel. (1.317)846.8482
School, dance tuition
--------------------------------------------------------------------------------
Laura of Indy Dance Academy
5253 Traditions Drive IN 46236 Indianapolis, Indiana U.S.A.
Tel. (1.317)826.0948
Dance School, dance tuition
--------------------------------------------------------------------------------
Let's Dance Studio
2640 E 62nd Street IN 46220 Indianapolis, Indiana U.S.A.
Tel. 1(317) 259-1147
Dance School, teacher, ballroom dances
--------------------------------------------------------------------------------
Lilly Music and Fine Arts Library
4600 Sunset Boulevard IN 46208 Indianapolis U.S.A.
Tel. (317)238.9270
Dance Library, Archive, Collection
--------------------------------------------------------------------------------
Scott Dance Studio
6162 Hillside Avenue IN 46220 Indianapolis, Indiana U.S.A.
Tel. (1.317)465.9100
Dance School, dance tuition
--------------------------------------------------------------------------------
Showtime Dance Studio
8091 Crawfordsville Road IN 46214 Indianapolis, Indiana U.S.A.
Tel. (1.317)297.9717
Dance School, dance tuition
--------------------------------------------------------------------------------
Speedway Arthur Murray Studio
4263 Lafayette Road IN 46254 Indianapolis U.S.A.
1(317) 293-6145
www.indyarthurmurray.com
Dance School, teacher, ballroom, couple, social dances
--------------------------------------------------------------------------------
Eldar Aliev
502 North Capitol Avenue, suite B IN 46204 Indianapolis, Indiana U.S.A.
Tel. (1.317)637.8979; Fax (1.317)637.1637
www.balletinternationale.org
Classical ballet company
--------------------------------------------------------------------------------
Larry A. Attaway
5144 Boulevard Place IN 46208 Indianapolis, Indiana U.S.A.
Tel. (1.317)940.9565
Dance School
--------------------------------------------------------------------------------
Ginnvor Bullard
401 East Michigan Street IN 46204 Indianapolis, Indiana U.S.A.
Tel. (1.860)875.3559; Fax (1.860)875.0595
Dance Camp. Dance workshop, folk dances & folkways of Rhine-Palatine region of Germany
--------------------------------------------------------------------------------
Jean B. Galan
502 North Capitol Avenue, suite B IN 46204 Indianapolis, Indiana U.S.A.
Tel. (1.317)637.8979; Fax (1.317)637.1637
Dance Company, modern, ballet
--------------------------------------------------------------------------------
David Hochoy
4600 Sunset Avenue IN 46208 Indianapolis U.S.A.
Tel. (1.317)940 6555; Fax (1.317)940 6557
www.dancekal.org
Dance Company
--------------------------------------------------------------------------------
Irina Kolpakova
502 North Capitol, Suite B IN 46204 Indianapolis U.S.A.
Tel. (1.317)637 8979; Fax (1.317)637 1637
www.balletinternationale.org
Dance Company
--------------------------------------------------------------------------------
Stephan Laurent
4600 Sunset Avenue IN 46208-3485 Indianapolis, Indiana U.S.A.
el. (1.317)940.9346; (1.317)940.9231; (1.800)368.6852; Fax (1.317)940.9658
www.butler.edu/dance
Dance School, modern dance performance, dance pedagogy
--------------------------------------------------------------------------------
Thomas J. McTamney
4600 Sunset Avenue IN 46208-3485 Indianapolis, Indiana U.S.A.
Tel. (1.317)940.6555; Fax (1.317)940.6557
Dance Company
--------------------------------------------------------------------------------
Liz Monnier
437 E. Berry, Suite 203 IN 46802 Fort Wayne, Indiana U.S.A.
Tel. (1.219)424.6574; Fax (1.219)422.8712
www.fwdc.org
Dance Company, school for movement studies, modern dance outreach program
--------------------------------------------------------------------------------
Academy of Ballet Theatre
55 South Jackson Street Fl 2 IN 46041 Frankfort, Indiana U.S.A.
Tel. (1.765)654.0183
Dance School, dance tuition, ballet
--------------------------------------------------------------------------------
Arthur Murray Dance Studio
3824 East State Boulevard IN 46805 Fort Wayne, Indiana U.S.A.
Tel. (1.219)483.1139
Dance School, dance tuition, ballroom
--------------------------------------------------------------------------------
Dance Connection
6105 West Jefferson Boulevard IN 46804 Fort Wayne, Indiana U.S.A.
Tel. (1.219)436.7272
Dance School, dance tuition
--------------------------------------------------------------------------------
Dance Connections
6742 East State Boulevard IN 46815 Fort Wayne, Indiana U.S.A.
Tel. (1.219)493.6093
Dance School, dance tuition
--------------------------------------------------------------------------------
Dance Limited
2604 Lower Huntington Road IN 46809 Fort Wayne, Indiana U.S.A.
Tel. (1.219)747.7463
Dance School, dance tuition
--------------------------------------------------------------------------------
Fort Wayne School of Dance
3416 North Anthony Boulevard IN 46805 Fort Wayne, Indiana U.S.A.
tel. (1.219)483.9109
Dance School, dance tuition
--------------------------------------------------------------------------------
G & T Enterprises
2413 Thompson Avenue IN 46807 Fort Wayne, Indiana U.S.A.
Tel. (1.219)744.7458
Dance School, dance tuition
--------------------------------------------------------------------------------
Gymnastics in Motion
5728 Maplecrest Road IN 46835 Fort Wayne, Indiana U.S.A.
Tel. (1.219)485.2524
Dance School, dance tuition
--------------------------------------------------------------------------------
L.A. Dance
2412 Getz Road IN 46804 Fort Wayne, Indiana U.S.A.
Tel. (1.219)436.7335
Dance School, dance tuition
--------------------------------------------------------------------------------
Northeast School of Dance
6728 East State Boulevard IN 46815 Fort Wayne, Indiana U.S.A.
Tel. (1.219)493.2804
Dance School, dance tuition
--------------------------------------------------------------------------------
Peggy's Dance & Gymnastics
111 North McCreary Street IN 47648 Fort Branch, Indiana U.S.A.
Tel. (1.812)753.5885
Dance School, dance tuition
--------------------------------------------------------------------------------
Praise in Motion
1401 Broadway IN 46802 Fort Wayne, Indiana U.S.A.
Tel. (1.219)423.4578
Dance School, dance tuition
-------------------------------------------------------------------------------
Virginia Cesbron
Ballet Dept. Mac 306, School of Music IN 47405 Bloomington, Indiana U.S.A.
Dance School
--------------------------------------------------------------------------------
Kennet Oberly
324 Penn Avenue IN 46805 Fort Wayne, Indiana U.S.A.
Tel. (1.219)484.9646; Fax (1.219)484.9647
Dance Company, modern, ballet
--------------------------------------------------------------------------------
Sara Jo Zweena bint Asya Slate
7320 Saddleback Court, #1D IN 46804 Fort Wayne, Indiana U.S.A.
Tel. (1.219)459.9054
Dance Company
--------------------------------------------------------------------------------
Karen Gibbons-Brown
Fort Wayne Ballet
324 Penn Avenue IN 46805 Fort Wayne, Indiana U.S.A.
Tel. (260) 484-9646; Fax (260) 484-9647
www.fortwayneballet.org
Dance Company, ballet, modern; Home of Fort Wayne Ballet. Beg.-Prof. classes in ballet, tap, jazz, character, and contemporary