.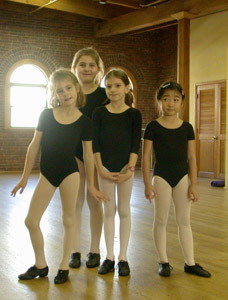 Boston Ballet Company, The Jeannette Neill Dance Studio, Boston Dance Company, are just a few of the dance companies, Massachusetts dance schools, dancing organizations and dance wear suppliers that that can be found in our comprehensive Directory of Massachusetts Dance Companies.
Featured Massachusetts Dance Company
The Jeannette Neill Dance Studio

Since it was founded twenty-five years ago, The Jeannette Neill Dance Studio has become one of the most respected centers of dance education in the country and is renowned internationally for its preservation and presentation of jazz dance. Likewise, for more than fourteen years The Jeannette Neill Childrenís Dance Program (JNCDP) has provided quality dance training for children aged three to twelve. Our faculty of more than twenty of the finest teachers in New England is regularly augmented with master classes taught by some of the most respected names in the dance world.

Our noncompetitive approach to childrenís dance education develops attributes that can serve the child well throughout a lifetime. These include discipline, self-respect and self-confidence; improved learning skills; creativity, self-expression, imagination; and an instilled appreciation for music, dance and other art forms.

Creative Intro to Dance (ages 3-5) is a stimulating, fun and imaginative series of classes that introduce the fundamentals of dance while nurturing a childís agility and musicality. Students learn to follow the teacherís instructions while working in a challenging but supportive environment and interacting with their peers. Class begins with a general warm-up and stretch and introduces the concept of jazz movement. By using games, props, toys and rhythm instruments, the class offers creative ways to challenge the child both mentally and physically. Five year olds are further challenged rhythmically by the addition of a fifteen-minute tap segment.

Young Dancers (ages 6-8) is a more structured series of classes that continue to aid the development of the childís physical coordination and musicality. The ballet barre and age-appropriate exercises are introduced and tap and jazz become components of this level. Certain gifted or more motivated students of this age may find more rapid improvement by adding another day of classes, for example the additional weekly ballet barre that is part of the more intensive performance track.

Junior Dancers (ages 9-12) is our most structured dance series, offering children at least one ballet, jazz and tap class per week. At this level we feel it is vital to a childís improvement to dance more than once a week. Therefore we recommend adding the performance track and/or the jazz hip hop class to the childís weekly schedule of classes.

---
There are many fine dance schools in Massachusetts. I know I am in contact with them as we supply a range of high quality dancewear products like leotards, dance pants, dance dresses and other dancing apparel.
Bangkok Companies supplies an amazing range of dancewear from Thailand. I have looked at these dance garments and dance accessories in detail. There is only one word to describe them Superb. For more details click on the pictures or send an email to bangkokcompanies@gmail.com We regret at this time we can only satisfy Massachusetts wholesale dancewear requests.
"Dancewear designed by dancers for dancers"
| | | | | |
| --- | --- | --- | --- | --- |
| Dance Dresses | Kids Leotards | Adult Leotards | Dance Bras | |
| | | | | |
| | Dance Pants | Tutu's | Dance Shorts | |
| | | | | |
| Dancewear | Dancewear Organizers | Dance Bags | Dance Backpacks | |
| | | | | |
Bangkok Companies is a full service product sourcing company in Thailand. For All your dancewear needs please email bangkokcompanies@gmail.com with your requests.
---
Dance Schools in Massachusetts, Dancewear Suppliers, Massachusetts Dancing Organizations
Abigail Kazlousky
4 Baldwin Place Apt. 2 MA 02113 Boston U.S.A.
(617)257.6537
Dance teacher Certified in the State of Massachusetts
--------------------------------------------------------------------------------
Margaret Musmon
5 Walton Road MA 01908-1620 Nahant U.S.A.
Tel. 1(617).28.7492; Fax 1(617).287.7527
Director Emerita Dance Program University of Massachusetts Boston, Teacher, Choreographer
--------------------------------------------------------------------------------
Boston Dance Alliance
P.O. Box 464 MA 0211-9998 Boston, Massachusetts U.S.A.
617-482-4588
www.bostondancealliance.org
The Dance Alliance is a member of the Arts Services Coalition and Massachusetts Advocates for Arts, Sciences and Humanities.
--------------------------------------------------------------------------------
Boston Dance Company
585 Massachusetts Avenue MA 02139 Cambridge, Massachusetts U.S.A.
Tel. (1.617)491.8615
www.bostondancecompany.net
Dance School, dance tuition, classes; Ballet Classes for Children, Teens & Adults
--------------------------------------------------------------------------------
Pontiaki Estia of Massachussetts
469 Albany Street MA 02118 Boston U.S.A.
(1.617)338-5710;Te(1.617)771-4339;. (1.617)269-7271
http://www.pontiakiestia.com
--------------------------------------------------------------------------------
Pontian Society "Panagia Soumela" of Boston
587 Albany Street MA 02118 Boston, Massachusetts U.S.A.
(1.978)532-3998;(1.617)338-7453
http://www.panagiasoumelaboston.com
--------------------------------------------------------------------------------
Anita-Cristina Calcaterra
PO Box 1093 MA 02474 Arlington, Massachusetts U.S.A.
781-641-1396, FAX 781-641-1396
www.thegoddessdancing.com
Boston, USA. Longest running belly dance company in the area. Ongoing Dance classes, Dance performances, Dance workshops and instructional video. Sacred Belly Dance, Goddess Dance, Ritual Dance
--------------------------------------------------------------------------------
Terri Gordon
50 North Beacon St MA 02135 Boston U.S.A.
Tel. 617-562-0550
www.massmotiondance.com
Dance Instruction - Children & Adult Programs
--------------------------------------------------------------------------------
Jo-Anne Green
124 Bourne Street MA 02131 Boston, Massachusetts U.S.A.
www.turbulence.org/blog
We commission networked art for http://turbulence.org . An example of a dance commission is Portal, http://turbulence.org/Works/yael
--------------------------------------------------------------------------------
Jordan Kieran
53 Belfort St. #3 MA 02125 Boston, Massachusetts U.S.A.
www.KieranJordan.com
Independent performer, teacher, choreographer of Irish dance. Specializing in traditional Irish dance, sean-nos dance, and choreography that draws from Irish dance as well as contemporary dance.
--------------------------------------------------------------------------------
Dennis McCormack
30, Dorset Street 02125 Boston Mass. U.S.A.
Tel. 617-282-1456
http://members.aol.com/k1plx/aae.htm
Caller & Teacher, Teach, host and/or call square dances/parties for all ages. Beginners are my specialty. Have amp - will call!
--------------------------------------------------------------------------------
Yasuko Tokunaga
The Boston Conservatory
8 The Fenway MA 02215 Boston, Massachusetts U.S.A.
Tel. (617) 912 9137; (1.617)912.9138; Fax (1.617)536.3176
www.bostonconservatory.edu
Dance School, graduate, dance performance or choreography, BFA degree in dance (performance emphasis in Ballet and/or Modern Dance)
--------------------------------------------------------------------------------
Academy of Musical Arts
547 Columbus Avenue MA 02118 Boston, Massachusetts U.S.A.
Tel. (1.617)536.9454
Dance School, dance tuition, classes
--------------------------------------------------------------------------------
Arthur Murray Dance Studio
20 Park Plazz # 330 MA 02116 Boston, Massachusetts U.S.A.
Tel. (1.617)426.3335
Dance School, dance tuition, classes
--------------------------------------------------------------------------------
Beverly Richards Dance Center
969 Bennington Street MA 02128 East Boston, Massachusetts U.S.A.
Tel. (1.617)567.1660
Dance School, dance tuition, Dance classes
--------------------------------------------------------------------------------
Boston Ballet
42 Vernon Street MA 02158 Newton, Massachusetts U.S.A.
Tel. (1.617)964.4070
Dance Company, ballet, classical, modern
--------------------------------------------------------------------------------
Boston Ballet Company
34 Accord Park Drive MA 02061 Norwell, Massachusetts U.S.A.
Tel. (1.781)871.7468
Dance School, dance tuition, Dance classes
--------------------------------------------------------------------------------
Boston Ballet Company
861 Washington Street MA 02160 Newton, Massachusetts U.S.A.
Tel. (1.617)695.6950
Dance School, dance tuition, Dance classes
--------------------------------------------------------------------------------
Boston Centre, CDS
1770 Massachusetts Avenue, PMB 282 MA 02140 Cambridge, Massachusetts U.S.A.
Tel. (1.781)662.6710; Fax (1.781)662.6730
www.neffa.org/~neffa
Dance Camp, folk, English, American country dancing, Morris dancing, sword, English, step dancing
--------------------------------------------------------------------------------
Boston Dance Company
25 Moultrie Street MA 02124 Dorchester, Massachusetts U.S.A.
Tel. (1.617)436.6369
Dance School
--------------------------------------------------------------------------------
Center for Creative Movement
17 Central Square E MA 02118 Boston, Massachusetts U.S.A.
Tel. (1.617)561.4980
Dance School, folk, flamenco, Spanish dance instruction
--------------------------------------------------------------------------------
Cheryl A. Sullivan School of Dance
283 Boston Avenue MA 02155 Medford, Massachusetts U.S.A.
Tel. (1.781)396.2066
Dance School, dance tuition, Dance classes
--------------------------------------------------------------------------------
Chiampa Dance Center
71 Meridian Street MA 02128 East Boston, Massachusetts U.S.A.
Tel. (1.617)567.2343
Dance School, dance tuition, Dance classes
--------------------------------------------------------------------------------
City Lights
1154 Washington Street MA 02118 Boston, Massachusetts U.S.A.
Tel. (1.617)451.9034
Dance School, dance tuition, Dance classes
--------------------------------------------------------------------------------
Classical Ballet School
140 Clarendon Street MA 02116 Boston, Massachusetts U.S.A.
Tel. (1.617)267.5516
Dance School, dance tuition, Dance classes
--------------------------------------------------------------------------------
Dancers Workshop
100 Boston Post Road # A MA 01776 Sudbury, Massachusetts U.S.A.
Tel. (1.978)443.1358
Dance School, dance tuition, Dance classes
--------------------------------------------------------------------------------
Dancesport of Boston
11 South Fairview Street # 1l MA 02131 Roslindale, Massachusetts U.S.A.
Tel. (1.617)325.1562
Dance School, dance tuition, Dance classes
--------------------------------------------------------------------------------
DanceUmbrella
515 Washington Street, 5th floor MA 02111 Boston, Massachusetts U.S.A.
Tel. (1.617)824.8000; (1.617)482.7570; Fax (1.617)482.7571
www.danceumbrella.org
Dance Company, Dance School
--------------------------------------------------------------------------------
Denise Day Dance Center
196 Boston Turnpike MA 01545 Shrewsbury, Massachusetts U.S.A.
Tel. (1.508)791.0790
Dance School, dance tuition, Dance classes
--------------------------------------------------------------------------------
Eleanor Rubino Academy
945 Saratoga Street MA 02128 East Boston, Massachusetts U.S.A.
Tel. (1.617)567.8200
Dance School
--------------------------------------------------------------------------------
Ellens School of Dance
767 Boston Road MA 01821 Billerica, Massachusetts U.S.A.
Tel. (1.978)667.3441
Dance School
--------------------------------------------------------------------------------
Emerson Majestic Theatre
219 Tremont Street MA 02116-4717 Boston, Massachusetts U.S.A.
Tel. (1.617)824.8000
www.emerson.edu
Dance Group
--------------------------------------------------------------------------------
English-Scottish Week, Boston Centre, CDS
1770 Massachusetts Avenue, PMB 282 MA 02140 Cambridge, Massachusetts U.S.A.
Tel. (1.781)662.6710; Fax (1.781)662.6730
www.neffa.org/~neffa
Dance Workshop, folk, Country, Scottish hard shoe step, long sword, ladies' step, highland, old-time ballroom dancing
--------------------------------------------------------------------------------
Fred Astaire Dance Studio
361 Newbury Street MA 02115 Boston, Massachusetts U.S.A.
Tel. (1.617)247.2435
Dance School, ballroom dances
--------------------------------------------------------------------------------
Impulse Dance. The Studio
179 Massachusetts Avenue MA 02115 Boston, Massachusetts U.S.A.
Tel. (1.617)536.6989
Dance School
--------------------------------------------------------------------------------
Judy A Hermans School of Dance
566 Boston Tpke MA 01545 Shrewsbury, Massachusetts U.S.A.
Tel. (1.508)842.4999
Dance School
--------------------------------------------------------------------------------
Junior Cotillion of Boston
57 Water Street MA 02043 Hingham, Massachusetts U.S.A.
Tel. (1.781)740.1009
Dance School
--------------------------------------------------------------------------------
Karrie-Lyn Studio of Dance
2133 Boston Road MA 01095 Wilbraham, Massachusetts U.S.A.
Tel. (1.413)599.0258
Dance School
--------------------------------------------------------------------------------
Le Anne Leslieís School
30 Boston Street MA 01904 Lynn, Massachusetts U.S.A.
Tel. (1.781)581.7960
Dance School
--------------------------------------------------------------------------------
Mary Ann Studio of Dance
438 Boston Road MA 01109 Springfield, Massachusetts U.S.A.
Tel. (1.413)782.4600
Dance School
--------------------------------------------------------------------------------
MJT Dance Company
551 Tremont Street MA 02116 Boston, Massachusetts U.S.A.
Tel. (1.617)482.0351
Dance School
--------------------------------------------------------------------------------
Natalie of the Mystique Dance Company
82 Bedford Street MA 02111 Boston, Massachusetts U.S.A.
Tel. (1.617)451.1954
Dance Company
--------------------------------------------------------------------------------
New England Ballroom & Dance
75 Newbury Street MA 02116 Boston, Massachusetts U.S.A.
Tel. (1.617)859.2911
Dance School, ballroom dances
--------------------------------------------------------------------------------
Patti Nichols Dance Arts Center
306 Boston Road MA 01862 North Billerica, Massachusetts U.S.A.
Tel. (1.978)667.1291
Dance School
--------------------------------------------------------------------------------
PSM Dance
196 Boston Turnpike MA 01545 Shrewsbury, Massachusetts U.S.A.
Tel. (1.508)752.4910
Dance School
--------------------------------------------------------------------------------
Sally Gould Dance Center
321 Boston Road MA 01862 North Billerica, Massachusetts U.S.A.
Tel. (1.978)667.9115
Dance School
--------------------------------------------------------------------------------
Sandy Hagenís Jazz Dance Center
35 Kingston Street MA 02111 Boston, Massachusetts U.S.A.
Tel. (1.617)423.5958
Dance School
--------------------------------------------------------------------------------
The Artists Foundation, Inc.
8 Park Plaza MA 02116 Boston, Massachusetts U.S.A.
Dance Service Organization
--------------------------------------------------------------------------------
The Jeannette Neill Dance Studio
261 Friend St., 5th Floor MA 02114 Boston, Massachusetts U.S.A.
Tel. (617) 523-1355
Professional Jazz, Ballet, Modern, Tap Dance
--------------------------------------------------------------------------------
Theatrical Dance Footwear Inc.
12 Channel Street MA 02210 Boston, Massachusetts U.S.A.
Tel. (1.617)345.6788
Dance Supplier, Dance shoes, Dance footwear
--------------------------------------------------------------------------------
Thom Bradfordís Steps
2148 Boston Road MA 01095 Wilbraham, Massachusetts U.S.A.
Tel. (1.413)596.4479
Dance School
--------------------------------------------------------------------------------
Simon Blasco
PO Box 159, Astor Station MA 02123 Boston, Massachusetts U.S.A.
Tel. (1.800)435.8687
Dance Company, ballet, Spanish, flamenco
--------------------------------------------------------------------------------
Sara Brodsky
19 Spalding Street MA 02130-3233 Boston, Massachusetts U.S.A.
Tel. (1.617)522.1444; (1.617)522.1444
Swing dance club
--------------------------------------------------------------------------------
J. Allen Collier
261 Friend Street, 5th floor MA 02114 Boston, Massachusetts U.S.A.
Tel. (1.617)523.1355; Fax (1.617)557.4404
www.jndance.com
Ballet, tap, hip hop, jazz, theatre dance
--------------------------------------------------------------------------------
Adrienne T. Hawkins
181 Mass Avenue. 3rd Floor MA 02115 Boston U.S.A.
Tel. (1.617)536.6989; Fax (1.617)536.7696
www.Impulsedance.com
Modern Jazz, Hip Hop
--------------------------------------------------------------------------------
Joan van Heerden
360 Comumbus Avenue, C MA 02116 Boston, Massachusetts U.S.A.
Tel. (1.616)262 5331
Dance Teacher
--------------------------------------------------------------------------------
Anna-Marie Holmes
19 Clarendon street MA 02116 Boston, Massachusetts U.S.A.
Tel. (1.617)695.6950; Fax (1.617)695.6995
Dance School, ballet
--------------------------------------------------------------------------------
Bruce Marks
Boston Ballet
19 Clarendon Street MA 02116 Boston, Massachusetts U.S.A.
Tel. (1.617)695.6950; Fax (1.617)695.6995
www.bostonballet.com
Choreographer; Company, ballet, modern
--------------------------------------------------------------------------------
Laura McShane
667 Boylston Street MA 02116 Boston, Massachusetts U.S.A.
Tel. (1.617)437.9401
Dance Service Organisation
--------------------------------------------------------------------------------
The Jeannette Neill Dance Studio
261 Friend Street, 5th floor MA 02114 Boston, Massachusetts U.S.A.
Tel. (1.617)523.1355; Fax (1.617)557.4404
www.jndance.com
Ballet, tap, hip hop, jazz, theatre dance
--------------------------------------------------------------------------------
Mikko Nissinen
19 Clarendon Street MA 02116-6100 Boston, Massachussetts U.S.A.
http://www.bostonballet.org
Official School of Boston Ballet
--------------------------------------------------------------------------------
Paul Paliyenko
791 Tremont Street, box J MA 02118 Boston, Massachusetts U.S.A.
Tel. (1.617)536.6989; Fax (1.617)536.7696
Dance Company, modern
--------------------------------------------------------------------------------
Marcus Schulkind
252 W. Newton Street, No. 3 MA 02116 Boston, Massachusetts U.S.A.
Tel. (1.617)536.2962
Dance Company, modern Dance
--------------------------------------------------------------------------------
E. Virginia Williams
19 Clarendon Street MA 02116 Boston, Massachusetts U.S.A.
Tel. (617) 695-6950; Fax (617) 695-6995
Official School of Boston Ballet
--------------------------------------------------------------------------------
Emma Zevik
18 Bartlett Square MA 02130 Boston, Massachusetts U.S.A.
Tel. (1.617)650.3279; Fax (1.877)622.5226
http://www.maypoles.com
Maypoles for all occasions, Research/Teach/Perform/Workshop, Books/Films/Cassettes/Educational Materials
--------------------------------------------------------------------------------
Kenneth Lipitz
143 Shaker Road MA 01028 Longmeadow, Massachusetts U.S.A.
Tel. (1.413)525.7713
Dance School, ballet, modern, jazz, tap; National Ballet of Canada, Concert Dance Co., Boston. Recreational and Pre-professional Programs Ballet, modern, jazz, tap, performance