.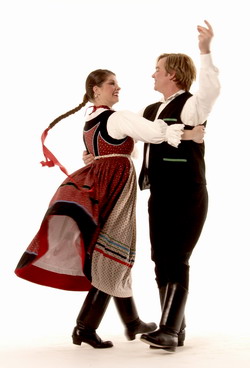 The Ethnic Dance Theatre, Hopkins Dance Center, Anne's Dance Studio, are just a few of the dance companies, Minnesota dance schools, dancing organizations and dance wear suppliers that that can be found in our comprehensive Directory of Minnesota Dance Companies.
Featured Minnesota Dance Company
Ethnic Dance Theatre (EDT) is the only professional international dance company in the Upper Midwest, (and one of only a few in the entire USA), dedicated to the artistic performance and preservation of world music, song and dance. Over the past 30 years, EDT has brought over 50 different cultures and traditions to life in colorful and spellbinding performances. With a company of 25 dancers performing to live music by the EDT Folk Orchestra, EDT's extensive repertoire of folk dances and music includes such diverse countries as Austria, Albania, Bulgaria, Croatia, Costa Rica, Pakistan, Poland, Saudi Arabia.

Each year, the company presents over 300 programs, including performances, smaller ensemble programs, school workshops, residencies and informances. In celebration of the enduring nature of folk dance as a participatory activity, the company also hosts annual community dance parties where audience members explore their own cultural traditions as well as those of others through dancing and cuisine.

Join the Ethnic Dance Theatre (EDT) on a journey through the Carpathian Mountains, legendary home of vampires, werewolves and other old world tales of darkness that have haunted movie audiences for decades. Through spellbinding music and dance traditions, discover the fascinating cultures that gave birth to these famous stories and expand your knowledge of this unique region shaped by ethnic rather than geographic boundaries.

Travel to Transylvania where ethnic Hungarians dance the boot-slapping Csardas to wake up the new baby! Go to the mountains of Romania where shepherds leap over fire in a dance tradition originating in the middle ages. Hear songs of the Rusyn, a Slavic ethnographic group without a country who proudly claim their own culture and language.
---
There are many fine dance schools in Minnesota. I know I am in contact with them as we supply a range of high quality dancewear products like leotards, dance pants, dance dresses and other dancing apparel.
Bangkok Companies supplies an amazing range of dancewear from Thailand. I have looked at these dance garments and dance accessories in detail. There is only one word to describe them Superb. For more details click on the pictures or send an email to bangkokcompanies@gmail.com We regret at this time we can only satisfy Minnesota wholesale dancewear requests.
"Dancewear designed by dancers for dancers"
| | | | | |
| --- | --- | --- | --- | --- |
| Dance Dresses | Kids Leotards | Adult Leotards | Dance Bras | |
| | | | | |
| | Dance Pants | Tutu's | Dance Shorts | |
| | | | | |
| Dancewear | Dancewear Organizers | Dance Bags | Dance Backpacks | |
| | | | | |
Bangkok Companies is a full service product sourcing company in Thailand. For All your dancewear needs please email bangkokcompanies@gmail.com with your requests.
---
Dance Schools in Minnesota, Dancewear Suppliers, Minnesota Dancing Organizations
Ragamala Music & Dance Theater
711 West Lake Street, Suite 309 MN 55408 3357 Minneapolis U.S.A.
(612)824.19.68; Fax(612)824.28.92
www.ragamala.net
Dance Company performing classical and contemporary Bharatanatyam South Indian classical dance
--------------------------------------------------------------------------------
Maria-Dubois Genne
4524 Beard Avenue South MN 55410 Minneapolis, Minnesota U.S.A.
Tel. (612)927 7864;
www.kairosdance.org
Choreographer, Artistic Director
--------------------------------------------------------------------------------
Judith Brin Ingber
4209 Basswood Road MN 55416 Minneapolis U.S.A.
Tel. & Fax 952.920.1712
www.ourworld.cs.com
Dancer, Choreographer, Teacher, Writer, Jewish and Israeli Dance.
--------------------------------------------------------------------------------
Marge Maddux
500 21Street Avenue South MN 55455 Minneapolis, Minnesota U.S.A.
Tel. (1.612)6245060
Dance School, modern dance
--------------------------------------------------------------------------------
Tamara Nadel
4511 Pillsbury Avenue MN-55409 South Minneapolis U.S.A.
Tel. 612 824 1968; 612 823 1872
www.khazana.com/ragamala
Dance Theater
--------------------------------------------------------------------------------
Olive Bieringa
The Body Cartography Project
3528 10th Ave South MN 55407 Minneapolis
16128223397
www.bodycartography.org
The Body Cartography Project investigates the physical resonance of space in urban, domestic, wild, technological and social landscapes through dance, film and installation work.
--------------------------------------------------------------------------------
4 Seasons Dancing
115 Waswhington Avenue N. MN 55401 Minneapolis U.S.A.
Dance School
--------------------------------------------------------------------------------
Cheer Factor Inc.- The Warm-up Co.
2524 151st Court West MN 55068 Minneapolis, Minnesota U.S.A.
651.322.8100; 866.94; Fax 651.322
www.cheerfactor.com
America's true "custom" One-of-a-kind Warm-up apparel manufacturer. You the Studio Owner design it and we'll create it. Female and Male patterns XS-XXL, Youth 4-14.
--------------------------------------------------------------------------------
Hopkins Dance Center
821 1/2 Main street MN 55343 Hopkins, Minnesota U.S.A.
Tel. & Fax 1-952-935-2794
www.hopkinsdance.com
Dance School, dance instruction (ballet, lyrical, contemporary, jazz, tap), western Minneapolis suburb dance tuition, classes
--------------------------------------------------------------------------------
Mirah Ammal
P.O. Box 19342 MN 55419 Minneapolis U.S.A.
(612)703.70.02
www.mirahammal.com
Middle Eastern dance performer, choreographer, and teacher, specializing in "belly dance" and folkloric dances of the Near East. Also an artistic director with Ammala Dance & Music.
--------------------------------------------------------------------------------
Rick Ausland
#231, 1812 105th Lane NW MN 55433 Minneapolis U.S.A.
Tel. (612) 875-4090
www.10foot5.com;
http://www.tenfootfive.com
We want to travel to other places.
--------------------------------------------------------------------------------
Milind Bhat
P. O. Box 582792 MN 55458 Minneapolis, Minnesota U.S.A.
Tel. 763-786-9801
http://www.geocities.com/twincitydance
President
--------------------------------------------------------------------------------
Philip Bither
1750 Hennepin Avenue MN 55405 Minneapolis U.S.A.
tel: 612.375.7624;fax: 612.375.7618
www.walkerart.org
Presentation and/or commission of cutting-edge, experimental, contemporary dance and dance-theater, regularly championing work that blurs the lines between disciplines visual art, film, installation
--------------------------------------------------------------------------------
Lois Donnay
3142 1st Avenue South MN 55408 Minneapolis U.S.A.
612.822.8436
www.mndance.com
Argentine tango, Latin, swing, ballroom
--------------------------------------------------------------------------------
Carl Flink
Barbara Barker Center for Dance, 500-21st Avenue South MN 55455-0480 Minneapolis, Minnesota
(1)612-626-1049; Fax: 612-625-2849
www.dance.umn.edu
Choreographer, dance instructor, artistic director, dance professor, embodied artist, performer
--------------------------------------------------------------------------------
Esther Granbois
Suite B, 711 West Lake Street MN-55408 Minneapolis, Minnesota U.S.A.
(01) 612-872-1562
http://www.rendezvousdancestudio.com
Dance instruction: wedding & ballroom (foxtrot, waltz, swing); Latin (salsa, cumbia, merengue, cha cha, tango, rumba, bachata); United States historical: Charleston, 1960's freestyle & line dances
--------------------------------------------------------------------------------
Sarah LaRose-Holland
3010 Hennepin Ave. S. #88 55408 Minneapolis, MN U.S.A.
www.mnartists.org/sarah_larose
A dance series showcasing emerging and professional dancers.
--------------------------------------------------------------------------------
Barbara Nordstrom-Loeb
4632 York Ave. South MO 55410 Minneapolis, Minnesota U.S.A.
612-925-5277
Dance/Movement Therapist, Laban Movement Analyst, Somatics/Body Therapist, Educator, Consultant
--------------------------------------------------------------------------------
Kate Nordstrum
1420 Washington Avenue South MN 55454-1038 Minneapolis, Minessota U.S.A.
612.340.1725
www.southerntheater.org
The Southern Theater cultivates artistic exploration
--------------------------------------------------------------------------------
Margo Abdo O'Dell
3754 Pleasant Avenue South MN 55410 Minneapolis U.S.A.
612-239-9004
www.margo1.com
Middle Eastern Dance, Belly Dance, Teacher, Performer
--------------------------------------------------------------------------------
Burak Ozkosem
MN 55414 Minneapolis U.S.A.
1612.803.58.48
www.tangoshusheta.com
Choreographer, dancer of argentine tango, specialized in experimental and analytical tango
--------------------------------------------------------------------------------
James Preste
2524 151st Court West MN 55068 Minneapolis, Minnesota U.S.A.
Tel. 651-322-8100 or 1-866-94 CHEER, FAX 651-322
www.cheerfactor.com
America's true "custom" One-of-a-kind Warm-up apparel manufacturer. You the Studio Owner design it and we'll creat it. Female and Male patterns XS-XXL, Youth 4-14. Designer Fabric in over 40 Color
--------------------------------------------------------------------------------
Cassandra Shore
1940 Hennepin Avenue MN 55403 Minneapolis U.S.A.
(1)612-872-6050; Fax 612-872-2104
www.jawaahir.org
Traditional and Contemporary Middle Eastern Dance
--------------------------------------------------------------------------------
Florencia Taccetti
3700 - 36th Ave South MN 55406 Minneapolis U.S.A.
612-871-9651
www.tejastango.com/florencia.html
Argentine Tango Teacher & Performer, Modern Dance Performer
--------------------------------------------------------------------------------
Emily Taylor
1750 Hennepin Avenue MN 55403 Minneapolis U.S.A.
612.375.7624
Dance
--------------------------------------------------------------------------------
Ric Watson
1911 Pierce St. NE MN 5418-4613 Minneapolis, Minnesota U.S.A.
12.789.9693
Activities in contact improvisation: teacher, dancer, mandance, dance & movement classes, trager integration, bodywork, mentastics teacher
--------------------------------------------------------------------------------
Anne's Dance Studio
2620 Russell Avenue North MN 55411 Minneapolis, Minnesota U.S.A.
Tel. (1.612)522.3984
School, dance tuition, classes
--------------------------------------------------------------------------------
Cathy's Musikgarten
4305 Garfield Avenue MN 55409 Minneapolis, Minnesota U.S.A.
Tel. (1.612)827.7379
Dance School, dance tuition, classes
--------------------------------------------------------------------------------
Cherelle
PO Box 6653 MN 55406 Minneapolis, Minnesota U.S.A.
Tel. (1.612)722.8558
http://www.navelacademy.com
Dance Teacher, dancer, performer, Middle Eastern dance, Oriental, belly dance
--------------------------------------------------------------------------------
Christopher Watson Dance Company
711 West Lake Street # 308 MN 55408 Minneapolis, Minnesota U.S.A.
Tel. (1.612)825.6624
Dance School, dance tuition, classes
--------------------------------------------------------------------------------
City Lights Ballet School
1830 East 35th Street MN 55407 Minneapolis, Minnesota U.S.A.
Tel. (1.612)724.2470
Dance School, dance tuition, classes
--------------------------------------------------------------------------------
Collings School of Fine Arts
7441 Newton Avenue North MN 55444 Minneapolis, Minnesota U.S.A.
Tel. (1.612)560.4230
Dance School, dance tuition, classes
--------------------------------------------------------------------------------
Dorothy Henry's Center of the Arts
4200 Yosemite Avenue South MN 55416 Minneapolis, Minnesota U.S.A.
Tel. (1.612)929.5100
Dance School, dance tuition, classes
--------------------------------------------------------------------------------
Hollywood Studio of Dance
2128 West Broadway Avenue MN 55411 Minneapolis, Minnesota U.S.A.
Tel. (1.612)521.6780
Dance School, dance tuition, classes
--------------------------------------------------------------------------------
Jawaahir Dance Company & Cassandra School of Middle Eastern Dance
1940 Hennepin Avenue MN 55403 Minneapolis, Minnesota U.S.A.
Tel. (1.612)872.6050
http://www.jawaahir.org
Dance Company, folk, Middle-Eastern dances, belly, school
--------------------------------------------------------------------------------
Kelle
5014 Highway 169 North MN 55428 Minneapolis, Minnesota U.S.A.
Tel. (1.612)533.8588
Dance Supplier, costumes
--------------------------------------------------------------------------------
Marie Kay & Carol's School of Dance
4035 West Broadway Avenue MN 55422 Minneapolis, Minnesota U.S.A.
Tel. (1.612)533.2623
Dance School, dance tuition, classes
--------------------------------------------------------------------------------
Minnesota Dance Alliance
528 Hennepin Avenue # 600 MN 55403 Minneapolis, Minnesota U.S.A.
Tel. (1.612)340.1900
Dance School
--------------------------------------------------------------------------------
Minnesota Dance Theatre & School Inc
528 Hennepin Avenue MN 55403 Minneapolis, Minnesota U.S.A.
Tel. (1.612)338.0627
Dance School, ballet
--------------------------------------------------------------------------------
Minnesota Wild Roses
PO Box 3664 MN 55403-0664 Minneapolis, Minnesota U.S.A.
Dance Club, square dances, gay dance
--------------------------------------------------------------------------------
Pazazz, Essence of Prodigy Dance Studio
711 West Lake Street su. #605 MN 55408 Minneapolis U.S.A.
Tel. (1.651)334.8323
Dance Fitness classes / Choreography
--------------------------------------------------------------------------------
Renance Studio
5352 Chicago Avenue MN 55417 Minneapolis, Minnesota U.S.A.
Tel. (1.612)824.0848
School, dance tuition, classes
--------------------------------------------------------------------------------
Satin Stitches
11894 Reisling Boulevard NW MN 55433 Minneapolis, Minnesota U.S.A. Fax
(1.612)397.7852
www.satinstitches.com
Dance Supplier, costume designs dance teams
--------------------------------------------------------------------------------
Zenon Dance Company
528 Hennepin, #400 MN 55403 Minneapolis, Minnesota U.S.A.
Tel. (612) 338-1101
Modern, jazz & ballet.-All ages/levels. Home of Zenon Dance Company
--------------------------------------------------------------------------------
Chris Aig
243 Vincent Avenue North Minneapolis, MN 55405 U.S.A.
Tel. 612-377-3001
Dance Teacher, Contact Improvisation
--------------------------------------------------------------------------------
Scott Anderson
17634 Kettering Trail MN 55044 Minneapolis, Minnesota U.S.A.
Tel. (1.612)892.0876
http://www.dancerscupcircuit.com
Competition, ballroom dances
--------------------------------------------------------------------------------
Linda Z. Andrews
528 Hennepin Avenue, Suite 400 MN 55403 Minneapolis, Minnesota U.S.A.
Tel. (1.612)338 1101; Fax (1.612)338 2479
--------------------------------------------------------------------------------
Leann Bamford
10870 Mississippi Boulevard NW MN 55433-3864 Minneapolis, Minnesota U.S.A.
Tel. (1.612)427.5942
Swing dance club
--------------------------------------------------------------------------------
Jesse Bethke-Gomez
3501 Chicago Avenue South MN 55407 Minneapolis, Minnesota U.S.A.
Tel. (1.612)825.1963
Dance Group, folk, Mexican dances
--------------------------------------------------------------------------------
Nathan Carlton
3811 West 31st Street #203 Minneapolis, MN 55416 U.S.A.
Tel. 1-612-926-5458
Dance Teacher, Contact Improvisation
--------------------------------------------------------------------------------
Maria Castor
3501 Chicago Avenue South MN 55407 Minneapolis, Minnesota U.S.A.
Dance Group, folk, Mexican dances
--------------------------------------------------------------------------------
Marcia Chapman
Hennepin Center for the Arts, 528 Hennepin Avenue, Suit MN 55403 Minneapolis, Minnesota
Tel. 1-612-340-1071; Fax 1-612-332-8131
http://www.balletartsminnesota.org
Dance School, dance tuition, classes
--------------------------------------------------------------------------------
Ananya Chatterjea
203, BB Centro for Dance, 500, 21st Ave. # 203 MN 55455 Minneapolis U.S.A.
Tel. (1.612)6262280; Fax (612)6252849
Performing Artist, Modern Dance
--------------------------------------------------------------------------------
Joe Chvala
1820 Sevens Avenue South #10 MN 55403 Minneapolis, Minnesota U.S.A.
Tel. (1.612)874.6662
Dance Company, tap, professional
--------------------------------------------------------------------------------
Joan Elwell
The Ethnic Dance Theatre
2337 Central Avenue NE MN 55418 Minneapolis, Minnesota U.S.A.
Tel. (1.612)870.8831
www.ethnicdancetheatre.com
Dance Company
--------------------------------------------------------------------------------
Jonathan Frey
1807 Elliot Avenue S. No. 6 MN 55404 Minneapolis, Minnesota U.S.A.
Choreographer, artistic director
--------------------------------------------------------------------------------
Jose-Luis Gallagher
2530 Buchanan St. N.E. MN 55418 Minneapolis U.S.A.
Tel. (1.612)3702226
African Brazilian martial art, dance and cultural representation that represents the struggle for liberty and freedom
--------------------------------------------------------------------------------
Tamara Halbritter
3560 Minnehaha Avenue MN 55406-2627 Minneapolis U.S.A.
Dancer
--------------------------------------------------------------------------------
Beth Hennessy
3748 Minnehaha Avenue S. MN 55406 Minneapolis, Minnesota U.S.A.
Tel. (1.612)722.2914; Fax (1.612)722.2915
www.mtn.org/tapestry
Swing, International, New England Contra and English Country Dancing
--------------------------------------------------------------------------------
Myrtle Hoppe
3123 Johnson Street MN 55418 Minneapolis, Minnesota U.S.A.
Tel. (1.612)789.2659
Dance Teacher
--------------------------------------------------------------------------------
Loyce Houlton
528 Hennepin Ave., MN 55403 Minneapolis., Minnesota U.S.A.
Tel. (612) 338-0627
Professional Co., & Performing Arts Division. Annual Nutcracker Fantasy
--------------------------------------------------------------------------------
Brita Jackson
PO Box 50363 MN 55405 Minneapolis, Minnesota U.S.A.
Dance Company
--------------------------------------------------------------------------------
Heidi Hauser Jasmin
1940 Hennepin Avenue MN 55403-3160 Minneapolis U.S.A.
Tel. (1.612)871 9077; Fax (1.612)870 0764
www.tcfreenet.org/org/hauser
Dance Company
--------------------------------------------------------------------------------
Myron Johnson
1629 Hennepin Avenue MN 55403 Minneapolis, Minnesota U.S.A.
Tel. (1.612)333.2792
Dance School, ballet
--------------------------------------------------------------------------------
Tanith Korravai
3600, 18th Avenue S. MN 55407 Minneapolis U.S.A.
www.uptownoncalhoun.org
Morris dance team, Cotswold and Border Dance
--------------------------------------------------------------------------------
Bill Kubeczko
416 Cedar Avenue South MN 55454 Minneapolis, Minnesota U.S.A.
Tel. (1.612)338.2674; Fax (1.612)338.1687
Scandinavian dance
--------------------------------------------------------------------------------
Donald D. LaCourse
The Ethnic Dance Theatre
2337 Central Avenue NE MN 55418 Minneapolis, Minnesota U.S.A.
Tel. (1.612)782 3970; Fax (1.612)782 3970
www.ethnicdancetheatre.com
Folk, Dance theatre
--------------------------------------------------------------------------------
Minneapolis Sandy Lipsky
425 5Th Street SE MN 55414 Minneapolis, Minnesota U.S.A.
Tel. (1.612)381.9190; (1.612)624.9581
Dance Teacher
--------------------------------------------------------------------------------
Jennifer Mack
Minneapolis St. Paul, Minnesot U.S.A.
www.mnartists.org/artistHome.do?rid=4882
Freelance dancer, teacher, choreographer and educator in all forms of dance
--------------------------------------------------------------------------------
Bonnie Mathis
528 Hennepin Ave., #203 MN 55403Minneapolis, Minnesota U.S.A.
Tel. (612) 340-1071
Pre-Professional Division, Ages 8-18.
--------------------------------------------------------------------------------
Springboard Dance, an apprentice company for Jane Peck
4221 Dupont Ave. So. MN 55409 Minneapolis U.S.A.
Tel. (1.612 823.0776
Dance Teacher, Dance researcher
--------------------------------------------------------------------------------
Perizada
MN Minneapolis, U.S.A. (612) 710-1904
Belly Dance, Middle Eastern Dance, Raqs Sharki.
--------------------------------------------------------------------------------
Ranee Ramaswamy
4511 Pillsbury Avenue South/ 711 West Lake Street, Suit MN 55409 Minneapolis
Tel. 612/824-1968 ; fax 612/824-2892
http://www.ragamala.net
Artistic Director, choreographer, Company, performing, Indian dances
--------------------------------------------------------------------------------
Julia Blair Rice
2729 29th Avenue Upper MN 55406 Minneapolis, Minnesota U.S.A.
Dance Therapist
--------------------------------------------------------------------------------
Sally Rousse
528 Hennepin Avenue, Suite 205 MN 55403.1810 Minneapolis Minnesota U.S.A.
Tel. 612.672.0480
http://www.jsballet.org
Choreographer
--------------------------------------------------------------------------------
Carol Sersland
5148 Elliot Avenue South MN 55417 Minneapolis U.S.A.
Tel. (1.612)822-7416
Dance School
--------------------------------------------------------------------------------
James Sewell
620 North 1st Street, Minesota Opera Center MN 55401 Minneapolis, Minnesota U.S.A.
Tel. (1.612)672.0480; Fax (1.612)672.9179
www.jsballet.org
Dance Company, modern, ballet, school
--------------------------------------------------------------------------------
Linda Shapiro
95 Bedford St. SE MN 55414 Minneapolis U.S.A.
Tel. (1.612 624.4008; 612 379.4307; Fax 612 625.2849
Dance Teacher, Dance researcher
--------------------------------------------------------------------------------
Daniel Shapiro
1925 Dupont Avenue South #5 MN 55403 Minneapolis, Minnesota U.S.A.
Tel. (1.612)879 0863; Fax (1.612)879 0864
www.pentacle.org
Dance Company
--------------------------------------------------------------------------------
Virginia Windschitl
4200 Cedar Avenue MN 55407 Minneapolis U.S.A.
Tel. (1.651)463-8056
Dance School
--------------------------------------------------------------------------------
Jesse Smith
5041 France Avenue South MN 55410-2034 Minneapolis U.S.A.
1(612)920-1900; fax 1(612)920-0573
www.arthurmurraympls.com
Dance School, Dance teacher, ballroom Dance , couple, social dances