.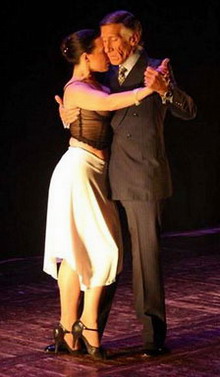 Tango Club of Albuquerque, Ballet Theater of New Mexico, Albuquerque Square Dance Club, are just a few of the dance companies, New Mexico dance schools, dancing organizations and dance wear suppliers that that can be found in our comprehensive Directory of New Mexico Dance Companies.
Featured New Mexico Dance Company
Tango Club of Albuquerque is a non-profit organization created by the Tango community of Albuquerque and surrounding areas to promote Argentine Tango. We sponsor frequent workshops and events, offer education in dancing techniques, the history of Argentine Tango and provide opportunities for social dancing. Tango Club membership includes discounts on Club-sponsored events, advance notice of activities, and access to an extensive lending library of tango videos available to members only.
Tango Club of Albuquerque events at Lloyd Shaw Dance Center, 5506 Coal SE (Located two blocks south of Central; 2nd block east of San Mateo)

Weekly - Tuesday Night Milonga, 7:30-10:30pm
Saturday Afternoon Practica, 2:30-4:30pm. Visiting or local teachers frequently offer short class or guided practica. Bi-monthly - First & third Sunday of each month*: TCA milonga at Kelly's Brew Pub, 3222 Central Ave SE, in the Nob Hill business district.
Tango Festivals & Weekends 2007

7th Annual Denver Memorial Day Tango Festival, May 24-28
Eric Jorissen (Nijmegen, Holland), Hsueh-tze Lee (Boston), Christopher & Caroline (San Francisco), Tom Stermitz & Melinda Quiat (Denver); DJs: Robin Thomas, Vijay Namasivayam, Ramu Pyreddy, Robert Hauk www.laeternamilonga.com

Tango Fantasy Festival 2007, May 25-June 3 in Miami Beach
Eleventh Anniversary Festival — Miguel Angel & Osvaldo Zotto, Fabian Salas & Carolina del Rivero, Guillermina Quiroga & Claudio Villagra, Dany "El Flaco" & Silvina Vals, Facundo & Kelly Posadas, Silvia Gryntz & Guillermo Salvat www.tangofantasy.com

UTango - a spring celebration of tango, June 7-10 in Salt Lake City
14 classes & 7 milongas home.comcast.net/~mbagnasacco

Toronto Tango Festival, June 7-10 in Toronto, Canada
Teachers, DJs & Performers include: Eric Jorissen, Cecilia Gonzales, Tomas Howlin, Noel Strazza, Robin Thomas, Steven Payne, Bulent Karabagli, Ramu Pyreddy www.torontotangofestival.com/schedule.html
---
There are many fine dance schools in New Mexico. I know I am in contact with them as we supply a range of high quality dancewear products like leotards, dance pants, dance dresses and other dancing apparel.
Bangkok Companies supplies an amazing range of dancewear from Thailand. I have looked at these dance garments and dance accessories in detail. There is only one word to describe them Superb. For more details click on the pictures or send an email to bangkokcompanies@gmail.com We regret at this time we can only satisfy New Mexico wholesale dancewear requests.
"Dancewear designed by dancers for dancers"
| | | | | |
| --- | --- | --- | --- | --- |
| Dance Dresses | Kids Leotards | Adult Leotards | Dance Bras | |
| | | | | |
| | Dance Pants | Tutu's | Dance Shorts | |
| | | | | |
| Dancewear | Dancewear Organizers | Dance Bags | Dance Backpacks | |
| | | | | |
Bangkok Companies is a full service product sourcing company in Thailand. For All your dancewear needs please email bangkokcompanies@gmail.com with your requests.
---
Dance Schools in New Mexico, Dancewear Suppliers, New Mexico Dancing Organizations
Khecari Dance Theatre
PO Box 1333 NM 87571 Taos, New Mexico U.S.A.
505.758.0363
www.khecari.org
Modern Dance company emphasizing elements of Capoeira, Aikido and contact improvisation.
--------------------------------------------------------------------------------
Karuna Warren
New World Drummers
3109 Oak Street NM 88005 Las Cruces, New Mexico U.S.A.
Tel. (505)523.0664;Fax. (505)527.7252;
Therapeutic Workshops, Basic Classes, Village Circles, Performances
--------------------------------------------------------------------------------
Deborah Chen
524 Jackson St SE NM 87108 Albuquerque, New Mexico U.S.A.
Tel. (505)268.03.42;mob(413)281.27.96
--------------------------------------------------------------------------------
Tango Club of Albuquerque
P.O. Box 35247 NM 87176-5247 Albuquerque, New Mexico U.S.A.
http://www.abqtango.org
Promoting Argentine Tango in New Mexico.
--------------------------------------------------------------------------------
University of New Mexico - Department of Theatre and Dance
College of Fine Arts NM 87131 Albuquerque, New Mexico U.S.A.
(505) 277-3606; Fax (505) 277-9625
Improvisation, Choreography, Dance Pedagogy, Dance/Video, Interdisciplinary courses. Pilates Mat Conditioning.
--------------------------------------------------------------------------------
Rozana Al-Jinan
Zahara al-Jinan
Paradise Blvd New Mexico U.S.A.
505-350-1011
www.JinanBellydancing.com
Rozana is the director of the award winning performance troupe Zahara al~Jinan. She teaches belly dancing on Albuquerque's Westside.
--------------------------------------------------------------------------------
Arthur 'ART' Harvey
2705, Topley Ave 88005 Las Cruces, New Mexico U.S.A.
505-524-2071
Caller/Teacher Contra Dancing, Square Dancing
--------------------------------------------------------------------------------
Joan Kafri
1707 Callejon Veronica NM 87501 Santa Fe, New Mexico U.S.A.
Tel. (1.505)983.7725; Fax (1.505)983.2142
Dance Camp, Folk Dance, Meddle Eastern Dance, Israeli Dance
--------------------------------------------------------------------------------
Myra Krien
369 Montezuma #287 NM 87501, Santa Fe, New Mexico U.S.A.
(505)986-6164
www.mosaicdance.net
Oriental and Tribal Bellydance, Funk-ex Fitness Dance
--------------------------------------------------------------------------------
Larry Lavender
Center for the Arts, Room 1412 NM 87131-1066 Albuquerque, New Mexico U.S.A.
(1.505)277.4332;Fax(1.505)277.8921;336.334.5570;fax 336.334.3238
www.uncg.edu/dce
Dance School, ballet, modern
--------------------------------------------------------------------------------
Anne Leva-Midon
#5, 1270 Calle de Comercio 87507 Santa Fe, New Mexico U.S.A.
(001) 505-983-6013
www.tangoleva.com
Argentine Tango Clothing
--------------------------------------------------------------------------------
Leyla Najma
9608 Palomita Ct. NW 87114 New Mexico U.S.A.
Tel. 505-459-8015
www.leyla-najma.com
Dance Teacher, Choreographer, producer of "Hip Phylosophy" instructional DVD
--------------------------------------------------------------------------------
Mark Oppenheim
580 California Street, 5th Floor CA 94104 San Francisco U.S.A. Work:
1-415-283-3256 Mobile: 1-650-619-1551
www.PhillipsOppenheim.com
Phillips Oppenheim is assisting the National Dance Institute of New Mexico (NDI-NM) in the search for an Executive Director to lead the organization's business operations.
--------------------------------------------------------------------------------
Catherine Oppenheimer
1140 Alto Street NM 87501 Santa Fe, New Mexico U.S.A.
Tel. (505) 983-7646
www.ndi-nm.org
--------------------------------------------------------------------------------
Ancient Art Studio
2585 South Broadway in Truth or Consequences NM 87901 New Mexico U.S.A.
(505)743-2048
In anticipation of all the GREAT DANCE EVENTS! We are having a local Henna Artist in to decorate our Hands/Feet/Whatever! Cherie from Indiana
--------------------------------------------------------------------------------
Linda Reeder-Sanchez
5206 Mescalero Trail NM 88012 Las Cruces, New Mexico U.S.A.
Belly dance, raks sharki, Irish, Greek, African, and middle eastern dance performer and instructor in the south west region of New Mexico for 25 years. I conduct workshops, hafla's, dance parties,
--------------------------------------------------------------------------------
Sakti Rinek
P.O. Box 3226 NM 87571 Taos New Mexico U.S.A.
Tel. 505-758-9217
http://sakti-international.com
Exotic Middle-Eastern Dancer, Choreographer, Instructor, Costume Bizarre
--------------------------------------------------------------------------------
Academy of Ballet
2721 North Florida Avenue NM 88310 Alamogordo, New Mexico U.S.A.
Tel. (1.505)437.3810
Dance School
--------------------------------------------------------------------------------
Albuquerque Square Dance Club
4915 Hawkins Street NE NM 87109 Albuquerque, New Mexico U.S.A.
Tel. (1.505)345.9797
Dance Club, square dance
--------------------------------------------------------------------------------
Alcorn Academy of Dance
2000 South Main Street NM 88201 Roswell, New Mexico U.S.A.
Tel. (1.505)623.5155
Dance School
--------------------------------------------------------------------------------
Alwin School of The Dance
10410 Comanche Road NE NM 87111 Albuquerque, New Mexico U.S.A.
Tel. (1.505)298.5551
Dance School
--------------------------------------------------------------------------------
Arabesque School of Dance
918 Juan Tabo Boulevard NE NM 87112 Albuquerque, New Mexico U.S.A.
Tel. (1.505)237.2662
Dance School
--------------------------------------------------------------------------------
Arthur Murray Dance School
2801 Eubank Boulevard NE # K NM 87112 Albuquerque, New Mexico U.S.A.
Tel. (1.505)296.6112
Dance School
--------------------------------------------------------------------------------
Ballet Theater of New Mexico
6913 Natalie Avenue NE NM 87110 Albuquerque, New Mexico U.S.A.
Tel. (1.505)888.1054
Dance School, ballet
--------------------------------------------------------------------------------
Bette Winslow Dance Studio
N of Taos NM 87571 Taos, New Mexico U.S.A.
Tel. (1.505)758.7303
Dance School
--------------------------------------------------------------------------------
Cafe Broadway
606 Broadway Boulevard SE NM 87102 Albuquerque, New Mexico U.S.A.
Tel. (1.505)842.9998
Dance Club, folk, flamenco, Spanish dance performance
--------------------------------------------------------------------------------
Cathy Roe Productions
1360 Vegas Verdes, suite C NM 87505 Santa Fe, New Mexico U.S.A.
www.cathyroe.com
Dance Supplier, dance videos in jazz, tap, ballet, lyrical and choreography for performance
--------------------------------------------------------------------------------
Children's Dance Program & Company
430 West Manhattan Avenue NM 87501 Santa Fe, New Mexico U.S.A.
Tel. (1.505)982.1662
Dance School
--------------------------------------------------------------------------------
Corrales Ballet
3577 Loma Larga Road NM 87048 Corrales, New Mexico U.S.A.
Tel. (1.505)896.2581
Dance School
--------------------------------------------------------------------------------
Dance Academy
11217 Montgomery Boulevard NE NM 87111 Albuquerque, New Mexico U.S.A.
Tel. (1.505)294.5252
Dance School
--------------------------------------------------------------------------------
Dance Academy
2216 North Main Street NM 88101 Clovis, New Mexico U.S.A.
Tel. (1.505)762.7372
Dance School
--------------------------------------------------------------------------------
Dance Coalition of New Mexico
826 Camino De Monte Rey NM 87505 Santa Fe, New Mexico U.S.A.
Tel. (1.505)820.2636
Dance School
--------------------------------------------------------------------------------
Dance Station
904 West Alameda NM 87501 Santa Fe, New Mexico U.S.A.
Tel. 1(905) 948-9600
Dance School, Dance teacher, ballroom dances
--------------------------------------------------------------------------------
Enchantment Ballroom
337 San Pedro Drive Ne NM 87108-1845 Albuquerque, New Mexico U.S.A.
Tel. 1(505) 268-4411
School, teacher, ballroom dances
--------------------------------------------------------------------------------
Karasu Naku
1341 Canyon Road #5 NM 87501 Santa Fe, New Mexico U.S.A.
Tel. (1.505)992 8770; Fax (1.505)992.8823
Dancers, duo, Butoh, Japanese dances
--------------------------------------------------------------------------------
New Mexico Dance Festival
4200 Wyoming Ne, Suite B-2 Nm 87111 Albuquerque, New Mexico U.S.A.
Tel. (01) 505-296-9465
Dance Festival
--------------------------------------------------------------------------------
Pablo Rodarte School of Flamenco and Spanish Dance
467 61th Street NM 87105 Albuquerque, New Mexico U.S.A.
Tel. (1.505)831.4422
Dance School, folk, flamenco, Spanish dances academy, Dance studio
--------------------------------------------------------------------------------
University of New Mexico, Fine Arts Library Fine Arts Center
NM 87131.1501 Albuquerque U.S.A.
Tel. 505 277.2357
Dance Library, Archive, Collection
--------------------------------------------------------------------------------
Elaine Herrera Alarid
5323 Montgomery NE NM 87109 Albuquerque, New Mexico U.S.A.
Tel. (1.505)883.7222
http://dnhs.aps.edu/ballet/titlepage.htm
Dance Group, Folk Dance, Mexican dances
--------------------------------------------------------------------------------
Maria Amaya
CEDAR CREST, NM, PO BOX 295 NM 87008 Albuquerque, New Mexico U.S.A.
505.281.4492, FAX 505.281.4492
www.Maria.amaya.com
Producer of Belly Dance Festivals, DVDs, music as well as a dancer, teacher, performer and choreographer
--------------------------------------------------------------------------------
Amaya
1917 Anderson Place NM 87108 Albuquerque, New Mexico U.S.A.
Tel. & Fax (1.505)260.1186
www.flash.net/~amaya/Index.html
Dancer, Oriental, belly dance, Middle Eastern
--------------------------------------------------------------------------------
Kathie Anthony
4529 Eubank Boulevard NE NM 87111 Albuquerque, New Mexico U.S.A.
Tel. (1.505)298.8828
Ballet, Tap, Jazz, Modern, Scottish
--------------------------------------------------------------------------------
Richard Bender
619 Parkland Circle SE NM 87108 Albuquerque, New Mexico U.S.A.
Tel. (1.505)254.1803
Dance Camp, folk, workshop, contras, English Country, Scandinavian Dance
--------------------------------------------------------------------------------
Maria Benitez
1516 Pacheco Street NM Santa Fe, New Mexico U.S.A.
505.982.1237; 505.955.8562
www.mariabenitez.com
Dance School, Spanish dances, flamenco
--------------------------------------------------------------------------------
Chris Berry
PO Box 4641 NM 87196 Albuquerque, New Mexico U.S.A.
Tel. (1.505)232.7884
www.humansongs.com/chrisberry.htm .
Dance Teacher, folk dances and songs, Zimbabwean Dance
--------------------------------------------------------------------------------
Mary Jane Bird
712 Washington NE NM 87110 Albuquerque, New Mexico U.S.A.
Tel. (1.505)260-1809
The blending of Ballet and Modern Dance with American Indian Dance and Storytelling
--------------------------------------------------------------------------------
Lori Bovia
PO Box 1314 NM 87701 Las Vegas, New Mexico U.S.A.
Tel. (1.505)641.3086
Dance Group, folk, Mexican dances
--------------------------------------------------------------------------------
Miguel Caro
PO Box 4834 NM 87196 Albuquerque, New Mexico U.S.A.
Tel. (1.505)242.9183; (1.505)243.7348
Dance Group, folk, Mexican dances
--------------------------------------------------------------------------------
Patricia Dickinson
4200 Wyoming NE NM 87111 Albuquerque, New Mexico U.S.A.
Tel. (1.505)296.9465
Dance Company, ballet'; Home of the New Mexico Ballet Co.
--------------------------------------------------------------------------------
Gary Diggs
12521 Charla Court SE NM 87123 Albuquerque, New Mexico U.S.A.
Tel. (1.505)293.5343
Dance Organization, folk, international dances
--------------------------------------------------------------------------------
Lorenzo Dominguez
112 Calle Dominguez NM 87004 Bernalillo, New Mexico U.S.A.
Tel. (1.505)867.5204
Dance Group, folk, Mexican dances
--------------------------------------------------------------------------------
Rujeko Dumbutshena
PO Box 4641 NM 87196 Albuquerque, New Mexico U.S.A.
Tel. (1.505)232.7884; (1.505)247.1246
www.humansongs.com/chrisberry.htm .
Dance Teacher, folk dances and songs, Zimbabwean Dance
--------------------------------------------------------------------------------
Welena Estenzo
3500 Parsifal Street, NE NM 87111 Albuquerque, New Mexico U.S.A.
Tel. (1.505)332.7181
Dance Group, Polynesian dances, Hula
--------------------------------------------------------------------------------
Bill Evans
PO Box 1126 NM 87131 Sandia Park, New Mexico U.S.A.
Tel. (1.505)286.0195; Fax (1.505)277.9625
http://www.billevansdance.org
Dance Teacher, choreographer, solo performer, modern, Laban Movement, Analysis, Bartenieff Fundamentals, rhythm tap technique and repertory
--------------------------------------------------------------------------------
Bill Evans
PO Box 2815 NM 87048 Corrales, New Mexico U.S.A.
Tel. (1.505)898.1531; Fax (1.505)277.0708
Dance Company, modern
--------------------------------------------------------------------------------
Israela Garcia
2801 Girard Boulevard NE NM 87107 Albuquerque, New Mexico U.S.A.
Tel. (1.505)880.1488
Dance Group, folk, Mexican dances, school
--------------------------------------------------------------------------------
Gisela Genschow
1504 Cerrillos Road NM 87505 Santa Fe, New Mexico U.S.A.
tel. (1.505)983.5591
www.aspensantafeballet.com
Dance School
--------------------------------------------------------------------------------
Irene L. Gonzalez
2601 Los Padillas SW NM 87105 Albuquerque, New Mexico U.S.A.
Tel. (1.505)873.0216
Dance Group, folk, Mexican dances
--------------------------------------------------------------------------------
Tagrid Dawn-Marie Gottlieb
Menaul School, 232 Cardenas Dr. NE NM 87108 Albuquerque, New Mexico U.S.A.
Tel. (1.505)266-6951
Persian and Belly Dance, choreographer, performer and teacher.
--------------------------------------------------------------------------------
Shira Greenberg
2132A Central Avenue SE, PMB #307 NM 87106 Albuquerque, New Mexico U.S.A.
Tel. (1.505)224.9808
www.wirefeed.com/keshet
Dance Company
--------------------------------------------------------------------------------
Cindi Heffner
4208 Loren Avenue NW NM 87100 Albuquerque, New Mexico U.S.A.
Tel. (1.505)792.8518
Dance Group, Polynesian dances, Hula
--------------------------------------------------------------------------------
Frank Herrera
PO Box 6054 NM 88201 Roswell, New Mexico U.S.A.
Tel. (1.505)624.2724
www.angelfire.com/nm/RoswellFolklorico
Dance Group, folk, Mexican dances
--------------------------------------------------------------------------------
Johanna Hongell-Darsee
1509 Altez NE NM 87112 Albuquerque, New Mexico U.S.A.
Tel. (1.505)294.4567
http://johanna.itgo.com
Storytelling, mime, contemporary dance and East Indian Dance.
--------------------------------------------------------------------------------
Frank J. Korom
PO Box 2087 NM 87504-2087 Santa Fe, New Mexico U.S.A.
Dance Researcher, folklorist, folk narrative research
--------------------------------------------------------------------------------
Hope Krasner
11321 Baja NE NM 87111 Albuquerque, New Mexico U.S.A.
Therapist, dance
--------------------------------------------------------------------------------
Katherine Liden
27 Sparrow Lane NM 87059-8147 Tijeras, New Mexico U.S.A.
Tel. (1.505)286.0068; (1.505)277.5963; Fax (1.505)277.0874
www.unm.edu/~maxwell/Maxwell/MMhp.html
Scandinavian dance
--------------------------------------------------------------------------------
Robert Long
2801 Eubank NE, Suite K NM 87112 Albuquerque, New Mexico U.S.A.
1(505) 296-6112
www.arthurmurray-abq.com
Dance School, teacher, ballroom, couple, social dances
--------------------------------------------------------------------------------
Lonnie Ludeman
1828 Imperial Ridge NM 88011 Las Cruces, New Mexico U.S.A.
Tel. (1.505)646.1321; (1.505)522.1691
Dance Group, folk dance recreational and performing
--------------------------------------------------------------------------------
Gregoria Luna
320 Russell NM 88220 Carlsbas, New Mexico U.S.A.
Tel. (1.505)885.3748; (1.505)887.0249
Dance Group, folk, Mexican dances
--------------------------------------------------------------------------------
Judith Beers MacDonald
O Box 3411 NM 87499 Farmington, New Mexico U.S.A.
Dance Therapist, dance, Teacher
--------------------------------------------------------------------------------
Blanca Luz Melendrez
PO Box 457 NM 87004 Bernalillo, New Mexico U.S.A.
Tel. (1.505)867.9736
Dance Teacher, folk, Mexican
--------------------------------------------------------------------------------
Asha Pollem
2661, Floral Rd. NW NM 87104 Albuquerque, New Mexico U.S.A.
Tel. (1.505)764.8131
www.eclypse-troupe.com
Dance troupe, modern Middle Eastern music, traditional dance forms
--------------------------------------------------------------------------------
Jennifer Predock-Linnell
Theatre and Dance, MSC04 2570. 1 University of New Mexi New Mexico U.S.A.
Tel. 1.505 877.1223; Fax 505 277.9625
choreographer, scholarly researcher in choreography,
--------------------------------------------------------------------------------
Gena Prince
1121 Calle la Resolana NM 87505 Santa Fe, New Mexico U.S.A.
Tel. (1.505)471.7035; (1.505)982.8888
Dance Company, ballet
--------------------------------------------------------------------------------
Endelecia Prince
1121 Calle la Resolana NM 87505 Santa Fe, New Mexico U.S.A.
Tel. (1.505)471.7035; (1.505)982.8888
Dance Company, ballet
--------------------------------------------------------------------------------
Marie A. Reyna
PO Box 1853, Taos Pueblo NM 87571 Taos, New Mexico U.S.A.
Tel. (1.505)758.3835
Dance Group, folk, Pueblo dances, Native American
--------------------------------------------------------------------------------
Martin Rodriguez
900 Fourth Street Suite C NM 87102 Albuquerque, New Mexico U.S.A.
Tel. (1.505)766.5449; Fax (1.505)246.1862
www.ExpresionesDance.com
Dance Group, folk, Mexican dances
--------------------------------------------------------------------------------
Benardette Rodriguez
900 Fourth Street Suite C NM 87102 Albuquerque, New Mexico U.S.A.
Tel. (1.505)766.5449; Fax (1.505)246.1862
www.ExpresionesDance.com
Dance Group, folk, Mexican dances
--------------------------------------------------------------------------------
Rosalinda "Nur" Rojas
PO Box 11172 NM 87192 Albuquerque, New Mexico U.S.A.
Dance Company
--------------------------------------------------------------------------------
Patrick Rucker
NM 88130 Portales, New Mexico U.S.A.
Tel. (1.505)562.2711
Dance School
--------------------------------------------------------------------------------
Catherine Sanchez
PO Box 37290 NM 87176 Albuquerque, New Mexico U.S.A.
Tel. (1.505)884.3568; (1.505)875.1020; Fax (1.505)875.1140
Dance Group, folk, Mexican dances
--------------------------------------------------------------------------------
Kelley Skehen
4817 Trumbull SE NM 87100 Albuquerque, New Mexico U.S.A.
Tel. (1.505)265.6562
Dance Teacher, folk, Irish set dancing, organizer
--------------------------------------------------------------------------------
Jose Tena
1627 Winston Circle NM 88005 Las Cruces, New Mexico U.S.A.
Tel. (1.505)523.7630; (1.505)524.1422; (1.505)541.2154
www.lascruces-culture.org
Dance Group, folk, Mexican dances, Teacher
--------------------------------------------------------------------------------
Bette Winslow
PO Box 425 NM 87571 Taos, New Mexico U.S.A.
Tel. (1.505)758.7303
Dance School
--------------------------------------------------------------------------------
Rachelle Woods
120 Spruce Street NM-87501 Santa Fe, New Mexico U.S.A.
Tel. 505-983-4426
Dance Teacher, Contact Improvisation
--------------------------------------------------------------------------------
Eastern New Mexico University
NM 88130 Portales U.S.A.
Tel. 505 562.2636
Dance Library, Archive, Collection