.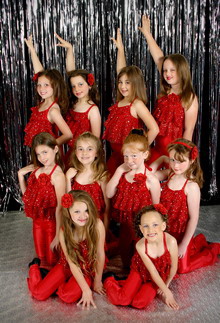 K & M Dance Company, Ballet & Musical Theatre Dance, Fairmont Studio of Dancing, are just a few of the dance companies, West Virginia dance schools, dancing organizations and dance wear suppliers that that can be found in our comprehensive Directory of West Virginia Dance Companies.
Featured West Virginia Dance Company
K & M Dance Company

K & M Dance Company was opened in 2002 and has strived to provide quality & affordable dance instruction. All three instructors started dance at the age of three at Deanna's School Of Dance in Sissonville, WV, under the direction of Deanna Hoffman, and then later Letita Sasser. Then became instructors for the studio until it closed.

A few years later we decided to open our own studio to pass on the love we have for dancing. We are currently offering classes in Tap, Ballet , Jazz, Pom Pom, Baton Gymnastics. Also we work with local cheerleading & dance teams
---
There are many fine dance schools in West Virginia. I know I am in contact with them as we supply a range of high quality dancewear products like leotards, dance pants, dance dresses and other dancing apparel.
Bangkok Companies supplies an amazing range of dancewear from Thailand. I have looked at these dance garments and dance accessories in detail. There is only one word to describe them Superb. For more details click on the pictures or send an email to bangkokcompanies@gmail.com We regret at this time we can only satisfy West Virginia wholesale dancewear requests.
"Dancewear designed by dancers for dancers"
| | | | | |
| --- | --- | --- | --- | --- |
| Dance Dresses | Kids Leotards | Adult Leotards | Dance Bras | |
| | | | | |
| | Dance Pants | Tutu's | Dance Shorts | |
| | | | | |
| Dancewear | Dancewear Organizers | Dance Bags | Dance Backpacks | |
| | | | | |
Bangkok Companies is a full service product sourcing company in Thailand. For All your dancewear needs please email bangkokcompanies@gmail.com with your requests.
---
Dance Schools in West Virginia, Dancewear Suppliers, West Virginia Dancing Organizations
American Academy of Ballet
822 Virginia Street East WV 25301 Charleston, West Virginia U.S.A.
Tel. (1.304)342.6541
Dance School, Dance tuition
--------------------------------------------------------------------------------
Ballet & Musical Theatre Dance
717 Lee Street East WV 25301 Charleston, West Virginia U.S.A.
Tel. (1.304)343.1076
Dance School, dance tuition, Dance classes, classical ballet
--------------------------------------------------------------------------------
BJ's Dance Studio
1305 Washington Street West WV 25302 Charleston, West Virginia U.S.A.
Tel. (1.304)342.1577
Dance School, Dance tuition, Dance classes
--------------------------------------------------------------------------------
Dance Perfections
1110 Central Avenue WV 25302 Charleston, West Virginia U.S.A.
Tel. (1.304)346.2864
School, dance tuition, classes
--------------------------------------------------------------------------------
Deanna's School of Dance
5301 Maccorkle Avenue SW WV 25309 Charleston, West Virginia U.S.A.
Tel. (1.304)766.8234
Dance School, dance tuition, classes
--------------------------------------------------------------------------------
Deanna's School of Dance
7379 Sissonville Drive WV 25320 Charleston, West Virginia U.S.A.
Tel. (1.304)984.1763
Dance School, dance tuition, classes
--------------------------------------------------------------------------------
January's Academy of Dance
601 Pennsylvania Avenue WV 25302 Charleston, West Virginia U.S.A.
Tel. (1.304)345.5141
School, dance tuition, classes
--------------------------------------------------------------------------------
Mary's School of Dance
1033 Quarrier Street WV 25301 Charleston, West Virginia U.S.A.
Tel. (1.304)346.1461
Dance School, dance tuition, Dance classes
--------------------------------------------------------------------------------
Step 'n' Up
230 7th Avenue SW WV 25303 South Charleston, West Virginia U.S.A.
Tel. (1.304)744.8829
School, dance tuition, classes
--------------------------------------------------------------------------------
Tanner Dance Studio
701 F Street WV 25303 South Charleston, West Virginia U.S.A.
Tel. (1.304)744.8044
Dance School, dance tuition, classes
--------------------------------------------------------------------------------
Kim R. Pauley
822 Virginia Street East WV 25301 Charleston, West Virginia U.S.A.
Tel. (1.304)342.6541
Dance Company, modern, ballet
--------------------------------------------------------------------------------
Annabel Timms Studio of Ballet
106 West Main Street WV 26330 Bridgeport, West Virginia U.S.A.
Tel. (1.304)842.7297
Dance School, dance tuition, classes, classical ballet
--------------------------------------------------------------------------------
Rebecca's Dance Studio
415 Benedum Drive WV 26330 Bridgeport, West Virginia U.S.A.
Tel. (1.304)842.8575
Dance School, dance tuition, classes
--------------------------------------------------------------------------------
Stephanie Lopez
Movements in Dance,1814 Woodleaf Drive WV 26554 Fairmont, West Virginia U.S.A.
Tel. 304-363-1016
Dance Teacher
--------------------------------------------------------------------------------
Fairmont Ballet & Stage Seven
301 10th Street WV 26554 Fairmont, West Virginia U.S.A.
Tel. (1.304)363.1446
Dance School, dance tuition, classes, classical ballet
--------------------------------------------------------------------------------
Fairmont Studio of Dancing
1912 Speedway Street WV 26554 Fairmont, West Virginia U.S.A.
Tel. (1.304)363.0453
School, dance tuition, classes
--------------------------------------------------------------------------------
Kat & Company Dance Studio
874 Fairmont Road WV 26505 Morgantown, West Virginia U.S.A.
Tel. (1.304)292.5277
Dance School, dance tuition, classes
--------------------------------------------------------------------------------
Movements in Dance
119 East Park Avenue WV 26554 Fairmont, West Virginia U.S.A.
Tel. (1.304)363.1016
Dance School, dance tuition, Dance classes
--------------------------------------------------------------------------------
Kelly's School of Dance
4544 Emerson Avenue WV 26104 Parkersburg, West Virginia U.S.A.
Tel. (1.304)424.6520
School, dance tuition, classes
--------------------------------------------------------------------------------
Shrader Youth Ballet Company
517 Market Street WV 26101 Parkersburg, West Virginia U.S.A.
Tel. (1.304)485.0181
Dance School, dance tuition, classes
--------------------------------------------------------------------------------
Sunshine Generation
609 30th Street WV 26101 Parkersburg, West Virginia U.S.A.
Tel. (1.304)485.7464
Dance School, dance tuition, classes
--------------------------------------------------------------------------------
Tina's Dance Studio One
2305 Camden Avenue WV 26101 Parkersburg, West Virginia U.S.A.
Tel. (1.304)485.4398
Dance School, dance tuition, classes
--------------------------------------------------------------------------------
Norma Gunter
1311 Ann Street, Box 4204 WV 26104 Parkersburg, West Virginia U.S.A.
Tel. (1.304)422.5538; Fax (1.800)882.1148
Dance Company, modern, ballet, school, tuition, classes
--------------------------------------------------------------------------------
Suzy Gunter
1311 Ann Street, Box 4204 WV 26104 Parkersburg, West Virginia U.S.A.
Tel. (1.304)422.5538; (1.800)882.1148; Fax (1.304)422.6730
Dance Company, modern, ballet, school, tuition, classes
--------------------------------------------------------------------------------
Jimmy Nichols
Rt. 9, Box 29, Dutch Hills Terrace WV 26101 Parkersburg, West Virginia U.S.A.
Tel. (1.304)422.5720
Dance Teacher, Dance instructor, country & Western dances
--------------------------------------------------------------------------------
Academy of Dance
124 North Maple Avenue WV 25401 Martinsburg, West Virginia U.S.A.
Tel. (1.304)263.3922
School, dance tuition, classes
--------------------------------------------------------------------------------
West Virginia Youth Ballet Company
118 West Martin Street WV 25401 Martinsburg, West Virginia U.S.A.
Tel. (1.304)267.7740
School, dance tuition, classes, classical ballet
--------------------------------------------------------------------------------
Beth Barnes School of Dance
Ashebrooke Square WV 26505 Morgantown, West Virginia U.S.A.
Tel. (1.304)594.3637
Dance School, tuition
--------------------------------------------------------------------------------
Charlotte's Dance Studio
10 Tower Lane # D WV 26505 Morgantown, West Virginia U.S.A.
Tel. (1.304)291.2191
School, dance tuition, classes
--------------------------------------------------------------------------------
Headliner Dance Studios
Ashebrooke Square WV 26505 Morgantown, West Virginia U.S.A.
Tel. (1.304)594.0812
Dance School, dance tuition, classes
--------------------------------------------------------------------------------
Kat & Company Dance Studio
874 Fairmont Road WV 26505 Morgantown, West Virginia U.S.A.
Tel. (1.304)292.5277
Dance School, dance tuition, classes
--------------------------------------------------------------------------------
Mindy's School of Dance
241 Walnut Street WV 26505 Morgantown, West Virginia U.S.A.
Tel. (1.304)296.3377
School, dance tuition, classes
--------------------------------------------------------------------------------
Morgantown Dance Studio
276 Walnut Street # B WV 26505 Morgantown, West Virginia U.S.A.
Tel. (1.304)292.3266
Dance School, dance tuition, classes
--------------------------------------------------------------------------------
Suncrest Cultural Center
973 Chestnut Ridge Road WV 26505 Morgantown, West Virginia U.S.A.
Tel. (1.304)599.6001
Dance School, dance tuition, classes
--------------------------------------------------------------------------------
Tracy's Dance Company
1112 Greenbag Road WV 26505 Morgantown, West Virginia U.S.A.
Tel. (1.304)292.9671
School, dance tuition, classes
--------------------------------------------------------------------------------
Shepherdstown Music and Dance
PO Box 1293 WV 25443 Shepherdstown U.S.A. (304) 263-2531
www.smad.info
Traditional American and English Dance including Contra Dance, Northwest Morris Dance, Welsh Border Morris, Maypole celebrations.
--------------------------------------------------------------------------------
Allegro School of Dance
Flowing Springs Road WV 25443 Shepherdstown, West Virginia U.S.A.
Tel. (1.304)876.1043
Dance School, dance tuition, classes
--------------------------------------------------------------------------------
Misty Christopher
David Callihan Dance Dimensions, 96 Washington Avenue WV 26003 Wheeling U.S.A.
Tel.304-243-1860
Dance Teacher
--------------------------------------------------------------------------------
Dance Dimensions
96 Washington Avenue WV 26003 Wheeling, West Virginia U.S.A.
Tel. (1.304)243.1860
Dance School, Dance tuition
--------------------------------------------------------------------------------
Jackie's Dance Studio
319 North York Street WV 26003 Wheeling, West Virginia U.S.A.
Tel. (1.304)232.1047
School, dance tuition, classes
--------------------------------------------------------------------------------
Toni Zeakes Performing Arts Center
2239 Market Street WV 26003 Wheeling, West Virginia U.S.A.
Tel. (1.304)233.2470
School, dance tuition, classes
--------------------------------------------------------------------------------
Kate Crosbie
1330 National Road WV 26003 Wheeling, West Virginia U.S.A.
Tel. (1.304)242.7700
Dance Camp, folk, international dances, New England Contra Dance
--------------------------------------------------------------------------------
Katy Dillon
311 Scott Ford Road WV 26241 Elkins U.S.A. 3
04-637-4819
www.wvhd.com
We are a performance and competition Scottish Highland dance group
--------------------------------------------------------------------------------
Elkins Col
100 Campus Drive WV 26241-3996 Elkins, West Virginia U.S.A.
Tel. (1.304)637.1209
Dance Camp, folk dance
--------------------------------------------------------------------------------
Davis Col
100 Campus Drive WV 26241-3996 Elkins, West Virginia U.S.A.
Tel. (1.304)637.1209
Dance Camp, folk dance
--------------------------------------------------------------------------------
Thomas Koerner
Forest Hill Court 11650 WV 22030 Virginia, Fairfax U.S.A.
Tel. 703.359.9882, FAX 703.359.9198
www.gottaswing.com
Operate largest exclusive swing (lindy hop and jitterbug) dance lessons and events in the US
--------------------------------------------------------------------------------
Academy of Dance
124 North Maple Avenue WV 25401 Martinsburg, West Virginia U.S.A.
Tel. (1.304)263.3922
Dance School, dance tuition, classes
--------------------------------------------------------------------------------
West Virginia Youth Ballet Company
118 West Martin Street WV 25401 Martinsburg, West Virginia U.S.A.
Tel. (1.304)267.7740
School, dance tuition, classes, classical ballet
--------------------------------------------------------------------------------
Angie's Dance Academy
104 East Main Street WV 26537 Kingwood, West Virginia U.S.A.
Tel. (1.304)329.1655
Dance School, dance tuition, classes
--------------------------------------------------------------------------------
Jennifer Frederick School
209 Kingston Road WV 26537 Kingwood, West Virginia U.S.A.
Tel. (1.304)329.1711
School, dance tuition, classes
--------------------------------------------------------------------------------
Art Center School of Dance
3720 Auburn Road WV 25704 Huntington, West Virginia U.S.A.
Tel. (1.304)429.3541
Dance School, dance tuition, classes
--------------------------------------------------------------------------------
Dancing Place
819 10th Avenue WV 25701 Huntington, West Virginia U.S.A.
Tel. (1.304)529.7516
School, dance tuition, classes
--------------------------------------------------------------------------------
Mary Rowley Hesson Dance Studio
6021 East Pea Ridge Road WV 25705 Huntington, West Virginia U.S.A.
Tel. (1.304)736.4303
Dance School, dance tuition, classes
--------------------------------------------------------------------------------
Mirror Image Dance Studio
113 3rd Avenue W WV 25701 Huntington, West Virginia U.S.A.
Tel. (1.304)697.8946
School, dance tuition, classes
--------------------------------------------------------------------------------
Nancy's School of Dance
731 5th Street W WV 25701 Huntington, West Virginia U.S.A.
Tel. (1.304)697.2840
Dance School, dance tuition, classes
--------------------------------------------------------------------------------
Turning Pointe
210 11th Street WV 25701 Huntington, West Virginia U.S.A.
Tel. (1.304)525.3443
Dance School, dance tuition, classes
--------------------------------------------------------------------------------
Norma Colvin
7 Seminole Road WV 25705 Huntington, West Virginia U.S.A.
Tel. (1.304)522.6235; (1.304)697.3294
Dance Teacher, Dance instructor, country & Western dances
--------------------------------------------------------------------------------
Attitudes
309 Beckley Crossing Shopping Center WV 25801 Beckley, West Virginia U.S.A.
Tel. (1.304)253.3991
Dance School, dance tuition, classes
--------------------------------------------------------------------------------
Dance Theatre School
112 Raleigh Avenue WV 25801 Beckley, West Virginia U.S.A.
Tel. (1.304)255.5684
School, dance tuition, classes
--------------------------------------------------------------------------------
Karen's Academy of Dance
204 Hartley Avenue WV 25801 Beckley, West Virginia U.S.A.
Tel. (1.304)252.3001
Dance School, dance tuition, classes
--------------------------------------------------------------------------------
Alexandria
127 Hight St. WV 25801 Beckley U.S.A.
Tel. 304.253.1516
Belly dancer
--------------------------------------------------------------------------------
Brenda Casey Studio of Dance
743 Main Street WV 26037 Follansbee, West Virginia U.S.A.
Tel. (1.304)527.9870
School, tuition
--------------------------------------------------------------------------------
Studio of J. Mason & B. Tennant
1000 Main Street WV 26037 Follansbee, West Virginia U.S.A.
Tel. (1.304)527.4522
Dance School, dance tuition, classes
--------------------------------------------------------------------------------
Cheerz
3009 Main Street WV 26062 Weirton, West Virginia U.S.A.
Tel. (1.304)748.0493
Dance School, tuition
--------------------------------------------------------------------------------
Kester's School of Dancing
3334 Main Street WV 26062 Weirton, West Virginia U.S.A.
Tel. (1.304)748.0770
School, dance tuition, classes
--------------------------------------------------------------------------------
Michele Dance Studio
3156 Main Street WV 26062 Weirton, West Virginia U.S.A.
Tel. (1.304)748.1200
Dance School, dance tuition, classes
--------------------------------------------------------------------------------
One Step Up
110 South 24th Street WV 26062 Weirton, West Virginia U.S.A.
Tel. (1.304)723.5659
Dance School, dance tuition, classes
--------------------------------------------------------------------------------
Weirton Dance Cultural Center
3061 Main Street WV 26062 Weirton, West Virginia U.S.A.
Tel. (1.304)797.7500
School, dance tuition, classes
--------------------------------------------------------------------------------
Dance Dimensions
2119 4th Street WV 26041 Moundsville, West Virginia U.S.A.
Tel. (1.304)845.0341
Dance School, dance tuition, classes
--------------------------------------------------------------------------------
Dance Factory
9 West Main Street WV 26201 Buckhannon, West Virginia U.S.A.
Tel. (1.304)472.8291
School, dance tuition, classes
--------------------------------------------------------------------------------
Bluefield Dance Theatre
1801 Jefferson Street WV 24701 Bluefield, West Virginia U.S.A.
Tel. (1.304)327.7616
Dance School, dance tuition, classes
--------------------------------------------------------------------------------
Dance Gallery & Gifts
1807 Jefferson Street WV 24701 Bluefield, West Virginia U.S.A.
Tel. (1.304)327.5591
Dance Supplier, dancewear
--------------------------------------------------------------------------------
Barbara Hudson
2529 Clovis Street Bluefield, WV 24701 U.S.A.
Tel. 304-325-5826
Dance Teacher, Alexander Technique
--------------------------------------------------------------------------------
Dancing Unlimited
2825 Main Street Rear WV 25526 Hurricane, West Virginia U.S.A.
Tel. (1.304)562.7197
School, dance tuition, classes
--------------------------------------------------------------------------------
Haney Studio
3524 Teays Valley Road WV 25526 Hurricane, West Virginia U.S.A.
Tel. (1.304)562.5232
Dance School, dance tuition, classes
--------------------------------------------------------------------------------
Danc' North Things
28 Henshaw Road # A WV 25428 Inwood, West Virginia U.S.A.
Tel. (1.304)229.3209
School, dance tuition, classes
--------------------------------------------------------------------------------
Tari Jo's Dance Studio
195 Valley View Road WV 25428 Inwood, West Virginia U.S.A.
Tel. (1.304)263.7368
School, dance tuition, classes
--------------------------------------------------------------------------------
Denna Smith
28A Henshaw Road WV 25428 Inwood, West Virginia U.S.A.
Tel. (1.304)229.3209
Dance School
--------------------------------------------------------------------------------
Ellie Grimmett Dance School
64 Michigan Avenue WV 25136 Montgomery, West Virginia U.S.A.
Tel. (1.304)442.5957
School, tuition
--------------------------------------------------------------------------------
Penny's Dance Studio
505 Madison Street WV 25136 Montgomery, West Virginia U.S.A.
Tel. (1.304)442.5994
Dance School, dance tuition, classes
--------------------------------------------------------------------------------
Angie's Dance Academy Studio
57 West Main Street WV 26354 Grafton, West Virginia U.S.A.
Tel. (1.304)265.4386
School, dance tuition, classes
--------------------------------------------------------------------------------
Grafton School of Dance
9 East Washington Street WV 26354 Grafton, West Virginia U.S.A.
Tel. (1.304)265.4953
Dance School, dance tuition, Dance classes
--------------------------------------------------------------------------------
Greenbrier Dance Academy
122 West Washington Street WV 24901 Lewisburg, West Virginia U.S.A.
Tel. (1.304)645.7964
School, dance tuition, classes
--------------------------------------------------------------------------------
Cheerz
3009 Main Street WV 26062 Weirton, West Virginia U.S.A.
Tel. (1.304)748.0493
Dance School, tuition
--------------------------------------------------------------------------------
Kester's School of Dancing
3334 Main Street WV 26062 Weirton, West Virginia U.S.A.
Tel. (1.304)748.0770
School, dance tuition, classes
--------------------------------------------------------------------------------
Michele Dance Studio
3156 Main Street WV 26062 Weirton, West Virginia U.S.A.
Tel. (1.304)748.1200
School, dance tuition, classes
--------------------------------------------------------------------------------
One Step Up
110 South 24th Street WV 26062 Weirton, West Virginia U.S.A.
Tel. (1.304)723.5659
School, dance tuition, classes
--------------------------------------------------------------------------------
Weirton Dance Cultural Center
3061 Main Street WV 26062 Weirton, West Virginia U.S.A.
Tel. (1.304)797.7500
Dance School, dance tuition, classes
--------------------------------------------------------------------------------
Princeton Dance Studio
109 Thorn Street WV 24740 Princeton, West Virginia U.S.A.
Tel. (1.304)487.2694
Dance School, dance tuition, classes
--------------------------------------------------------------------------------
Regina's Studio of Dance Baton
201 Dunbar Avenue WV 25064 Dunbar, West Virginia U.S.A.
Tel. (1.304)768.5897
School, dance tuition, classes
--------------------------------------------------------------------------------
Deanna's School of Dance
7379 Sissonville Drive WV 25320 Charleston, West Virginia U.S.A.
Tel. (1.304)984.1763
School, dance tuition, classes
--------------------------------------------------------------------------------
Robin's Academy of Baton
1714 Lakeland Circus WV 25320 Sissonville, West Virginia U.S.A.
Tel. (1.304)984.2585
Dance School, dance tuition, classes
--------------------------------------------------------------------------------
Mandy Toler
K & M Dance Company
6421 A Sissonville Drive WV 25177 Sissonville, U.S.A.
Tel. 1(304) 984-2277
www.kmdance.com
Dance Teacher, instruction, classes, school, Dance studio
--------------------------------------------------------------------------------
Michele Kish's School of Dance
703 West Pike Street WV 26301 Clarksburg, West Virginia U.S.A.
Tel. (1.304)622.6178
School, dance tuition, classes
--------------------------------------------------------------------------------
Mitzi Layne Dance & Acrobat
165 West Pike Street WV 26301 Clarksburg, West Virginia U.S.A.
Tel. (1.304)623.2623
Dance School, dance tuition, classes
--------------------------------------------------------------------------------
Momentum Dance Center
301 Duff Avenue WV 26301 Clarksburg, West Virginia U.S.A.
Tel. (1.304)623.0620
School, dance tuition, classes
--------------------------------------------------------------------------------
Rose Romona School of Dance
928 West Pike Street WV 26301 Clarksburg, West Virginia U.S.A.
Tel. (1.304)622.6828
Dance School, dance tuition, classes
--------------------------------------------------------------------------------
Leslie Moore
1116 North 24th Street WV 26301 Clarksburg, West Virginia U.S.A.
Tel. (1.304)624.5061; (1.304)626.1705
http://www.fortunecity.com/tinpan/blondi
Dance Teacher, instructor, country & Western dances
--------------------------------------------------------------------------------
Rose Two-Step Dance Club
Route 41 WV 25927 Stanaford, West Virginia U.S.A.
Tel. (1.304)252.6071
School, dance tuition, classes
--------------------------------------------------------------------------------
Stephanie's Dance Studio
136 Lewis Street WV 25901 Oak Hill, West Virginia U.S.A.
Tel. (1.304)465.1270
Dance School, dance tuition, classes
--------------------------------------------------------------------------------
Summersville Dance Theatre
Lerose Plaza WV 26651 Summersville, West Virginia U.S.A.
Tel. (1.304)872.6931
School, dance tuition, classes
--------------------------------------------------------------------------------
Sunshine Generation
Dry Run Road WV 26187 Williamstown, West Virginia U.S.A.
Tel. (1.304)375.7976
Dance School, dance tuition, classes
--------------------------------------------------------------------------------
Tammy's School of Arts
5229 Big Tyler Road WV 25313 Cross Lanes, West Virginia U.S.A.
Tel. (1.304)776.5518
School, dance tuition, classes
--------------------------------------------------------------------------------
West Virginia Performing Arts
5053 Elk River Road South WV 25071 Elkview, West Virginia U.S.A.
Tel. (1.304)965.5500
Dance School, dance tuition, classes
--------------------------------------------------------------------------------
Barbara Hudson
2529 Clovis Street Bluefield, WV 24701 U.S.A.
Tel. 304-325-5826
Teacher, Alexander Technique
--------------------------------------------------------------------------------
Allen L. Keefer
Route 6, Box 12120 WV 26000 Berkeley Springs, West Virginia U.S.A.
Tel. (1.304)258.1094; (1.304)267.0110
Dance Teacher, instructor, country & Western dances
--------------------------------------------------------------------------------
Erin-J. Kishpaugh
304 Sycamore Road Culloden, WV 25510 U.S.A.
Tel. 304-562-1796; 304-562-1796
Teacher, Alexander Technique
--------------------------------------------------------------------------------
Gail Patton
2492 James River Tpke WV 25545-9722 Ona, West Virginia U.S.A.
Tel. 1(304) 743-5990
Dance School, teacher, ballroom dances
--------------------------------------------------------------------------------
Kevin Roberts
Route 1, Box 209 WV 26184 Waverly, West Virginia U.S.A.
Tel. (1.304)464.5487
Dance Teacher, instructor, country & Western dances
--------------------------------------------------------------------------------
Mandy Toler
6421 A Sissonville Drive WV 25177 Sissonville, U.S.A.
Tel. 1(304) 984-2277
www.kmdance.com
Dance Teacher, instruction, classes, school, studio
--------------------------------------------------------------------------------
Deborah Whelan
1136 Keowee Avenue TN 37919 Knowville U.S.A.
Dances for children
--------------------------------------------------------------------------------
Kim Kerns
PO Box 758 WV 26531 Dellslow, West Virginia U.S.A.
Tel. (1.304)291.4160; (1.304)293.7186
Teacher, instructor, country & Western dances