Thailand contains 291 million barrels of proven oil reserves. In 2005, Thailand produced 306,000 barrels per day (bbl/d) of oil, an increase of about 54,000 bbl/d from the previous year. Of that production, only about 114,000 bbl/d was crude oil. Most of the remainder was natural gas liquids (NGLs) and lease condensate. Oil consumption in 2005 was 838,000 bbl/d, up from 823,000 bbl/d in 2004. Demand growth in Thailand has slowed somewhat since 2003, largely as a result of increasing substitution of natural gas in electricity generation and increased use of ethanol in motor fuels.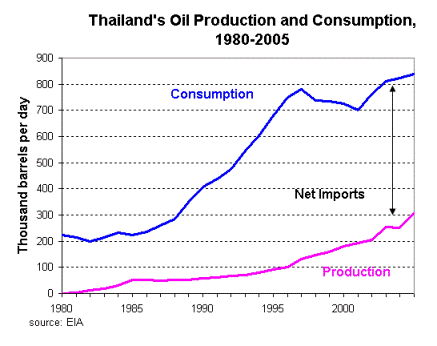 The oil industry in Thailand is dominated by PTT, formerly the Petroleum Authority of Thailand. PTT Exploration and Production (PTTEP) is the main upstream subsidiary of PTT. Thai Oil, the country's largest refiner, is also controlled by PTT. The company underwent a partial privatization in November 2001, in which 32 percent of its equity was sold through the Bangkok Stock Exchange. The Thai government still owns a 68 percent stake in PTT, and does not plan to sell its controlling interest in the near future.

Despite the industry's financial problems, there have been a number of significant recent Thai oil discoveries, most notably offshore in the Gulf of Thailand. ChevronTexaco is investing heavily in developing Block B8/32 in the Gulf of Thailand. ChevronTexaco also reported a new find in July 2004 in Block G4/43, which is adjacent to B8/32.

ChevronTexaco also acquired significant assets in Thailand as a result of their acquisition of Unocal in August 2005. Unocal had been investing in offshore oilfield development, and reported a significant new find in October 2000. Unocal' production in the Gulf of Thailand had reached 40,000 bbl/d by mid-2005. Seven new exploration blocks, including both onshore and offshore acreage, were awarded in May 2003 as a result of the most recent licensing round. Companies receiving exploration rights included ChevronTexaco and China 's CNPC.
Refining/Downstream
Thailand has four oil refineries, with a combined capacity of 703,100 bbl/d. The three main refineries are Shell Co. Of Thailand Ltd. (275,000 bbl/d) located in in Rayong, Thai Oil Co. Ltd., in Sriracha (192,850 bbl/d), and Esso Standard Thailand Ltd. (173,500 bbl/d), also located in Sriracha.
The Thai government has been discussing a proposal to attempt to turn the country into a regional processing and transportation hub for the oil industry. One possibility would be amending regulations to create a bonded-processing zone for export-oriented refineries. The targeted export market would likely be cities in south-central China, which are closer to Thai ports than to the Pacific coast of China. Another proposal would see the construction of a pipeline across the isthmus of Kra, allowing oil shipments from the Persian Gulf to East Asia to bypass the congested Strait of Malacca, possibly with the addition of an export-oriented 500,000 bbl/d refinery at the pipeline's Gulf of Thailand terminal. A feasibility study completed by PTT in July 2004, however, cast doubt on the financial viability of the project, and attacks on government facilities in the area in 2005 have increased security concerns.
Thailand also plans to reduce its consumption of petroleum and imports of gasoline additive methyl tertiary butyl ether (MTBE) in the future by promoting domestic production and consumption of ethanol. The Thai government approved a package of tax incentives in December 2000 to encourage more production of ethanol for fuel use, and gasoline containing 10% ethanol is scheduled was introduced in the greater Bangkok area in late 2005.