.
View Talay 7 Condo is shrouded in controversy and scandal. A building permit has been issued and work already started on this 27 stories high, plus the water tanks on top, project. What is the scandal? well how come Thai law states quite clearly that within 200 meters of the waterline buildings over 14 meters tall, that's about 6 stories, are NOT permitted. The whole of this project is within the 200 meter line, the front of the building about 30 meters from the water's edge. How can this happen? Why are ALL new high rise projects in Pattaya and Jomtien behind this 200 meter line? How did View Talay obtain permission that seems on the face of it to be totally illegal?

A reputable Real Estate agent in Pattaya is already re-selling units that were bought off plan "There are real magnificent sea views from the View Talay 7". "VIEW TALAY 7 will be built in time - believe it or not" The building itself is only in foundation stage. There are real concerns that this building if court proceedings confirm the 200 meter rule will NOT be built.

"There are real magnificent sea views from the View Talay 7" - wrong tense sir. There will be or there might be, or there could be, would be a better tense to use.

Jomtien Complex has "real magnificent sea views" now, at this time, at this moment. I know I just have to look out of my window. You can read more of my views about View Talay on our Pattaya Jomtien Property Blog You may infer that I am a little "pissed off" well yes. I spent a lot of time and energy over several weeks to find a good condo meeting my requirements in Jomtien Complex. I will not lose my views as I will simply move out if this project goes ahead. I lease my condo. Hundreds of owners will lose millions of Baht in property value and loss of rentals because of a project that should not have been even started.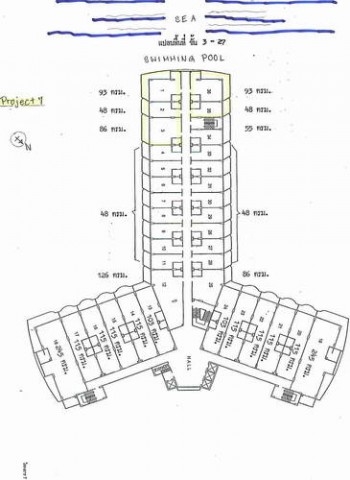 As for View Talay 7 - I firmly believe this project is a dead duck, white elephant or maybe at the worst a tombstone for the View Talay empire
The Pros
If it gets built, If you buy there, If you are gay you will be a happy chappy living with your Thai chappy by the gay beach
The Cons
If it doesn't get built, If you bought a pie in the sky condo off plan they obviously you are going to one pissed off unhappy chappy - gay or not

Facts are important however what is it like to live there? Read more comments and post your own thoughts about View Talay 7 in our online Pattaya Jomtien Property Blog
If you have a condominium for sale in View Talay 7 or a condo for rent I will not be happy to feature it here on this site just keep the details and your sales contracts as a memento.

Pattaya Property Blogs
Pattaya Condos Jomtien Condos - find out if that 10 million Baht condo by the beach is really a good investment. Read the opinions of those in the know and on the spot
Pattaya Property Rental Sales - a showcase for those looking to buy, rent or sell a house or other property in Pattaya. Articles about the property scene in Pattaya
View Talay Condo Rental Sales - if you have a condo for sale in View Talay or condo for rent in View Talay you can post your free ad here.
News and Articles about View Talay 7 Condominium
November 18th - View Talay 7 - VT7 in shallow water on Jomtien Beach The Administrative Court in Rayong, in it's wisdom and to avoid confusion, ordered a survey to be made to accurately measure MSL and to measure the position of View Talay 7 Condominium in relation to this mark. This survey was carried out this week, over a period of days by surveyors from the Ministry of Interior and The Royal Thai Navy. The survey produced an interesting result. A very interesting result. Read More...
October 19 View Talay 7 Jomtien Beach Condominium - Good news View Talay 7 nearly finished Good news at last for SOME owners of the newest condominium on Jomtien Beach. By on the beach I mean just that this "prestigious" condo project from the fabled View Talay empire strikes back with a new and innovative design.
July 26 View Talay 7 Judgment Day Brought Forward
The latest news from The Administrative Court regarding VT7. Their will be two hearings in August. August1 at 10:00AM the Bangkok Supreme Administrative Court will give itís decision concerning VT7 appeal at the Rayong Admin Court Building Read More...