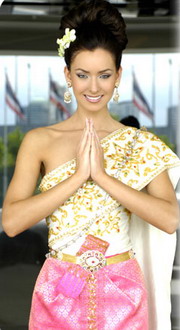 Many Thailand Service Companies, Thai Service businesses are geared to service the local market. Banking, Insurance, Accounting, Health and Legal services to name just a few
One of the main income earners for Thailand however is tourism and the associated service industries that cater for inbound tourists from across the world.
The Thai ethos for giving good service is well known. However it is only in recent years that international standards have been met. Even now, despite the attempts of training companies like my own, there are severe shortfalls particularly in the ability to conduct business in English. This should not be a problem if you are dealing with the main hotels and restaurants in the tourist areas but can be a real problem when dealing with many Thai companies whose contact with western companies is somewhat limited.
| | | |
| --- | --- | --- |
| Below you can find links to the main service sectors included in The Ultimate Thailand Contact Database. If you require any information on this sector please email bangkokcompanies@gmail.com with your requests. | | |
---