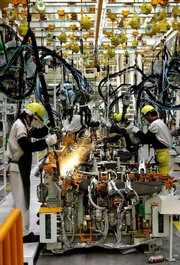 Thailand Manufacturing Companies are starting to gather the trust of buyers and consumers around the world. Put quite simply a 'Made in Thailand Sticker' is no longer considered a joke or an indication of low cost shoddy goods as was the norm just a few years ago. Nowadays Thailand is country of choice when foreign companies choose to have products made by Thailand Manufacturers to a high standard and at a reasonable price.
The emergence of China as a manufacturing hub just about decimated many industries here in Thailand in the couple of decades at the end of the last millennium. This millennium has seen a re-emergence, a rising of the Phoenix of old industries and new industries, new factories being set up to deal with a new demand.
This is partly due to a new found realization that quality is at least as important as price. Also in part to China's factories literally shooting themselves in the foot.

Daily I am getting enquiries from companies mainly in The States who are looking to Thailand manufacturers to produce a better quality product than they have been receiving from their Chinese factories. This along with the many health scares and product recalls has given Thailand a new chance to prove themselves as a manufacturer of choice.
---