.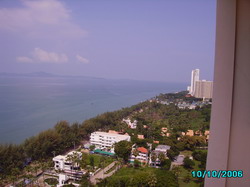 The market for condominiums in Pattaya and condos in Jomtien is quite volatile and seems to be subject to big swings. This is in part due to the seasonal influx of tourists in Pattaya but also in part to local events that can either attract or 'scare off' investors. Of course the term 'property slump' is seldom heard around the offices of Pattaya Real Estate Agents. We are just having a quiet period is the usual excuse for the feet up on desk syndrome.
Although the property market in Pattaya has gone into deep slumber recently the demand for condominiums in Pattaya and Jomtien although not exactly booming is holding it's own. The future looks bright with plenty of condo projects planned. The only question is - When will they start? and how much more the prices will go up before investors choose to go elsewhere.
Should I consider buying a condo in Pattaya? Will a low rise beach condo in Jomtien be a good investment for the future? Can a foreigner own a condominium Thailand? Can I trust Pattaya Lawyers and "legal experts" to give me impartial advice? Is Elvis still alive?
I am not in a position to answer all these questions. All I can do is to give you the access to information about the property market in Pattaya, Jomtien and the surrounding areas. Hard facts about existing condo projects in Pattaya, articles about condos and opinions from the folks who own or rent condos in Jomtien and Pattaya.
I live in a condo in Jomtien so I think I qualify to give you my opinions about Jomtien Complex. Over the next few months I hope to visit every condo project in this area, see for myself and pass on my thoughts and the opinions of the people, owners I meet on my travels. By the way Elvis is alive and well and appearing for a nightly performance at a well known restaurant on Jomtien Beach.
New condo projects seem to be announced every week. There are also dozens of good quality housing projects in Pattaya that are really good value at the moment. A lot of houses and a shortage of buyers. A good time to negotiate a bargain price house or villa by the beach
Pattaya Property - Houses & Villas - Condominiums
Why buy or rent a condominium in Pattaya or Jomtien Beach?
Because the scores, soon to be hundreds of Pattaya real estate agents are of course extolling the virtues of this most un-virtuous of locations.

Because I chose to live here. Some may say that this is because my judgment is flawed or that I have other un-virtuous motives.
Condos for rent & Condo for sale in View Talay 3 and View Talay 2
So if you are thinking of following in my footsteps and investing a lot of time and hard earned money in a paradise beach condo then you need to know the facts, the hard facts, the good, the bad and the just plain ugly.
Want to find out more about the pros and Cons of the property market in Pattaya then take a look at the comments, opinions and experiences of buyers, sellers and experts in our Property Blogs: Pattaya Jomtien Condos and Pattaya Property Rental & Property Sales please feel free to post your own comments.
---
More Condos for rent in View Talay 2
Hi I'm Jason

We have 12th, 14th, and 15th floor rooms all 42m with good sea-views. and all pretty much to the same high standard
Every room is thoughtfully finished and furnished with quality items.
Each room has dimmer spotlighting, sun blocking curtains, an above average kitchen area and is fully equipped with everything you need including:
29" Cable TV
Surround sound DVD
Powerfull Daikin Air-cons
Dining table
sofa
coffee table
Hot water
Fridge
Microwave
Kettle, Toaster etc

We will accept short term of a week or so from 1000 per day, up to a month at 850 day, and longer term rentals are about 16,000 a month.
Any prospective tenants please contact me on 08780 33329 or email at foxdevelopments@hotmail.com

Pattaya Property Blogs
Pattaya Condos Jomtien Condos - find out if that 10 million Baht condo by the beach is really a good investment. Read the opinions of those in the know and on the spot
Pattaya Property Rental Sales - a showcase for those looking to buy, rent or sell a house or other property in Pattaya. Articles about the property scene in Pattaya
View Talay Condo Rental Sales - if you have a condo for sale in View Talay or condo for rent in View Talay you can post your free ad here.
Featured Pattaya Condominiums and Condo Projects
Ocean Portofino located just 157 Kilometers from Bangkok on Jomtien Beach, the 37-storied Ocean Portofino Condominium is an exclusive opportunity to create a second home away from home or settle into a new way of living. An eclectic blend of yachting lifestyle and luxurious waterfront living.
Ananya Condo with only 95 units in two buildings on a spacious 5 Rai beach front plot, this is certainly an exclusive residence. All units feature unobstructed sea views, and the tasteful "Modern Tropical" theme is used to decorate the units.
Baan Suan Lalana (The name means Beautiful Garden Home) Set in a superb garden atmosphere this wonderful, safe, secure development has become one of the areas most popular places to live
Centre Condo is as indicated by it's name centrally located in South Pattaya Road a couple of hundred meters from the corner of Pattaya 2nd Road and next to the Wat.
Grand Condotel has been around for a few years and has proven to be a popular development. Re-sale prices have kept high and new properties on the market tend to be "snapped up" so I am told. Good location, close to the beach
Pattaya Centre Point Condo is built by Ratanakorn Asset who offer a choice of two luxury Condominium developments located on Pattaya Third Road in the "center of the city"
If you have comments about Pattaya properties or property in Jomtien then please email bangkokcompanies@gmail.com
Articles about Pattaya Condominiums and Jomtien Condos
January 27th - View Talay 7 - Admin Court Ruling - Implications for Present & Future Condo Projects in Pattaya and Jomtien Beach - View Talay 7 is on the move again. No it isn't going away - I am sad to say. It is once more going upwards, you know the way skyscrapers should when they are being constructed. Now this is a fact. And about the only fact that can be accurately ascertained at this time. However the question is - why is View Talay now suffering from that Pattaya syndrome - an infrequent and unpredictable erection? Read More...
January 24th - The Spinnaker Condominium Jomtien - Positive Comments - Well I have been getting lot's of feedback from the article about White Sand Beach Complex and especially the Spinnaker Condominium project in Jomtien. Here is one comment left on the Blog. Certainly a very happy future owner.
I was really surprised that they have sold all ready more than 58%. I could not resist the beauty of this project and put my signature under the Contract.I can barely wait to see the completion of my Pristine dream home at this white sand beach Read More...
November 5th - 9 Karat Condominium - Residents Opinions - 9 Karat Condo in Pattaya surprised me enormously. My visit there left me with no doubt that the place is a dump. However other folks have other opinions. Below are some of them and they will probably surprise you. You can find out more about 9Karat Condo on our main website with pictures too. Read More...
September 28th - The Spinnaker Condominium, White Sand Beach
Announced recently is the White Sand Beach Residential Complex comprising a five star hotel, low rise condominium and two high rise condos called The Spinnaker Condominium. Good news to hear of some more developments on this stretch of the coast. This area should attract more Bangkok Thai investors who generally shy away from the 'seedy' image of Pattaya City. Read More...
September 27th - Thailand Property Investments - A Positive View -
I think making an investment in Thailand - whether in Phuket property or Koh Samui property is one of the smartest investments you can make. There are some reasons why Thailand is a desirable investment location. Read More...
September 5th - Royal View Talay Jomtien - Condo Developer Does a Runner - Scam? - Just received this story about Royal View Talay on Jomtien Beach. Since last week Thursdays press release by the company, nobody has been able to make contact with the developer (RICHARD IAN SILVER) or the company.
September 4th - Ocean Property delays five projects - Ocean Portofino Condominium on Jomtien Beach to go ahead
Real-estate developer Ocean Property has delayed investment plans worth up to Bt5 billion involving five major projects, because of Thai-land's sluggish economy and continuing political uncertainty
Read More...