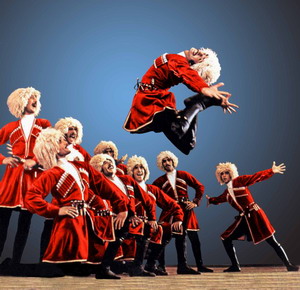 Joshgoon The Canadian Academy of Azerbaijani Dance, Sashar Zarif Dance Theatre SZDT, These are just a few of the Azerbaijan dance companies, Azerbaijani dance schools, dancing organizations and dance wear suppliers that that can be found in our comprehensive Directory of Azerbaijani Dance Companies.
Traditional Azeri Dance

Chichekler - Flowers
It is a very elegant dance. In origin this dance is performed by women in two different forms: slow and fast. It was created in 1910. The group of girls gathers together and collect flowers. They would like to show off and demonstrate to the public how pretty flowers look. Flowers are associated with how pretty the girls are in the colorful costumes. They form circles and triangles during the dance. Sophisticated hand movements and spins create very cheerful atmosphere. The music is up-bit and energetic.

Choban Regsi – Shepherd Dance
This dance is danced only by male performers. The costume is typical to the rural areas and particular to shepherds. The music is up-bit and energetic. This dance symbolizes a cheerful spirit of the shepherd who brings his herd to the valley.

Yally
It is a very old and very custom dance in Azerbaijan. At first times, it was performed in form of traditional celebration around of fire which was sign of heat, light and warm food. In this traditional celebration, dancers worship fire as a goddess. Yally starts with a slow speed and finishes in the fast mode with fast steps in form of running. There are many kinds of Yally in Azerbaijan
Azerbaijan Dance Video
Featured Azerbaijani Dance Company
Sashar Zarif Dance Theatre SZDT
Founded in 1993, SZDT is a professional Toronto based dance company with both traditional and contemporary works. SZDT produces an annual performance series, tours internationally and offers residencies, lecture-demonstrations, and classes in Near Eastern and Central Asian dance character, technique and choreography. The company also undertakes school holiday workshops, public seasons, feature performances for special events and community dance development activities. Based on its eclectic repertoire, the company has enjoyed intensive touring across the Near East, Europe and North America for the past four years.

If you would like your Azerbaijan Dance Company, Dance Organization, Dance School featured here then please email bangkokcompanies@gmail.com
There are many fine dance schools in Azerbaijan. I know I am in contact with them as we supply a range of high quality dancewear products like leotards, dance pants, dance dresses and other dancing apparel.
Bangkok Companies supplies an amazing range of dancewear from Thailand. I have looked at these dance garments and dance accessories in detail. There is only one word to describe them Superb. For more details click on the pictures or send an email to bangkokcompanies@gmail.com We regret at this time we can only satisfy Azerbaijan wholesale dancewear requests.
"Dancewear designed by dancers for dancers"
| | | | | |
| --- | --- | --- | --- | --- |
| Dance Dresses | Kids Leotards | Adult Leotards | Dance Bras | |
| | | | | |
| | Dance Pants | Tutu's | Dance Shorts | |
| | | | | |
| Dancewear | Dancewear Organizers | Dance Bags | Dance Backpacks | |
| | | | | |
Bangkok Companies is a full service product sourcing company in Thailand. For All your dancewear needs please email bangkokcompanies@gmail.com with your requests.
---
Dance Schools in Azerbaijan, Dancewear Suppliers, Dancing Organizations
Tarana Muradova
lstiglaliyyat 25, app.38 AZ-370001 Baku Azerbaidjan
(99)450.372.6060; (99)412.497.7638 fax
Soloist of Azerbaijan State Dance Ensemble
--------------------------------------------------------------------------------
Nikolay Pesherov
B. Nuniev str. 24/63 AZ-370001 Baku Azerbaidjan
(99)412.475.7633; (99)450.326.2118
Professional dancer with formation. I dance ball dances, a jazz, the Azerbaijan dances and dances of nations of the world. Also I am the professional teacher with the maximum formation.
--------------------------------------------------------------------------------
Olga Zokhrabov
3747 S. Sepulveda Blvd. #19 CA 90034 Los Angeles U.S.A.
Tel. (1310)391.0065 home; (1310)486.8915;Fax. (1310) 391.0065;
www.azerbaijandance.com
We are active dancers and choreographers. We performing Azerbaijani dances as a couple. Our experience are: The State Ballet School. University of Art. The State Dance Company.
--------------------------------------------------------------------------------
Namus Zokhrabov
3747 S. Sepulveda Blvd. #19 CA 90034 Los Angeles U.S.A.
Tel. (1310)391.0065; home;(1310)486.8915 mobile;(1310)486.8921 mobile www.azerbaijandance.com
Dance/Movement Therapist. Individual, couple and group sessions. Azerbaijan Dance Studio. Boys and Girls from 7 years old and up * Teenagers * Adults. Exercise in dancing * Learning dancing Best of the best will be selected for "The Caspian Pearl" Azerbaijan Dance Company
--------------------------------------------------------------------------------
Sashar Zarif
Joshgoon The Canadian Academy of Azerbaijani Dance
Sashar Zarif Dance Theatre SZDT
66 Clark Avenue L3T 1S5 Thornhill, ON Canada
Tel. 1.416.450.4529; Fax 1.905.707.1327
www.sashardance.com
Azerbaijani Classical Dance in Baku
Traditional Dance
While part of our traditional repertoire consists of older dances, our definition does not exclude recent choreographies which come to artists through research and recreation.
Spritual Dance Mystical Dance Ritualistic Dance
This repertoire includes reconstructions and original creations inspired by eastern ritualistic dance practices. Dance rituals reflect central concepts in eastern mysticism, and cultural themes found in other art forms, such as music and poetry. The performance of these dance rituals has the potential of producing an inspiration that can transport both the viewer and performer outside the realm of ordinary consciousness. The progression of modes within the rhythms and dances are designed to gradually take away one's daily concerns into the realm of the mystic, wherein spiritual verities can be contemplated. Particularly through poetic themes, these works explore Central Asian Shamanic, Zoroastrian, and Sufi philosophies. Classical poetry is an integral part of a performance of Sufi dance and music, particularly the Ghazals of Hāfez and Sa`adī, as well as the Masnavī of Rūmī.
Contemporary Dance
Covering a wide range of social and individual issues, the company's contemporary works are mostly a multidisciplinary production.
-------------------------------------------------------------------------------
Namus Zokhrabov
3747 So. Sepulveda Blvd. #19 CA 90034 Los Angeles U.S.A.
Tel. 1+310 391 0065, FAX 1+310 391 0065
www.azerbaijandance.com
Merited Artist of Azerbaijan. Performing and propagandizing dances of Azerbaijan, workshops and master classes. Working as a dance therapist in Adult Health Day Care Centers. Olga Zokhrabova
--------------------------------------------------------------------------------
Taira Kerimova
Sah Xatai Prospekti 5-6 AZ-370008 Baku Azerbaidjan
History and Sociology of Folklore, member ICTM, Female folklore of Azerbaijan, Azeri Dance
--------------------------------------------------------------------------------
If you have an Azerbaijan Dance School, dance company or dancing organization in Baku or anywhere in Azerbaijan and would like to be featured in the Azerbaijani Dance Directory then please email bangkokcompanies@gmail.com