.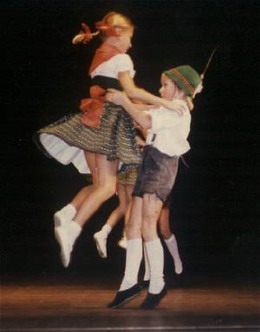 Philippe Saire Dance Company, Bejart Ballet Lausanne, Ballet Jazz Geneve, Ecole de danse et de ballet, are just a few of the dance companies, Swiss dance schools, dancing organizations and dance wear suppliers that that can be found in our comprehensive Directory of Swiss Dance Companies.
Traditional Swiss Dance

The term Ländlermusic (or short Ländler) is being used in Switzerland both as a generic term for traditional rural music and as a specific term for rural dance music in animated three-four time. Other rhythms often played in traditional rural Swiss dance music are Schottisch and Polka.

Schwyzerörgeli Typical instruments played by ländler bands include accordion, clarinet and contrabass. In the German speaking regions, a smaller variant of the accordion, the so-called schwyzerörgeli is very popular. In the prealpine eastern region of Appenzell, string instruments (violin, cello and, as a local speciality, dulcimer play a key role). In southern (Italian speaking) Switzerland, the use of the mandolin

Swiss dance has truly blossomed in recent years. Numerous new dance companies have established themselves in the local cultural scene and gained recognition at home and abroad. The persuasive power of the artists, who have been shaped by a variety of different cultures and influences, and the artistic quality of their projects have earned Swiss dance a reputation that extends far past Switzerland's national borders. Today dance plays an important role as an international ambassador of Swiss culture.
Featured Swiss Dance Company
Philippe Saire Dance Company is based in Lausanne, Switzerland. Among the 24 or so original choreographies of Philippe Saire, which aim to introduce ever wider and more varied audiences to modern dance, pieces such as Don Quixote, Vacarme, Le Palindrome , Study in Lightness, Les Affluents, [ob]seen and Sang d'encre have been particularly successful, winning the international reputation which the Company now enjoys. The Philippe Saire Company has given more than 930 performances in about 160 towns in Europe, Africa, Asia and the Americas.
The Company also performs at exhibitions, in galleries of modern art, in the street and at other outdoor locations. The choreographer's desire to interact with other artistic domains is reflected by the multi-disciplinary nature of several successful collaborations that have already taken place.

If you would like your Switzerland Dance Company, Dance Organization, Dance School featured here then please email bangkokcompanies@gmail.com
There are many fine dance schools in Switzerland. I know I am in contact with them as we supply a range of high quality dancewear products like leotards, dance pants, dance dresses and other dancing apparel.
Bangkok Companies supplies an amazing range of dancewear from Thailand. I have looked at these dance garments and dance accessories in detail. There is only one word to describe them Superb. For more details click on the pictures or send an email to bangkokcompanies@gmail.com We regret at this time we can only satisfy Swiss wholesale dancewear requests.
"Dancewear designed by dancers for dancers"
| | | | | |
| --- | --- | --- | --- | --- |
| Dance Dresses | Kids Leotards | Adult Leotards | Dance Bras | |
| | | | | |
| | Dance Pants | Tutu's | Dance Shorts | |
| | | | | |
| Dancewear | Dancewear Organizers | Dance Bags | Dance Backpacks | |
| | | | | |
Bangkok Companies is a full service product sourcing company in Thailand. For All your dancewear needs please email bangkokcompanies@gmail.com with your requests.
---
Dance Schools in Switzerland, Dancewear Suppliers, Dancing Organizations
Mr. Jean-Pierre Pastori
Case Postale 111 CH-1000 Lausanne Switzerland
Tel. (41.21) 323 77 48; Fax (41.21)311 05 14
Dance Historian, Dance researcher
--------------------------------------------------------------------------------
Archives suisses de la danse - Schweizer Tanzarchiv
Boite postale 149 CH-1000 Lausanne 13 Switzerland
Iel. (41.21)323.77.48; Fax 311.05.14
Dance Association, archives
--------------------------------------------------------------------------------
Mr. Philippe Saire, Artistic Director
Compagnie Philippe Saire
Av. Sevelin 36, CP 110 CH-1000 Lausanne 20 Switzerland
Tel. (41)21.626.3812, Fax (41)21.626.3814
cie.saire@bluewin.ch
www.philippesaire.ch
Dance Company, Dance school
--------------------------------------------------------------------------------
Mr. Maurice Bejart, Director
Rudra Bejart Lausanne
Chemin du Presbytere 27, case postale 25 CH-1000 Lausanne 22 Switzerland
Tel. (41.21)643.2400, 641.6478, 3152255, Fax (41.21)643.2411, 3231832, 641.6468
bejart-rudra@bluewin.ch
www.bejart-rudra.ch
Contemporary dance company, choreographer, examinations, school, atelier, classical
--------------------------------------------------------------------------------
Archives Serge Lifar, Archives Communales de Lausanne
47 rue du Maupas, Case postale CH-1000 Lausanne 9 Switzerland
Tel. (41.21)624.43.55, (41.21)244.355
Archives, resources, material on dance
--------------------------------------------------------------------------------
Ms. Katarzyna Gdaniec, Director
Compagnie Linga, Theatre Octogone
Av. Lavaux 41 CH-1000 Pully Switzerland
Tel. (41)21.721.3603, Fax (41)21.721.3616
lingaocto@urbanet.ch
Dance Theatre, school
--------------------------------------------------------------------------------
Entraide Hellenique de Lausanne
Case postale 2705 CH-1002 Lausanne Switzerland
Dance Group, folk, Greek dances
--------------------------------------------------------------------------------
Bejart Ballet Lausanne
Hotel de Ville, Place de la Palud 2 CH-1002 Lausanne Switzerland
Dance Organization
--------------------------------------------------------------------------------
Foyer Hellenique de Lausanne
5 Grand Pont CH-1003 Lausanne Switzerland
Dance Group, folk, Greek, performing. amateur
--------------------------------------------------------------------------------
Ms. Jana Batista
Ecole l'Avant-Scene Danse
Rue Centrale 31 CH-1003 Lausanne Switzerland
Tel. (41.21)311.0524
Dance School, classical, contemporary, modern dance, jazz
--------------------------------------------------------------------------------
Ms. Monique Bosshard
Atelier Monique Bosshard
rue des Terreaux 8 CH-1003 Lausanne Switzerland
Tel. (41.21)312 96 36
Dance School, ballet, ethnic, Latin, modern Dance
--------------------------------------------------------------------------------
Ms. Patricia Leroy
Fondation en faveur de l'Art choregraphique
Avenue Bergieres 6 CH-1004 Lausanne Switzerland
Dance Organization
--------------------------------------------------------------------------------
Ms. Patricia Leroy
Prix de Lausanne
Avenue Bergieres 6 CH-1004 Lausanne Switzerland
Tel. (41.21)643.2405; Fax (41.21)643.2409
info@prixdelausanne.org
www.prixdelausanne.org
Dance competition, classical dance
--------------------------------------------------------------------------------
Ms. Nicole Schild
Ecole de Danse Classique Daniele et Nicole Schild
6 avenue de Rumine CH-1005 Lausanne Switzerland
Tel. (41.21)323.8441, Fax (41.22)349.0739
Dance School, classical dance
--------------------------------------------------------------------------------
Atelier-Studio Terra Incognita
place du Tunnel 13 CH-1005 Lausanne Switzerland
Tel. (41.21)311 30 78
Dance School, ballet, yoga
--------------------------------------------------------------------------------
Ecole de danse et de ballet Blanc Claude
place du Tunnel 13 CH-1005 Lausanne Switzerland
Tel. (41.21)323 60 77
Dance School, ballet
--------------------------------------------------------------------------------
Collectif Danse
rue du Bugnon 23 CH-1005 Lausanne Switzerland
Tel. (41.21)311 09 98
Dance School, contemporary Dance
--------------------------------------------------------------------------------
Bettex Claire (-Graf) et Vuilleumier Doris
rue Marterey 28 CH-1005 Lausanne Switzerland
Tel. (41.21)323 39 73
Dance School, contemporary
--------------------------------------------------------------------------------
Arabesque Dance Works
CH-1006 Lausanne Switzerland
Tel. (41.21)616 42 41
http://arabesquedanceworks.pagesjaunes.ch
Dance School
--------------------------------------------------------------------------------
Mr. Jean-Pierre Pastori
35 Avenue d'Ouchy CH-1006 Lausanne Switzerland
Tel. (41.21)237.748
Dance Critic, history of dance
--------------------------------------------------------------------------------
Ecole de danse et de ballet Arabesque
rue du Simplon 3B CH-1006 Lausanne Switzerland
Tel. (41.21)616 42 41
http://arabesquedanceworks.pagesjaunes.ch
Dance School, modern dance
--------------------------------------------------------------------------------
Academie de Danse Lucky Dance
av. de Provence 4 CH-1007 Lausanne Switzerland
Tel. (41.21)624 30 24
Dance School, rock'n'roll, Hip Hop
--------------------------------------------------------------------------------
Au Dance Studio Tivoli
avenue de Tivoli 60 CH-1007 Lausanne Switzerland
Fax (41.21)624 15 80
http://dance-studio-tivoli.pagesjaunes.ch
Dance School, ballet
--------------------------------------------------------------------------------
Academie de Danse K'Danse
avenue des Boveresses 44 CH-1010 Lausanne Switzerland
Tel. (41.79)623 65 19; Fax (41.21)653 78 19
info@kdanse.ch
Dance School, disco-fox
--------------------------------------------------------------------------------
Association des Etudiants Hellenes de Lausanne
Case postale 54 CH-1015 Lausanne Switzerland
Dance Group, folk, Greek Dance, performing. amateur
--------------------------------------------------------------------------------
Mr. Bernard Zighetti
CIOFF Switzeland
11 route de la Clochette CH-1018 Lausanne Switzerland
Dance Organization, folk, festival organizers, groups
--------------------------------------------------------------------------------
Ms. Fabienne Berger, Artistic Director
Compagnie Fabienne Berger
Chemin de la Motte 6 CH-1018 Lausanne Switzerland
Tel. & Fax (41.21)312.7604
Dance Company
--------------------------------------------------------------------------------
Ms. Moira Laffranchini
39, ch. de Fontanney CH-1052 Le Mont-sur-Lausanne Switzerland
Tel. & Fax (41.21)652.39.25
ngoenha@swissonline.ch
Dance Researcher, Traditional dances of Mozambique, especially timbila dance of the Chopi ethnic group
--------------------------------------------------------------------------------
Ecole de danse et de ballet Conan Dominique
Cjemin du Vieux-Moulin 8 CH-1054 Morrens Switzerland
Tel. (41.21)731 27 07; Fax (41.21)731 27 93
Dance School, ballet
--------------------------------------------------------------------------------
Ecole de danse et de ballet Blanc Claude
CH-1070 Puidoux Switzerland
Tel. (41.21)946 16 13
Dance School, ballet
--------------------------------------------------------------------------------
Anouchka Academie de Danse Bellevaux et Pully
Route du Simplon 31 CH-1094 Paudex Switzerland
Tel. (41.21)791 13 83
Dance School, modern dance
--------------------------------------------------------------------------------
Mr. Philippe Saire
C.P. 422 CH-1110 Morges Switzerland
Tel. (41.21)803.0850, Fax (41.21)803.0662
www.jstechno.ch/PSaire
Dance Company, contemporary, professional, performing
--------------------------------------------------------------------------------
Mr. Jean Martinelli, Director
Centre de Ballet Jean Martinelli
10 chemin du Vernay CH-1196 Gland Switzerland
Tel. (41.22)364.4570, Fax (41.22)364.8082
Dance School, ballet, classical
--------------------------------------------------------------------------------
Mr. Jean Martinelli, President
Vereinigung Schweizerischer Tanzschulen, Federation Suisse des ecoles de Danse (FSED, VST)
10 chemin du Vernay CH-1196 Gland Switzerland
Dance Organization, dance association, Federation of dance schools
--------------------------------------------------------------------------------
Mr. Jean Martinelli
Ecole de danse et de ballet
Chemin du Vernay 10 CH-1196 Gland Switzerland
Tel. (41.22)364 45 70
info@danse-martinelli.ch
http://www.danse-martinelli.ch
Dance School, ballet
--------------------------------------------------------------------------------
Ms. Evelyne Castellino
Ecole de danse et de ballet Castellino Evelyne
School, contemporary
CH-1200 Geneve Switzerland
Tel. (41.79)342 93 29
Dance School, contemporary
--------------------------------------------------------------------------------
Ms. Marie-Antoinette Huibant, Director
Vivre son corps
13 rue de l'Ancien Port CH-1200 Geneve Switzerland
Tel. (41.22)310.033
Dance School, classical dance, modern, ballet-jazz, american jazz, claquettes, stretching, social dances, danses de caractere (russian, polish, hungarian)
--------------------------------------------------------------------------------
Mr. Pierre Jonerret
18 rue Jean-Jaquet CH-1201 Geneve Switzerland
Tel. (41.22)732.6831
Dance Teacher, folk, Greek dances & music
--------------------------------------------------------------------------------
Mr. Christos Lampias, Director
Centre Hellenique d'Etudes du Folklore, Departement de Geneve
21 rue de Montoux, 45 rue de Zurich CH-1201 Geneve Switzerland
Tel. (41.22)738.8944
Dance Teacher, folk, Greek dances, group, courses
--------------------------------------------------------------------------------
Ms. Jana Schindler-Ruzickowa, Director
Jana Ruzickowa Dance Center
23 rue du Prieure CH-1201 Geneve Switzerland
Tel. (41.22)324.756
Dance School, classical dance, contemporary, modern, jazz, aerobic, stretching
--------------------------------------------------------------------------------
Mr. Bertrand Bouvier
9 rue de l'Encyclopedie CH-1201 Geneve Switzerland
Music and dance researcher
--------------------------------------------------------------------------------
Ballroom Cury Dominique
quai du Seujet 32 CH-1201 Geneve Switzerland
Tel. (41.22)738 39 58
Dance School, ballet
--------------------------------------------------------------------------------
Conservatoire Populaire de Musique de Geneve
rue du Mele 36 CH-1201 Geneve Switzerland
Tel. (41.22)731 67 60, (022)731 67 88
Dance School
--------------------------------------------------------------------------------
Mr. Tamas Klenjansky, Director
European Festivals Association
120 B, rue de Lausanne CH-1202 Geneva Switzerland
Tel. (41)22 738 6873; Fax (41) 7384012
geneva@eurofestivals.efa.ch
http://www.eurofestivals.efa.ch
http://www.euro-festival.net
Dance Organization, Festival
--------------------------------------------------------------------------------
Ms. Guilherme Botelho, Artistic Director
Alias Company
14 avenue de Secheron CH-1202 Geneve Switzerland
Tel. (41)22731.2361, Fax (41)22731.2460
alias.cie@smartfree.ch
Dance School
--------------------------------------------------------------------------------
Mr. Christos Lambias
Centre Hellenic D'Etudes Du Folklore Dept Geneve Case
postale 1833 CH- 1227 CAROUGE/GENEVE
9, rue Hoffmann CH-1202 Geneve Switzerland
Tel. (0041) 227231153
christos.lampias@span.ch
Greek Folk Dance
--------------------------------------------------------------------------------
Mr. Jean-Franeois Albert
13 route Ferney CH-1202 Geneve Switzerland
Tel. (11)22.733.1724, (11)22.776.2572
Choreographer
--------------------------------------------------------------------------------
Ms. Fabienne Abramovich, Artistic Director
Metal Compagnie
40 rue de la Servette CH-1202 Geneve Switzerland
Tel. & Fax (41)22.733.0719
Dance Organization
--------------------------------------------------------------------------------
Association Faitiere Suisse des Professionnels de la danse artistique
54 rue de Lausanne CH-1202 Geneve Switzerland
Dance Organization
--------------------------------------------------------------------------------
Mr. Peter Heubi, Director
Espace Dance Peter Heubi
54 rue de Lausanne CH-1202 Geneve Switzerland
Tel. (41.22)313.118
Dance School, classical dance, contemporary, modern, jazz, classic, gym-dance, improvisation
--------------------------------------------------------------------------------
Ms. Ariane Ballay-Piattet, Director
Ballet Jazz Geneve
61 rue de la Servette CH-1202 Geneve Switzerland
Tel. (41.22)335.728
School, classical dance, jazz, rock'n roll
--------------------------------------------------------------------------------
Ms. Susanne Jaillet
Association Suisse pour la Reconversion des Danseurs Professionnels
9 rue Chabrey CH-1202 Geneve Switzerland
Tel. (41.22)734.3244, Fax (41.22)734.9485
Dance Organization
--------------------------------------------------------------------------------
Ms. Carmela Lavoro
Bharata-Natyam
Chandikusum, rue Schaub 8 CH-1202 Geneve Switzerland
Tel. & Fax (4122)7345336
Danse Traditionnelle de l' Inde du Sud
--------------------------------------------------------------------------------
Ms. Carmela Lavoro Chandikusum
Bharata-Natyam, Danse Traditionnelle de l'Inde du Sud
rue Schaub 8 CH-1202Geneve Switzerland
Tel. & Fax (4122)7345336
Dance school, folk, South India
--------------------------------------------------------------------------------
Ms. Manon Hotte
Atelier - Danse Manon Hotte
17 Devin du village CH-1203 Geneve Switzerland
Tel. & Fax (41.22)344.0564
Dance School, creative, classical, contemporary
--------------------------------------------------------------------------------
Ms. Brigitte Matteuzzi, Director
Modern Jazz Ballet
37 rue du Stand CH-1204 Geneve Switzerland
Tel. (41.22)219.262
School, classical dance, jazz, modern, gym jazz, stretching, clacquettes
--------------------------------------------------------------------------------
Mr. Patrice Delay, Director
Ecole de Danse de Geneve
44 rue de la Coulouvreniere CH-1204 Geneve Switzerland
Tel. (41.22)329.1210
http://www.ecolededansedegeneve.com
Dance School, junior ballet
--------------------------------------------------------------------------------
Ms. Beatriz Consuelo, Director
Ecole de Danse de Geneve
Centre de ballet professionnel recommande par l'ASD/SDT
44 rue de la Coulouvreniere CH-1204 Geneve Switzerland
Tel. (41.22)291.210
Dance School, classical dance, modern, ballet-jazz, special courses for boys