.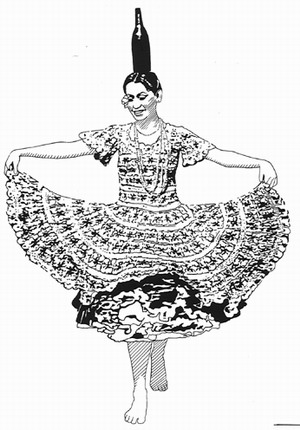 Dance Council of Paraguay, Escuela de Arte y Danza Arapoty, Cuerpo Presente, are just a few of the dance companies, Paraguayan dance schools, dancing organizations and dance wear suppliers that that can be found in our comprehensive Directory of Paraguay Dance Companies.
Traditional Paraguayan Bottle Dance
The Polka is well known as a dance 'imported' from Europe during the eighteenth century. However a dance which is indiginous to this country is the unusual and aptly named 'Bottle Dance'
The most famous folk dance of Paraguay is the bottle dance, in which a female dancer embarks upon a self-consciously violent routine while balancing one or more water-filled vessels on her head. Danced only by women, the Bottle Dance is traditional to Paraguay.
The lead dancer balances a number of bottles on her head while the other women dance around her. The blouses that are worn for the dance, called typoí in Guaraní, portray some of the handiwork that Paraguayan women are known for.
Featured Paraguay Dance Company
Marisol Salinas is a choreographer, a performer and a Skinner Releasing Technique™ certified teacher, currently residing in Paraguay.
During her two decades of work in dance, she studied ballet and modern dance techniques in El Salvador and Paraguay, and Skinner Releasing Technique™ in the US and Great Britain. In 2004 she was certified as a teacher in this technique in Seattle, WA, in the program directed by its creator, Joan Skinner.
She is co-founder and co-director of Cuerpo Presente, a Paraguayan dance company in which she created feature-length pieces like "Amarillo Sur" (1995) and "Verde que te quiero verde" (1997). Along with Edith Correa, she produced and directed "Nocturnos" (2004), a show with guest Paraguayan choreographers; for the latter, Marisol created and performed "Visita Repetida", a dance-theater solo piece.
In Paraguay, she has also performed as a guest dancer with Ballet Nacional of Paraguay, Espacio 3, Compañía de Danza Mary Carmen Niella and Teatro del Eclipse. In El Salvador she was a member of Ballet de El Salvador and Evolución Danza Contemporánea.
Marisol Salinas is the first Certified Teacher in SRT™ in South America, and currently teaches intensive workshops of this technique in the region.


If you would like your Paraguay Dance Company, Dance Organization, Dance School featured here then please email bangkokcompanies@gmail.com
There are many fine dance schools in Paraguay . I know I am in contact with them as we supply a range of high quality dancewear products like leotards, dance pants, dance dresses and other dancing apparel.
Bangkok Companies supplies an amazing range of dancewear from Thailand. I have looked at these dance garments and dance accessories in detail. There is only one word to describe them Superb. For more details click on the pictures or send an email to bangkokcompanies@gmail.com We regret at this time we can only satisfy Paraguay wholesale dancewear requests.
"Dancewear designed by dancers for dancers"
| | | | | |
| --- | --- | --- | --- | --- |
| Dance Dresses | Kids Leotards | Adult Leotards | Dance Bras | |
| | | | | |
| | Dance Pants | Tutu's | Dance Shorts | |
| | | | | |
| Dancewear | Dancewear Organizers | Dance Bags | Dance Backpacks | |
| | | | | |
Bangkok Companies is a full service product sourcing company in Thailand. For All your dancewear needs please email bangkokcompanies@gmail.com with your requests.
---
Dance Schools in Paraguay, Dancewear Suppliers, Dancing Organizations
Dance Council of Paraguay
(Consejo Paraguayo de la Danza)
Milano 361 - 1B Antequera 1 331 PY-Asuncion Paraguay
Tel. (595)213.705.30; Fax. (595)214.507.64
Organization, National Section
--------------------------------------------------------------------------------
Malena Arzamendia
Lomas Valentina 906 AR 1822 Villa Diamante, Lanus Oeste, Buenos Aires Argentina
054-114-2287134
I am a Folklorical dancer, especiality in paraguayan and argentine dances. Born in Paraguay, live in Buenos Aires, Argentina. Currently Iam managine the Dance Group -Guyra Itaipu- in guarani, -Bell Bi
--------------------------------------------------------------------------------
Maria Jose Cabezudo-Cuevas
Artigas 1389 casi General Santos PY-Asuncion Paraguay Paraguay
595-21-202155
Nuestro grupo esta conformado por artistas con capacidades diferentes, casi todos son portadores del sindrome de down u otro tipo de discapacidad intelectual. Nuestro objetivo principal es a travos de
--------------------------------------------------------------------------------
Alberto Castillo
Tte. Brigada 2.869. Asuncion Paraguay
021300385; 0981852988
Profesor de teatro, diseoador de iluminacion.
--------------------------------------------------------------------------------
Edith Correa
732, Moleon Andreu y Tte. Lopez Asuncion Paraguay
Tel. 021 311 279
teacher, choreographer and dancer in Modern Dance
--------------------------------------------------------------------------------
Celia Ruiz de Dominguez
Milano 361, 1b PY-Asuncion Paraguay
Fax (595.21)450.764
professional organization
--------------------------------------------------------------------------------
Graziela Meza
Calle General Santos 432 PY-Asuncion Paraguay
Fax (595)21.660.731
researcher
--------------------------------------------------------------------------------
Mario Garcia Siani
Calle Yegros 1061 PY-Asuncion Paraguay
Tel. 595.21.442 207; 595.971.347 082; 595.21.493 796; 595.21.441 673
Organizer, folk dance festivals
--------------------------------------------------------------------------------
Dana Luzko Trociuk
Lomas Valentinas 1133 - Encarnacion PY-1646 Mariscal Estigarribia Paraguay
Tel. & Fax; (595-71)200 805
Directora de la Academia de Danzas. Directora del Ballet de Camara. Miembro de APRODI: Asociacion de Profesionales de Danza de Itapoa - Paraguay.
--------------------------------------------------------------------------------
Miguel Narbaiza-Gorostiza
Planta 3 Oficina 10, Urtzaile 1, ES-20600 Eibar Spain
(34)943.821.411 -12; Fax (34)943.821.413;
www.latincolours.com
Latin Dancers Specialty (Argentina, Cuba, Mexico, Colombia, Paraguay)
--------------------------------------------------------------------------------
Marcela Cejas Calfuqueo
Paraguay 440 Dto 5 (S 2000 CVJ) AR-Rosario, Provincia Santa Fe Argentina
Tel. (54) (341) 421 9086; Fax (54) (341) 421 9086
www.habanaviva.com/a.shtml?name=marcelac
Coreografa, bailarina y profesora
--------------------------------------------------------------------------------
Marcela Cejas-Calfuqueo
Paraguay 440 Dto 5 (S 2000 CVJ) AR-Rosario, Provincia Santa Fe Argentina
Tel. (54) (341) 421 9086 ; Fax(54) (341) 421 9086
http://www.habanaviva.com/a.shtml?name=m
dancer
--------------------------------------------------------------------------------
Escuela de Arte y Danza Arapoty
Calle Dominicana 636 PY-Asuncion Paraguay
http://www.arapoty.com
School
--------------------------------------------------------------------------------
Paraguay National Commission for UNESCO
UNESCO)
Ministerio de Educacion y Cultura; Calle Ayolas 129, Ce PY- Asuncion Paraguay
Tel. & Fax (595.21)450.205, 450.855
National organization
--------------------------------------------------------------------------------
Alejandra Diaz
PY- Asuncion Paraguay
Tel. (595) 21228994 ; 991834519; (595) 21228994
dancer
--------------------------------------------------------------------------------
Alejandra Diaz-Lanz
755, Amistad Asuncion Paraguay
Tel. 595.21.228.994, FAX 595.21.228.994
Maestra, Coreografa, Bailarina,documentalista,Gestion Cultural, danza closica y contemporonea
--------------------------------------------------------------------------------
Maria Graciella Meza Mezgolits
Gral Santos 432, Calle 25 de Mayo PY-Asuncion Paraguay
Tel. 203 401
--------------------------------------------------------------------------------
Victor Barrios Rojas
Centenario 1539, Mayo y Pinzon Barrio San Vicente PY-Asuncion Paraguay
Tel. (595)208.744, 445.610
Researcher, folk dances