.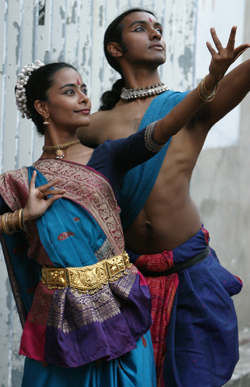 Uma Sharma School of Dance & Music, Uday Shankar Academy of Creative Dance, are just a few of the Indian dance companies, Indian dance schools, dancing organizations and dance wear suppliers that that can be found in our comprehensive Directory of Indian Dance Companies.
Traditional Indian Dance

The Indian dance is one of the oldest art that has been through a steady development for nearly two thousand years. The Indian classical dance has its origin in the temples where it was used to illustrate the Hindu mythologies. This art was performed in the temples by the Devadasis, ladies who dedicated themselves to God. With the passage of time, this form of art was used both as a means to worship God and a way to express one's emotion or state of mind.

This form of art is based on the Natya Shastra, written by Sage Bharata. The supreme manifestation of the Indian dance is Lord Shiva, also referred as Lord Nataraja.

All dance forms follow the same gestures or hasta mudras for each of these rasas. The major schools of classical dance in India are Kathak, Manipuri, Odissi, Bharatha Natyam, Kuchipudi , Kathakali and Mohiniattam, apart from the Folk and Tribal dances.
Indian Dance Video
Featured Indian Dance Company
Jayaram Rao and Vanashree Rao
Renowned Kuchipudi maestro Jayaram Rao and his wife Vanashree Rao are recognized today as outstanding exponents of the Kuchipudi style of dance. Enriched by Jayarama Rao's choreography which as extended the Kuchipudi repertoire, their performances highlight the flowing beauty of a style characterized by grace and virtuosity. In their duets marked by perfect synchronization and harmonious balance, they represent the manly vigour - tandava - and feminine charm - lasya - of classical Indian dance

If you would like your India Dance Company, Dance Organization, Dance School featured here then please email bangkokcompanies@gmail.com
There are many fine dance schools in India. I know I am in contact with them as we supply a range of high quality dancewear products like leotards, dance pants, dance dresses and other dancing apparel.
Bangkok Companies supplies an amazing range of dancewear from Thailand. I have looked at these dance garments and dance accessories in detail. There is only one word to describe them Superb. For more details click on the pictures or send an email to bangkokcompanies@gmail.com We regret at this time we can only satisfy Indian wholesale dancewear requests.
"Dancewear designed by dancers for dancers"
| | | | | |
| --- | --- | --- | --- | --- |
| Dance Dresses | Kids Leotards | Adult Leotards | Dance Bras | |
| | | | | |
| | Dance Pants | Tutu's | Dance Shorts | |
| | | | | |
| Dancewear | Dancewear Organizers | Dance Bags | Dance Backpacks | |
| | | | | |
Bangkok Companies is a full service product sourcing company in Thailand. For All your dancewear needs please email bangkokcompanies@gmail.com with your requests.
---
Dance Schools in India, Dancewear Suppliers, Dancing Organizations
Uma Sharma
Uma Sharma School of Dance & Music
52 Community Centre, East of Kailash IN- India
Tel. 643.1978, 643.2998, 643.2998, 643.1978
http://www.umasharma.com
Dance Teacher, guru, Indian dance, Kathak, school, tuition, Kathak
--------------------------------------------------------------------------------
Ms. Sharon Lowen
13 Barakhamba Road IN-100.001 New Delhi India
Tel. (91.11)3318958
lowen@vsnl.com
Odissi, Chhau and Manipur
--------------------------------------------------------------------------------
Jayarama Roa
Kuchipudi Dance Academy
99 Asiad Village IN-100.240 New Delhi India
Tel. 649.2244
http://artindia.net/raos
Dance Teacher, guru, Indian dance, Kuchipudi, school
--------------------------------------------------------------------------------
Reela Hota
India
reelahota@artindia.zzn.com
http://artindia.net/reela
Dance Researcher, India
--------------------------------------------------------------------------------
Rekha Tandon
102 Vasant Enclave India
Tel. 0-11-6141283, 6880383
http://www.artindia.net/rekha
Researcher, India
--------------------------------------------------------------------------------
Pratap Pawar
35 Anand Lok India
Tel. 689-2758
http://www.artindia.net/pawar
Researcher, India
--------------------------------------------------------------------------------
Ranjana Gauhar
G-8, Jangpura Extension India
Tel. 11-469-9187; Fax 469-8150
http://www.artindia.net/ranjana
Researcher, India
--------------------------------------------------------------------------------
Shagun Butani
S-505, Greater Kailash-II India
Tel. 0-11-646-0668
http://www.artindia.net/shagun
Dance Researcher, India
--------------------------------------------------------------------------------
Vanashri Rao
Kuchipudi Dance Academy
99 Asiad Village IN-100.240 New Delhi India
Tel. 649.2244
http://artindia.net/raos
Dance Teacher, guru, Indian dance, Kuchipudi, school
--------------------------------------------------------------------------------
Jayarama Roa & Vanashri Rao
99 Asiad Village IN-10024 New Delhi India
Tel. (91)649-2244
http://artindia.net/raos
Dance Company
--------------------------------------------------------------------------------
Ms. Deppika Nagaraj
N-34 Kalkaji IN-10048 New Delhi India
Tel. 11.643.0959; Fax 463.3403
Researcher, India
--------------------------------------------------------------------------------
Ms. Marie Elangovan
B-131 Upkar Apts. Mayur Vihar Ph. I IN-10091 New Delhi India
Tel. 11.271.6379
Researcher, India
--------------------------------------------------------------------------------
Navtej Singh Johar
F-27 Green Park IN-110 001 Copernicus Marg, New Delhi India
Tel. 11.651.1167
Dance Researcher, India
--------------------------------------------------------------------------------
Justin McCarthy
Shriram Bharatia Kala Kendra 1 IN-110 001 Copernicus Marg, New Delhi India
Researcher, India
--------------------------------------------------------------------------------
Ganesa Natyalaya
Sangeet Bharati 1 Tansen Marg Mandi House IN-110 001 New Delhi India
Tel. 371-0792
webmaster@artindia.net
Dance Company
--------------------------------------------------------------------------------
Sharon Lowen
13 Bharakhamba Road IN-110 001 New Delhi India
Tel. 0-11-331-8958
Researcher, India
--------------------------------------------------------------------------------
Mr. Dmitri Zmeyev
Russian Cultural Centre
24 Feroze Shah Road IN-110 001 New Delhi India
Tel. 11.332.9102, 332.9103
Centre
--------------------------------------------------------------------------------
Asavari Pawar
35 Anand Lok IN-110 001 New Delhi India
Tel 689-2758
http://www.artindia.net/pawar
Researcher, India
--------------------------------------------------------------------------------
Prathibha Prahlad
A-2, iridhar Apts., 28, Ferozeshah Road IN-110 001 New Delhi India
Tel. 3712725
http://www.prathibhaprahlad.com
Researcher, India
--------------------------------------------------------------------------------
Gitanjali Lal
Kathak Kendra
Bahawalpur House, Bhagwan Das Road IN-110 001 New Delhi India
Tel. (91)338-8681
Dance Company
--------------------------------------------------------------------------------
Shikha Khare
D-42 Collage Lane IN-110 001 New Delhi India
Tel. 371-1853
Researcher, India
--------------------------------------------------------------------------------
Janmejoy Sai Babu
E-10, Centre Place, Bengali Market, IN-110 001 New Delhi India
Tel. (91)11-371-4680
Dance Company
--------------------------------------------------------------------------------
Bharati Gupta
Kathak Kendra IN-110 001 New Delhi India
Tel. 338-8681
Researcher, India
--------------------------------------------------------------------------------
Dipanvita Sinha Roy
Kathak Kendra IN-110 001 New Delhi India
Tel. 338-8681
Researcher, India
--------------------------------------------------------------------------------
Hemant Kalita
Kathak Kendra IN-110 001 New Delhi India
Tel. 338-8681
Researcher, India
--------------------------------------------------------------------------------
Malti Shyam
Kathak Kendra IN-110 001 New Delhi India
Tel. 338-8681
Dance Researcher, India
--------------------------------------------------------------------------------
Mr. Ram Mohan
Kathak Kendra, Bhagwan Das Road IN-110 001 New Delhi India
Tel. (91)338-8681
Researcher, India
--------------------------------------------------------------------------------
Rajendra Gangani
Kathak Kendra, Bhawalpur Road IN-110 001 New Delhi India
Tel. 338-8681
Researcher, India
--------------------------------------------------------------------------------
Suchitra Mitra
Sangeet Bharati 1 Tansen Marg IN-110 001 New Delhi India
Tel. 11.371.0792; 371.4871
Researcher, India
--------------------------------------------------------------------------------
Rani Khanam
Shriram Bharatiya Kala Kendra, 1, Copernicus Marg IN-110 001 New Delhi India
Tel. 338-6428
Researcher, India
--------------------------------------------------------------------------------
Moumala Nayak & Monisa Nayak
T-6 Atul Grove Road IN-110 001 New Delhi India
Tel. 331-1782
Researcher, India
--------------------------------------------------------------------------------
Ramani Ranjan Jena (Rashmi Ranjan Jena)
Triveni Kala Sangam IN-110 001 New Delhi India
Tel. 0-11-371-8833
Researcher, India
--------------------------------------------------------------------------------
Surendranath Jena
Triveni Kala Sangam IN-110 001 New Delhi India
Tel. 0-11-371-8833
Researcher, India
--------------------------------------------------------------------------------
Sasadhar Acharya
Triveni Kala Sangam, Tansen Marg, Mandi House, IN-110 001 New Delhi India
Tel. (91)11-371-8833
Dance Company
--------------------------------------------------------------------------------
Jyoti Srivastava
2/9 Rouse Avenue, Deen Dayal Upadhyay Marg, IN-110 002 New Delhi India
http://members.tripod.com/iccr/JyotiShrivastava.htm
Researcher, India
--------------------------------------------------------------------------------
Gandharva Maha Vidyalaya
202 Deen Dayal Upadhyay Marg IN-110 002 New Delhi India
Tel. (91)323-2115, (91)323-8784
Dance Company
--------------------------------------------------------------------------------
Gandharva Maha Vidyalaya
212, Deen Dayal Upadhyay Marg IN-110 002 New Delhi India
Tel. 11-3238784, 3233791
Researcher, India
--------------------------------------------------------------------------------
Santosh Kumar Nair
C-48, Minto Road Complex IN-110 002 New Delhi India
Tel. (91)113233736
Dance Company
--------------------------------------------------------------------------------
Madhavi Mudgal
164, Golf Links IN-110 003 New Delhi India
Tel. & Fax 0-11-461-1478
http://artindia.net/madhavi.html
Researcher, India
--------------------------------------------------------------------------------
Ms. Uma Poonacha
18/368, Lodhi Colony IN-110 003 New Delhi India
Tel. 11-464-6592
Dance Researcher, India
--------------------------------------------------------------------------------
Komala Varadan
D-2/19 Kaka Nagar IN-110 003 New Delhi India
Tel. 462-7555
Researcher, India
--------------------------------------------------------------------------------
Shovana Narayan
D-II-301, Pandara Road IN-110 003 New Delhi India
Tel. 338-7686
http://www.artindia.net/shovana
Researcher, India
--------------------------------------------------------------------------------
Radha, Raja & Kausalya Reddy
DII/57 Kaka Nagar IN-110 003 New Delhi India
Tel. (91)463-6630; Fax 463-6640
http://www.rajaradhareddy.com
Researcher, India
--------------------------------------------------------------------------------
Deepak Maharaj
D-II-33 Shahjahan Road IN-110 011 New Delhi India
Tel. 378-2889
Dance Researcher, India
--------------------------------------------------------------------------------
Uday Shankar Academy of Creative Dance
G-10 Jangpura Extension IN-110 014 New Delhi India
Tel. (91)11462-7055
Dance Academy
--------------------------------------------------------------------------------
Tanushree Shankar
G-10 Jangpura Extension IN-110 014 New Delhi India
Tel. (91)462-7055
Dance Company
--------------------------------------------------------------------------------
International Centre for Kathakali
C-20 Qutab Institutional Area IN-110 016 New Delhi India
Tel. 686-7263
Dance Company
--------------------------------------------------------------------------------
Kuchipudi Kala Kendra
A-141 Malviya Nagar IN-110 017 New Delhi India
Tel. 648-2798
Dance Company
--------------------------------------------------------------------------------
Santanu Chakraborthy
F-1191 Chittaranjan Park IN-110 019 New Delhi India
Tel. 11.622.2953
Researcher, India
--------------------------------------------------------------------------------
Krishna Mohan
I-1637, Chittaranjan Park IN-110 019 New Delhi India
Tel. 628-8343
Dance Researcher, India
--------------------------------------------------------------------------------
Birju Maharaj
Kathak Indian dance performer
D-II-33 Shahjahan Road IN-110 011 New Delhi India
Tel. 378-2889
http://www.indiatimes.com/people/entertainment/dance/birju.htm
Dance Company, India