.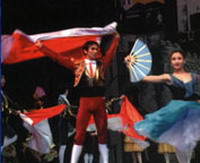 Universal System Youth Center, LuliStan Company, are just a few of the Kazakhstan dance companies, Kazak dance schools, dancing organizations and dance wear suppliers that that can be found in our comprehensive Directory of Kazakhstan Dance Companies.
Traditional Kazakhstan Dance

An immense musical folk-lore underlies many operas, ballets and symphonies. A folk dance and ballet have gradually developed and gained the right for existence. Well-known is the "Young Ballet of Almaty" ensemble (directed by B.Ayukhanov); and graduates of a choreographic school (founded in 1943) were winners at various world competitions.

Today many of them work in different countries. Among famous choreographers, teachers and ballet dancers are the following: Z.Raibaev, B.Ayukhanov, Zh.Baidaralin, U.Mirseidov, B.Tleubaev, G.Tutkibaeva, L.Alpieva. Almaty hosts an international ballet festival "Prize of Tradition" with many world ballet stars as jury members and honored guests: Yu.Grogorovich, V.Vasilyev, M.Plisetskaya and others.

The repertoire of the Academic Opera and Ballet Theater includes both classical and contemporary performances. Kazakh and other folk dances are represented in the State dance ensemble "Saltanat". Likewise, many national cultural centers have their dance groups.
Kazakhstan Dance Video
Featured Kazakhstan Dance Company
Universal System Youth Center
In 1997 I founded a contemporary dance school, and since 1998 it is the Universal System Youth Center "Pink Encolure". At present I am president of this Center and artistic director of a dance group under the same name "Pink Encolure". From 1999 I have been director of "Kyzgylt Zhal" International Festival of Modern Dance in Kazakhstan. Representing diverse developments of contemporary dance of Russia, Finland, Latvia, France, Turkiye, Kazakhstan. At that scholarship I together witch other masters presented a master-class on stylized Kazakh popular dance. I urge to take part in the your competition, because I need getting the richest diversity of European dance in order. I could introduce it in Kazakhstan to my students and include it into my own productions.

If you would like your Kazakhstan Dance Company, Dance Organization, Dance School featured here then please email bangkokcompanies@gmail.com
There are many fine dance schools in Kazakhstan. I know I am in contact with them as we supply a range of high quality dancewear products like leotards, dance pants, dance dresses and other dancing apparel.
Bangkok Companies supplies an amazing range of dancewear from Thailand. I have looked at these dance garments and dance accessories in detail. There is only one word to describe them Superb. For more details click on the pictures or send an email to bangkokcompanies@gmail.com We regret at this time we can only satisfy Kazakhstan wholesale dancewear requests.
"Dancewear designed by dancers for dancers"
| | | | | |
| --- | --- | --- | --- | --- |
| Dance Dresses | Kids Leotards | Adult Leotards | Dance Bras | |
| | | | | |
| | Dance Pants | Tutu's | Dance Shorts | |
| | | | | |
| Dancewear | Dancewear Organizers | Dance Bags | Dance Backpacks | |
| | | | | |
Bangkok Companies is a full service product sourcing company in Thailand. For All your dancewear needs please email bangkokcompanies@gmail.com with your requests.
---
Dance Schools in Kazakhstan, Dancewear Suppliers, Dancing Organizations
Alla Burenkova
Universal System Youth Center
35 streets Gogolja, 16 offices (Almaty City Culture Com KZ-480002 Almaty Kazakhstan
(3272)300.388;(3272)308.270
www.modern-dance.nursat.kz
--------------------------------------------------------------------------------
Akmaral Kainazarova
4 A Satpaev Street, apt 17 KZ-050010 Almaty Kazakhstan
(732)726.422.90;(732)729.213.25;3272-629628
--------------------------------------------------------------------------------
Gulmira Magzumova
44 Al-Pharabi Street, apt. 18 KZ-473.000 Astana Kazakhstan
(3172)231.767; (3172)398.399
Kazakh Agrarian University named after S.Seifullin,
--------------------------------------------------------------------------------
Olga Tsaturian
1"B", Azerbaev Str. KZ-050010, Koktobe village Almaty Kazakhstan
(73)332.229.867;(73)272.980.876;ext.1195;Fax(73)272.980.876 ext.1169
propagation and help in understanding of Spanish Dance and a possibility of a simple people to express ourselves through dance
--------------------------------------------------------------------------------
Natalya Bulatova
113 Furmanov str, apt 14 KZ-480091 Almaty Kazakhstan
007.327.267.0103; mob 83.00.31.71.788
--------------------------------------------------------------------------------
Dina Fadeeva
124 Naurizbai batir str, apt 20 KZ-480091 Almaty Kazakhstan 673814
--------------------------------------------------------------------------------
Pavel Feodoridi
40, Kurmangazi str, room 3 KZ-480100 Almaty Kazakhstan
3272-670746; 926382; Fax 3272-670746; mob 83332147037
--------------------------------------------------------------------------------
Agimbayeva Kadisha
8, Barayev Str, apt 32 KZ-Astana Kazakhstan 3172-224615; mob.
8 3332254607
Choreographer
--------------------------------------------------------------------------------
Dussenbek Nakipov
6 Massantchi Street KZ-480012 Almaty Kazakhstan
Fax (7.3272)677492
--------------------------------------------------------------------------------
Kuralai Sarkitbayeva
4 Baitursinova Str, apt 28 KZ-480091 Almaty Kazakhstan mob
8-3332447444, res 3272-339056
Choreographer, dancer
--------------------------------------------------------------------------------
Pavlos Theodoridis
Kurmangazi 40 480100 Almaty Kazakhstan
(3272)926382; 670746; Fax (3272)670746; 73332147037; Greek mobile 6978872723
--------------------------------------------------------------------------------
Aynura Topayeva
Gumileva home 7 flat 6 KZ-Astana Kazakhstan mobil
tel. 83005170076; home tel.(3172)375287
--------------------------------------------------------------------------------
Agimbayev Yerkebulan
8, Barayev Str, apt 32 KZ-Astana Kazakhstan
3172-224615; mob. 8 300 3524568
--------------------------------------------------------------------------------
Kazakhstan National Commission for UNESCO
Ministry of Foreign Affairs, 10 Beybitshilik Street KZ-473000 Astana Kazakhstan
Tel. (7.3272)69.60.55, 63.18.74; Fax (7.3272)63.48.12, 50.71.81
National organization
--------------------------------------------------------------------------------
Elina
KZ- Almaty Kazakhstan
Tel. 8(3272)427085
School, Oriental dance, Middle Eastern dance
--------------------------------------------------------------------------------
Ainura Ashirova
13 Republic Square KZ-480013 Almaty Kazakhstan
(3272).720.111; 720207; 506648 - ext. 217; Fax (3272).720.113
www.britishcouncil.kz
--------------------------------------------------------------------------------
Nadezda Bereznaia
KZ- Ust Kamenogorsk Kazakhstan
Tel. 8 333 2342025
School, Oriental dance, Middle Eastern dance
--------------------------------------------------------------------------------
Serik Sariev
4th microdistrict, block 56, apt53 KZ-AKTAU Kazakhstan mobile
8-3003915496; res 7-3292 - 511826
--------------------------------------------------------------------------------
Damir Turebekov
14 Boranicheskaya street, apt 56 KZ-Aranganda Kazakhstan
83007236643; 3212.435.985
--------------------------------------------------------------------------------
Saule Uteglieva
90 Ablai Khan Prospekt KZ-480091 Almaty Kazakhstan
Tel. (7.3272)61.50.10; (7.3272)62.76.40
Researcher, folk dances
--------------------------------------------------------------------------------
LuliStan Company (anciennement Sweet Move)
3 square Trudaine FR-75009 Paris France
Tel. & Fax (33)1 4016.0377; (33)6 8005 7418
www.lulistan.com
Contemporary Dance Company. Ambassador of French choreography and dance in Central Asia (Tadjikistan, Uzbekistan, Kazakhstan, Kirghizistan)
--------------------------------------------------------------------------------
If you have a Kazakhstan Dance School, dance company or dancing organization in Astana, Almaty or anywhere in Kazakhstan and would like to be featured in the Kazakhstan Dance Directory then please email bangkokcompanies@gmail.com