.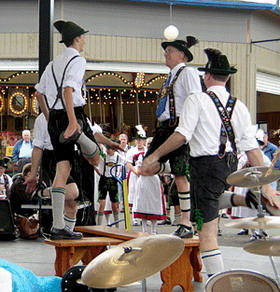 New York City Dance School Stuttgart, Manhattan Dance Company, viaDanza, are just a few of the German dance companies, German dance schools, dancing organizations and dance wear suppliers that that can be found in our comprehensive Directory of German Dance Companies.
Dance Scene in Germany
Dance is every bit as popular as theater in Germany. The nation's theaters and opera houses engage 250 ballet companies and nearly 1,600 dancers. In addition, countless freelancers and choreographers work on various stages. The dance scene in Germany is remarkably international; many of the most famous choreographers working in the country are not German.

The more traditional approach to dance is represented by ballet masters such as John Neumeier, director of the Hamburg Ballet. He choreographs shows of high aestheticism and intensity which gain much of their singularity from their strong links to classical ballet.

The other side of German dance is represented by world-famous artists such as Pina Bausch of Wuppertal, Johann Kresnik and Sasha Waltz, both of Berlin, who have created a genre that has come to be known as "Tanztheater" (dance theater). This form traces its roots to the expressionist dancers Rudolf von Laban and Mary Wigman in the 1920s as well as to 1960s political street theater.

The dancer's body is used to tell stories in disturbing and fascinating ways. Tanztheater connects the audience emotionally to the – often political – topic of the piece. Such choreography often involves much improvisation and tends to resemble spontaneous art "happenings." The third pillar of dance is linked to New York City-born William Forsythe, director of the Frankfurt Ballet, and his school. His thoroughly modern productions are inspired by American modern dance and its leading innovators, Martha Graham and Merce Cunningham. His pieces have created much controversy among German and international audiences and critics.
German Dance Video
Featured German Dance Company
New York City Dance School Stuttgart
Under the direction of Sabine Lynch, a center for dance lovers has thrived in Stuttgart since 1975. The NYCDS is designed for students interested in exploring various dance styles or those students already focused on a particular discipline. The NYCDS offers a variety of classes and levels in ballet, modern, tap, jazz and hip hop as well as placement and the feldenkrais method. Beginning with the Junior program and continuing through the most advanced classes, the NYCDS provides everybody with an opportunity to explore the world of dance, experiment and perfec their skills and enrich their appreciation for the various forms of the art.

Classes are held by renowned teachers who worked with entertainers such as Madonna, Janet Jackson, Destiny's Child, Michael Jackson, Prince, TLC, Britney Spears, Jennifer Lopez, Rickey Martin and more. They have appeared in music videos, commercials, television shows, films and stage productions and companies including the Stuttgart Ballet.

If you would like your Germany Dance Company, Dance Organization, Dance School featured here then please email bangkokcompanies@gmail.com
There are many fine dance schools in Germany. I know I am in contact with them as we supply a range of high quality dancewear products like leotards, dance pants, dance dresses and other dancing apparel.
Bangkok Companies supplies an amazing range of dancewear from Thailand. I have looked at these dance garments and dance accessories in detail. There is only one word to describe them Superb. For more details click on the pictures or send an email to bangkokcompanies@gmail.com We regret at this time we can only satisfy Germany wholesale dancewear requests.
"Dancewear designed by dancers for dancers"
| | | | | |
| --- | --- | --- | --- | --- |
| Dance Dresses | Kids Leotards | Adult Leotards | Dance Bras | |
| | | | | |
| | Dance Pants | Tutu's | Dance Shorts | |
| | | | | |
| Dancewear | Dancewear Organizers | Dance Bags | Dance Backpacks | |
| | | | | |
Bangkok Companies is a full service product sourcing company in Thailand. For All your dancewear needs please email bangkokcompanies@gmail.com with your requests.
---
Dance Schools in Germany, Dancewear Suppliers, Dancing Organizations
Beatrice Dobre
58, Kaiserslauterer Str DE-70499 Stuttgart Germany
Tel. (49)711.231.2740;Mobile(49)175.601.7216;
www.egyptian-dance.com
Dance Teacher, choreographer, and artist for CED - Contemporary Egyptian Dance. Weekly courses, workshops, and cultural stage performances. Associate of RSS - Raqs Sharqi Society. Psychologist.
--------------------------------------------------------------------------------
Hartmut Wager
Bei den Funkturmen 12 DE-70070 Stuttgart Germany
www.tanzen-vtb.de
Documentalist, folk dance collection
--------------------------------------------------------------------------------
'6 prime' International Agency
Schreiberstr. 40 DE-70199 Stuttgart Germany
(49)172.943.3500 Germany; (33)685.162.890
www.6-prime.com
--------------------------------------------------------------------------------
Kulturverein der Griechen aus Pontos in Stuttgart "Pontiaki Estia"
Heglstrasse 25-27 DE-70174 Stuttgart 1 Germany
Dance Group, Folk Dance Greek, performing. amateur
--------------------------------------------------------------------------------
Manhattan Dance Company
Maybachstr. 42 DE-70469 Stuttgart Germany
49-(0)711-85 63 16; Fax +49-(0)711-85 78 16
www.newyorkcitydanceschool.de
The MDC is a professional jazz dance company founded in 1989. Its repertory ranges from musical, funky to lyrical jazz. Performances through out Germany.
--------------------------------------------------------------------------------
Lena Bernardo
viaDanza
Schildfarnweg 5 DE 70619, Stuttgart, Germany
49-711-489.070.03;fax489.070.04
www.viadanza.com
viaDanza offers salsa dance classes in Stuttgart, Germany, as well as group travel tours including salsa classes to Cuba, Spain and Italia.
--------------------------------------------------------------------------------
Jean Christophe Blavier
Firnhaberstr.3 DE-70174 Stuttgart Germany
+491739505598 Fax. (49.711)478.0156
www.moving-angel.com
Choreographer
--------------------------------------------------------------------------------
Claudia Fleischle-Braun
Allmandring 28 DE-70569 Stuttgart Germany
Tel. 0711 / 685-3168 Fax 0711 / 685-3157
Tanzpadagogin: Moderner und zeitgenossischer Tanz; Tanzwissenschaft: Tanzgeschichte und Kultursoziologie; Tanzdidaktik.
--------------------------------------------------------------------------------
Sereya Sigrid Gerbing
3, Ludwigstr DE-70176 Stuttgart Germany
Tel. 0172-7391506
Dancer, Oriental Dance, Middle Eastern Dance
--------------------------------------------------------------------------------
Richard Gilmore
Hack Str. 50 DE-70190 Stuttgart Germany
0049 711 262 18 22
Former Dancer, Masseur of the Stuttgart Ballet, German Dance Medicine Association Member (presently board of directors member)
--------------------------------------------------------------------------------
'ine Halpin
Grosse Falterstr. 85 DE-70597 Stuttgart Germany
(49)711.483.901
www.danceirish.de
Dance irish, irish dance, soft and hard shoes
--------------------------------------------------------------------------------
Kiarash Sanei Kashany
Stuifenstrasse 17 DE-70188 Stuttgart Germany
Salsa school and Dance company
--------------------------------------------------------------------------------
Horst Koegler
Silberburgstr. 89 DE-70176 Stuttgart Germany
0049/296699;
www.tanznetz.de/koeglerjournal
Dance Critic, lexicographer, Journalist; dance and music theatre
--------------------------------------------------------------------------------
Maja Langsdorff
Rosenbergstrasse 96 DE-70176 Stuttgart Germany
49-711-636 87 67; Fax 49-711-636 53 64
www.maja-www.langsdorff.de
Author among other things of the book "Ballett - und dann?" (Ballet -and then? Biographies of dancers who no longer dance". Published in German language January 2005, English Version in preparation
--------------------------------------------------------------------------------
Sabine Lynch
Maybachstrasse 42 DE-70469 Stuttgart Germany
Tel. 49 (0)711 85 6316; Fax 49 (0)711 85 78 16
www.newyorkcitydanceschool.de
Jazz, Tap, Pre-Ballet, Hip Hop; for adults - Tap, Ballet, Jazz, Latino Jazz, Funky Jazz, Modern, Hip Hop, MTV Choreography, Placement, Jump & Turn, Jazz Gym, Modern Jazz, Street Dance, Dance Fit
--------------------------------------------------------------------------------
Dimitrios Pergialis
Kesselstrasse 34, (NEAFON Verlag) DE-70327 Stuttgart Germany
(49)711.707.1711; Fax (49)7114.2070.680; (49)178.140.5460 Mobile
www.neafon.com
"neaFon" deutsches griechisches Magazin,
--------------------------------------------------------------------------------
Stengel
Urbanstr. 94 DE-70190 Stuttgart Germany
Tel. 49 (0)711 285 390; Fax 49 (0)711 285 394
www.staatstheater.stuttgart.de
Dance School
--------------------------------------------------------------------------------
Amira Tanina
-- DE-Stuttgart Germany Tel. 0049 / (0)175 / 14 71 708
www.amira-tanina.de
classical oriental dance -Egyptian-Lebanese style- with acrobatic show effects; dancer/ performer, choreographer with more than ten years of experience in this field; bookable worldwide
--------------------------------------------------------------------------------
Braig-Ballettsaaleinrichtungen
Schwieberdinger Strasse 93 DE-70435 Stuttgart Germany
Tel. (49)0711.826.44.04, (49)0171.4.02.67.05, Fax 0711.8.26.17.75
http://www.tanzmedien.de/braig
Ballet
--------------------------------------------------------------------------------
Dance Vision Institute
Holderlinstrasse 17 DE-70174 Stuttgart Germany
Tel. & Fax (49.711)222.0003
Dance School, Dance courses, seminars, auditions
--------------------------------------------------------------------------------
El Cortijo
Eberhardstrasse 10 DE-70190 Stuttgart Germany
Dance School, Ballroom Dance , folk, flamenco, Spanish dances
--------------------------------------------------------------------------------
Espacito
Stoeckachstrasse 16 a DE-70190 Stuttgart Germany
Tel. (49.711)26 46 57, 26 44 27
Flamenco
--------------------------------------------------------------------------------
Schwabischer Albverein, Bereich Volkstanz
Hospitalstrasse 21b DE-70174 Stuttgart Germany
Fax 0711 42 75 20
Folk dance
--------------------------------------------------------------------------------
Tanz-Center Neugereut
Flamingoweg 1 DE-70378 Stuttgart Germany
Tel. (49.711)5301200
Dance School, Ballroom Dance
--------------------------------------------------------------------------------
Tanz-Zentrum Hermann
Stuttgarter Strasse 40 DE-72250 Freudenstadt Germany
Tel. 07441/8 28 00; 0171/2 43 48 86; fax 07441/8 55 20
Dance School, dance classes
--------------------------------------------------------------------------------
Tanzclub TSC Astoria Sruttgart & Tanzsportverband Baden-Wurttemberg
Paulusstrasse 2 DE-70197 Stuttgart Germany
Tel. (49.711)696274
Dance School, ballroom, club
--------------------------------------------------------------------------------
Tanzschule Blunck-Schumann
Stuttgarter Strasse 17A DE-70734 Fellbach Germany
Tel. (49.711)573260
Dance School, dance tuition, ballroom
--------------------------------------------------------------------------------
Tanzschule Brenner
Kernerstrasse DE-70825 Stuttgart Germany
Tel. (49)711/855554
Dance School
--------------------------------------------------------------------------------
Tanzschule Brenner
Wachaustrasse1 DE-70469 Stuttgart Germany
Tel. (49)711/855554; Fax (49)711/8105676
Dance School
--------------------------------------------------------------------------------
Tanzschule Burger-Schafer
Arnulf-Klett-Platz 1-3 DE-70173 Stuttgart Germany
Tel. (49)711/2264041; Fax (49)711/2262993
Dance School
--------------------------------------------------------------------------------
Tanzschule Dieterle
Konigstrasse 56 DE-70173 Stuttgart Germany
Tel. (49)711/295211; Fax (49)711/295241
Dance School
--------------------------------------------------------------------------------
Tanzschule Haag
Eberhardstrasse 18 DE-70173 Stuttgart Germany
Tel. (49.711.2367204
Dance School, dance tuition, ballroom
--------------------------------------------------------------------------------
Tanzschule Hubert Haag
Eberhardstrasse 18-22 DE-70173 Stuttgart Germany
Tel. (49)711/2367204; Fax (49)711/2366164
Dance School
--------------------------------------------------------------------------------
Tanzschule Schicki
Schmidener Strasse 38 DE-70372 Stuttgart-Bad-Cannstatt Germany
Tel. (49)711/560994; Fax (49)711/562275
Dance School
--------------------------------------------------------------------------------
Tanzschule Schicki
Waiblinger Strasse 23 DE-70372 Stuttgart-Bad-Cannstatt Germany
Tel. (49)711/560994; Fax (49)711/562275
Dance School
--------------------------------------------------------------------------------
Tanzschule Tabs, Tanzen wo der Bar steppt
Stuttgarter Strasse 17 A DE-70734 Fellbach Germany
Tel. (49)711/573160; Fax (49)711/573260
Dance School
--------------------------------------------------------------------------------
Tanzschule Tango Vorstadt
Christophstrasse 40-42 DE-70180 Stuttgart Germany
Tel. (49)711/6499009; Fax (49)711/6499009
Dance School
--------------------------------------------------------------------------------
Tanzschule Wagner
Wagenburgstrasse 101 DE-70186 Stuttgart Germany
Tel. (49)711/480550; Fax (49)711/4805520
Dance School
--------------------------------------------------------------------------------
Tanztreff Club Braig
Stuttgarterstrasse 80 DE-73312 Geislingen Germany
Tel. (49)7331/63658; Fax (49)7332/44473
Dance School
--------------------------------------------------------------------------------
Reid Anderson
Oberer Schlossgarten 6 DE-70173 Stuttgart Germany
Tel. (49.711)203.2235, Fax (49.711)203.2236
www.staatstheater.stuttgart.de
Choreographer, ballet, company, classical
--------------------------------------------------------------------------------
Rolf Baumgart
Stuttgarter Strasse 59 DE-12059 Berlin Germany
Tel. (49.30)687.8613
Choreographer
--------------------------------------------------------------------------------
Ursula Bischoff-Musshake
Florianstrasse 20 DE-70188 Stuttgart Germany
Tel. (49.711)282.872, Fax (49.711)281.824
Choreographer, classical, modern, dance-theatre
--------------------------------------------------------------------------------
Jean-Christophe Blavier
3, Firnhaberstr. DE-70174 Stuttgart Germany
Tel. 49 711 4791779, Fax 49 711 4780156
www.moving-angel.com
Specialised for multiplemedia dance performance, Choreographies for theaters
--------------------------------------------------------------------------------
Teresa Galinsky
Schildfarnweg 13 DE-70619 Stuttgart Germany
Tel.0711-58 44 30; Fax 0711-58 90 37
Dance therapist
--------------------------------------------------------------------------------
Hans-Peter Geh
Pf. 105441, Konrad-Adenauer-Strasse 6 DE-70047 Stuttgart Germany
Tel. (711) 212 43 90, 212 45 04, 212 44 24; Fax 212 44 22
Library
--------------------------------------------------------------------------------
Christopher Gordon
Richard-Wagner-Strasse 10 DE-70184 Stuttgart Germany
Tel.0711-2 36 63 21; Fax 0711-2 36 67 72
Dance therapist
--------------------------------------------------------------------------------
Brigitte Hafner
95 Gnesener Strasse DE-70374 Stuttgart Germany
Tel. 071156 04 17
--------------------------------------------------------------------------------
Marcia Haydee
Postfach 104.345 DE-70038 Stuttgart Germany
Tel. (49.711)20320, Fax (49.711)2032236
Classical, Modern Ballet
--------------------------------------------------------------------------------
Marcia Haydee
Oberer Schlossgarten 6 DE-70173 Stuttgart Germany
Tel. (49.711)2032.420, Fax (49.711)2032.236, Telex: 723 777
Company, ballet, classical
--------------------------------------------------------------------------------
Hardy Hermann
Stuttgarter.Strasse 40 DE-72250 Freudenstadt, Baden-Wuerttemberg Germany
Tel. 07441/82800; fax 07441/85520
http://www.tanzzentrum-hermann.de
--------------------------------------------------------------------------------
Horst Hilger
Konrad-Adenauer-Strasse 8 DE-70173 Stuttgart Germany
Tel. (49.711)212-4390, 212-4504, Fax (49.711)2124422
http://www.wlb-stuttgart.de/archive/tanz
Resources, library, archives, Niles Leslie Dance Collection