.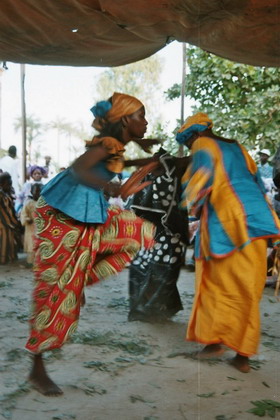 Gambian Griot School of Music and Dance, Freetong Players International, are just a few of the Gambian dance companies, Gambian dance schools, dancing organizations and dance wear suppliers that that can be found in our comprehensive Directory of Gambian Dance Companies.
Traditional Gambian Dance

Belong dancing, singing and rhythmic slapping to daily living an African. Each ritual and each festival has linked its own music and with that dancing. The dancing are an interaction between the drummer and the dancer. It is thus not strange that three main Gambian dance has been called to the accompanying instruments:

Bugarabu
This dancing has been based on the music of the Djola, a population in Foni-gebied and gambia, the Casamance in Senegal and the north of guinee-Bissau. A dance which was performed at funerals of the society elders. Today it has lost some of this connection and is also performed during naming and marriage ceremonies.

Djembe
The origin of this dancing lies in guinee and Mali at Malinke-stam. In contrast to village drumming and dancing, regional and national ballets are highly choreographed with many dancers moving in unison.

Cassa
A dance which emanates from the 'Cassa' clan of the Jola ethnic group called the Cassamance. During the dance, the 'Kumpo' performs its all-action spinning dance while two of the female dancers undertake a fire-eating routine. If that's not enough, the 'mortar and pestle' man goes through his unique act - you won't know which way to look!

Lenjengo, Mandinka
A dance - usually performed at the end of harvest time. The female dancers carry 'sawandang' - the implements used for winnowing: separating the chaff from grains after the millet, maize or coos have been ground.
Gambian Dance Video
Featured Gambian Dance Company
Gambian Griot School of Music and Dance
Griots used to perform for kings and warriors. Their traditional songs have been played for centuries. This music is timeless. Therefore we feel that African griot music deserves a place in the spotlight. We promote it through releasing Cd's, through our websites and through teaching at our Gambian Griot School of Music and Dance.
The school is situated in Fajikunda, a quiet suburb of Serrekunda, The Gambia. Manager is Dembo Jobarteh, a well known koraplayer, singer and drummer. He's also the main teacher who will supervise all classes and make sure you'll have a good time.
In the old days griots were court musicians. We sang praise of our renowned leaders, thereby telling the history of the region. Nowadays our services are still sought after. We sing the history of a tribe or family at naming ceremonies, weddings and other social and religious occasions. To learn the enormous quantity of traditional songs and to master the melodies and rhythms that go with it, we have to study for many years.

If you would like your Gambia Dance Company, Dance Organization, Dance School featured here then please email bangkokcompanies@gmail.com
There are many fine dance schools in Gambia. I know I am in contact with them as we supply a range of high quality dancewear products like leotards, dance pants, dance dresses and other dancing apparel.
Bangkok Companies supplies an amazing range of dancewear from Thailand. I have looked at these dance garments and dance accessories in detail. There is only one word to describe them Superb. For more details click on the pictures or send an email to bangkokcompanies@gmail.com We regret at this time we can only satisfy Gambiawholesale dancewear requests.
"Dancewear designed by dancers for dancers"
| | | | | |
| --- | --- | --- | --- | --- |
| Dance Dresses | Kids Leotards | Adult Leotards | Dance Bras | |
| | | | | |
| | Dance Pants | Tutu's | Dance Shorts | |
| | | | | |
| Dancewear | Dancewear Organizers | Dance Bags | Dance Backpacks | |
| | | | | |
Bangkok Companies is a full service product sourcing company in Thailand. For All your dancewear needs please email bangkokcompanies@gmail.com with your requests.
---
Dance Schools in Gambia, Dancewear Suppliers, Dancing Organizations
Freetong Players International
Ebo Town, P.O.Box 1467 GB Banjul Gambia
00220-9906007;00220-4398334;00220-4397682
www.freeetongplayers.com
--------------------------------------------------------------------------------
Mahmud Jalloh
P.o. Box 1467 GM-Banjul, Ebo Town Gambia
Professional Stilt Dancer/Trainer and teacher
--------------------------------------------------------------------------------
Dembo Jobarteh
P.o. Box 4487 Gm-bakau Gambia
(220)992.4418
Teacher and dancer, specialised in Mandinka dances
--------------------------------------------------------------------------------
GIibrilla Kamara
Ebo Town, P.O.Box 1467 GB Banjul Gambia
Tel. (220)990.6007;(220)-439.8334;(220)439.7682;
www.freeetongplayers.com
--------------------------------------------------------------------------------
Dzide Semanu Kwasi
Ndows Comprehensive School, PMB 405 GM-Serrekunda Gambia
(220)955.777; Fax (220)397.995
Dancer
--------------------------------------------------------------------------------
Arto Vuorela
Vanhatie 44 FI-02880 Veikkola Finland
Tel. (358.9)256 5361; 358 20 566 5582; Fax (358.20)566 5505; (358)40 514 6086
http://www.globalmusic.fi
immigres/afrikEnsemble, traditional West African style drumming, dancing and singing, Gambia
--------------------------------------------------------------------------------
Gambia National Commission for UNESCO
15 Marina Parade; PO Box 1133 GM- Banjul Gambia
Tel. (220)225.214, 225.275; Fax (220)225.297, 225.909
http://gambia.comnat.unesco.org
National organization
--------------------------------------------------------------------------------
Dembo Jobarteh
Gambia Post Office, Account Section GM-Banjul Gambia
Tel. (33)220 924418
Teacher and dancer, specialised in Mandinka dances
--------------------------------------------------------------------------------
Gambian Griot School of Music and Dance
Dembo Jobarteh P.O. Box 4487 Bakau The Gambia West Africa
dembo@gambiangriot.com
http://home.planet.nl/~verka067