.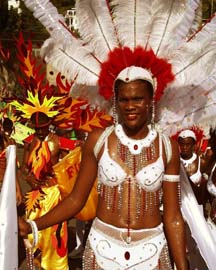 Grenada School of Dance, National Carnival Development, are just a few of the Grenadian dance companies, Grenadian dance schools, dancing organizations and dance wear suppliers that that can be found in our comprehensive Directory of Grenada Dance Companies.
Traditional Grenada Dance

Traditionally, calypso and reggae have been the most important musical styles in Grenada. But in more recent years, outside sources have influenced the local music. "Zouk" from the French Caribbean is changing the sound of calypso, while steel band music has been imported from nearby Trinidad and Tobago.

African dances are particularly important as well, as many Grenadians have been able to maintain their tribal heritage throughout the years. Each tribe has its own unique drum and dance style. These are often performed at Big Drum festivals. Carnival is an important time to remember song and dance, as well.

Grenadians' mixed heritage has given the islanders a culture all their own. Jab Jab and Mas Parade, Grenada Carnival. From their two Carnival celebrations to the folklore and personal histories passed down in family memories, you're sure to get a truly Caribbean feel from this spirited mix.
Grenada Dance Video
Featured Grenadian Dance Company
Grenada School of Dance
The Grenada School of Dance provides its students with a training program focusing on ballet, jazz, and tap. Through the development of strong technique, flexibility, artistry, and musicality, the student acquires the skills and discipline necessary to pursue their career in dance. The school seeks students who posses a gift in movement, musicality, and the love of dance. Students are placed in classes by age and ability, and are required to meet their classes set forth in the class schedule. Assessment of a student's progress is ongoing and evaluation of each student's progress is made in June. We hope to bring a wide variety of classical, new, and respectful styles of dance to Grenada. It is my goal to teach all of my students the expression of the art.
We offer the following dance disciplines: Classical ballet, pointe, tap, jazz, hip hop, and tumbling. *Ages 2- Adult (yes, we have an adult tap class) *Boys and girls

If you would like your Grenada Dance Company, Dance Organization, Dance School featured here then please email bangkokcompanies@gmail.com
There are many fine dance schools in Grenada. I know I am in contact with them as we supply a range of high quality dancewear products like leotards, dance pants, dance dresses and other dancing apparel.
Bangkok Companies supplies an amazing range of dancewear from Thailand. I have looked at these dance garments and dance accessories in detail. There is only one word to describe them Superb. For more details click on the pictures or send an email to bangkokcompanies@gmail.com We regret at this time we can only satisfy Grenada wholesale dancewear requests.
"Dancewear designed by dancers for dancers"
| | | | | |
| --- | --- | --- | --- | --- |
| Dance Dresses | Kids Leotards | Adult Leotards | Dance Bras | |
| | | | | |
| | Dance Pants | Tutu's | Dance Shorts | |
| | | | | |
| Dancewear | Dancewear Organizers | Dance Bags | Dance Backpacks | |
| | | | | |
Bangkok Companies is a full service product sourcing company in Thailand. For All your dancewear needs please email bangkokcompanies@gmail.com with your requests.
---
Dance Schools in Grenada, Dancewear Suppliers, Dancing Organizations
Carnival
St. Georges. Scott's Street, PO Box 72a GD- Grenada
Company
--------------------------------------------------------------------------------
Grenada National Commission for UNESCO
Ministry of Education; Botanical Gardens, Tanteen GD- Saint George's Grenada
Tel. (473)440.7439, 440.2791, 440.2737; Fax (473)440.7701, 440.6650
National organization
--------------------------------------------------------------------------------
National Carnival Development, Committee Ministerial Complex
Scott's Street, P.O. Box 72a GD-St. Georges Grenada
Tel. 473.442.9569; Fax 473.440.6924
Folk dance festival
--------------------------------------------------------------------------------
Cecilia Griffith
GD Grenada
dance major student
--------------------------------------------------------------------------------
Grenada School of Dance
319A Monroe Street, Grenada, MS 38901
Phone: 662-897-TOES
We offer the following dance disciplines: Classical ballet, pointe, tap, jazz, hip hop, and tumbling.
--------------------------------------------------------------------------------