.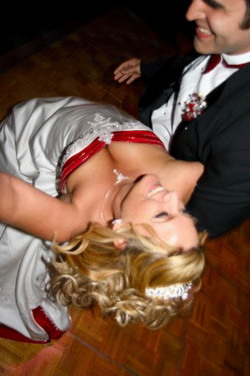 The Mississippi Dance Doctors, Belhaven College, Tupelo Academy of Dance Arts, are just a few of the dance companies, Mississippi dance schools, dancing organizations and dance wear suppliers that that can be found in our comprehensive Directory of Mississippi Dance Companies.
Featured Mississippi Dance Company
The Mississippi Dance Doctors: Mike Day and Lisa Lathem offer dance instruction through their business, The Mississippi Dance Doctors, at Dance Connection Dance Center.

We teach all levels of American Style social dancing from the nationally recognized Dance Vision Syllabus and have decades of teaching & performing experience. Our Social and Ballroom dances include: Foxtrot, Waltz, East Coast (Triple) Swing, Mambo, Salsa, Cha-Cha, Viennese Waltz, Night Club Two Step, Rumba, Tango, Samba, Disco Hustle, Single Swing, Merengue & West Coast Swing.

The Mississippi Dance Doctors and Dance Connection have the most attended class lessons & dance parties, and have the largest active student body in Central Mississippi. In the past three years, we innovated Salsa Sundays, Tuesday Night Ballroom, a Collegiate Ballroom Dance Course, Monthly Theme Dances and our "One Dance a Month" method presently used for our weekly classes. Also, we organized the first, and still best, New Year's Eve dance for dancers in MS.

We teach ballroom, swing and Latin dancing. Private lessons are available Monday through Friday with a group class for beginners and above offered on Thursday evenings.

We plan to keep our present classes growing but would also like to develop a dance program for local high schools in our area. Something similar to the type offered in other metropolitan areas. The film "Mad Hot Ballroom" featured these types of classes in the New York school system. We have already taught ballroom and salsa classes at Hinds Community College for a couple of semesters as well as several classes at Terry High School.
---
There are many fine dance schools in Mississippi. I know I am in contact with them as we supply a range of high quality dancewear products like leotards, dance pants, dance dresses and other dancing apparel.
Bangkok Companies supplies an amazing range of dancewear from Thailand. I have looked at these dance garments and dance accessories in detail. There is only one word to describe them Superb. For more details click on the pictures or send an email to bangkokcompanies@gmail.com We regret at this time we can only satisfy Mississippi wholesale dancewear requests.
"Dancewear designed by dancers for dancers"
| | | | | |
| --- | --- | --- | --- | --- |
| Dance Dresses | Kids Leotards | Adult Leotards | Dance Bras | |
| | | | | |
| | Dance Pants | Tutu's | Dance Shorts | |
| | | | | |
| Dancewear | Dancewear Organizers | Dance Bags | Dance Backpacks | |
| | | | | |
Bangkok Companies is a full service product sourcing company in Thailand. For All your dancewear needs please email bangkokcompanies@gmail.com with your requests.
---
Dance Schools in Mississippi, Dancewear Suppliers, Mississippi Dancing Organizations
International Ballet Competition
PO Box 3696 MS 39207-3696 Jackson, Mississippi U.S.A.
Tel. (1.601)355.9853; Fax. (1.601)355.5253;
Dance Competition
--------------------------------------------------------------------------------
Mary Barres Riggs
PO Box 2229 MS 38655 Oxford, Mississippi U.S.A.
(662)236.30.17;Fax(662)915.78.30
Dance School
--------------------------------------------------------------------------------
Robert Daniel Riggs
PO Box 2229 MS 38655 Oxford, Mississippi U.S.A.
(662)236.3017;Fax(662)915.7830
Dance School
-------------------------------------------------------------------------------
The Mississippi Dance Doctors
306 North Bierdeman Road MS 39208 Pearl U.S.A.
601-956-4138; 601-932-2374
www.msdancedoctors.com
Dance Director, The Mississippi Dance Doctors, American style Ballroom, Swing and Latin dance instruction. Private, Couple and Group classes taught for social thru competitive levels. Specializing in American Ballroom, Swing, Latin and Wedding dance instruction.
-------------------------------------------------------------------------------
Laura Morton
Belhaven College
1500 Peachtree Street MS 39202 Jackson, Mississippi U.S.A.
Tel. 1-800-960-5940 ; fax 601-968-9998
http://www.belhaven.edu
Dance School
--------------------------------------------------------------------------------
Ravenna Tucker
Belhaven College
1500 Peachtree Street MS 39202 Jackson, Mississippi U.S.A.
http://www.belhaven.edu
Dance School
--------------------------------------------------------------------------------
Britta Wynne
Belhaven College
1500 Peachtree Street MS 39202 Jackson, Mississippi U.S.A.
http://www.belhaven.edu
--------------------------------------------------------------------------------
Stephen Wynne
5822, Lake Trace Circle 39211 Jackson, Mississippi U.S.A.
601 291 0158
www.atmarah.org
Choreographer, professional dance company, modern dance theatre. Dance Company
--------------------------------------------------------------------------------
Linda Fedric's Dance Center
2516 Old Highway 24 MS 39402 Hattiesburg, Mississippi U.S.A.
Tel. (1.601)261.9481
Dance School
--------------------------------------------------------------------------------
Tupelo Academy of Dance Arts
775 Poplarville Street MS 38801 Tupelo, Mississippi U.S.A.
Tel. (1.601)844.4352
Dance School, ballet
--------------------------------------------------------------------------------
Mary Johnson
1016 24th Avenue MS 39301 Meridian, Mississippi U.S.A.
Tel. (1.601)693.2331
Dance School, ballet
--------------------------------------------------------------------------------
David Keary
PO Box 1787,201 E. Pascagoula St., Suite 106 MS 39215-1787 Jackson, Mississippi U.S.A.
Tel. (1.601)960.1560; Fax (1.601)960.2135
Dance Company, ballet, modern
--------------------------------------------------------------------------------
Sharon Long
Tupelo Academy of Dance Arts
775 Poplarville Street MS 38801 Tupelo, Mississippi U.S.A.
Tel. & Fax (1.601)844.1928
Dance Company, ballet
--------------------------------------------------------------------------------
Vi McGill
PO Box 5308 MS 39047 Brandon (Jackson), Mississippi U.S.A.
Tel. (1.601)829.3600
Dance Teacher, instructor, country & Western dances
--------------------------------------------------------------------------------
Cynthia Newland
Belhaven College
1500 Peachtree Street Jackson MS 39202, Mississippi U.S.A.
601.968.8745
www.belhaven.edu
UniversityDance School
--------------------------------------------------------------------------------
Janet Prieur
PO Box 5052 MS 39406-5052, Hattiesburg, Mississippi U.S.A.
Tel. (1.601)266.4161; Fax (1.601)266.4127
www.arts.usm.edu
Dance School
--------------------------------------------------------------------------------
Kathy Thibodeaux
5406 I-55 North MS 39211-4094 Jackson, Mississippi U.S.A.
Tel. (1.601)977.1001; Fax (1.601)977.8948
Dance Company, Christian sacred dance
--------------------------------------------------------------------------------
Susan White
13670 Tara Hills MS 39503 Gulfport, Mississippi U.S.A.
Tel. (1.228)832.9222
Dance Teacher, Dance instructor, country & Western dances
--------------------------------------------------------------------------------
Cynthia A. Newland
1500 Peachtree Street MS 39202 Jackson U.S.A.
(601)968-8745
Dance Department
--------------------------------------------------------------------------------
Bridget Archer
PO Box 3486 MS 39207 Jackson U.S.A.
Tel. & Fax (1.601)969.6697
Dance Company
--------------------------------------------------------------------------------
Narah Oatis
1015 Laura Ave MS 39209 Jackson, U.S.A.
Dance Company
--------------------------------------------------------------------------------
Kathryn Stewart
P.O. Box 3696 MS 39207-3696 Jackson U.S.A.
Tel. (1.601)355.9853; Fax (1.601)355.5253
www.usaibc.com
Ballet, Dance Organization
-------------------------------------------------------------------------------
Marc M. Arentsen
Polarity Dance Company
P. O. Box 16882 MS 39236 Jackson U.S.A. Tel. 601.842.9278
www.polaritydance.org
International Dance teacher, clinician, artistic director, choreographer and consultant