.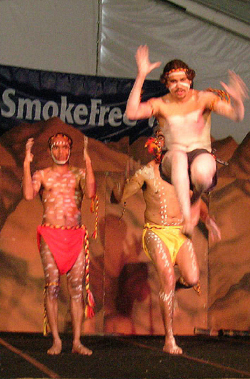 Dance Exchange Inc., Australian Ballet, Bangarra Dance Theatre, Blockout Dancewear, these are just a few of the dance companies, dance schools, dancing organizations and dance wear suppliers that that can be found in our comprehensive Directory of Australian Dance Companies.
Wadumbah - Aboriginal Dance Group
Wadumbah means 'big flood waters'. These Aboriginal entertainers of lively dance, music and history bring the 'Dreaming' to life. Wadumbah's repertoire includes workshops and performances with fiery dances in full traditional dress, while the didgeridoo accompanies the storytelling from the Noongar people. Wadumbah educate Australians, young and old, about the incredible history of Indigenous Australians reinforcing the pride and strength of the Noongar people.
History of Dance in Australia
Australian dance draws on many influences including the traditions and history of dance as an art form, as well as the different cultures and trends in society.

A strong Indigenous tradition
Dance is an important part of Indigenous Australians' cultural traditions. It is reflected and reinterpreted in the work and creativity of various Aboriginal and Islander dance companies which formed from the early 1960s onward. Dance is increasing the prominence of Aboriginal and Torres Strait Islander peoples as it is transferred from communities to public theatres and transformed from ceremony to spectacle.

European influences
Different forms of dance came to Australia with the first European settlers. Dancers visited colonial Australia from other countries, and danced as part of pantomime, opera and other theatre performances.
Ballet and other forms of theatre became very popular during the Australian gold rushes. The appeal of Romantic Ballet in particular brought many European and American dancers to perform in Australia.
Russian ballet was also very influential. Anna Pavlova's Australian tours in 1926 and 1929, and tours by the Ballet Russes in the 1930s attracted a lot of interest and stimulated the development of Australia's own ballet culture.

Developing Australian dance
A number of professional Australian ballet companies were founded during the 1940s and 1950s. These included the Kirsova Ballet, The Borovansky Ballet, Laurel Martyn's Ballet Guild, The West Australian Ballet and the short-lived Australian Theatre Ballet. The Australian Ballet School was established in 1964 and a range of contemporary dance companies flourished over the next three decades, including Danceworks, Expressions, Bangarra Dance Theatre and The Aboriginal Islander Dance Theatre.
Australian Government Culture and Recreation Portal
Australian Dance Video
Featured Australian Dance Company
Bangarra Dance Theatre
Bangarra Dance Theatre is one of Australia's most unique and innovative dance companies. Its living traditions go back at least 40,000 years but it also reflects the lives and attitudes of Indigenous people today. The company blends traditional Aboriginal and Torres Strait Islander history and culture with international contemporary dance to create a truly Australian dance language. Bangarra's influence resonates throughout the world, with a prominent place on the international touring circuit. A 16-city sell-out tour of North America in 2001 established the company as a global dance phenomenon. The following year Bangarra appeared at the prestigious Monaco Dance Forum - inspiring critics and dance lovers alike. In 2004 the company completed a return tour of the US, performing at New York's Next Wave Festival by special invitation. Most recently Bangarra visited New Zealand as a highlight of the Auckland Festival and represented Australia in Japan at the Aichi Expo 2005

If you would like your Albanian Dance Company, Dance Organization, Dance School featured here then please email bangkokcompanies@gmail.com
There are hundreds of fine dance schools in Australia. I know I am in contact with many on a daily basis as we supply a range of high quality dancewear products like leotards, dance pants, dance dresses and other dancing apparel.
Bangkok Companies supplies an amazing range of dancewear from Thailand. I have looked at these dance garments and dance accessories in detail. There is only one word to describe them Superb. For more details click on the pictures or send an email to bangkokcompanies@gmail.com We regret at this time we can only satisfy Australia wholesale dancewear requests.
"Dancewear designed by dancers for dancers"
| | | | | |
| --- | --- | --- | --- | --- |
| Dance Dresses | Kids Leotards | Adult Leotards | Dance Bras | |
| | | | | |
| | Dance Pants | Tutu's | Dance Shorts | |
| | | | | |
| Dancewear | Dancewear Organizers | Dance Bags | Dance Backpacks | |
| | | | | |
Bangkok Companies is a full service product sourcing company in Thailand. For All your dancewear needs please email bangkokcompanies@gmail.com with your requests.
---
Dance Schools in Australia, Dancewear Suppliers, Dancing Organizations
Page 1
Mr. David McMicken, Artistic Director
Tracks Inc.
Company
GPO Box 823 AU-0801 Darwin NT
Tel. (61.8)8924.4414; Fax (61.8)8941.5639
tracks@ascent.net.au
--------------------------------------------------------------------------------
Mr. Russell Dumas, Artistic Director
Dance Exchange Inc.
Company
PO Box 0392, Queen Victoria Building AU-1230 Sydney NSW
Tel. (61.2 9357 3576; Fax (61.2 9358 5863
dancexhange@bigpond.com
--------------------------------------------------------------------------------
Ms. Julie Bishop
Folk Federation of North South Wales
Organization, folk dance and music
Box A182 AU-1235 Sydney South NSW
Tel. (61.2)9524.0247, Fax (61.2)9233.6793
a.bishop@centenary.usyd.edu.au
--------------------------------------------------------------------------------
Ms. Terezka Drnzik
PO Box A462 AU-1235 Sydney, NSW
Tel. (61.2)9745.6358, Tel. (61.4)1104.5877
thedesertblooms@hotmail.com
--------------------------------------------------------------------------------
Ms. Marina Lee 'Tamayo' Phillips
Tamayo & Astuy Hispanic Artists in Theatre and Film Media
Producer, Choreographer, Classical, Flamenco, contemporary Hispanic dance fusions.
PO Box 579 AU-1300 Darlinghurst, NSW
--------------------------------------------------------------------------------
Ms. Cathy Wright
Christian Dance Fellowship of Australia
Organization, Christian sacred dance
PO Box 365 AU-1470 Drummoyne NSW
Tel. & Fax (61.2)9719.2412
--------------------------------------------------------------------------------
Ms. Patricia Clancy
Saheti School
Teacher, folk, Greek dances
Box 92 AU-1685 Halfway House
--------------------------------------------------------------------------------
Australian Ballet
School, dance tuition
115 Pitt Street AU-2000 Sydney NSW
Tel. (61.2)9223 9522
--------------------------------------------------------------------------------
Penelope Cay's City Venue
School, dance tuition
61 Regent Street AU-2000 Sydney NSW
Tel. (61.412)77 4422
--------------------------------------------------------------------------------
Photios Bros Pty. Ltd.
Supplier
66 Druitt Street AU-2000 Sydney NSW Australia
Tel. (61.2)9267 1428
--------------------------------------------------------------------------------
Home Yardage Factory Outlet
Supplier
68 York Street AU-2000 Sydney NSW
Tel. (61.2)9290 3600
--------------------------------------------------------------------------------
Pena Flamenca de Sydney, Spanish Club Ltd.
School
88 Liverpool Street AU-2000 Sydney NSW
Tel. (61.9)267.8440, (61.9)267.8634
--------------------------------------------------------------------------------
Mr. Russell Dumas, Artistic Director
Dance Exchange
Company
Box Q392, Queen Victoria Building AU-2000 Sydney NSW
Tel. (61.2)9357.3576, Fax (61.2)9358.5863
--------------------------------------------------------------------------------
Friends of the Australian Ballet, The Level 2, State Theatre
School, dance tuition
Laneway 474-6 George Street AU-2000 Sydney NSW
Tel. (61.2)9264 6436
--------------------------------------------------------------------------------
Arthur Murray Dancing School & Social Club
School, dance tuition
Rear 317 George Street AU-2000 Sydney NSW
Tel. (61.2)9299 5000
--------------------------------------------------------------------------------
Ms. Janet Robertson, Executive Producer
The One Extra Company
Company
Saint Laurence Arts Centre, 505 Pitt Street AU-2000 Sydney NSW
Tel. (61.2)9212.6411, Fax (61.2)9212.6551
--------------------------------------------------------------------------------
Mr. Andrew Booth, General Manager
Bangarra Dance Theatre
Company, Theatre
Pier 4/5, Hickson Road AU-2000 Walsh Bay NSW
Tel. (61.2)9251.5333 Fax (61.2)9251.5266
bangarra@ozemail.com.au
--------------------------------------------------------------------------------
Mr. Graeme Murphy, Artistic Director
Sydney Dance Company
Company
The Wharf, Pier 4, Hickson Road AU-2000 Walsh Bay, Sydney NSW
Tel. (61.2 9221 4811; Fax (61.2 9251 6904
sdc@sydneydance.com.au http://www.sydneydance.com.au
Sydney Dance Company is Australia's premier contemporary dance company and one of the country's most original and vibrant arts organisations. Sydney Dance Company Dance Studios run over 60 dance classes for adults every week. Dance styles on offer include Jazz, Funk, Hip Hop, Tap, Ballet, Contemporary, Musical Theatre, Latin and Stretch. All levels are catered for – from Absolute Beginners to Advanced. For beginners, classes are a fun way to get fit whilst gaining experience. For more experienced dancers, classes are more advanced and challenging. All classes are taught by professional dancers and choreographers
--------------------------------------------------------------------------------
De Quincey Company Limited
Department of Performance Studies, dance performance company
A20 Woolley Building, Manning Road AU-2006 Sydney University, NSW Tel. 61.2 9351 2706/9351 5738; Fax 61.2 9351 5676
dqc@bodyweather.net www.bodyweather.net
BODYWEATHER is a broadbased training that proposes a practical strategy to the mind and to the body. It is not just for 'professional dancers' or 'performance practitioners' alone but is an open investigation that can be relevant for anyone interested in exploring the body.
-------------------------------------------------------------------------------
Ms. Amanda Card, Executive Director
One Extra Dance
Company
Seymour Theatre Centre, PO Box 553 AU-2007 Broadway NSW
Tel. (61.2 9351 7948; Fax (61.2 9518 9308
oneextracompany@ozemail.com.au
--------------------------------------------------------------------------------
University of Western Sydney, Nepean, Dance Department
School, graduate
International Centre, PO Box 10 AU-2007 Kingswood, Sydney NSW
Tel. (61.2)9685.9297, Fax (61.2)9685.9298
--------------------------------------------------------------------------------
Australian Head Office
Supplier, dancewear, articles
20 Farrell Avenue AU-2010 Darlinghurst NSW Australia
Tel. (61.2)9331 4111
--------------------------------------------------------------------------------
Ballet Australasia & Scottish National Dancing Association
School, dance tuition
162-166 Goulburn Street, Level 7 AU-2010 Surry Hills NSW
Tel. (61.2)9283 1600
--------------------------------------------------------------------------------
Kalymnian Brotherhood Dancing Group
Group, folk, Greek, performing. amateur
476 Crown Street AU-2010 Surry Hills NSW
Tel. (61.6)626344
--------------------------------------------------------------------------------
Classical Expressions
School, dance tuition
54/ 30 Nobbs Street AU-2010 Surry Hills NSW
Tel. (61.2)9310 4476
--------------------------------------------------------------------------------
Mr. Richard James Allen
The Physical TV Company
Company, dance and film
Box 522 AU-2010 Surry Hills NSW Australia
Tel. (61.2)9699.1147, Fax (61.2)9699.1169
PhysicalTV@bigpond.com
--------------------------------------------------------------------------------
Ms. Gina Marie Shrubsall
Dance and Technology consultant
23 East Crescent Street, unit 9, Mc Mahons Point AU-2010 Sydney
Tel. (61.2)99599347
gina@screen.org ; GinaMarie@Bigpond.com
--------------------------------------------------------------------------------
Van Gastel International
Supplier
186 Palmer Street East AU-2010 Sydney NSW
Tel. (61.2)9360 9200
--------------------------------------------------------------------------------
Ms. Rosalind Richards, Manager
Australian Council for the Arts
Organisation
PO Box 788 AU-2012 NSW Strawberry Hills
Tel. (61)2 9215 9114; Fax (61)2 9215 9136
r.richards@ozco.gov.au www.ozco.gov.au
--------------------------------------------------------------------------------
Mr. Stephen Page, Artistic Director
Bangarra Dance Theatre Australia
Company
Box 875 AU-2012 Strawberry Hills NSW
Tel. (61.2)9319.4560, Fax (61.2)9319.4569
--------------------------------------------------------------------------------
Blockout Dancewear
Supplier
476 Gardeners Road AU-2015 Alexandria NSW
Tel. (61.2)9669 6988
--------------------------------------------------------------------------------
Bloch
Supplier
Unit 1, Century Estate 476- 492 Gardeners Road
AU-2015 Alexandria NSW Tel. (61.2)9669 3777
--------------------------------------------------------------------------------
Ms. Marion Jacka
Arts Alliance
Organization
Chalmes Street 245 AU-2016 Redfern NSW
Tel. (61.2)333.0999, Fax (61.2)333.0933
--------------------------------------------------------------------------------
Body Rhythm Australia
Supplier
49-51 Botany Road AU-2017 Waterloo NSW
Tel. (61.2)9690 2191
--------------------------------------------------------------------------------
Ms. Elsa Tsangaris
Saint Spyridonos Dance Group
Group, folk, Greek, performing. amateur
27 Florence Avenue AU-2018 Eastlakes
Tel. (61.2)667.1166
--------------------------------------------------------------------------------
Dance Department
School, dance tuition
AU-2020 Mascot NSW Australia
Tel. (61.2)9669 5944
--------------------------------------------------------------------------------
La 'Tutu Ballet Academy
School, tuition, classical ballet
14 Beresford Street AU-2020 Mascot NSW
Tel. (61.2)9669 5944
--------------------------------------------------------------------------------
Goodhew Academy of Dance
School, tuition
557 Gardners Road AU-2020 Mascot NSW
Tel. (61.2)9597.7368
--------------------------------------------------------------------------------
Greek Community House Dance Group
Group, folk, Greek, amateur, performing
Oxford and Dowling Streets AU-2021 Paddington NSW
Tel. (61.2)3311983, (61.2)336626
--------------------------------------------------------------------------------
Danzartz Studios
School, dance tuition
Saint Charles Hall, Carrington Avenue AU-2024 Waverley NSW
Tel. (61.2)9665 3262
--------------------------------------------------------------------------------
Ms. Valerie Jenkins
Academy of Ballet
School, tuition
58 Oxford Street AU-2025 Woollahra NSW
Tel. (61.2)9326 1969
--------------------------------------------------------------------------------
Ballet & Pilates Exercise
School, dance tuition
Uniting Church Ocean and 4th Street AU-2025 Woollahra NSW
Tel. (61.410)55.2544
--------------------------------------------------------------------------------
Dancing Shoes Australia
Supplier
44 Hall Street AU-2026 Bondi Beach NSW
Tel. (61.2)9365 2700
--------------------------------------------------------------------------------
Helena Bryce Academy of Dance
School, tuition
AU-2026 Bondi NSW Australia
Tel. (61.2)9524 2426
--------------------------------------------------------------------------------
Allegro Academy of Dance
School, dance tuition
138 Bondi Road AU-2026 Bondi NSW
Tel. (61.2)9344 4959
--------------------------------------------------------------------------------
La Vida Flamenca
School, tuition, Spanish dances, flamenco
5 Edward Street AU-2026 Bondi NSW
Tel. (61.2)9130 1379
--------------------------------------------------------------------------------
Belly Dance Alive International Academy Sarinas
School, Middle Eastern dances, tuition
Spencer Street AU-2029 Rose Bay NSW
Tel. (61.2)9371 4952
--------------------------------------------------------------------------------
Belly Dance Costume Suppliers Australia Wide
Supplier, Middle Eastern dancewear
Spencer Street AU-2029 Rose Bay NSW
Tel. (61.2)9371 4952
--------------------------------------------------------------------------------
Ms. Hilary Kaplan
Teacher, folk, flamenco, Spanish dances
16 Wentworth Road AU-2030 Vaucluse, Sydney, NSW
Tel. (61.2)337.6250
--------------------------------------------------------------------------------
Belly Dance East & West
School, Middle Eastern dances, tuition
Box 302 AU-2031 Parramatta NSW
Tel. (61.2)9665 9713
--------------------------------------------------------------------------------
Salvio's Dancing Shoes
Supplier
Box 126, 34 Street Pauls Street AU-2031 Pauls NSW
Tel. (61.2)9398 3502
--------------------------------------------------------------------------------
Academy Ballet Pty
School, dance tuition, ballet, classical
104 Avoca Street AU-2031 Randwick NSW
Tel. (61.2)9399 5279
--------------------------------------------------------------------------------
Logan Dance Sydney
School, tuition
161 Alison Road AU-2031 Randwick NSW
Tel. (61.2)9398 8658
--------------------------------------------------------------------------------
Dance Spot Performing Arts Centre
School, dance tuition
42 Saint Pauls Street AU-2031 Randwick NSW
Tel. (61.2)9314.5323
--------------------------------------------------------------------------------
Xrcise Lycra Wear
Supplier, dancewear
5 Carrington Street AU-2031 Randwick NSW
Tel. (61.2)9399 6459
--------------------------------------------------------------------------------
Ms. Despina Yiannoukas
Dreaming of Jeannie Bellydance Academy
School, tuition, belly dance, Oriental, Middle Eastern
PO Box 1016 AU-2031 Randwick NSW Australia
Tel. (61.2)9314 7427
http://www.dreamingofjeannie.com.au
Yoga: dynamic asana (posture) practice using a vinyasa (flowing) style
Restorative Yoga: gentle postures to heal the body, and moving meditations to soothe the mind
Pilates: an energetic workout to dramatically increase strength, with stretching and relaxation at the end
Pilates Gently: exercises to increase your strength and flexibility, but with plenty of rests in between
Relieving Back and Neck Pain: a therapeutic combo of Pilates and Yoga
Warrior Workout: a dynamic combo of Pilates and Yoga
Dances Of The World: India, Africa, Latin America, Lebanon, Egypt, Turkey and Greece! Get your ticket and join us for this dance trip around the world
My Big Fat Greek Dance Workshop: it's plate-smashing fun (Greekness is not a requirement!)
A Trip To Bollywood: fun and frolics doing the cheesy, overdramatic Bollywood style
African Dance Safari: it's vibrant, it's vigorous, it's a great workout, and best of all, it's fun! Get out the sunblock and come on a dancing safari
Bellydance: a hip-shimmying good time using Greek, Arabic, and Turkish music, learning veil, tambourine, sword, finger cymbals, and Middle Eastern folkloric dance styles (khaleegy, melaya, and saiidi)
Bellydance Bootcamp: the basics of Bellydance, but no choreographies - it's drills, drills, drills. Excellent for endurance and heaps of fun
Belly-Bolly Bootcamp: learn the basics of the two fun dances - Bellydance and Bollywood
Lovely Legs: whip those legs into shape with a fun mix of African dance, Bellydance, Pilates and Yoga
Arms & Abs Of Steel: strengthen and tone your arms and abdominals with this challenging combo of Bellydance, Pilates and Yoga
Drumming: basic Arabic rhythms on the tabla
-------------------------------------------------------------------------------
Ms. Robina Beard
Cecchetti Society of Australia, NSW Branch
School, dance tuition
15 Broadbent Street AU-2032 Kingsford NSW
Tel. (61.2)9344 7808
--------------------------------------------------------------------------------
Ms. Olga Christoforou
Kingsford Greek Dance Group of the Orthodox Church of Saint Spyridon
Group, folk, Greek, performing. amateur
72-78 Gardeners Road AU-2032 Kingsford NSW
--------------------------------------------------------------------------------
Dykstra Rachelle Academy of Ballet
School, dance tuition
349 Alison Road AU-2034 Coogee NSW
Tel. (61.2)9665 3829
--------------------------------------------------------------------------------
Gailene Colson's Dance Centre
School, dance tuition
896 Anzac Parade AU-2035 Maroubra Junction NSW
Tel. (61.2)9314 2696, (61.412)70.5743
--------------------------------------------------------------------------------
Ms. Dimitra Mihopoulou
Group, folk, Greek, performing. amateur
23 Cantrill Avenue AU-2035 Maroubra NSW
--------------------------------------------------------------------------------
Mr. Paul Mercurio, Artistic Director
Australian Choreographic Ensemble
Company
Box 1014 AU-2035 Maroubra NSW Australia
Tel. (61.2)9314.3222, Fax (61.2)9314.3133
--------------------------------------------------------------------------------
L. & N. Dance Studio
School, tuition
Page Street AU-2035 Pagewood NSW
Tel. (61.2)9666 7107
--------------------------------------------------------------------------------
Mr. Manolis Haskas
Sophia Haskas Grecian Dancers, Rodites Dancing Group
Group, folk, Greek, amateur, performing
19 Smith Sreet AU-2036 Hillsdale NSW
Tel. (61.2)661.6903, (61.2)661.6112
--------------------------------------------------------------------------------
Keane Kids Studios
School, dance tuition
Box 535 AU-2037 Broadway NSW Australia
Tel. (61.2)9552 2540
--------------------------------------------------------------------------------
Glebe School of Performing Arts
School, dance tuition
51 Arcadia Road AU-2037 Glebe NSW
Tel. (61.2)9660 2882
--------------------------------------------------------------------------------
Mr. Jon Alderman, General Manager
Aboriginal/Islander Dance Theatre
Company
Box 396, Glebe AU-2037 Sydney NSW
Tel. (61.2)9660.2312, Fax (61.2)9660.7853
--------------------------------------------------------------------------------
El Paso Latin American Dance Studio
School, dance tuition
163a Parramatta Road AU-2038 Annandale NSW
Tel. (61.2)9560 8540
--------------------------------------------------------------------------------
Mr. Chris Jannides, Artistic Director
Darc Swan
Company
Box 943 AU-2039 Rozelle NSW
Tel. (61.2)9818.3039, Fax (61.2)9810.2865
--------------------------------------------------------------------------------
Australia's National Linedance Publication - Country Goss
Publication, magazine, periodical, country dance news from throughout Australia
Box 324 AU-2040 Leichhardt, NSW Australia
--------------------------------------------------------------------------------
Prof. Ms. Gillian Bottomley
Researcher, folk, Greek dances, anthropologist, member IOFA Greece
1 Terry Street AU-2041 Balmain NSW
Tel. (61.2)805.8120, 850.9391
gillian_bottomley@excite.com
--------------------------------------------------------------------------------
Darc Swan
School, dance tuition
340 Darling Street AU-2041 Balmain NSW
Tel. (61.2)9818 3039
--------------------------------------------------------------------------------
Honeybrook School of Dancing
School, tuition
Eaton Street AU-2041 Balmain NSW
Tel. (61.2)9484 2615
--------------------------------------------------------------------------------
Balmain Dance Academy
School, dance tuition
Presbyterian Church Hall, Campbell Street AU-2041 Balmain NSW
Tel. (61.2)9890 5210
--------------------------------------------------------------------------------
Ms. Diana Reyes Artistic, Director
Diana Reyes Flamenco
Company, Flamenco
5B, 1 Gladstone Street AU-2042 Newton NSW
Tel. (61.2 9557 1825, 418 214 020; Fax (61.2 9557 1825
--------------------------------------------------------------------------------
Ms. Amera Eid
Ameras Palace Belly Dance Boutique
Supplier, dancewear, Middle Eastern dances
83 Enmore Road AU-2042 Newtown NSW
Tel. (61.2)9519 4793
amera@ameraspalace.com.au http://www.ameraspalace.com.au
Amera's Palace is an exclusive boutique for belly dancers and lovers of everything Middle Eastern. Established in 1988 by Amera Eid, Master Oriental Dance teacher and international exponent of the ageless art of belly dance, it is the only place in Australia and the Southern Hemisphere that you will find such a large selection of authentic quality costumes and accessories.
-------------------------------------------------------------------------------
Erol Dulagil & Katrina Mathieson
The Silver Tree Dance & Drama Rehearsal Studio
Dance School & Studio
585B King Street AU-2042 Newtown, Sydney, NSW
Tel. (61.2)9517.3527
silvertreeking@ozemail.com.au
--------------------------------------------------------------------------------
Dance Child
School, dance tuition
Rochford Street & Erskineville Road AU-2043 Erskineville NSW
Tel. (61.2)9518 3509
--------------------------------------------------------------------------------
Ariel Academy of Dance
School, dance tuition
AU-2046 Five Dock NSW Australia
Tel. (61.2)9713 4568
--------------------------------------------------------------------------------
M.H. Rembrandt's Dance Shoes
Supplier, dance shoes
223 Great North Road AU-2046 Five Dock NSW
Tel. (61.2)9898 1696
--------------------------------------------------------------------------------
Mr. Robert Davidson, President
Royal Scottish Country Dance Society, Sydney Branch
Organization, folk, Scottish country dance incl. tuition
28 Pine Avenue AU-2046 Five Dock NSW Australia
Tel. (61.2)9712 2918
--------------------------------------------------------------------------------
Sandra Malone Dance Centre
School, tuition
86 Hampden Road AU-2046 Russell Lea NSW
Tel. (61.2)9713 6725
--------------------------------------------------------------------------------
Dance Action
School, dance tuition
368 Victoria Place AU-2047 Drummoyne NSW
Tel. (61.2)9819 7791
--------------------------------------------------------------------------------
Prince of Wales Hospital Scottish Country Dance Group
Organization, folk, Scottish country dance incl. tuition
PO Box 233 AU-2049 Petersham NSW Australia
Tel. (61.2)9560-2197
--------------------------------------------------------------------------------
Rio's Night Club & Rio's Latin Dance Club
Club, dance hall, discotheque
128 Pyrmont Bridge Road AU-2050 Camperdown NSW
Tel. (61.2)9557 1371
-------------------------------------------------------------------------------
Brent Street Children's Theatrical Agency, Brent Street Studios
School, dance tuition
177-179 Salisbury Road AU-2050 Camperdown NSW
Tel. (61.2)9557 7122, (61.2)9557.7111, (61.2)9557.7003
--------------------------------------------------------------------------------
School of Theatre, Film and Dance University of New South Wales
Schhol, Theatre
University of New South Wales AU-2052 Sydney
Fax (61.2)96622335
thfida@unsw.edu.au
--------------------------------------------------------------------------------
Moe Meyer
School of Theatre, Film & Dance
School, dance tuition, classes
University of New South Wales AU-2052 Sydney
Tel. 61 2 9385 4521, 61 2 9399 5590
m.meyer@unsw.edu.au
--------------------------------------------------------------------------------
Borovansky Edouard Memorial Ballet Academy
School, dance tuition
181 Blues Point Road AU-2060 North Sydney NSW
Tel. (61.2)9929 6214
--------------------------------------------------------------------------------
One Extra Company
Company, modern, performing, professional
2/15 Broughton Street AU-2061 Milsons Point NSW
Tel. (61.2)957.4590