.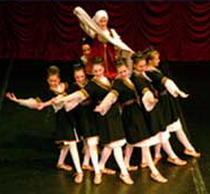 Seminar for Macedonian Folklore, State Ensemble of folklore dances and songs - Tanec, are just a few of the Macedonian dance companies, Macedonian dance schools, dancing organizations and dance wear suppliers that that can be found in our comprehensive Directory of Macedonia Dance Companies.
Traditional Mecedonian Dance

Macedonia: Kolos and lesnos are the most common formations, and Macedonia's characteristic asymmetrical rhythms give the region a most rich and varied folk tradition. Footwork and the harmony of lines are the key elements of the dance, and dances are usually sexually segregated. Men's and women's-only dances continue to be popular, such as the bride's dance for weddings. Greek dances such as the sta tría and syrtós are also common.

Baidoúska: often an asymmetrical rhythm dance with quick-slow beat, performed with a step on the quick beat.

Lesno: meaning "easy dance," a joyful walking dance (polonaise) with many regional and musical variations. Dancers move in an open circle, with hands clasped at shoulder level.

Biljana: In the lake region of South Macedonia, beautiful girls prepare the forthcoming wedding. The linen to be used in their trousseau is brought to the lake to be washed and laid out in the sun to bleach and dry. As they weave the linen into a veil, the girls sing a lovely old folk song.

Oro: A strong oriental influence permeates this colorful folk dance. The rhythm created by the cattle drum starts slowly, expressing the reluctance and regret of the men in the village at having to leave their homes in the mountains, in order to earn daily bread for their families in the world "outside." The slow rhythms of leave-taking and goodbye gradually increase in tempo, symbolizing their imperturbable belief that everything will end happily and that they will return, soon and safely, to their loved ones.
Featured Macedonian Dance Company
State Ensemble of folklore dances and songs - Tanec
"TANEC" is a name that for five decades has been a symbol of the Macedonian culture and arts, five decades of its existence has been an Ambassador and presenter of the Macedonian folk creation with us and all the continents of the globe. For five decades it has been a mobile museum of that which represents the most beautiful, ancient, invaluable, Macedonian folklore treasure, being an identity and history of the Macedonian people.
Besides cherishment of the folklore creation, the Ensemble "TANEC" has through successful choreographic settings, already for five decades recur rented the people's customs, dances, songs and costumes into a picturesque colour and sophisticated expression of dancing, singing and presentation of the splendid original costumes made decades and decades before, now presenting a fetish of the Macedonian culture.
Today the Ensemble of folklore dances and songs of Macedonia "Tanec" consist of 42 regularly, or from time to time employed in the artistic part (9 from outside) as well as 9 employed involved into the realisation of the programme who are a guarantee of the successful presentation of the Macedonian folklore creation.
---
Seminar for Macedonian Folklore - Struga
The curriculum of the seminar is divided in three streams, allowing you to specialize in your are of interest. While there is material which is common to all three disciplines, your choice will determine which aspect of Macedonian folk traditions you will learn in greater depth.
Due to parallel scheduling of the streams, participants may only enroll in one stream per term. There is however an overlap of 8 hours of instruction, common to all streams.
The daily routine will be broken by a number of excursions to festivals and events. You will have the opportunity to dance outdoors among the breathtaking scenery of Macedonia, and show off what you have learned to the locals at several events.
You will have the opportunity to learn from and practice with some of the most knowledgeable and respected musicians, singers, dancers and theorists in the field of Macedonian folklore.

If you would like your Macedonia Dance Company, Dance Organization, Dance School featured here then please email bangkokcompanies@gmail.com
There are many fine dance schools in Macedonia. I know I am in contact with them as we supply a range of high quality dancewear products like leotards, dance pants, dance dresses and other dancing apparel.
Bangkok Companies supplies an amazing range of dancewear from Thailand. I have looked at these dance garments and dance accessories in detail. There is only one word to describe them Superb. For more details click on the pictures or send an email to bangkokcompanies@gmail.com We regret at this time we can only satisfy Macedonia wholesale dancewear requests.
"Dancewear designed by dancers for dancers"
| | | | | |
| --- | --- | --- | --- | --- |
| Dance Dresses | Kids Leotards | Adult Leotards | Dance Bras | |
| | | | | |
| | Dance Pants | Tutu's | Dance Shorts | |
| | | | | |
| Dancewear | Dancewear Organizers | Dance Bags | Dance Backpacks | |
| | | | | |
Bangkok Companies is a full service product sourcing company in Thailand. For All your dancewear needs please email bangkokcompanies@gmail.com with your requests.
---
Dance Schools in Macedonia, Dancewear Suppliers, Dancing Organizations
Akud "Mirce Acev" (SOFAM)
Drezdenska b.b. P.Box 459 MK-1000 Skopje Macedonia
(389)236.38.08; (389)702.799.48; (389)230.668.08;
--------------------------------------------------------------------------------
Music Ballet Educational Centre 'Ilija Nikolovski-Luj'
St.Pitu Guli br.1 MK-1000 Skopje Macedonia FYROM
Tel. (389)231.190.04;
-------------------------------------------------------------------------------
Tanec Macedonia
ul. Venijamin Macukovski 7 MK-1000 Skopje Macedonia
389.224.61021; Fax 389.22460.112
www.unet.com.mk/tanec ; www.tanec.com.mk tanecmkd@unet.com.mk
national organization, ensemble of dances and songs
--------------------------------------------------------------------------------
Nadica Bitoljanu
ul. "Tan Hus" 28 MK-Skopje Macedonia FYROM Mobile:
075 578705, 023084 007
--------------------------------------------------------------------------------
Ilin-Dime Dimovski
Jane Sandanski 11-3119 MK-1000 Skopje Macedonia
--------------------------------------------------------------------------------
Blagica Ilieva
bul. K.J.Pitu IV, 19, 1/7 MK-1000 Skopje Macedonia
(389)224.649.45;(389)755.691.91
--------------------------------------------------------------------------------
Vladimir Janevski
ul. Oslo br. 10 MK-1000 Skopje Macedonia
(389)230.637.25;(389)705.492.93
--------------------------------------------------------------------------------
Ivana Kocevska
ul. Kozle BR MK-1000 Skopje Macedonia
02 3085 444, mobile 095 363 195
--------------------------------------------------------------------------------
Olga Pango (ex Boev)
Nikola Tesla 18-1/9 MK-1000 Skopje Macedonia
(389)705.401.00; (389)230.744.97
--------------------------------------------------------------------------------
Risima Risimkin
Pando Klasev 89 Mk-91000 Skopje Macedonia
(389)2306.8579 Home; Fax (389)9111.4060; (389)7023.1281 Mobile
Choreographer, Modern Dance
--------------------------------------------------------------------------------
Elisaveta Skalovska
Pando Kljashev No 89 MK-1000 Skopje Macedonia
(38)922.736.454;(38)070.763.108
--------------------------------------------------------------------------------
Jagoda Slaneva
Jane Sandanski 86/4-20 MK-91000 Skopje Macedonia
Prima ballerina of the Macedonian National Theater. Choreographer, dancer
--------------------------------------------------------------------------------
Valentin Soklevski
Ul. Matija Gubec 58-A MK-7000 Bitola Macedonia FYROM
(38)947.224.451;(38)947.233.419; Fax (38)947.233.663
--------------------------------------------------------------------------------
Iskra Sukarova
Pitu Guli 3 MK-1000 Skopje Macedonia
Tel. (389)217.8120;
--------------------------------------------------------------------------------
Sonja Zdravkova-Dzeparoska
Bul. Partizanski Odredi BR.6/42 MK-1000 Skopje Macedonia
(389)212.70.03;Fax(389)213.70.13
Ballet dancer
--------------------------------------------------------------------------------
Georgios Kogas
Agias Lavras 2 GR-56727 Neapoli, Thessaloniki Greece
(30)231.052.1729 Home; (30)231.053.4552 Office; (30)697.664.3132 Mobile; (30)237.105.1742
Theacher of Phisical Education, Greek Folk Dance Theacher, Dancer, Veria, Central Macedonia.
--------------------------------------------------------------------------------
SOFAM - Sojuz na Folklorni Ansambli na Makedonija
PO Box 459, Ul Drazdenska bb MK-1000 Skopje Macedonia
(389)2306.2890 Home; Tel/Fax (389)2306.6808 Office; (389)7027.9948 Festivals
--------------------------------------------------------------------------------
Rizevski Ibrahim
Bahnhofstrasse2 8700 Kosnacht Germany
+41 44 912 37 08
Dance Teacher,Choreograf, Macedonian and Serbian dance
--------------------------------------------------------------------------------
Giannis Konstantinou
Griva digeni 41 GR-17342 Agios Demetrios, Athens Greece
(30)210.994.5900
www.assos.webprovider.com
Greek Traditional Dance Teacher, Macedonian, Vlachs. Researchers
--------------------------------------------------------------------------------
Kyriaki Petridou
Hous 15 GR-11854 Kato Petralona, Athens Greece
(30)210.342.8270 Home; Fax (30)210.346.5862 Office
I had attended folk Greek dances lessons for 10 years in school at my birth place in Kastoria where we love folk dances all of kinds but specially Macedonians and Thraces. Dance is part of my life.
--------------------------------------------------------------------------------
Pavlos Vafiadis
Iroon 7, Platia GR-53100 Florina Greece
(30)238.502.2754; (30)238.502.2688
Greek Folk dance, Macedonia
--------------------------------------------------------------------------------
Dance Infinity Culture Center
Zeleznicka 45 MK-1000 Skopje Macedonia FYROM
389.70.540.100
--------------------------------------------------------------------------------
Lokomotiva - Center for new Initiatives in Arts and Culture
Orce Nikolov str. 109 MK-1000 Skopje Macedonia
389 2 3245 726; Fax (389)2133.541
www.ican.artnet.org
--------------------------------------------------------------------------------
Metodija Barakoski
Ul.Nada Fileva"bb post box 149 MK-6000 Ohrid Macedonia Macedonia
0038946266510, fax:0038946254011 or 0038946264543
www.gerdan.cjb.net
Grdan"works with traditional folklore, music and singing section
--------------------------------------------------------------------------------
Blagoja Jovanovski
PO Box 459, Ul Drazdenska bb MK-1000 Skopje Macedonia FYROM
(389)2306.2890 Home; Tel/Fax (389)2306.6808 Office; (389)7027.9948
Students Folk Festival
--------------------------------------------------------------------------------
Irina Krotkova
bul. Ilinden bb MK-1000 Skopje Macedonia FYROM
Tel/Fax (389) 2 3240 500; 389 2 3240 574; 389 2 3240 575;
(389) 2 3226 920; (00389)2312.9311; (00389
Head of Department of International Cooperation in the Ministry
--------------------------------------------------------------------------------
Nelko Nelkovski
P.O. Box 11 1060 - Gjorce Petrov Macedonia FYROM
389 2 20 32 302
--------------------------------------------------------------------------------
Mile Nikolovski
P.O.Box 02 Marshal Tito BB. MK-1330 Kriva Palanka Macedonia FYROM
tel/fax: +389 31 372 413
--------------------------------------------------------------------------------
The answer from this question is Apostolos Rafailidis
s. Miladinovci, PO Box 66 MK-1000 Skopje Macedonia FYROM
389.2.2577.836;2577.592; Fax 389.2.2577.701;
Mobile 389.070.358.076
--------------------------------------------------------------------------------
Elena Stanisheva
Ivan Milutinovic 29/3 MK-1000 Skopje Macedonia FYROM
+ 389 2 31 12 993; + 389 2 32 45 726
www.lokomotiva.org.mk
Centre for New Initiatives in Arts and Culture, is organization that aims to create space and possibilities for development of the independent art scene, to integrate young artistic potentials.
--------------------------------------------------------------------------------
Aleksandar Stefanovski
st."Bregalnicka" b.b MK-7000 Bitola Macedonia FYROM :
+389 70 498 468 ' +38947231921
we are Society who representative old Macedonian folk songs. we also collected old costumes from macedonia
--------------------------------------------------------------------------------
Ivona Tatarchevska
ul. Varshavska 11-b MK-1000 Skopje Macedonia FYROM
389 2 3063-057
Field researcher in Ethnomusicology, Ethnochoreology; work with Laban notation; active member of ICTM- Study group of Ethnochoreology; Lecturer on University "St.Ciril and Metody"-Faculty of Music in Skopje
--------------------------------------------------------------------------------
Lidija Topuzovska
"Gjuro Gjakovic" 61 MK-1000 Skopje Macedonia
tel/fax: +389 2 3240 575
info@kultura.gov.mk ; www.uslugi.gov.mk
INFO service
--------------------------------------------------------------------------------
Gile Vasilev
Macedonia FYROM
Tel: 00 389 2 228 617;
Mob tel: 00 389 70 688 056; Mob tel: 00 389 70 630 491
Etnocoreograph and represent of the I.O.F. in Macedonia
--------------------------------------------------------------------------------
Martin Ihns
Gemetstraat 59 NL-1445 GH Purmerend Netherlands
Tel. +31299475071
Teacher/Choreographer of Macedonian & Albanian dance, organizing Macedonian & Albanian dancecourses, workshops and seminars in Macedonia
--------------------------------------------------------------------------------
Joan Sach
13, Fallowfield ME5 0DU London U.K.
01634 302190
Dancing & singing from Serbia, Croatia & Macedonia
--------------------------------------------------------------------------------
Nada Lewis
37 Night Owl Court CA 94803 El Sobrante U.S.A.
(510) 243-1122 phone; fax (510) 243-1144
www.folkloric.net
Mostly Balkan, Bulgarian, Romanian, Roma, Macedonian, Greek, Macedonia, Serbia, Croatia, and Romania.
--------------------------------------------------------------------------------
Olga Veloff Sandolowich
3 Roywood Drive M3A2C9 Don Mills, Ontario Canada
Tel. (1.416)447.9823
Teacher, folk, Macedonian, Balkan, international, group
--------------------------------------------------------------------------------
Folk Dance Ensamble "Cvetan Dimov"
Varsavska 98 MK-Skopje Macedonia
Tel. & Fax (389)91373 001
Folk
--------------------------------------------------------------------------------
FYR of Macedonia National Commission for UNESCO
Ministry of Culture; Gjuro Gjakovik 61 MK-1000 Skopje Macedonia
Tel. (389.91)118.022, 128.150, 135.452; Fax (389.91)127.112
www.kultura.gov.mk
National organization
-------------------------------------------------------------------------------
Institut za Folklor "Marko Cepenkov"
Ruzveltova 3 MK-91000 Skopje Macedonia
Researcher, folk dances
--------------------------------------------------------------------------------
International Balkan Festival of Folk Dances and Songs
Dom na Kultura MK-6000 Ohrid Macedonia
Festival, folk
--------------------------------------------------------------------------------
International Children''s Folk Fest "St. Kiril and Metodije"
Zeleznicka 29 MK-1000 Skopje Macedonia
Tel. & Fax (389)91.224.609
Festival, folk
--------------------------------------------------------------------------------
International Childrens Folk Festival "Dance without frontiers"
Ilidenska 53 MK-1000 Skopje Macedonia
Tel. & Fax (389)91.116 159
Festival, folk
--------------------------------------------------------------------------------
International Folklore Festival "Istibansko z Dravozivo"
Istibanya 73 MK-2310 Vincia Macedonia FYROM
Festival, folk
--------------------------------------------------------------------------------
International State Folk Festival "Ilinden days"
Car Samoil BB, PO Box 171 MK-7000 Bitola Macedonia
Tel. & Fax (389)91.366 808
Festival, folk
--------------------------------------------------------------------------------
International Student Folk Festival
Drezdenska BB, PO Box 459 MK-1000 Skopje Macedonia
Festival, folk
--------------------------------------------------------------------------------
Macedonian Academy of Sciences and Arts
Bul. Krste Misirkov 2 MK-1000 Skopje Macedonia FYROM
(389).232.35600; Fax (389).232.35500
--------------------------------------------------------------------------------
Orce Nikolov
Sasho Kuzarevski, ul. 124, br. 1 MK-91000 Skopje Macedonia
Tel. & Fax (389)91116117
Group, folk dance and music, performing
--------------------------------------------------------------------------------
Nikolaos Constantinidis
Josef Josifofski 1 MK-7310 Resen Macedonia FYROM
--------------------------------------------------------------------------------
Tome Dimiskovski
Mosha Pijade bb 100 MK-1000 Skopje Macedonia FYROM
Tel. (389)91.230 921, 135 304; Fax (389)91.231 224, 135 304
Festival, Folk
--------------------------------------------------------------------------------
Ivo Jankoski
"Leninova" 29/3/6 MK-1000 Skopje Macedonia FYROM
Tel.:+ 389 7040 13 14
--------------------------------------------------------------------------------
Elena Dumova Jovanoska
Drezdensak b.b, P.B.459 MK-91000 Skopje Macedonia FYROM
Tel. & Fax (389) 91 366 808
Festival
--------------------------------------------------------------------------------
Blagoja Jovanoski
Drezdensak 19/II/301, P.F. 459 MK-91000 Skopje Macedonia FYROM
Tel. (389)91362890, Fax (389)366808
Festival, folk, international, student
--------------------------------------------------------------------------------
Marko Kolovski
ul. Venijamin Macukovski 7 MK-1000 Skopje Macedonia
381.224.61021; Fax 381.22460.112
www.unet.com.mk/tanec
--------------------------------------------------------------------------------
Ermis Lafazanovski
Ruzveltova 3, P, P.O. Box 319 MK-91000 Skopje Macedonia
Researcher, folklorist, folk narrative research
--------------------------------------------------------------------------------
Irena Lozinska
63 Naum Naumovski Borce MK-1000 Skopje Macedonia
Tel. (389)2.112.171; 70.68.28.14
Manager, dancer & choreographer. Also a member of the Macedonian national Ballet as a solo dancer; School for classical, contemporary and jazz ballet.
--------------------------------------------------------------------------------
L. Nikodinovski-Bis
Kej. Dimitar Vlahov b.b. P.O Box 690 MK-9100 Skopje Macedonia Fyrom
Tel. & Fax 389/2/114 641
http://www.unet.com.mk/iti-macedoni
Institute
--------------------------------------------------------------------------------
L. Nikodinovski-Bish
Kej.Dimitar Vlahov b.b., P.O.Box 690 MK-9100 Skopje Macedonia
Tel. (389) 91 114 641; Fax 389 91 114 641
http://www.unet.com.mk/iti-macedoniaOrganisation
--------------------------------------------------------------------------------
Ivona Opetcheska-Tatarcheva
ulice Varshavska 11b MK-1000 Skopje Macedonia
--------------------------------------------------------------------------------
Blagoja Petkovski
Bul. Ilindenska bb, blok 12, PO Box 122 MK-1000 Skopje Macedonia
Tel. & Fax 389 2127 135
Organization
--------------------------------------------------------------------------------
Boro Ruteski
Stiv Naumov 200 MK-97000 Bitola Macedonia
Tel. (389)97.206.270, Fax(389)97.282.295/700
Folk Ensemble Group
--------------------------------------------------------------------------------
Dragica Siljanoska
Makedonski prosvetiteli 4 MK-96000 Ohrid Macedonia
Tel. (389)96.35490, 96.263.433, Fax (389)96.261.063
Festival, folk
--------------------------------------------------------------------------------
Jagoda Slaneva
Kej Dimitar Vlahov MK-91000 Skopje Macedonia
Tel. (389.91)222133, 115101, 178196
Company, ballet
--------------------------------------------------------------------------------
Mirko Stefanoski
Krste Asenov 14-1/7 MK-91000 Skopje Macedonia FYROM
Tel. & Fax (389)91.216896
Organization, dancesport
--------------------------------------------------------------------------------
Goran Stefanovski
Kej. Dimitar Vlahov b.b. P.O Box 690 MK-9100 Skopje Macedonia
Tel. & Fax 389/2/114 641
www: http://www.unet.com.mk/iti-macedoni
Institute
--------------------------------------------------------------------------------
Lidia Stojanovic
P.O. Box 319 MK-91000 Skopje Macedonia
Researcher, folklorist, folk narrative research
--------------------------------------------------------------------------------
Zoran Stojanovski
Cupino Brdo MK-1330 Kriva Palanka Macedonia
389 31 373 735, Fax. +389 31 374 112
www.balkanfolk.com/catalogue//Choreographer in youth cultural center folklore ensemble from Kriva Palanka, Macedonia FYROM.
--------------------------------------------------------------------------------
Velika Stojkova
Koco Racin 14-IV/12 MK-91000 Skopje Macedonia
(00389)9113.3201; (00389)2246.1021; Fax (00389)2246.0112
Researcher, folk dance, traditional, ritual dance, anthropology, Turkish minorities in Macedonia & Macedonian minorities in Greece, Albania
---------------------------------------------------------------------------
Vellika Stojkova-Serafimovska
ul. Venijamin Macukovski 7 MK-1000 Skopje Macedonia
381.224.61021; Fax 381.22460.112
--------------------------------------------------------------------------------
Kire Tancevski
"Car Samoil" bb, Box 171 MK-97000 Bitola Macedonia
Tel. (389.97)32419
Folk dance and music of Makedonija
--------------------------------------------------------------------------------
Kiril Tanchevski
Car Samuil bb MK-97000 Bitola Macedonia FYROM
Festival, folk
--------------------------------------------------------------------------------
Bosko Treneski
Venijamin Macukovski 7 MK-1000 Skopje Macedonia
Tel. (389)2461021, Fax (389)2460112
www.unet.com.mk/tanec
Ensemble of Folk Dances and Songs
--------------------------------------------------------------------------------
Boris Kete Ilievski
304-625 The West Mall M9C 4W9 Etobicoke, Ontario Canada
Tel. (1416)247.6466;(1416)992.0499
www.folkmacedonia.com
Choreographer and Ethno-Choreologist
--------------------------------------------------------------------------------
Filoproodos Syllogos Edessas "Megas Alexandros"
Agiou Dimitriou 7 GR-58200 Edessa Greece
Tel/Fax (30)238.102.3377
Ensemble, amateur, Greek folk dance group from Edessa, Western Macedonia