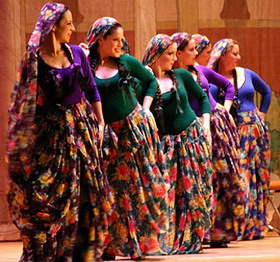 Leymer folk Music Group, Tehran Dramatic Arts Center of Iran, Dance Group of Boushehr, are just a few of the Iranian dance companies, Persian dance schools, dancing organizations and dance wear suppliers that that can be found in our comprehensive Directory of Iranian Dance Companies.
Traditional Iranian Dance - Persian Dance

Persian dance can be loosely divided between rural 'folk' dances and dances that arose in an urban setting, such as classical or 'art dance' as its sometimes referred to. Although historic in nature the genre of Persian classical dance that we present in our programs was popularized during the early 1970ís in Iran just prior to the Islamic revolution.

At that time the Iranian government devoted generous resources to the performing arts. National dance companies performed programs of both folkloric and classical dance and music at major theaters. Performing arts of this type fell from favor during the early years of the new regime in Iran and many artists left the country to pursue careers abroad. This cycle of a flourishing artistic community, followed by repression and dispersion, has throughout Persian history, had a dramatic influence on the arts. As a result, Persian classical dance in particular is unable to trace an unbroken lineage, periodically undergoing phases of reconstruction both in Iran and in the diaspora.
Iranian Dance Video
Featured Iranian Dance Company
Leymer folk Music Group of Boushehr has begun his artistic activity since 1991. Many artists whom are the best in their work has been played in the band in different situations .Of course, it should be mentioned that using different artists and players in various forms of performing of music of Boushehr is inevitable.Our services include: Sending a Persian Musical instrument teacher, Performing of Leymer Folk Music Group of Boushehr in your country, Presenting the articles about music of South of Iran and Boushehr, Cooperating with researching organizations for introducing the rich culture of south of Iran (Persia), Selling of best musical instruments in best prices and free shipping and handling, Presenting the best Iranian folk dancers in the form of Iranian Folk Dance Ensemble.

If you would like your Persian Dance Company, Dance Organization, Dance School featured here then please email bangkokcompanies@gmail.com
There are many fine dance schools in Iran. I know I am in contact with them as we supply a range of high quality dancewear products like leotards, dance pants, dance dresses and other dancing apparel.
Bangkok Companies supplies an amazing range of dancewear from Thailand. I have looked at these dance garments and dance accessories in detail. There is only one word to describe them Superb. For more details click on the pictures or send an email to bangkokcompanies@gmail.com We regret at this time we can only satisfy Iran wholesale dancewear requests.
"Dancewear designed by dancers for dancers"
| | | | | |
| --- | --- | --- | --- | --- |
| Dance Dresses | Kids Leotards | Adult Leotards | Dance Bras | |
| | | | | |
| | Dance Pants | Tutu's | Dance Shorts | |
| | | | | |
| Dancewear | Dancewear Organizers | Dance Bags | Dance Backpacks | |
| | | | | |
Bangkok Companies is a full service product sourcing company in Thailand. For All your dancewear needs please email bangkokcompanies@gmail.com with your requests.
---
Dance Schools in Iran, Dancewear Suppliers, Dancing Organizations
Mansoureh Sabetzadeh
54,68 Gharbi Street, Shiraz Jonobi St , Molla Sadra St, IR-143 6915663 Tehran Iran
Tel. (021)880.487.54; (091)2387 0148
Dance Researcher, educator, Iranian dances
--------------------------------------------------------------------------------
Dramatic Arts Center of Iran
Vahdat Hall, Ostad Shahryar St. Hafez Ave. IR 11334 Tehran Iran
T:(98-21)667.253.16;667.088.61;F:(98-21)667.253.16
Dance Centre
--------------------------------------------------------------------------------
Dariush Danesh Moghaddam
No.90 - first floor - near than djomhuri St. vali asr IR-TEHRAN Iran
98- 21- 66966173;Fax 98- 66966172;mobile 98- 912- 3332465
http://ddanesh.tripod.com
--------------------------------------------------------------------------------
Seyyed Mohammad-Mousavi
# 110, Hoquqi St. P.O Box 19575-477 IR- Tehran Iran
009821-77646004-5
--------------------------------------------------------------------------------
Mohammad Reza Beladi
23, Golbaran Alley, Paeezan IR-1981613763 Tehran Iran
0098.21.206.3387
www.leymer.com
Leymer Folk music
--------------------------------------------------------------------------------
Dance Group of Boushehr
1188 Shahid Eslamieb Bldg. Enghelab Ave. IR-13158 Tehran Iran
Tel. (98.21)640.83.55, 646.29.45; Fax (98.21)646.29.45, 646.83.67
Dance Organization
--------------------------------------------------------------------------------
Cultural Heritage Organization, Anthropological Research Center
Azadi Avenue, Zanjan jenubi IR-Tehran Iran
Dance School
--------------------------------------------------------------------------------
Iranian National Commission for UNESCO
PO Box 11365-4498; 1188 Shahid Eslamieb Bldg. Enghelab IR-13158 Tehran Iran
Tel. (98.21)640.83.55, 646.29.45; Fax (98.21)646.29.45, 646.83.67
http://www.irunesco.org
National organization
--------------------------------------------------------------------------------
Theatre Research Office in the Center of Dramatic Arts
Vahdat Hall, Ostad Shahriar Street, Hafez Avenue IR-Tehran Iran
Dance School
--------------------------------------------------------------------------------
Laleh Taghian
Vahdat Hall, Ostad Shahriar Street, Hafez Avenue IR-Tehran Iran
Dance School
--------------------------------------------------------------------------------
Ahmad Vakikiyan
Majmue-ye seda va sima "Sina", Blok 18, Tabaqe-ye 5 - Tehran Iran
Dance Researcher, folklorist, folk narrative research
--------------------------------------------------------------------------------
Farah Yeganeh
Hafez Ave. IR-11334 Tehran Iran Tel. (98 21) 6708861,
Fax (98 21) 6725316
Dance Organization, theater