.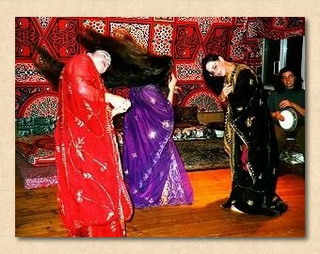 The Arabian Desert Stars, Gulf Women's Folk Dance, are just a few of the dance companies, Saudi Arabian dance schools, dancing organizations and dance wear suppliers that that can be found in our comprehensive Directory of Saudi Arabian Dance Companies.
The Hair Dance
This dance from Saudi Arabia is sometimes called a "hair dance", because it features the dancers' long, loose hair swinging from side to side, or being tossed around in Figure 8's and circles. It's also known as Khaleegi or Gulf dance. The dance is designed to show off two things: the dancers' hair, and the colorful, highly decorated over-dresses (thobe nashal). This dance is rarely seen in public, and is usually performed by women for (or with) other women.
Traditional Saudi Arabian Dance

A living part of the country's ancient heritage, Saudi Arabia's music and traditional dance echo the timeless melodies of chanting Bedouin poets and singing swordsmen. Folklore music varies from region to region. The national dance of Saudi Arabia, the men's sword dance known as the ardha, has its roots in the Najd. It is an ancient tradition that combines singers, dancers, and a poet or narrator. Men carrying swords stand shoulder to shoulder and, from their midst, a poet begins to sing verses or a short melodic line while drummers beat out a rhythm. In the Hijaz, the al-sihba folk dance combines poetry and songs of Arab Andalusia in medieval Spain. A traditional dance and song known as the al-mizmar is also performed in Makkah, Madinah, and Jeddah. This features the music of the al-mizmar, a woodwind instrument similar to the oboe.
Saudi Arabian Music
The music varies from region to region – for example, in the Hijaz, the music of al-sihba combines poetry and songs of Arab Andalusia, while the folk music of Makkah and Madinah reflects these two cities' influences from throughout the Islamic world.

Trance dances of the Arabian peninsula
Not much is known about the tribal dances of Arabia Felix, as Saudi Arabia was once known. Before the coming of Europeans, dancing bedouin women were part of the rich Arab cultural heritage. Perhaps it will become a myth such as the "forests of Arabia".
The woman on this ancient engraving dance a sort of Khaleezji style dance. Swaying with their hair and bodies. The dresses were simple white robes. The ancient Chalizj rhythm is related to ayoub, which is also an indication of the origin (Raks Ayoub) as well as the name of the prophet Ayoub (Job). The dance is a way to cope with the hardships of life an to get away from the misery and stress. Therefore this dance was once considered as a healing process. Early Islamic tradition was always tolerant towards the arts.
Saudi Arabia Dance Video
Featured Saudi Arabian Dance Company
The Arabian Desert Stars was founded by Americans in 1984. We became aware of Square Dancing via a demonstration in 1989 and opened a Basic Mainstream Class in the same year, one year later there also was Plus. Seven years ago my wife Anna and I became presidents of the club and began managing it. Our members come from USA, Germany, England, Switzerland, Liechtenstein, Lebanon, Vietnam, the Philippines and Thailand. Natives, that is Saudi Arabians, we unfortunately cannot accept as members because the are not used to have men and women dance together and accepting them into the club would therefore only cause problems.

If you would like your Saudi Arabia Dance Company, Dance Organization, Dance School featured here then please email bangkokcompanies@gmail.com
There are many fine dance schools in Saudi Arabia. I know I am in contact with them as we supply a range of high quality dancewear products like leotards, dance pants, dance dresses and other dancing apparel.
Bangkok Companies supplies an amazing range of dancewear from Thailand. I have looked at these dance garments and dance accessories in detail. There is only one word to describe them Superb. For more details click on the pictures or send an email to bangkokcompanies@gmail.com We regret at this time we can only satisfy Saudi Arabian wholesale dancewear requests.
"Dancewear designed by dancers for dancers"
| | | | | |
| --- | --- | --- | --- | --- |
| Dance Dresses | Kids Leotards | Adult Leotards | Dance Bras | |
| | | | | |
| | Dance Pants | Tutu's | Dance Shorts | |
| | | | | |
| Dancewear | Dancewear Organizers | Dance Bags | Dance Backpacks | |
| | | | | |
Bangkok Companies is a full service product sourcing company in Thailand. For All your dancewear needs please email bangkokcompanies@gmail.com with your requests.
---
Dance Schools in Saudi Arabia, Dancewear Suppliers, Dancing Organizations
Saudi National Commission for UNESCO
Ministry of Education SA-11148 Riyadh Saudi Arabia
Tel. (966.1)40.42.888, Ext. 1485, 40.43.552, Tel. & Fax (966.1)40.50.971
http://www.moe.gov.sa/snc
National organization
--------------------------------------------------------------------------------
Urs Frick
Sharbatly Village 2711, Box 3249 SA-21471 Jeddah Saudi Arabia
Square Dance
--------------------------------------------------------------------------------
Aiesha Banu
505 Rosewell Lane AL 35210 Birmingham Alabama U.S.A.
Tel. (1.205)956.5492
Saudi Arabian (Khaleege), Saidi, Egyptian cabaret, Balas, Raks al Assaya, Sword dancing, Orientale, Ghawazee style and Nubian group dances
--------------------------------------------------------------------------------
Kay Hardy Campbell
P.O. Box 296 MA 02018 Norwell, Massachusetts U.S.A.
Tel. (1.781)740.0788
Teacher and Choreographer of Saudi Arabian and Gulf Women\'s Folk Dance