.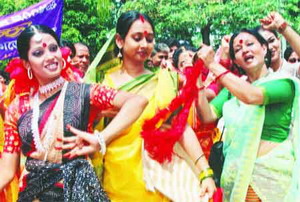 Radha Dutta, Bangladesh Shilpakala Academy, Center for Education, Creative and Performing Art, are just a few of the Bangladeshi dance companies, Bangladeshi dance schools, dancing organizations and dance wear suppliers that that can be found in our comprehensive Directory of Bangladesh Dance Companies.
Traditional Bangladeshi dance
Bangladeshi dance forms also draw from folk traditions, specially those of the various tribal groups, as well as the broader Indian dance tradition.

Jatra - folk drama - is another vital chapter of the Bangali culture. It depicts mythological episodes of love and tragedy. Legendary plays of heroism are also popular, particularly in the rural areas. In the past Jatra was the biggest form of entertainment for the rural Bangladeshis, who represent 80% of the population of the country. Today live Jatra has been placed in the back seat in the entertainment era since the popularization of television Natoks (dramas).

Classical forms of the subcontinent predominate in Bangladeshi dance. The folk, tribal and Middle Eastern traits are also common. Among the tribal dances, Monipuri and Santal are particularly popular. Bangla songs, such as Jari and Shari, are performed with dance by both men and women.
Bangladesh Dance Video
Featured Bangladeshi Dance Company
Radha Dutta is among the first exponents/teachers of Mohiniattam outside of India, and the very first around the Washington, DC area. Radha is also a popular performer/teacher of Bharatanatyam and folkdances, in the Washington, DC area.
Radha's movements in Mohiniattam echo the soft, sensuous sway of palm leaves and serenity of Kerala backwaters. Her execution of Bharatanatyam retains a joyous chaste clarity.
Radha's love for Mohiniattam took her to Kerala, where she studied at the home of doyenne Kalyanikutti Amma and her daughter Shreedevi. She has also received training under the guidance of the Dhananjayans and Kalanidhi Narayanan, virtuosos in Bharatanatyam in Madras, India. In addition to her training in Carnatic vocal music, she has trained in Nazrul Geeti (Bengali songs by poet Nazrul) from the famous Purabi Datta, in Calcutta. She pursued her university studies in cultural anthropology at the University of Maryland, USA. Radha holds the title of "Nritya Praveen" degree in dance.
A performing globetrotter, Radha has given recitals at "Mandapa" in Paris, in the Maharaja's Palace at the Nishagandhi Dance Festival organized by the Kerala Department of Tourism, several television telecasts, to name a few. Radha is an "A" grade artiste of Doordarshan. She was in the renowned Ananda Shankar (son of Uday Shankar & nephew of Ravi Shankar) Contemporary

If you would like your Bangladesh Dance Company, Dance Organization, Dance School featured here then please email bangkokcompanies@gmail.com
There are many fine dance schools in Bangladesh . I know I am in contact with them as we supply a range of high quality dancewear products like leotards, dance pants, dance dresses and other dancing apparel.
Bangkok Companies supplies an amazing range of dancewear from Thailand. I have looked at these dance garments and dance accessories in detail. There is only one word to describe them Superb. For more details click on the pictures or send an email to bangkokcompanies@gmail.com We regret at this time we can only satisfy Bangladesh wholesale dancewear requests.
"Dancewear designed by dancers for dancers"
| | | | | |
| --- | --- | --- | --- | --- |
| Dance Dresses | Kids Leotards | Adult Leotards | Dance Bras | |
| | | | | |
| | Dance Pants | Tutu's | Dance Shorts | |
| | | | | |
| Dancewear | Dancewear Organizers | Dance Bags | Dance Backpacks | |
| | | | | |
Bangkok Companies is a full service product sourcing company in Thailand. For All your dancewear needs please email bangkokcompanies@gmail.com with your requests.
---
Dance Schools in Bangladesh, Dancewear Suppliers, Dancing Organizations
Lubna Marium
House 69, Road 5, D.O.H.S. (old) BD-1206 Dhaka Bangladesh
Tel. (880)298.894.26;(880)986.03.51; Fax. (880)288.131.82
--------------------------------------------------------------------------------
Mariangela Zafar-Danikas
Unique Garden, Hs 36 Rd. 63, Gulshan 2 BD-1212 Dhaka Bangladesh
(880)173.003.297; (880)298.875.47
Choreographer, ballet teacher
--------------------------------------------------------------------------------
Mohammad Al-amin
mirpur road, Khan plaza, 3rd floor, 32/1 1205 Dhaka Bangladesh
Tel. 8802-8610236, FAX 8802-8616313
classical, folk
--------------------------------------------------------------------------------
Mehedi Hasan
100 kazi nazrul islam aav BD-1215 kawranbazar,Dhaka Bangladesh
880172935539
Bangladeshi folk dance
--------------------------------------------------------------------------------
Ali Lucky Liaquat
House - 59, Road - 7 B, Block - H Banani, Dhaka - 1213 Bangladesh
Tel : 9890920, 9872836, 9872817; Fax : 9872860; Mobile : 0171 1 537618
Director & Choreographer - directed about 25 productions based on dance and body movement.
--------------------------------------------------------------------------------
Radha Dutta
5505 Thornbush Crescent MD 20814 Bethesda, U.S.A.
Tel. (1.301)581-0323; 564-3683; Fax (301)564-0323
www.RADHADUTTA.net
Institution, Performing Artist, Mohini Attam. Dance styles: classical & folk dances of Bangladesh & India
--------------------------------------------------------------------------------
Bangladesh National Commission for UNESCO
Ministry of Education; 1 Asian Highway, Palassy, Nilkhe BD-1205 Dhaka Bangladesh
Phone : (880-2) 862.7968;Fax : (880-2) 861-3420
National organization
--------------------------------------------------------------------------------
Bangladesh Shilpakala Academy
Segunbagicha, Ramna BD-1000 Dhaka Bangladesh
880.2.956.1709; 956.280.1-4; Fax 880.2.956.2853
Academy
--------------------------------------------------------------------------------
Center for Education, Creative and Performing Art
64/C Green Road BD-1205 Dhaka Bangladesh
School
--------------------------------------------------------------------------------
Organization for Women s Development in Bangladesh (OWDEB)
House 165B, Road 08 Chandgaon R/A, Chittagong Bangladesh
Tel. 880-31-616392; 0171-171060; fax 880-31-610375
http://www.owdeb.org
OWDEB - Organization for Women's Development in Bangladesh is a women led socio-cultural development rganisation started on February 01, 1995. Formally, our organization initiated its activities in 1994 by a group of people including Teacher, Writer, Ex student politicians, Artist , NGO activist, EPZ experts, Home maker
-------------------------------------------------------------------------------
Shafiqur Rahman Chowdhury
BD-1000 Dhaka Bangladesh
Researcher, folklorist, folk narrative research
--------------------------------------------------------------------------------
Mohammed M.A. Hannan
House No-53, Road No-5 BD-Khulna, Nirala Residential Area Bangladesh
Tel. (880.41)724996
Teacher, socio-cultural affairs, festival organizer, South-east part of Bangladesh
--------------------------------------------------------------------------------
Asadul Haque
12/D Eastern Housing Sidheswari BD-1217 Dhaka Bangladesh
Tel. (880.2)832721, (880.2)831974
Researcher, folk dances
--------------------------------------------------------------------------------
Mohammad Nurul Huda
Kazi Nazrul Islam Avenue BG-1000 Dhaka Bangladesh
Researcher, folklorist, folk narrative research
--------------------------------------------------------------------------------
Shamsuzzaman Khan
Dept. of Folklore, Bangla Academy BG-1000 Dhaka Bangladesh
Researcher, folklorist, folk narrative research
--------------------------------------------------------------------------------
Mobarak Hossain Khan
130/1 West Rampura Wapda road BD-1217 Dhaka Bangladesh
Tel. (880)93311256
Researcher, folk dance, member ICTM
--------------------------------------------------------------------------------
Ramendu Majumdar
144 New Bailey Road BD-1000 Dacca Bangladesh
Tel. 880/2/956 23 80, 880/2/956 83 26 Fax 880/2/956 08 82
Institute
--------------------------------------------------------------------------------
Azad Rahaman
Segunbagicha, Ramna BD-1000 Dhaka Bangladesh
http://www2.accu.or.jp/paap/data/O_BGD2 .
Association, School
--------------------------------------------------------------------------------
Azad Rozana
64/C Green Road BD-1205 Dhaka Bangladesh
dancer
--------------------------------------------------------------------------------
Hassan Jamil Syed
Bangladesh 0088028012597
--------------------------------------------------------------------------------
Nasiruddin Yousuff
11/1 Kha Purana Paltan line BD-1000 Dacca Bangladesh
Tel. (880)2 831 5357; Fax (880)8313113
Organisation