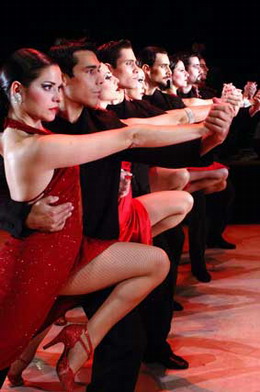 The Morocha Tango, Dance Council of Uruguay, Danzarte, are just a few of the dance companies, Uruguayan dance schools, dancing organizations and dance wear suppliers that that can be found in our comprehensive Directory of Uruguay Dance Companies.
Traditional Uruguayan Tango Dance
The form of dance that originated in the neighborhoods of Montevideo, Uruguay towards the end of the 1800s. Uruguayan tango is another name for Argentine Tango and Tango Rioplatense since the dance originated in both Montevideo and Buenos Aires, in the Rio de la Plata region. Tango is a blend of the "Uruguayan milonga", as Jorge Luis Borges stated, and the rhythms of the candombe. Tango consists of a variety of styles that developed in different regions and eras of Argentina and Uruguay. The dance is often accompanied by several musical forms

Tango is a "port" dance. The two port cities where it all started are Buenos Aires and Montevideo, the two sisters on the River Plate. Uruguayan Tango, the so called "Tango Oriental," has some style differences from Argentine Tango (no ochos nor cruzes), but it's not as popular any more. Right now Argentine Tango dominates in Montevideo as well. Links to Tango in Montevideo can be found here. Be sure to call ahead to inquire.
Featured Uruguayan Dance Company
The Morocha Tango is a civil association without aims of avocada profit a to spread
the art of the tango in all its expressions. It was created in 2005 by a group of artists and
followers to I generate of the tango who come working jointly from year 1995.We have made promotion activities of national and Argentine artists with the purpose of developing the tango in Uruguay. The regular activitie are classes of dance and milonga in the Hungarian Home of Uruguay with an ample and maintained concurrence. As well as activities jointly with other national cultural centers like Joventango within the framework of the 15 Alive festival the Tango, and of Argentina with the cultural center


If you would like your Uruguay Dance Company, Dance Organization, Dance School featured here then please email bangkokcompanies@gmail.com
There are many fine dance schools in Uruguay. I know I am in contact with them as we supply a range of high quality dancewear products like leotards, dance pants, dance dresses and other dancing apparel.
Bangkok Companies supplies an amazing range of dancewear from Thailand. I have looked at these dance garments and dance accessories in detail. There is only one word to describe them Superb. For more details click on the pictures or send an email to bangkokcompanies@gmail.com We regret at this time we can only satisfy Uruguay wholesale dancewear requests.
"Dancewear designed by dancers for dancers"
| | | | | |
| --- | --- | --- | --- | --- |
| Dance Dresses | Kids Leotards | Adult Leotards | Dance Bras | |
| | | | | |
| | Dance Pants | Tutu's | Dance Shorts | |
| | | | | |
| Dancewear | Dancewear Organizers | Dance Bags | Dance Backpacks | |
| | | | | |
Bangkok Companies is a full service product sourcing company in Thailand. For All your dancewear needs please email bangkokcompanies@gmail.com with your requests.
---
Dance Schools in Uruguay, Dancewear Suppliers, Dancing Organizations
Dance Council of Uruguay (Consejo Uruguayo de la Danza)
Yamandu Rodriguez 1374 UY-11500 Montevideo Uruguay
Tel (598.2)600.2613; Fax (598.2)604.2556, (598)99175785
Organization, National Committee
--------------------------------------------------------------------------------
Susana Frugone de Basualdo
Ellauri 1073, ap. 701 UY-11300 Montevideo Uruguay
Tel. (598)270.923.68; Fax (598)294.654.00;
Musician, dancer
--------------------------------------------------------------------------------
Margaret Graham
Rambla Gandhi 189/301 UY-11300 Montevideo Uruguay
Tel. (598)271.083.19;
--------------------------------------------------------------------------------
Ana Rosa Rodriguez
Canelones 2107/apart.002 UY-11200 Montevideo Uruguay
(5982)400.8707;(5982)991.10386;
Cultural Journalist; Conductor and Producer TV Programs
--------------------------------------------------------------------------------
Jeannie Fontaina
amandu Rodriguez 1374 UY-11500 Montevideo Uruguay
Tel. (598.2)600.2613; Fax (598.2)604.2556
danzacultura@adinet.com.uy
Teacher, administrator, organizer
--------------------------------------------------------------------------------
La Morocha Tango
Garibaldi 2631 UY-Montevideo Uruguay
(598)096.747.382
www.lamorochatango.com
--------------------------------------------------------------------------------
La Morocha Tango Hogar Hungaro del Uruguay
Garibaldi 2631 Montevideo Uruguay
Cel.: 096 747 382
--------------------------------------------------------------------------------
Perro Rabioso
Guayaqui 3068 c.p. UY-11300 / Montevideo Uruguay
598 2) 7072927 / 099661914
www.perrorabioso.com
--------------------------------------------------------------------------------
Roxana Alberti
Avenida General Garibaldi 2631 UY-11000 Montevideo Uruguay
Tel. (54.2)480.1155
School, dance tuition, classes, ballet
--------------------------------------------------------------------------------
Virginia Bagnato
Dance Co.
Centro Gallego San Jose y Andes Montevideo, Uruguay.
099-226 740
vbdance_co@yahoo.com
Choreographer, Teacher, Dancer, Company, Tap, Jazz, Hip Hop
--------------------------------------------------------------------------------
Gustavo Luis Barone-Suna
Uruguay
708 95 19- 410 5304
ARMONIZACION SONIDO Y TAMBOR- CANDOMBE
LA FUERZA SAGRADA ARMONIA DE CUERPO Y ALMA
--------------------------------------------------------------------------------
Alejandra-Maria Berardi-Cetrulo
Luis Morandi 1919 UY- 12500 Villa Colon, Montevideo Uruguay
322-75-71
--------------------------------------------------------------------------------
Gustavo Beron
Manuel Herrera y Obes 4101 UY-12900 Montevideo Uruguay
(00598) 2 3040337
www.folkloreoriental.8m.com
Danza folklorica, tango, candombe, malamo, clasica, neo clasica, flamenco y todas las especialidades.
--------------------------------------------------------------------------------
Alexis F. Buensenor
Canelones UY-1122 Montevideo Uruguay
00598.9032378
Sociedad de Gestion Colectiva de Derechos de Autor
--------------------------------------------------------------------------------
Diego Carrera
Jose Marti 3314 CP 11300 Montevideo, Uruguay
0942 7087606 int. 111 fax: 0942 7073218
www.enba.edu.uy/videodanza
Grupo de Estudio e Investigacion "Cuerpo y Tecnologia", videodance producer
--------------------------------------------------------------------------------
Alejandra-Maria-Berardi Cetrulo
Luis Morandi 1919 12500 Villa Colon, Montevideo Uruguay 322-75-71
Ademas hacemos mudanzas de malambo, danza basada en zapateos. Tambien doy clases de danza en escuelas de la ciudad tratando de llevar en y con ellas a los alumnos a vivenciar nuestra historia.
--------------------------------------------------------------------------------
Anarosa Rodriguez Cravanzola
Bulevar Artigas 2552 UY-Montevideo Uruguay
(598 2) 400 87 07
I am in charge, production and conduction, of a weekly dance television program
--------------------------------------------------------------------------------
Ruth Ferrari
Salto 1038/004 UY- 11200 Monevideo Uruguay
598-2-4193554
dancer - architect
--------------------------------------------------------------------------------
Maria-Victoria Ferrari
Zelmar Michelini 938 UY-1108 Montevideo Uruguay
9001244; 099096599
www.duendeycompas.com
Flamenco
--------------------------------------------------------------------------------
Graciela Figueroa
Juan Paullier 1009 UY-11200 Montevideo Uruguay. C.P. Uruguay
telefax: (598 2) 4105304 - tel: (598 2) 707 5116
www.espaciodesarrollo.oreg.uyEl Grupo Espacio trabaja con el arte de la danza Contemporanea en presentaciones para teatros, y en espacios no convencionales; adem?s de un repert?rio variado y propio para todas las edades en el ire
--------------------------------------------------------------------------------
Rasia Friedler
Pereira de la Luz 1287/702 UY-11300 Montevideo Uruguay
Tel. (598 2) 622 3452, FAX (598 2) 628 5193
www.saludarte.com.uy
"Compana de Danza Espontanea SaludArte" is the first dance company in the world based on Playback Theatre
--------------------------------------------------------------------------------
Silvia Garcia Cia
Mac Eachen 1302/502 11300, Montevideo Uruguay
6230277;mobile 096739257
Director ; Classic ballet dancer, teacher and choreographer. Maestra desde el ato 1997
--------------------------------------------------------------------------------
Dalia Gisbergies
21 de Setiembre 2741 UY-11300 Montevideo Uruguay
(598)710.7560;Fax 711.5211
www.institutoariel.edu.uy
Jewish dances
--------------------------------------------------------------------------------
Laura Gonzalez
Luis Batlle Berres 4190- Republica Oriental Del Uruguay UY-11900
Distrito 4 - Montevideo Uruguay 306 28 13
folklore dance or country dance of Uruguay
--------------------------------------------------------------------------------
Laura Hernandez-Gomez-y-Luis-Al
2263 Manuel Fern?ndez Luna Uy Montevideo Uruguay
Fax 408.01.45;(celular)094.434.223
Independientes. Profesoray artista, en tangueria y escuela Tabaris
--------------------------------------------------------------------------------
Amalia Herrera
Juan Paullier 1128/1 UY-11.200 Montevideo Uruguay
005982 - 4093370
Docente, bailarina, actriz, danza contemporanea.
--------------------------------------------------------------------------------
Laura Legazcue
Agraciada 2287 Montevideo 111800 Uruguay 924 88 52
www.lauralegazcue.com
--------------------------------------------------------------------------------
Tango Alexandra Lissardy
Luis de la Torre 680 bis apto 5 UY-11600 Montevideo Uruguay
(582)712.0250
ballet school, tango.
--------------------------------------------------------------------------------
Jorge Lopez
Ansina no 424 UY-40000 Rivera Uruguay
(00598) 99 82 6524
www.iberadanzarivera.v10.com
Danza Folclorica Rio-Platense, investigacion folclorica, Show de Malambo y Talleres de Regionalismo Fronterizo.
--------------------------------------------------------------------------------
Daniel Machado
2633, Scoseria UY-11.300 Montevideo Uruguay
Tel. (598.2)711.38.91
www.tangotour.danielmachado.com.uy
tango photographer and dancer
--------------------------------------------------------------------------------
Delia Maxera
21 de Setiembre 2741 UY-11300 Montevideo Uruguay
(598)710.7560; fax 711.5211
www.institutoariel.edu.uy
Jewish dances
--------------------------------------------------------------------------------
Natacha Melo
Durazno 1027 apt 304 UY-11500 Montevideo Uruguay
Tel. 5982.900.1058
www.movimiento.org
Exchanges in Dance. Una iniciativa de intercambio de los trabajadores de la danza y la cultura pertenecientes a cinco paises de America del Sur con proyeccion a los otros paises del continente.
--------------------------------------------------------------------------------
Walter Esteban Milan Mendez
Luis Batlle Berres 4190 UY 1190, Distrito 4 montevideo Uruguay
306 2813 099 162 898
Danza, Canto, Recitadores, Bailarines, Escritores, Plasticos, etc.; Teacher Folkdance, Dances National School Pupil, President Of Directive Comition, Director Of Malambo.
--------------------------------------------------------------------------------
Lila Nudelman
Dr. Gualberto Mendez, No.1899, Montevideo UY-11700, Montvideo Uruguay
(5982)2038326
DANCE WITH DISCAPABILITIES PERSONS, INTEGRATORY DANCE
--------------------------------------------------------------------------------
Luis Olivera
Juncal UY-1474 Montevideo Uruguay
(05982) 9024241 movil 099927913
tango dance, milonga
--------------------------------------------------------------------------------
Raquel Sagasti
AVDA. GILOMEN 1409 UY-70.201 COLONIA Uruguay
055-45129
DANZAS FOLCLORICAS URUGUAYAS ,MALAMBO, BALLET CLASICO Y MODERNO, BAILE ESPANOL
--------------------------------------------------------------------------------
Maria Mercedes Santinaque
JUAN BENITO BLANCO 1223 APARTAMENTO 102 UY-11300 POCITOS- MONTEVIDEO- REP.ORIENTAL DEL URUGUAY. Uruguay 005982- 708-1051
PROFESORA INDEPENDIENTE DE DANZA MIEMBRO DEL C.U.D., Alumna - Especialidad sobre Danza clasica, Moderna
--------------------------------------------------------------------------------
Santiago Turenne
Canelones 837 apto 02 Javier Barrios Amorin 1534/201 UY-11200 Montevideo Uruguay
(00598-2) 902.3090, 401.9383, 096.711040
www.freeweb.com/gestionarte
Contemporary dance investigator, student, choreographer, Dancer.
--------------------------------------------------------------------------------
Labarra
Uruguay (598)02.487.9849 Gustavo Verno
Ruben Lena, Manzana D1 - Solar 85B , Rincon de la Bolsa UY-80000 San Jose Uruguay
Tel.: (02) 3472376 - Cel.: 094193009
www.labarra.org
Especialista en Danzas Uruguayas, Danza Folclorica
--------------------------------------------------------------------------------
JAZMAN MENENDEZ VILLAVERDE
JUAN BENITO BLANCO 1223 APARTAMENTO 102 UY-11300 POCITOS- MONTEVIDEO- REP. Uruguay
(005982) 708-1051
Alumnan dance, details : Productora artistica,.Nuestra productora se llama: deja vu producciones: Producciones de teatro, musicales, danza contemporoneam, flamenco... etc...
--------------------------------------------------------------------------------
Sheila Werosch
Cardozo 3298 UY-11800 Montevideo Uruguay
598 (02) 487 98 49 (telefono y fax)
Docente, investigadora y coreografa en folklore y tango
--------------------------------------------------------------------------------
"Ellas" Conjunto de Bailes de la Comunidad Griega
Avenida 19 de Abrill 3366 UY-11000 Montevideo Uruguay
Tel. (598.27)397.804
Group, folk, Greek, performing. amateur
--------------------------------------------------------------------------------
Escuela Nacional de Folklore Ministry of Education and Culture
J. H. y Obres 1489 UY-11000 Montevideo Uruguay
Tel. (598.2)901.6535
School, folk, Uruguayan dance
--------------------------------------------------------------------------------
Espacio de Desarrollo Armonico
Juan Paullier 1009 UY-11000 Montevideo Uruguay
Tel. (54.2)400.8375
School, dance tuition, classes
--------------------------------------------------------------------------------
Gremio Recreativo Escola de Samba Aquarela
Avenida 18 de Julio 1712, apt. 403 UY-11200 Montevideo Uruguay
Tel. (598.2)402.0064
Group, folk, samba school, recreational
--------------------------------------------------------------------------------
Gremio Recreativo Escola de Samba Asabranca
Luis Alberto de Herrera 1829 Ap.03 UY-11600 Montevideo Uruguay
Tel. (598.2)481.4750
Group, folk, samba school, recreational
--------------------------------------------------------------------------------
Hard Rock
Boulevard Espana 2721 UY-11000 Montevideo Uruguay
Tel. (54.2)709.9993
Ballroom, dance hall, discotheque
--------------------------------------------------------------------------------
Uruguayan National Commission for UNESCO
(Comision Nacional del Uruguay para la UNESCO)
Ministerio de Educacion y Cultura; Reconquista 535, pis UY-11000 Montevideo Uruguay
Tel. (598.2)915.63.52, Fax (598.2)915.63.52
National organization
--------------------------------------------------------------------------------
Irma Abirad
Mercedes 933 UY-11100 Montevideo Uruguay
Tel. 598/2/900 48 69, 598/2/901 9412; Fax 598/2/902 40 54
Institute
--------------------------------------------------------------------------------
Soledad Benitez
Avenida Brasil 2697 - 4 piso UY-11300 Montevideo Uruguay
Tel. (598.2)7072023, Fax. (598.2)7072140
www.unesco.org.uy
Teacher, dance
--------------------------------------------------------------------------------
Olga Bergolo
Avenida Sarmiento 2573 UY-11000 Montevideo Uruguay
Tel. (598.2)710.6415
School, ballet
--------------------------------------------------------------------------------
Maria Ines Camou
J.M.Blanes 1045 esq. Durazno CP-11.200 Montevideo Uruguay
Tel. (5982)410 3162; Fax (5982)418 9462
www.montevideotango.8m.com
Company, ballet, tango, professional, performing
--------------------------------------------------------------------------------
Cesar Campodonico
Mercedes 933 UY-11100 Montevideo Uruguay
Tel. 598 2 900 48 69, 598 2 901 94 12; Fax 598 2 902 40 54
Organisation
--------------------------------------------------------------------------------
Andres Castillo
Mercedes 933 UY-11100 Montevideo Uruguay
Tel. 598/2/900 48 69, 598/2/901 9412; Fax 598/2/902 40 54
Institute
--------------------------------------------------------------------------------
Monica Diaz
J. H. y Obes 1489 UY-11000 Montevideo Uruguay
Fax (598.2)901.6750
School, ballet
--------------------------------------------------------------------------------
Eleni Ferti
Rambla Mahatma Chandhi 145, p. 9 UY-11300 Montevideo Uruguay
Tel. 005982 7111424; Fax 005982 7117155
Organization, Greek Folk Dances
--------------------------------------------------------------------------------
Patricia Fernandez Goni
General Brito del Pino 1331 UY-11000 Montevideo Uruguay
tel. (54.2)200.2715
School, dance tuition, classes
--------------------------------------------------------------------------------
Rosa Hebe
Wilson Ferreira Aldunate 1244 UY-11100 Montevideo Uruguay
Tel. (598.2)902.9891
Teacher, choreographer, dancer. Modern dance pioneer in Uruguay, founded in 1956 the Company Ballet de Camara de Montevideo, first independent group of contemporary dance.
--------------------------------------------------------------------------------
Emma Huberli
Yauaron 1496 UY-11100 Montevideo Uruguay
Tel. (598.2)900.7521
Company, contemporary dance, performing, professional
--------------------------------------------------------------------------------
Martin Inthamoussu
Avenida Garibaldi 2631 UY-11600 Montevideo Uruguay
Tel. (598)203 7539; 480 1155
www.movimiento.org
Contemporary, Modern Tango, Theory of Dance
--------------------------------------------------------------------------------
Laura Massironi
Plaza de Cagancha 1157 UY-11000 Montevideo Uruguay
Tel. (598.2)710.7237
Company, ballet, character, contemporary, jazz
--------------------------------------------------------------------------------
Claudia Pisani
-- UY- Montevideo Uruguay
Tel. (5982) 4811596
dance school
--------------------------------------------------------------------------------
Eduardo Ramirez
Maldonado 1884 UY-11000 Montevideo Uruguay
Tel. (54.2)400.1742
School, dance tuition, classes
--------------------------------------------------------------------------------
Mariucha Ramirez
Plaza de Cagancha 1157 UY-11000 Montevideo Uruguay
Tel. (598.2)710.7237
Company, ballet, character, contemporary, jazz
--------------------------------------------------------------------------------
Eduardo Silvera Murgia
Yamandu Rodriguez 1539 UY-11500 Montevideo Uruguay
www.southerncrosspipeband.com
Choreographer, Gaita, percusion y danza escocesa
--------------------------------------------------------------------------------
Tito Barbon
Tel. & Fax (5982)710.8319
--------------------------------------------------------------------------------
Alicia Brion Hindoian
Virgen de la Fuensanta 5 ES-30860 Puerto Mazarron Murcia Spain
34)636.887.293;Fax(34)968.594.158
www.agora.ya.com/folkloreuruguay
Danzas Tradicionales Uruguayas, Malambo Fantasia y Danzas Latinoamericanas
--------------------------------------------------------------------------------
Uruguayan Tango Dance Schools, places to dance tango in Uruguay

--------------------------------------------------------------------------------
La Academia del Tango
Montevideo
--------------------------------------------------------------------------------
La Morocha Tango y Milonga
Montevideo
--------------------------------------------------------------------------------
Plaza del Entrevero
Montevideo - Av. 18 de Julio y Río Negro
--------------------------------------------------------------------------------
Cafe Las Musas
Montevideo - Canelones 1136 esq. Gutierrez Ruiz
--------------------------------------------------------------------------------
Tangueria Tabaris
Montevideo - Tristan Narvaja 1518 esq. Av. 18 de Julio
--------------------------------------------------------------------------------
Tangueria El Farolito
Montevideo - Juncal 1413 esq. Rincón
--------------------------------------------------------------------------------
Mercado de la Abundancia
Montevideo - Yaguaron 1290 esq. San José
--------------------------------------------------------------------------------
Confiteria Lido
Montevideo - Av. 18 de Julio 1085
--------------------------------------------------------------------------------
Casa de Margot
Montevideo - Constituyente 1812 esq. Gaboto
--------------------------------------------------------------------------------
Casa de Galicia
Montevideo - Av. 18 de Julio 1471 esq. Barrios Amorin
--------------------------------------------------------------------------------
Palacio Sudamericano
Montevideo - Yatay 1419 esq. Marcelino Sosa
--------------------------------------------------------------------------------
Casa de Alberto
Montevideo - Uruguay 1391 esq. Ejido
--------------------------------------------------------------------------------
Club Amigos de Rosilu
Montevideo - Paysandú 1639 esq.Minas
--------------------------------------------------------------------------------
Hotel Casino del Parque Rodó (Salón Cristal)
Montevideo
--------------------------------------------------------------------------------
Academia de Tango Danza de Raíces
Adela Guido y Eduardo Caétano
Avda. Gonzalo Ramírez 2095
900 48 51, 412 96 6
--------------------------------------------------------------------------------
labelbigua Club Bigua
Prof. Sergio Rodríguez y Moira Daloia
Vázquez Ledesma 2968
Tel: +5982 628 8500
--------------------------------------------------------------------------------
Joventango
Profs. Omar Correa, Silvia Leda, Adriana Enebú,
Esteban Cortez
San José y Ejido (Mercado de la Abundancia)
Tel. 00598 2 901 55 61
--------------------------------------------------------------------------------
Danzarte
dir. Myriam Porto y Alejandro Grierson
prof. Rodrigo Zumarán y Nicole Bitlloch
8 de Octubre 3198, Tel 099 632130
--------------------------------------------------------------------------------
Escuela de Tango La Junta
clases de tango con Prof. Omar Correa
Tel: 598 2 916 8541
places:
Teatro Solis (National Theatre of Uruguay)
Mercado de los Artesanos - Plaza Cagancha
Hotel Columbia
--------------------------------------------------------------------------------
Malajunta
Compañia uruguaya de tango-danza Malajunta
Dirección: prof. Marcel Ramirez y Elizabeth Marone
Fco. García Cortinas esq. Ellauri, piso 1
Tel :( 598) 2 6134517, ( 598) 94 480 138
Enseñanza y difusión del tango Oriental desde sus orígenes
--------------------------------------------------------------------------------
Orientango al Sur
Alain Buzan y Giamelia Mangarelli
Convención 1161 y Maldonado, Tel 901 1695 y 099 60811
--------------------------------------------------------------------------------
Mr. Tango Academia Tango Salon
Antonio Silva y Rosario Albín
clases durante todo el año
Club Albatros Salinas (Canelones)
Interbalnearia km 38
sábados desde la 19:00 hs Atlántida Jardín Resort Club (Canelones)
Interbalnearia km 45
viernes desde 21:00 hs
Tel. +598 37 61573
--------------------------------------------------------------------------------
Siglo XXI
Adriana Enebú
Magallanes 1136 (Casa Residentes de Flores)
Tel. 403 3941, 099 110282
lo bueno de Uruguay
--------------------------------------------------------------------------------
Viejo Rincón Escuela de Tango
Constituyente 1812
410 62 30
Clases: martes 18:30-21:30, miércoles 20:00-21:30
jueves 18:30-21:30
Practicas: sábados a partir 22:30
--------------------------------------------------------------------------------
If you have a Uruguayan Dance School, Uruguay dance company or dancing organization in Montevideo or anywhere in Uruguay and would like to be featured in the Uruguayan Dance section then please email bangkokcompanies@gmail.com