.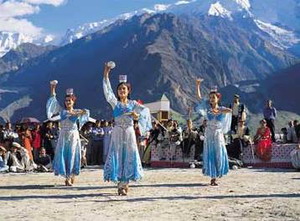 Rafi Peer Theatre Workshop, Tehreema Mitha Dance Company, are just a few of the Pakistani dance companies, dance schools, dancing organizations and dance wear suppliers that that can be found in our comprehensive Directory of Pakistani Dance Companies.
Traditional Pakistani Dances
There are so many dance and music performance arts in Pakistan—many unique to the ethnic culture of the performer—that they are almost considered common rather than unique. Music and dance are done in the both classical and folk form. Usually the performer wears a costume that features ethnic design.

Just as the costume worn by the performer identifies the tribe or ethnic group, so does the music or performance. For example, while dancing in a circle is the basic formation for Pakistani folk dances, there are also many versions of the Pathans' khattak, but they all begin with dancers in two columns accompanied by pipe and drum music. There is the Jhoomer in Baluchistan, which involves spinning around at top speed, as men do on dark nights by the light of flickering torches. The women of Punjab do the jhoomer in what is referred to as a romantic fashion. Also in Punjab, the juddi starts with girls singing to the beat of a drum; then they join in a circle and start to dance. Still another dance of Punjab is the bhangra which is described as being like rock and roll and which is always done at the beginning of the harvest season. The Ho Jamalo originated in Sind but is popular throughout Pakistan. It is a dance that is performed as part of a victory or celebration.
Featured Pakistani Dance Company
Rafi Peer Theatre Workshop
Rafi Peer Theatre Workshop is the oldest independent theatre puppet company of Pakistan. It was founded in 1974 as a Not for Profit Organization and is the only group in Pakistan which is organizing Major International Arts Festivals. In 1992 Rafi Peer Theatre staged its first Puppet Festival and during the last 13 years it has produced 19 international festivals of Puppetry, Theatre, Dance, Music and Film. These festivals have featured over 3000 performances by approximately 3000 artists from more than 59 countries.
We firmly believe that art is the only real reflection of nations and its people. The World Performing Arts Festival began as a dream of The Rafi Peer Theatre Workshop, to bring together artists from all over the world to celebrate their art in the historic city of Lahore. We wanted to expose the people of Pakistan to the rich and diverse cultures of the many different countries of the world and at the same time promote culture and artistic exchange between the artistic communities of the world. For over three decades, the Rafi Peer Theatre, as an independent body, has followed this dream, making endless efforts against all kind of difficulties and obstacles to turn this dream into reality.


If you would like your Pakistan Dance Company, Dance Organization, Dance School featured here then please email bangkokcompanies@gmail.com
There are many fine dance schools in Pakistan. I know I am in contact with them as we supply a range of high quality dancewear products like leotards, dance pants, dance dresses and other dancing apparel.
Bangkok Companies supplies an amazing range of dancewear from Thailand. I have looked at these dance garments and dance accessories in detail. There is only one word to describe them Superb. For more details click on the pictures or send an email to bangkokcompanies@gmail.com We regret at this time we can only satisfy Pakistan wholesale dancewear requests.
"Dancewear designed by dancers for dancers"
| | | | | |
| --- | --- | --- | --- | --- |
| Dance Dresses | Kids Leotards | Adult Leotards | Dance Bras | |
| | | | | |
| | Dance Pants | Tutu's | Dance Shorts | |
| | | | | |
| Dancewear | Dancewear Organizers | Dance Bags | Dance Backpacks | |
| | | | | |
Bangkok Companies is a full service product sourcing company in Thailand. For All your dancewear needs please email bangkokcompanies@gmail.com with your requests.
---
Dance Schools in Pakistan, Dancewear Suppliers, Dancing Organizations
Saadaan Peerzada
25 F/3, Block D, National Homes PK-New Muslim Town, Lahore Pakistan
Tel. & Fax (92.42)588.5074; (92.42)588.5075; (92.42)588.5079
Festival, international theatre and dance ensembles
-------------------------------------------------------------------------------
Lubna Qureshi
C/O Ms.Humaira Qureshi,Ufone Head Office,13-B,MarkazF-7 PK-44000 Islamabad Pakistan
--------------------------------------------------------------------------------
Cargul international Tahir Malik Shoes
Pakistan. Baloch traditional dancers, traditional
daska road PK-51310 Sialkot, Haji pura Pakistan
Tel. +92-52-3562370, FAX +92-52-3562366
www.cargul.com
exporter of Shoes
--------------------------------------------------------------------------------
Ministry of Culture, National Council of the Arts
Block 6c, Markaz F7 PK-Islamabad Pakistan
Organization
--------------------------------------------------------------------------------
Tasleem Hussain
Ministry of Education; 30 PK-44000 Islamabad Pakistan
Tel. (92.51)434.196, Tel. & Fax (92.51)431.815, 431.814
--------------------------------------------------------------------------------
Adam Nayyar
P O Box 1184 Garden Avenue, Shakarparian Islamabad Pakistan
92-51-2852174 home, 92-51-9261591 fax
--------------------------------------------------------------------------------
Tehreema Mitha
8509 Pelham Road MD 20817-3817 Bethesda, Maryland U.S.A.
Tel/Fax (1)301.581.9520
www.tehreemamitha-dancecompany.org
Dancer, Pakistani dances; Classical Indian Dance and Contemporary Dance
--------------------------------------------------------------------------------
Lotus Social Welfare Trust International
B-11/374 Indus Mehran Houseing Society PK-75080 Malir Karachi, No.37 Pakistan
Tel. 9221-4503493; Fax 9221-4503493
www.trust.itgo.com
Company Organization
--------------------------------------------------------------------------------
Pakistan National Commission for UNESCO
Ministry of Education; 30 UNESCO House, Sector H-8/1 PK-44000 Islamabad Pakistan
Tel. (92.51)434.196, Tel. & Fax (92.51)431.815, 431.814
National organization
--------------------------------------------------------------------------------
Saadaan Peerzada - Faizaan Peerzada
Rafi Peer Theatre Workshop
25 F/3, Block D, National Homes PK-New Muslim Town Lahore Pakistan
Tel. & Fax 92.42. 5885074, 5885075, 5885079
Festival
--------------------------------------------------------------------------------
TransPakistan
P.O. Box 2103, Apt-8, 2nd Floor, Muzaffar Chambers PK-Islamabad Fazl-e-Haq Road Pakistan
Tel. & Fax 92.51.2274838
Festivals organizer
--------------------------------------------------------------------------------
Mohammad Ali
K-54564 Karachi Pakistan
tel. 56456456
Dancer, Pakistani dances
--------------------------------------------------------------------------------
Hayat Ahmad Khan
2-a Block E/2 Main Boulevard Gulberg-III PK-54662 Lahore Pakistan
Tel. (42)576.3318, Fax (42)575.4702
Festival organizer, concerts, publications, competitions
--------------------------------------------------------------------------------
Anwar Khan
A-190 Gulistan-e-Jauhar PK-Karachi Pakistan
Tel. (92.42)813.4758
Teacher, salsa
--------------------------------------------------------------------------------
Zaheer Khan
B76 S.I.T.E. PK-Karachi Pakistan
Tel. (92.42)256.7776; Fax (92.42)258.7474; Mobile (92.42)256.8885
School
--------------------------------------------------------------------------------
M. A. Mirza
22/46 College Road PK-51310 Sialkot Pakistan
Tel. (92)432.586410; Fax (92)432.586410, 432.551141, 580736
Manufacturer and supplier of dancewear, dance articles, hand percussion for Dance Clubs
--------------------------------------------------------------------------------
Kishmar Naheed
Block 6/c Markas – F/7 PK-Islamabad Pakistan
Tel. 92.51.9206 278; Fax 92.51.9201 375
Festival, folk, organizer
--------------------------------------------------------------------------------
Faizaan Peerzada
25 F/3, Block D, National Homes PK-New Muslim Town, Lahore Pakistan
Tel. & Fax (92.42)588.5074; (92.42)588.5075; (92.42)588.5079
www.peergroup.com.pk
Festival, international theatre and dance ensembles
--------------------------------------------------------------------------------
Imraan Peerzada
25F 3 Block D, National Homes PK-54600 New Muslim Town, Lahore Pakistan
Tel. 0092425885074-5; 00923458497382; fax 0092425885079
www.peerfestivals.com
--------------------------------------------------------------------------------
Ghulan Hyder Siddiqui
43/7/K block-6 P.E.C.H.S. PK-Karachi Pakistan
Organization