.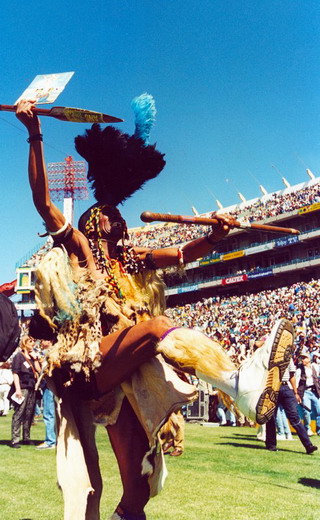 The Academy of Dance, UCT Ballet School, Jomba Contemporary Dance Experience, are just a few of the dance companies, South African dance schools, dancing organizations and dance wear suppliers that that can be found in our comprehensive Directory of South African Dance Companies.
Afrofusion dance in South Africa
In one field especially, the new freedoms of post-apartheid South Africa have brought new life - dance has became a prime means of artistic expression, with dance companies expanding and exploring new territory.

Music and dance are pulling in new audiences and a number of home-grown productions, particularly those aimed at the popular market, have taken South Africa and, in some cases, the world, by storm.

Among these are entrepreneurial producer Richard Loring's African Footprint, enjoying a long run at Gold Reef City's Globe Theatre. The show, which also performed in London at the 2000 Royal Variety show and played to enthusiastic audiences in Atlanta, features a cast of talented professional dancers, many with a classical background, and explores 2,000 years of African history through its evolving dance traditions.

South Africa has had a long tradition of fine classical ballet but, until relatively recently, contemporary dance was not an important feature of the local dance scene.

Since the late-1970s, though, that has changed, and contemporary dance companies have burgeoned and spawned an "Afrofusion" (a concept conceived and named by MID's Sylvia Glasser) that combines the techniques of formal dance training with a spirit that is purely African. The result, a blend of multiple cultures, including classical ballet, is controversial and hugely exciting.

Companies like Cape Town's Jazzart Dance Theatre, Johannesburg's Free Flight Company and Moving Into Dance (MID)- Mophatong, the Soweto Dance Company, the Napac and Pact Dance Companies, led the way, creating the first contemporary companies in South Africa and inspiring a new dance movement.

More recently, groups like the exotically named Fantastic Flying Fish Company have leapt into the field. Artists like Sylvia Glasser, Tossie van Tonder, Carly Dibokwane, Adele Blank, Robyn Orlin, created a new vocabulary of dance, working with their own companies, directing at Fuba (Federated Union of Black Artists), and inspiring and nurturing local talent.

Jazzart, the oldest modern dance company in the country, has long been actively involved in performing and teaching workshops and classes in disadvantaged communities. Moving Into Dance-Mophatong, whose Community Dance Teachers Training Course has just celebrated its tenth anniversary, has given space to the talents of dancer/choreographers like Vincent Mantsoe, Moeketsi Koena, and Gregory Vuyani Maqoma.
Featured South African Dance Company
The Academy of Dance opened its doors on the 19th January 1986 with 27 students. Modern dance, classical ballet, Latin American and exercise classes were all a part of the curriculum. Today the school has a commendable eighteen year history of producing students for the dance industry, with two satellite branches in Paarl and Hout Bay.
The Academy of Dance is owned and directed by Debbie Turner who teaches the modern and contemporary dance classes as well as Tap, while the ballet classes are run by Jacqui Pells, owner of the Jacqui Pells School of Ballet, an affiliate business of The Academy of Dance.
The Academy acknowledges and promotes the world trend of young dancers being trained in all forms of dance including complimentary exercise techniques such as Pilates Body Control, to give them the best opportunity of being employed as young professionals.
The nurturing of the love of dance is the over-riding priority of the training at the school. The teaching faculty are committed to the education of young dancers, not only as performers, but as potential audience members, teachers and patrons of the arts. Many ex-students of the school are today occupied in professions that are directly related to dance in either the medical or creative fields.
Specializes in: Contemporary and Modern Dance, Funk, Tap, Classical Ballet

If you would like your South Africa Dance Company, Dance Organization, Dance School featured here then please email bangkokcompanies@gmail.com
There are many fine dance schools in South Africa. I know I am in contact with them as we supply a range of high quality dancewear products like leotards, dance pants, dance dresses and other dancing apparel.
Bangkok Companies supplies an amazing range of dancewear from Thailand. I have looked at these dance garments and dance accessories in detail. There is only one word to describe them Superb. For more details click on the pictures or send an email to bangkokcompanies@gmail.com We regret at this time we can only satisfy South African wholesale dancewear requests.
"Dancewear designed by dancers for dancers"
| | | | | |
| --- | --- | --- | --- | --- |
| Dance Dresses | Kids Leotards | Adult Leotards | Dance Bras | |
| | | | | |
| | Dance Pants | Tutu's | Dance Shorts | |
| | | | | |
| Dancewear | Dancewear Organizers | Dance Bags | Dance Backpacks | |
| | | | | |
Bangkok Companies is a full service product sourcing company in Thailand. For All your dancewear needs please email bangkokcompanies@gmail.com with your requests.
---
Dance Schools in South Africa, Dancewear Suppliers, Dancing Organizations
Daphne Jubber
46 Tiverton Road, Plumstead ZA-7800, Cape Town South Africa
(021)762.3141
www.dancedirectory.co.za
I offer classes in modern jazz, hip hop and tap
--------------------------------------------------------------------------------
Achilles Kallos
10 Arcadia Road ZA-8005 Cape Town, Fresnaye South Africa
(0027)21.439.3631; Greece: 210.960.7735; mobile 693.88.55.312
Greek Folk Music, Greek History
--------------------------------------------------------------------------------
Ignatius Michael Van Heerden
Clinical building, room 2063, Franci van Zijl Dr ZA-7500 Cape Town South Africa
(27)219.389.087;FAx. (27)219.31 3.148
www.sun.ac/reprohealth
Choreographer, dancer, contemporary, non-verbal communication
--------------------------------------------------------------------------------
Evelyn Vicatos
1 Huguenot Avenue ZA-8001 Oranjezicht, Cape Town South Africa
(27)823.450.062;Fax(27)214.654.736;
--------------------------------------------------------------------------------
Debbie Turner
The Academy of Dance
Postnet Suite #303, Private Bag X16, Constantia ZA 7848, Cape Town South Africa
Tel/Fax (002)721.712.9445
www.theacademyofdance.bizland.com
Dance
--------------------------------------------------------------------------------
El Cacha Estudio de Tango
160 Sir Lowry Road ZA-8000 Cape Town South Africa
27 21 461 2729
www.elcacha.com
Specialising in the performance, teaching, workshopping and promotion of the Tango
--------------------------------------------------------------------------------
Le Groupe Bane - Be Zambi
55 Cloete Street,Pennan Park,15 Flat ZA 7500 Parow,Cape Town South Africa
Genre D'activite Specialise En Danse(Tikobi) La Danse Traditoinnel Du Kouilou Au Congo Brazzaville.Car Nous Sommes Du Congo. Vlle Agreer Mr: Le Responsable L'Expressoin De Nos Salutatoins
--------------------------------------------------------------------------------
The Hip Circle Belly Dance School
16 Royal Road, Muizenberg ZA-7945 Cape Town South Africa
0027833830503
www.bellydancing.co.za
oriental dance and music. dance theater company, with live musicians.
--------------------------------------------------------------------------------
UCT Ballet School
Woolsack Drive ZA-7700 Rosebank, Cape Town South Africa
Ballet School
--------------------------------------------------------------------------------
Remix Dance Company
ZA- 7701 Cape Town South Africa
27 (21) 6502538
Dance company based in Cape Town South Africa. Remix is the leading Integrated Dance company in South Africa.
--------------------------------------------------------------------------------
Marche Carstens
P O Box 4107 ZA-8000 Cape Town South Africa
+27 021 410 9848 Fax : +27 021 419 1907
www.jazzart.co.za
Contemporary African Dance Company
--------------------------------------------------------------------------------
Maria Carvounes
8 Avenue La Caille, Newlands ZA-7700 Cape Town South Africa
27216717674, FAX 27216717678
Greek Folk Dance Teacher and dancer
--------------------------------------------------------------------------------
Dianne Cheesman
32 Ranelagh Road ZA-7700 Rondebosch, Cape Town South Africa
27 21 6833564
dance performances, classes, workshops. CJB has been formulated to give talented young dancers specialized training and performing opportunities in a professional environment.
--------------------------------------------------------------------------------
June Gruneberg
302 SUNNY ACRES, HELY HUTCHINSON ZA-8001 CAMPS BAY, CAPE TOWN South Africa
(021) 438-9113
--------------------------------------------------------------------------------
Alfred Hinkel
PO Box 4107 ZA-8000 Cape Town South Africa
(2721)410.98.48;Fax (2721)418.81.77;(2721)419.19.07;
www.jazzart.co.za
Contemporary African Dance Company
--------------------------------------------------------------------------------
Mark Hoeben
307 MAIN ROAD ZA-8005 SEA POINT (CAPE TOWN) SOUTH AFRICA South Africa
Tel. 27214399466 Tel. 27866540883
functions, dance forms, Argentine Tango classes for professional, amateur and social dancers and regular Milongas and Salons
--------------------------------------------------------------------------------
Carolyn Holden
4, Loop Street(3rd Floor, Loop Studios) ZA-8001 Cape Town South Africa
+27 21 421 64 37; FAX. +27 21 421 64 38
www.larosa.co.za
La Rosa provides Flamenco dance productions and training
--------------------------------------------------------------------------------
Tenille Lindeque
Gild Lane ZA 7945 Cape Town South Africa South Africa
Tel. +27 21 712 1913
www.femininedivine.net
Belly dance studio offering classes in a holistic, warm environment
--------------------------------------------------------------------------------
Hermann Loemba-
55 Cloete St, Pennan Park, 15 Flat ZA - PAROW 7500 Capetown South Africa
LE GROUPE EST COMPOSEE DE 20 MEMBRES.
--------------------------------------------------------------------------------
Ivey Meyer
16 Driver Street Za- 7945 Lakeside, Cape Town South Africa
Cell: 083-604-2478 John Morrison
PO Box 689 ZA-8000 Cape Town South Africa
+27 83 556 7466
www.quepasa.co.za
salsa, dancing, cape town, rumba, samba, party, South Africa, Salsa Dancing,
--------------------------------------------------------------------------------
Bheki Ndlovu
P.O.box 746 ZA-8001 Seapoint Cape Town South
Africa (2772)194.6365
Choreographer, coordinator, performer and fashion show
--------------------------------------------------------------------------------
Jennifer Van Papendorp
Grand Central Towers, Plein Street ZA-8000 Cape Town South Africa
Tel. (27) 21-467-2593, FAX (27) 21-467-2258
http://curriculum.wacpe.school.za/site/3
Planner and advisor for dance in education in the Western Cape schools; plan curriculum, Examiner and Moderator for National Senior Certificate- all dance forms; develop learning support materials.
--------------------------------------------------------------------------------
Mareli Schroter
Buchanan Square, 160 Sir Lowry Road ZA-Cape Town South Africa
27(0)214.612.729
www.elcacha.com
Argentinean Tango Teachers and Performers
--------------------------------------------------------------------------------
Deborah Turner
13, Harrow Road ZA-7800 Cape Town South Africa
Tel. 2127.712.9445; Fax 2127.712.9445
http://capedancecompany.bizland.com
A self-funded dance company providing and developing performance opportunities and platforms for dancers of
all backgrounds. Affiliated dance school: The Academy of Dance
--------------------------------------------------------------------------------
Nicola Visser
University of Cape Town, Private Bag ZA-7701 Rondebosch South Africa
+27 +21 650 2538
www.remixdanceproject.co.za
contemporary dance theatre performed by an integrated (mixed physical abilities) company. Projects include contemporary dance-theatre education and performance projects. Emphasis on improvisation
--------------------------------------------------------------------------------
Andrew Warth
PO Box 94 ZA-7701 Rondebosch South Africa
Tel. 27 (21) 650 2400; 27 (21) 650 4673; Fax 27 (21) 650 3527
http://www.capetowncityballet.org.za/ctc
Company, ballet
--------------------------------------------------------------------------------
Cape Town City Ballet
P.O. Box 94 ZA-7701 Rondebosch South Africa
Tel. 27 (21)689 4346/7/8; Fax 27 (21) 6868807
Company, ballet
--------------------------------------------------------------------------------
Cape Youth Dance Company
Eton cottage, 13 Harrow Road ZA-7800 Diep River Cape Town South Africa
Tel. (27.21)72.9445, Fax (27.21)762.5849, Cell (27.82)495.8948
Company
--------------------------------------------------------------------------------
FM Alexander Teacher Training School
4 Denham Court, Wellington Walk Wynberg Cape Town ZA-7800 South Africa
Tel. 27 21 761 6146
Teacher, Alexander Technique
--------------------------------------------------------------------------------
Marocca Belly Dance Studios
6 Roodehek Terrace Gardens Za- Cape Town South Africa
Fax (27) 86-670-5851
www.sabellydancefestival.co.za
Festival
--------------------------------------------------------------------------------
Alexander Technique (SASTAT)
39A Arnold Street, Observatory Cape Town ZA-7925 South Africa
Tel. (0) (21) 448 5514
Technique
--------------------------------------------------------------------------------
University of Cape Town, School of Dance
International Academic Programmes, Private Bag ZA-7701 Rondebosch South Africa
Tel. 011 27.21.650.9111; Fax: 011 27.21.650.2138
http://web.uct.ac.za/depts/ballet
Dance School
--------------------------------------------------------------------------------
Abe Abrahams
PO Box 50368 Waterfront ZA-8002 Cape Town South Africa
Tel. (2721)422.5534; Fax (2721)422.0790, 2721.08.27.82.14.10 mobile
Dance group of African dances
--------------------------------------------------------------------------------
Renee Douman
Ffluweeltjie and Bignonia Crescent ZA-80000 Belhar, Cape Town South Africa
Tel. 27 021 953 1549
Christian sacred dance ministry
--------------------------------------------------------------------------------
Sharon Friedman
Woolsack Drive ZA-7701 Rosebank, Cape Town South Africa
Tel. (27) 21 650 2398; Fax (27) 21 650 2494
School
--------------------------------------------------------------------------------
Keith Galloway
PO Box 195 Green Point ZA-8051 Cape Town South Africa
Tel. (27)21.418.4600; Fax (27)21.419.4558
Choreographer
--------------------------------------------------------------------------------
Pearson
Woolsack Drive ZA-7701 Rosebank, Cape Town South Africa
http://web.uct.ac.za/depts/ballet
School
--------------------------------------------------------------------------------
Elizabeth Triegaardt
Woolsack Drive ZA-7700 Rosebank, Cape Town South Africa
Tel. 27 21 650 2400; Fax 27 21 650 3524
www.capetowncityballet.org.za
The Cape Town City Ballet is the oldest surviving ballet company in the country, with an extensive repertoire of local and international works.
--------------------------------------------------------------------------------
Elizabeth Triegaardt
Cottage 3, Lover's Walk ZA-Rosebank, Cape Town South Africa
http://www.capetowncityballet.org.za/ctc
Company, ballet
--------------------------------------------------------------------------------
Charlotte Blignaut
P.O. Box 129 Gallo Manor ZA-2052 Johannesburg South Africa
(27)832.632.913 Home
www.bellydance.co.za
Belly Dance Tuition, Performances, Workshops, Corporate functions.
--------------------------------------------------------------------------------
Catherine Stella Nestoridis
3 Anitas Court, 607 Gules Street ZA-2094 Malvern, Johannesburg South Africa
(271)161.609.28;(271)824.945.677
--------------------------------------------------------------------------------
Maria Vassiliou
4 Mons Road ZA-2198 Bellevue, Johannesburg South Africa
Fax 0027118491117; Tel. 0027116488724
Greek dance group teacher
--------------------------------------------------------------------------------
Glasser Sylvia Moving Into Dance Mophatong
PO Box 711,Newtown ZA-2113, Johannesburg South Africa
Tel. (27)2113 011 838 2816, 011 838 2976
www.midance.co.za
Company, Contemporary African Dance, Afrofusion, Choreography
--------------------------------------------------------------------------------
Vuyani Dance Theatre
PO Box 22 ZA-2113 Johannesburg South Africa
+27 882 2776 (telefax)
www.vuyani.co.zaVuyani Dance Theatre (VDT) specializes in Contemporary African Dance with text being a preponderate feature in most of the company's productions. VDT often performs in Europe and it got an opportunity
--------------------------------------------------------------------------------
Monja Boonzaier
18, Syferfonteinweg Johannesburg South Africa
0731929145
www.beautifulmind.co.za
Dancer, sports massage therapist, Pilates practitioner
--------------------------------------------------------------------------------
Cheryl Borkum
Postnet Suite # 129, Private Bag X11, Craighall Park ZA-2024 Craighall Park, Johannesburg
880-8089
www.tangospeakeasy.co.za
Argentinian Tango
--------------------------------------------------------------------------------
Erick Raymond Bowen
17 Hoofd St Johannesburg South Africa
Ballet Master
--------------------------------------------------------------------------------
Elinor Boyes
10 Berg Road, Randpark ZA-2194 Johannesburg South Africa
Tel. +27 11 792 2432
Highland and Irish dance
--------------------------------------------------------------------------------
Fiona Budd
P.O.Box 2413, Brooklyn Square ZA-0075 Johannesburg South Africa
Tel. +27 11 877 6898, FAX +27 11 877 6864
www.saballettheatre.co.za
Professional Ballet company comprising 50 dancers, also perform contemporary and neo-classical works, use international and local choreographers. Also comprising The SABT School, the SABT Ballet Acade
--------------------------------------------------------------------------------
David Campbell
P.O.Box 2054. North Riding ZA-2162 Johannesburg South Africa
(0927)114.62.22.70;Fax (0927)117.042.999;
www.sasdf.co.za
Latin American /Ballroom Teacher, Choreographer
--------------------------------------------------------------------------------
Boyzie Cekwana
Memorial Tower Building, University KwaZulu-Natal, King ZA-4041 Durban South Africa
+27+31+260 2506 ; fax+27+31+260 3074 www.cca.ukzn.ac.za/
JOMBA! is Durban's biggest and best 12 day feast of international, national and local contemporary dance. Featuring award-winning companies from around the globe, a comprehensive workshop and dance
--------------------------------------------------------------------------------
Izak Coetzee
P O Box 5924, Cresta ZA-2118, Johannesburg South Africa
+27 011 6786645 (telephone & fax)
Teaching and ministering in Worship Movement and Christian Dance
--------------------------------------------------------------------------------
Josef Du-Preez
24, Du Toit Street 0002 Pretoria South Africa
Tel. +27 12 382 6018, FAX +27 12 382 6018
dupreezj@tut.ac.za
Dance teacher/researcher
--------------------------------------------------------------------------------
Andrew De Freitas
Cor 5th Avenue & 13th Street ZA-2120 Parkhurst, Johannesburg South Africa
082.923.8164; Fax 271.1327.2751
--------------------------------------------------------------------------------
Jeannette Ginslov
135 Fourth Avenue, Melville ZA-2092 Johannesburg South Africa
(27)011.482.9485;(27)083.522. 5145;Fax.(27)011.482.5419;
www.wgp.co.za
Dance Facilitator, Choreographer, director
--------------------------------------------------------------------------------
Merryl Hofmeyr
PO BOX 1676 ZA-1610 Gauteng, Edenvale South Africa
(011) 882 5600, 082 871 5096
I train dancers in both the Highland (Scottish) and Irish dance forms in Johannesburg, South Africa. They are prepared for and participate in competitions, exams and show exhibitions.
--------------------------------------------------------------------------------
Angelique Joseph
P.O. Box 1953 ZA-1450 Johannesburg South Africa
+2711 869-4234 OR +2782 890 0990
www.sasdf.co.za ; www.dancewithme.biz
Latin-American, Ballroom, Freestyle, Hip-Hop, Line Dancing, Belly Dancing
--------------------------------------------------------------------------------
Liora Kramer-
P.O.Box 1214 ZA-2106 Lyndhurst, Johannsburg South Africa
+27845612010 (mobile) +27117865096 (Home)
Ballet (R.A.D)
--------------------------------------------------------------------------------
Olivia Lume
PO Box 200 ZA-2018 Bramley, Johannesburg South Africa
Tel. (27.11)887.0459, Fax (27.11)887.0561
www.rad.org.za
Examining body (Classical Ballet) / we offer teacher training programmes / competitions, workshops and other student activities / membership organization.
--------------------------------------------------------------------------------
Rene Mabotha
27783235872, Columbine Avenue ZA-2031 Mondeor, Johannesburg South Africa
Tel. 27119413965, FAX 0866586525
http://www.renearts.bravehost.com
Dance! Sing! Act! Types of dances; Modern Jazz, Hip Hop, Kwaito (Modern African Rhythmic Dances), Tap Dance, a touch of Latin
--------------------------------------------------------------------------------
Vicky McRose
P.O Box 288 Strathavon ZA-2031, Johannesburg, South Africa South Africa
072.265.6101, Fax 011.884.1523
Teach Salsa Dancing
--------------------------------------------------------------------------------
Jose Montoya
178 GLOUDINA STREET MURRAYFIELD EXT ZA-0184 PRETORIA South Africa
+27 (0)12 803 2054 / Fax +27 (0)83 252 8340
LEARN THE ART OF SPANISH DANCING. ALL AGES WELCOME
--------------------------------------------------------------------------------
Auvasha Moodley
72, Keats Road, Lombardy East ZA-2090 Johannesburg South Africa
(27)112.640.067;Fax(27)117.231.757;
Bharatha Natyam Teacher, Choreographer
--------------------------------------------------------------------------------
John Morrison
PO Box 689 ZA-8000 Cape Town South Africa
+27 83 556 7466
www.quepasa.co.za
salsa, dancing, cape town, rumba, samba, party, South Africa, Salsa Dancing
--------------------------------------------------------------------------------
Jacob Mosehla
Loveday Hoofd ZA-2000 Johannesburg South Africa
Tel. +2711-877-6898, FAX +2711-877-6864
www.saballettheatre.co.za
ballet company
--------------------------------------------------------------------------------
Penny Parsons
PO Box 3138, Halfway House ZA-1685 Johannesburg South Africa
Tel: +27 83 455 7376, Fax: +27 11 312 1716
We are belly dancers, making use of an eclectic mix of different styles
--------------------------------------------------------------------------------
Desiree Portal
P.O. BOX 29424 ZA-2131 Sandringham Johannesburg South Africa
at talking feet dance studio, we offer tap, modern, hip hop and funk. Our motto is everyone is here to enjoy and love to dance. We aim for the best in each student.
--------------------------------------------------------------------------------
Ipatia Posadowski
7, Oleander ZA-1401 Johannesburg, Primrose South Africa
Tel. 00270845552725 cell, FAX 27110118228880
Belly dance that is in a style of it's own and yet very authentic and pure, latin american and ballroom for couples, country and western line dancing and "Uno Latino" was created by Ipatia for people
--------------------------------------------------------------------------------
Peter Rorvik
Jomba! Contemporary Dance Experience
Centre for Creative Arts, MTB, UKZN, King George V Ave ZA-4001 Durban South Africa
Tel. (27)312602506, FAX (27)312603074
http://www.cca.ukzn.ac.za/Jomba_Contempo
Jomba! Contemporary Dance Experience: An annual event featuring 12 days of leading South African contemporary dance, plus performances by African and international companies.
--------------------------------------------------------------------------------
Martin Schonberg
PO Box 1641, Highlands North ZA-2037 Gauteng Johannesburg South Africa
27)11.880.3099
www.ballettheatreafrikan.co.za
Ballet Theatre Afrikan is a dynamic professional dance company with dancers drawn from multi-cultural communities of South Africa. The dancers are highly technically accomplished, bringing the warmth,
--------------------------------------------------------------------------------
Susan Theron
PO Box 272, Paulshof ZA-2056 Johannesburg, Gauteng South Africa
Tel. 11 803 2577, fax: 011-9036027
Sue Theron, founding member of the Irish Dancing Association of SA, teaches Irish & Highland (Scottish) dancing for male & female dancers of all ages from beginners to advanced. Exams, competitions,
--------------------------------------------------------------------------------
Georgina Thomson
Po Box 91331, Auckland Park Za-2006 Johannesburg South Africa
Tel. +27 11 482 4140/ +27 11 482 6212
www.artslink.co.za/artsContemporary
dance festivals in Johannesburg, South Africa. Young choreographers Residency programmes.
--------------------------------------------------------------------------------
Francois Triegaardt
ZA-Johannesburg South Africa
Tel. +27-11-792-0440, FAX +27-11-792-0440
www.scrutiny3.com
Suppliers of Scrutiny3. The scrutineering software of choice for scrutineers from around the globe. IDSF recognsed