.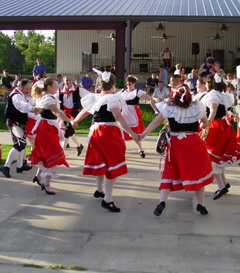 Il Gruppo Folkorico Monte Patulo, Compagnia di Danza Efesto, Art and Movement School, are just a few of the Italian dance companies, Italian dance schools, dancing organizations and dance wear suppliers that that can be found in our comprehensive Directory of Italy Dance Companies.
Traditional Italian Dance

A richer tradition, still very much alive today, exists in the mountain villages of Italy and can be observed by those who wish to come in contact with a culture undominated by tourism or television. Artisans still craft their zampogne (bagpipes), ciaramelle (oboes), and organetti (small diatonic accordions), to mention only a few traditional instruments. However, almost everywhere, traditional folk dress has long been abandoned. Traditional songs are still sung in the local dialects at the table after dinner, at the wedding feast, in the osteria (tavern), or in the fields. This is the true folk heritage for italian-americans — the music of the immigrants.

Italian traditional dances are the most varied of any country in Europe, because they reflect the influence of many conquering or migrating peoples over a span of three thousand years (Greeks, North Africans, Spanish, Albanians, Normans, Austrians, French, Germans). You name them — the Italians dance them. Line dances, couple dances, improvisational dances, carnival dances, courtship dances, social dances, wedding dances, religious dances, dances of competition, game dances, and singing dances indicate some of the classifications.
Italian Dance Video
There are many fine dance schools in Italy. I know I am in contact with them as we supply a range of high quality dancewear products like leotards, dance pants, dance dresses and other dancing apparel.
Bangkok Companies supplies an amazing range of dancewear from Thailand. I have looked at these dance garments and dance accessories in detail. There is only one word to describe them Superb. For more details click on the pictures or send an email to bangkokcompanies@gmail.com We regret at this time we can only satisfy Italy wholesale dancewear requests.
"Dancewear designed by dancers for dancers"
| | | | | |
| --- | --- | --- | --- | --- |
| Dance Dresses | Kids Leotards | Adult Leotards | Dance Bras | |
| | | | | |
| | Dance Pants | Tutu's | Dance Shorts | |
| | | | | |
| Dancewear | Dancewear Organizers | Dance Bags | Dance Backpacks | |
| | | | | |
Bangkok Companies is a full service product sourcing company in Thailand. For All your dancewear needs please email bangkokcompanies@gmail.com with your requests.
---
Dance Schools in Italy, Dancewear Suppliers, Dancing Organizations
Claudia & Paola Leste
28 via Monte Gran Paradiso IT-00010 Colleverde di Guidonia (Roma) Italy
Tel. (39)0774 571254
Dance, teacher, choreographer, classical, modern
--------------------------------------------------------------------------------
Mr. Marcello Parisi, Director
Compagnia di Danza Efesto
Via Montegrappa 5 IT-00010 Colleverde di Guidonia (Roma) Italy
Tel. (39)774.363 296/0335.562 8585; Fax (39)774.363 296
Dance Teacher, choreographer, ballet, classical, modern, contemporary
--------------------------------------------------------------------------------
Ms. Donatella Capraro, Director
Compagnia di Danza Efesto
Via Montegrappa 5 IT-00010 Colleverde di Guidonia (Roma) Italy
Tel. (39)774.363 296/0335.562 8585; Fax (39)774.363 296
Dance Company
--------------------------------------------------------------------------------
Mr. Agostino Croce, President
Monte Patulo
Via S. Michele 25 IT-00010 S. Angelo Romano, Roma Italy
Tel. (39.774)420.120, Fax (39.774)420.635
http://www.montepatulo.it
Dance Group, folk, Italian, performing, amateur
--------------------------------------------------------------------------------
Ms. Fiorella Martini
Art and Movement School
Via Rosata IT-00012 Guidonia Montecelio (RM) Italy
Tel. (39)0774 342048
Dance, teacher, choreographer, classical, modern
--------------------------------------------------------------------------------
Mr. Giampiero Frezzolini, President
Equestre Citte di Velletri
Largo M. Ciancia 17 IT-00017 Velletri, Roma Italy
Tel. (39.6)963.2583, 931.017
Dance Group, folk, Italian, performing, amateur
--------------------------------------------------------------------------------
Mr. Benedetto Giorgi, Director
Velester Folk
Contrada Malatesta snc IT-00019 Velletri, Roma Italy
Tel. (06)9623358
Folk dance group
--------------------------------------------------------------------------------
Mr. Franco Falleoni, Director
G.F. Anticoli Corrado
Via A. Marlini 24 IT-00022 Anticoli Corrado, Roma Italy
Tel. (0774)936439
Dance group
--------------------------------------------------------------------------------
Mr. Giacomo Grielesi, Director
Gruppo Folkoristico di Viconaro
Via San Vito 73 IT-00029 Viconaro, Roma Italy
Tel. (0774)496377
Folk dance group
--------------------------------------------------------------------------------
Ms. Franca Monacelli, Director
Time Dance
Via Umberto I 15 IT-00030 Colonna, Roma Italy
Tel. (06)9439183
Dance group
--------------------------------------------------------------------------------
Mr. Paolo Cianfoni
32/34 via Trento e Trieste IT-00030 Genazzano (RM) Italy
Tel. (39.6)9578377, 2030421
Dance Teacher, choreographer, classical ballet, modern, contemporary
--------------------------------------------------------------------------------
Ms. Gabriele Appolloni
13 via Monte di Casa IT-00030 San Cesareo (RM) Italy
Tel. (39.6)9570837
Dancer, teacher, choreographer, ballet, modern, contemporary
--------------------------------------------------------------------------------
Mr. Giulio Perugini
Via Cicerone 2 IT-00040 Ariccia (RM) Italy
Tel. (39)06.933.2385
Dance Teacher, choreographer, classical, ballet, modern contemporary
--------------------------------------------------------------------------------
Mr. Manolo Ricci
Via delle Castagnole 47 IT-00040 Frattocchie (RM) Italy
Tel. (39)06.930.0329
Dancer, teacher, choreographer, ballet, modern, contemporary
--------------------------------------------------------------------------------
Ms. Odoardo Maria Bordoni
5 via Mont'Est IT-00040 Montecomparti (RM) Italy
Tel. (39.6)9486346; Fax (39.6)9487613
Dancer, teacher, choreographer, ballet, modern, contemporary
--------------------------------------------------------------------------------
Ms. Elizabetta Mannoni, Director
U' Rembombu
Presso Il Comune, Piazza del Municipio 1 IT-00040 Nemi, Roma Italy
Tel. (06)9368462
Dance group
--------------------------------------------------------------------------------
Ms. Sabrina Lenzi
12 (villino 1-lotto 16) via dei Castagni IT-00040 Rocca di Papa (RM) Italy
Tel. & Fax (39)06 949985
Dance, teacher, choreographer, classical, modern
--------------------------------------------------------------------------------
Ms. Rosalia Covacs
13 via Belmonte IT-00040 Roccapriora (RM) Italy
Tel. (39.6)9406386
Teacher, choreographer, classical ballet, modern, contemporary
--------------------------------------------------------------------------------
La Chiarantana
Via Toronto 64 IT-00040 Tor San Loranzo Ardea, Roma Italy
Tel. (06)91014413
Dance group
--------------------------------------------------------------------------------
Ms. Luisa Mercanti
14 via Fratelli Cervi IT-00041 Albano Laziale (RM) Italy
Tel. (39)6 9321085
Dance, teacher, choreographer, classical, modern
--------------------------------------------------------------------------------
Mr. Alessandro Jobbi, Director
Centro Sociale Anziani Albano
Via Garibaldi 12 IT-00041 Albano Laziale, Roma Italy
Tel. (06)9322682
Dance group
--------------------------------------------------------------------------------
Ms. Claudia Bonazzi
127 via Morena IT-00043 Ciampino RM Italy
Tel. (39.6)7922003
Dancer, teacher, choreographer, ballet, modern, contemporary
--------------------------------------------------------------------------------
Ms. Paola Cianca
15 via Lisbona IT-00043 Ciampino (RM) Italy
Tel. (39.6)7962839
Dance Teacher, choreographer, classical ballet, modern, contemporary
--------------------------------------------------------------------------------
Mr. Tony Bongiorno
18 via Genova IT-00043 Ciampino (RM) Italy
Tel. (39.6)7961031
Dancer, teacher, choreographer, ballet, modern, contemporary
--------------------------------------------------------------------------------
Mr. Nicola Fuiano
3 viale di Marino IT-00043 Ciampino (RM) Italy
Tel. (39)06 586063
Dance, teacher, choreographer, classical, modern
--------------------------------------------------------------------------------
Mr. Walter Caracci
Via Palermo Pal. D. IT-00043 Ciampino (RM) Italy
Tel. (39)06 7961665
Dancer, teacher, choreographer, ballet, modern, contemporary
--------------------------------------------------------------------------------
Ms. Sonia Nifosi
Magnetika, Castel's Ballet
Via P. Campana 4 IT-00044 Frascati Italy
Tel. (39)06.942.6628, Fax (39)06.942.6628
Teacher, choreographer, ballet, classical, modern, contemporary
--------------------------------------------------------------------------------
Ms. Marcia Plevin
Via F. Cecconi 34 IT-00044 Frascati (RM) Italy
Tel. (39)06.942.6051
Dance Teacher, choreographer, ballet, classical, modern, contemporary
--------------------------------------------------------------------------------
Ms. Deborah Plant
Viale Vittorio Veneto 12 IT-00044 Frascati (RM) Italy
Dance Teacher, choreographer, classical, ballet, modern contemporary
--------------------------------------------------------------------------------
Centro per la Danza presso la Casa della Cultura "Carlo Levi"
viale Mazzini 9 IT-00045 Genzano Italy
Tel. (39.6) 418.0369, 418.0370
International Dance Organization
--------------------------------------------------------------------------------
Ms. Cristiana Cocciarelli
44 via Unione Sovietica IT-00045 Genzano (RM) Italy
Tel. (39.6)9390324
Dance Teacher, choreographer, classical ballet, modern, contemporary
--------------------------------------------------------------------------------
Ms. Liliana Polidoro
Via G. Matteotti 48 IT-00045 Genzano (RM) Italy
Tel. (39)06.939.8531
Dancer, teacher, choreographer, ballet, modern, contemporary
--------------------------------------------------------------------------------
Ms. Giovanna Tofani, Director
Folklandia
Via F. Parri 3 IT-00045 Genzano di Roma Italy
Tel. (06)9330109
Folk dance group
--------------------------------------------------------------------------------
Mr. Jose Sasportes, Editor
La Danza in Italia, Centro Documentazione di Danza
Viale Mazzini 9 IT-00045 Genzano di Roma Italy
Tel. (39.6)939.7680
Editor
--------------------------------------------------------------------------------
Prof. Ms. Elena Grillo
Centro per la Danza presso della Cultura "Carlo Levi"
Viale Mazzini 9 IT-00045 Genzano di Roma Italy
Tel. (39.6)418.369, 418.0370
Dance Institution
--------------------------------------------------------------------------------
Bocca Vivien
5 via Santo Vetti IT-00046 Grottaferrata, Roma Italy
Tel. (39.6)9458927
Dancer, teacher, choreographer, ballet, modern, contemporary
--------------------------------------------------------------------------------
Mr. Nandro Citarella, Director
La Paranza
Via G. Quarrtucci 169 IT-00046 Grottaferrata, Roma Italy
Tel. (06)94315941
Dance group
--------------------------------------------------------------------------------
Mr. Luciano Massimo Barbati
Teatro di San CarloTeatro di San Carlov
4 via Capo d'Acqua IT-00047 Marino (RM) Italy
Tel. (39)9069388731
Dancer, teacher, choreographer, ballet, modern, contemporary
--------------------------------------------------------------------------------
Ms. Claudia Pescatori
Via Amendola 5 IT-00047 Marino (RM) Italy
Tel. (39)06.9354.8079
Dance Teacher, choreographer, classical, ballet, modern contemporary
--------------------------------------------------------------------------------
Ms. Simona Crivellone
2 via Corallo IT-00048 Nettuno (RM) Italy
Tel. (39.6)5210095, (39)0337 755889
Dance Teacher, choreographer, classical ballet, modern, contemporary
--------------------------------------------------------------------------------
Mr. Mauro Paccarie, Director
Stage Internazionale Anzio Danza GTS Danza Classica Nettuno Lavinio
26 via E. Visca IT-00048 Nettuno (RM) Italy
Tel. (06) 92902109, 9830995
Dance workshop, ballet, modern
--------------------------------------------------------------------------------
Ms. Patrizia Paccarie, Artistic Director
Stage Internazionale Anzio Danza GTS Danza Classica Nettuno Lavinio
26 via E. Visca IT-00048 Nettuno (RM) Italy
Tel. (06) 92902109, 9830995
Dance workshop, ballet, modern