.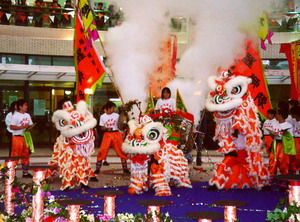 The Hong Kong Academy for Performing Arts, Come Dancing Studio Academy, Hung Fong Dragon & Lion Dance Troupe, these are just a few of the dance companies, dance schools, dancing organizations and dance wear suppliers that that can be found in our comprehensive Directory of Hong Kong Dance Companies.
CITY CONTEMPORARY DANCE COMPANY
Founded by Willy Tsao in 1979, the City Contemporary Dance Company is a Hong Kong-based professional dance troupe that endeavours to rally the best of Chinese talents to create dance in the contemporary context of China. Every year, the company reaches 100,000 people around the world through the distinctive style of its diverse range of programmes.

HONG KONG BALLET
Founded in 1979, the Hong Kong Ballet is one of the foremost classical ballet companies in Asia and has built an international reputation with successful tours to Mainland China, North America, Europe, and other parts of Asia. The Company presents a broad-based repertoire, covering classical, neo-classical to contemporary works. The company also commissions original new works such as The Last Emperor, Legend of the Great Archer and Suzie Wong. Hong Kong Ballet exemplifies Hong Kong's vibrancy and ingenuity with its visionary artistic direction and excellent dancers.

HONG KONG DANCE COMPANY
Established by the former Urban Council in 1981 with the aim of promoting Chinese dance, the Hong Kong Dance Company was formally incorporated in April 2001. Since its establishment, HKDC has staged over a hundred productions, choreographed by local, Mainland and overseas choreographers to critical acclaim. The Hong Kong Dance Company believes that dance derives from tradition but is not limited by boundaries. The unique culture and history of Hong Kong, that coalesces East and West, is a rich artistic source for Hong Kong dance.
Hong Kong Dance Video
Featured Hong Kong Dance Company
The Hong Kong Academy for Performing Arts was established by the Hong Kong Government in 1984. It is the only tertiary institution in the territory which provides professional education, training and research facilities in the performing arts, theatre technical arts, and film and television. Its educational policy reflects the cultural diversity of Hong Kong with emphasis on both Chinese and Western traditions.
The Academy has the following Schools/discipline:
- School of Dance
- School of Drama
- School of Film and Television
- School of Music
- School of Technical Arts
- Chinese Traditional Theatre
Academic programmes are offered by each of the five Schools from post-secondary Diploma level up to Bachelor Honours Degree level. The Academy was granted degree awarding status in 1992 following an accreditation by the Hong Kong Council for Academic Accreditation. The Degree programmes of the Academy are externally validated by that Council.
Performance
The heart of training for the performing arts is performance itself, and the Academy is one of Hong Kong's most important performance centres. Student opera, drama, dance productions, concerts and recitals are given throughout the year and are open to the public. In addition, the Academy plays host to visiting musicians, dance and drama companies, local and international.
---
Come Dancing Studio Academy
In 1985, Lawrence & Gertrude went to Community Centre for taking Leisure Courses. They met in Social Dance Class. Since then, they have fallen into the Circle of elegant dresses, beautiful music, exquisite body movements – Ballroom & Latin American Dancing. Lives become energetic, classical and special. They have then opened up their successful, spectacular & legendary dancing career. Wow! Ha Ha! That is not exaggeration. You won ' t believe there is on earth such a combination of sports, arts and dance that would allow you to enjoy listening to beautiful melody in graceful attire & costume! This is the website of Ballroom Dance / Social Dance / DanceSport. This is also the website of Lawrence Chan & Gertrude Ko.
If you would like your Hong Kong Dance Company, Dance Organization, Dance School featured here then please email bangkokcompanies@gmail.com
There are many fine dance schools in Hong Kong. I know I am in contact with them as we supply a range of high quality dancewear products like leotards, dance pants, dance dresses and other dancing apparel.
Bangkok Companies supplies an amazing range of dancewear from Thailand. I have looked at these dance garments and dance accessories in detail. There is only one word to describe them Superb. For more details click on the pictures or send an email to bangkokcompanies@gmail.com We regret at this time we can only satisfy Hong Kong wholesale dancewear requests.
"Dancewear designed by dancers for dancers"
| | | | | |
| --- | --- | --- | --- | --- |
| Dance Dresses | Kids Leotards | Adult Leotards | Dance Bras | |
| | | | | |
| | Dance Pants | Tutu's | Dance Shorts | |
| | | | | |
| Dancewear | Dancewear Organizers | Dance Bags | Dance Backpacks | |
| | | | | |
Bangkok Companies is a full service product sourcing company in Thailand. For All your dancewear needs please email bangkokcompanies@gmail.com with your requests.
---
Dance Schools in Hong Kong, Dancewear Suppliers, Dancing Organizations
The Hong Kong Academy for Performing Arts
1 Gloucester road CN-0000 Hong Kong, Wanchai China
Tel. (852)258.485.00;(852)280.243.72
www.hkapa.edu
Conservatory dance training with specializations in ballet, modern dance, Chinese Dance and Musical Theatre Dance
--------------------------------------------------------------------------------
Joshua Tsang
c/o Fahk P.O. Box 79278, Mongkok HK-Kowloon, Hong Kong China
Tel. (852)810.700.05;
Fax. (852)810.771.63;
www.geocities.com/folkdancehk
Dance troupe, dance classes, teachers training, dance gathering, dance festival
--------------------------------------------------------------------------------
Barry Yuen
14A, Yen Oi Centre, 9-15, Po Tuck Street CN-Hong Kong China
Tel. (852)2851.3980; 936-99218 mobile
Fax. 2851-0148
www.coffee-tea.org
Jazz Dancer
--------------------------------------------------------------------------------
Martin Samson
Flat 10, 14 Mount Austin Road CN-Hong Kong, The Peak China
Tel. (852)2840.1100,
Fax (852)2865.4799
Group, folk, morris dances and music, recreational & performing
--------------------------------------------------------------------------------
Kenneth K. Tse
D 2705 Fortress Metro Tower, 238 King's Road CN-Hong Kong, North Point China
Tel. (852)2739.9060, Fax (852)2566.3056
Workshops, folk, Balkan music & dance
--------------------------------------------------------------------------------
Asian Cultural Council - Hong Kong Office
One Hysan Avenue, Suite 1503 CN-Hong Kong China
Tel. (852) 2895-0407; Fax (852) 2576-7206
http://www.asianculturalcouncil.org
Foundation supporting cultural exchange in performing arts between the United States and the countries of Asia. Financial assistance to dancers, fellowships.
--------------------------------------------------------------------------------
Budlet Folk Dance Club
GPO Box 13303 CN - Hong Kong China
www.go.to/budlet
Folk Dance Class & Gathering (Europe and Israeli folk dances)
--------------------------------------------------------------------------------
Hong Kong Academy For Performing Arts
1 Gloucester Road, H.K China
Tel: (852) 2584-8539.
Fax: (852) 2802-3856
Maggi Sietsma, Dean of Dance
--------------------------------------------------------------------------------
Imperial Society of Teachers of Dance
Registered National Dance Teacher and Folk Dance Studies Assessor,
2903 Nan Hai Mansion 46-47 Kennedy Town Praya, Hong Kong China
(852)28197011 (home); (852)96787203 (mobile);
Folk dance teacher, choreographer, adjudicator and assessor
--------------------------------------------------------------------------------
Lawrence Chan
27-33 Kimberley Road, 9B Wing Lee Building CN-Tsim Sha Tsui, Kowloon, TST, Hong Kong
Tel. (852) 2781 1465; Fax (852) 2359 3872; (852) 9753 5068
www.comedance.net www.mycgiserver.com/~c
School, tuition, ballroom dance, dancesport; 2nd ISTD Cup Medallist Competitions, Open 10-Dance Championships, Rock & Roll competition, Twist competition
--------------------------------------------------------------------------------
Alice Cheung
Flat 5A, Delite Mansion, 3 Granville Circuit CN-Hong Kong China
945.070.59; Fax 236.710.22;
Ballroom dance, waltz, tango, v waltz, foxtrot, quickstep
--------------------------------------------------------------------------------
Peggy Chu
Flat C, 20/F, Tower 2, Robinson Heights CN-Hong Kong 8 Robinson Road China
(852) 9659 2139
mainly Chinese dance, plus modern, jazz, gymnastics,
--------------------------------------------------------------------------------
Vivian Kwok
P-1023, Yiu Sing Mansion Podiu CN-Hong Kong China
Tel. (852)2569 5055, FAX (852)2562 0019
www.ballet.com.hk
We are a dance school with vision. We aim to provide an all round education for children development.
--------------------------------------------------------------------------------
Herman Lam
13 Wyndham Street, 1st Floor, Kai Kwong House CN-Central Hong Kong China
(852) 2320-3605
www.hermanlamdance.com
1)Dance instruction on Jazz, Hip-hop, Salsa, Latin, Ballroom, Swing, Jive, Rock n Roll, Wedding dance and Frist dance
--------------------------------------------------------------------------------
Constance Tsang Lam
PO Box 11518, General Post Office CN-Hong Kong China
TEL (852) 8206-3646, FAX (852) 8206-3747
http://www.edt.org.hk
A Christian dancing group provides gospel dance service and training and performance. Ensemble; Evangelical Dancing Troop
--------------------------------------------------------------------------------
Dora Leung
lat A, Fl. 11, Bl. 2, Bayview Grdn, Wing Ding Rd CN-Ngau Chi Wan, Kln, Hong Kong China
tel. (852)98266420, FAX (852)23209989
Felicity is established in 2000. It is a folk dance group dancing folk dances from different countries, especially Israeli, Bulgaria, Romania, Russian, Armenian and Turkish etc.
--------------------------------------------------------------------------------
Walter Luk
1A, Wan Fung Bldg., 245 Lockhart Rd HK-852 Wanchai, Hong Kong China
2783 8651(tel) 2783 8649(fax)
www.hkdance.com.hk
Ballroom, Latin & Country Line Dancing, Hong Kong Dance Institute
--------------------------------------------------------------------------------
Kevin Ng
18th Floor, H.K. Trade Centre, 161 Des Voeux Road C CN - Hong Kong China
+86 (852) 2815-8285
Dance critic
--------------------------------------------------------------------------------
Cecil Sze
#1 Gloucester Road, CN-Hong Kong Wanchai China
Tel: (852) 2584 8753 Fax: (852) 2802 3865
Dance promotion, publication, exchange, education and presentation
--------------------------------------------------------------------------------
Rainbow Wong
Headquarters - 1/F, 18 Tanner Road, North Point, CN Hong Kong China
Tel: 2885 8366;Fax: 2567 3266
www.jmwballet.org
With six studios operating in Hong Kong, the School provides a wide-ranging curriculum in Classical Ballet and Dance with emphasis on the RAD Syllabus of all levels.
--------------------------------------------------------------------------------
Jean M. Wong
1/F, 18 Tanner Road CN-11130 , North Point, Hong Kong China
Tel. (852)2886.3992; Fax (852)2567.3266
www.jmwballet.org
Higher professional private school; With six studios operating in Hong Kong, the School provides a wide-ranging curriculum in Classical Ballet and Dance with emphasis on the RAD Syllabus of all levels.
--------------------------------------------------------------------------------
Frederick Yeung
169, 15A,University Court,BoundrySt HK-Kowloon, Hong Kong SAR China
Tel. (852)96201084, FAX (852)24916131
www.legacy.org
hk leader of local European Folk Dance group, which focuses on Hungarian, Slovak, Polish, Bulgarian and Romanian dancings. guest choreographers invited from overseas
--------------------------------------------------------------------------------
Dance Centre
G/f, 110 Shatin Pass Road, Wong Tai Sin Cn- Kowloon, Hong Kong China
Tel. (852) 2328 9205; fax (852) 2242 2363
--------------------------------------------------------------------------------
Dance Culture Association
20/F Richmond Plaza, 490-498 Jaffe Road CN-Causeway Bay, Hong Kong China
Tel. (852)2836.0023; Fax (852)2836.0311
www.dance-culture.net
School, tuition, ballroom dance, dancesport
--------------------------------------------------------------------------------
Ha Kwok Cheung Sport Association
185 Wing Lok Street W. CN-Hong Kong China
Tel. 25411685; Fax 25417070
Group, Lion Dance, Chinese dances
--------------------------------------------------------------------------------
Hong Kong Chinese Martial Arts Association
Room 1008, Sports House, 1 Stadium Path CN-Hong Kong China
Tel. 2394 4803 2504 8164 2504 8165; Fax 2399 0644 2577 5608
Group, Lion Dance, Chinese dances
--------------------------------------------------------------------------------
Hung Fong Dragon & Lion Dance Troupe
7/F Flat D, Aik San Mansion, 355-361 King's Road, CN-North Point, Hong Kong China
Group, Lion Dance, Chinese dances
--------------------------------------------------------------------------------
Phoebus Wong Dance Studio Phoebus Wong Wing
150-152 Prince Commercial Bldg., CN-Prince Edward Road, Hong Kong China
Tel: (852) 2381 1368; Fax (852) 2396 9274; (852)9035.8104
--------------------------------------------------------------------------------
Samson and Louisa Dance Studio
Flat D 2/F Fung Wan, 648 Castle Peak Road CN-Cheung Sha Wan, Hong Kong China
Tel. (852) 2786 0605; (852) 9166 8733; (852) 9140 2914
School, tuition, ballroom dance, dancesport
--------------------------------------------------------------------------------
Kam Sau Tracy Chan
3/F, Lai Wah Mansion, 871 King's Road CN-North Point, Hong Kong China
Tel. (852) 2561 2406; Fax (852) 2562 0596
School, tuition, ballroom dance, dancesport
--------------------------------------------------------------------------------
William Chan
11th Fl. Tai Lee Building, 165-167 Pei Ho street CN-Sham Shui Po, Hong Kong China
Tel. (852) 2613 0012; Fax (852) 2613 1070
School, tuition, ballroom dance, dancesport
--------------------------------------------------------------------------------
Ivy Chan
Room 108, My Loft, 9 Hoi Wing Road CN-Tuen Mun, Hong Kong China
Tel. (852) 2618 3939; Fax (852) 2430 213; (852) 9343 9343
School, tuition, ballroom dance, dancesport
--------------------------------------------------------------------------------
Alan Chan
83 Argyle Street, Room 316 Sincere House CN-MongKok, Hong Kong China
Tel: (852) 2142 3261; Fax (852) 2142 3269
www.geocities.com/socialdances
--------------------------------------------------------------------------------
Winnie Cheung
468 Hennessy Road CN-Causeway Bay, Hong Kong China
Tel. (852) 2965 4892; Fax (852)2965.4895
www.dancezing.com
School, tuition, ballroom dance, dancesport
--------------------------------------------------------------------------------
Tony Chiu
2/F Fung Ning Building, 42 Tai Po Road CN-Sham Shui Po, Hong Kong China
Tel. & Fax (852) 2776 1162; (852) 9466 6729; (852) 9192 1137
School, tuition, ballroom dance, dancesport
--------------------------------------------------------------------------------
Amy Chuen
3/F, 140 Shau Kei Wan Road CN-Sai Wan Ho, Hong Kong China
Tel. (852) 2567 7606; Fax (852) 2725 7498; (852) 9474 3908
School, tuition, ballroom dance, dancesport
--------------------------------------------------------------------------------
Ban Chui
Ban Chui, 368 King's Road CN-North Point, Hong Kong China
Tel: (852) 2395 8442; Fax (852) 2359 8525, (852) 9229 4498
School, tuition, ballroom dance, dancesport
--------------------------------------------------------------------------------
Chan (Dicky) Yiu Fai
5/F Englong, 184 Nathan Road CN-Kowloon, Hong Kong China
Tel. (852) 2317 1897; Fax (852) 2317 0897
School, tuition, ballroom dance, dancesport
--------------------------------------------------------------------------------
Nick Fok
3B, 144 Austin Road CN-Kowloon, Hong Kong China
Tel: (852) 2311 3131; Fax (852)2739.2621
www.mai.com.hk/dance/foxstudio
School, tuition, ballroom dance, dancesport
--------------------------------------------------------------------------------
Neil Gerrans
8/F Peter, 58 Queens Road CN-Central Hong Kong China
Tel. (852) 97276647; (852) 25265194
School, tuition, ballroom dance, dancesport
--------------------------------------------------------------------------------
Amy Hui
7th/F, 343 Hennessy Road CN-Wanchai, Hong Kong China
Tel. (852) 2836 6197; Fax (852) 2836 6097
School, tuition, ballroom dance, dancesport
--------------------------------------------------------------------------------
Kitty Kam
7/F United Chinese Bank, 18 Tai Po Road CN-Kowloon, Hong Kong China
Tel. (852) 2332 6962; (852) 9329888; (852) 93299088
School, tuition, ballroom dance, dancesport
--------------------------------------------------------------------------------
Gertrude Ko
9B Wing Lee, 27-33 Kimberley Road, Tsim Sha Tsui CN-Kowloon, Hong Kong China
http://www.mycgiserver.com/~comedancing
School, tuition, ballroom dance, dancesport
--------------------------------------------------------------------------------
Rebecca Lam
Rm 316, Sincere House, 83 Argyle Street CN-Mong Kok, Hong Kong China
Tel. (852)2142.3261, Fax (852)2142.3269
www.geocities.com/socialdances
School, ballroom dancing, wholesaler
--------------------------------------------------------------------------------
Angela Lau
4/F Wing Wong Hong, 559 Nathan Road, Mong Kok CN-Kowloon, Hong Kong China
Tel: (852) 2384 4634; Fax: (852) 2384 4634; (852) 9038 0608
School, tuition, ballroom dance, dancesport
--------------------------------------------------------------------------------
May Lee
12/F Winner Mansion, 691 Nathan Road CN-Kowloon, Hong Kong China
Tel: (852) 2398 0330; Fax: (852) 2394 0296; (852) 9094 0725
School, tuition, ballroom dance, dancesport
--------------------------------------------------------------------------------
Lynn Lee
7/F Flat A, Block 9; Tsing Lung Tau.N.T. CN-Hong Kong, Guang Dong nil China
Tel. +9345 1479
Teacher, ballroom dances
--------------------------------------------------------------------------------
Kenny Leung
th/F, 343 Hennessy Road CN-Wanchai, Hong Kong China
Tel: (852) 2836 6197; Fax (852) 2836 6097
www.dancezing.com
School, tuition, ballroom dance, dancesport
--------------------------------------------------------------------------------
Nelson Leung
Flat B, 1/F., Tin Bo Bldg., 100 Tai Wai Road CN-Shatin, N.T, Hong Kong China
Tel. (852) 2691 3637; (852) 7112 8238 A/C2026
School, tuition, ballroom dance, dancesport
--------------------------------------------------------------------------------
Shing On Leung
Flat 6, 7/F, 91 Dundas Street CN-Kowloon, Hong Kong China
Tel. (852)2384.3705
Club, folk, square, circle, round dances, Israel Dances, Western Dances
--------------------------------------------------------------------------------
Jack Lo
Room 108, My Loft, 9 Hoi Wing Road CN-Tuen Mun, Hong Kong China
Tel: (852) 2618 3939; Fax (852) 2430 213; (852)9343.9343; (852)9344.9344
School, tuition, ballroom dance, dancesport
--------------------------------------------------------------------------------
Phyllis Luk
20A, 3/F Wing Wah Building, Sai Yeung Choi Street CN-Kowloon, Hong Kong China
Tel. (852)2783.8651, Fax (852)2783.8649
Http://member.ctinets.com/~thehkdance
School, tuition, ballroom dance, dancesport
--------------------------------------------------------------------------------
Siri Rama
Apt 35,Senior Staff Quarters, Hkust Clearwater Bay CN-Kowloon, Hongkong China
Tel. (852)23588333; Fax (852)23588333
School, tuition, Indian dances, Kuchipudi
--------------------------------------------------------------------------------
Dodie Sarchet-Waller
P.O. Box 68 Shatin, N.T. CN-Hong Kong China
Tel. 2694.8444
Christian sacred dance ministry
--------------------------------------------------------------------------------
Shanaz
Hong Kong China
852 9014 1234
Belly Dance Teacher, Egyptian Style Raqs Sharqi & Baladi
--------------------------------------------------------------------------------
Priyadarshini Ghosh Shome
39A, Block I, Estoril Court, 55, Garden Road CN-Hong Kong China
Tel. (852)28684240/(852)96600634; Fax (852)28684640
www.pghosh.cjb.net
Mohini Attam dancer/ Indian contemporary Choreographer and dancer/Artistic Director- Srishti Danceworks
--------------------------------------------------------------------------------
Jessica Shum
44 Cheung Sha Wan Road., 2/F, Shamsuipo CN-Kowloon, Hong Kong China
Tel: (852) 2776 3277; Fax (852)2776.2903; (852)7328.3277; (852)9880.4535
School, tuition, ballroom dance, dancesport
--------------------------------------------------------------------------------
Shamsuipo
CN-Kowloon, Hong Kong China
Tel: (852) 2776 3277; Fax (852)2776.2903; (852)7328.3277; (852)9880.4535
School, tuition, ballroom dance, dancesport
--------------------------------------------------------------------------------
Raymond So
Flat C, 2/F Hamilton, 1-3 Cleveland Street CN-Causeway Bay, Hong Kong China
Tel. (852) 2881 8368; Fax (852) 2895 0253
School, tuition, ballroom dance, dancesport
--------------------------------------------------------------------------------
Phoebus Wong Wing
14/F Rooftop, 150-152 Prince, Prince Edward Road CN-Hong Kong China
Tel. (852) 2381 1368; Fax (852) 2396 9274; (852) 9035 8104
School, tuition, ballroom dance, dancesport
--------------------------------------------------------------------------------
Sandy Tsui
2/F, 105 Tak Yan Mansion, Lai Chi Kok Road CN-Kowloon, Hong Kong China
Tel. (852)2397.3637, Fax (852)2547.6785
School, tuition, ballroom dance, dancesport
--------------------------------------------------------------------------------
Walter
20A 3/F Wing Wah Building, Sai Yeung Choi Street CN-Kowloon, Hong Kong China
852.2783.8651; Fax 852.2783.8649
www.hkdance.com.hk
Institute
--------------------------------------------------------------------------------
Jimmy Wong
2/F, 105 Tak Yan Mansion, Lai Chi Kok Road CN-Kowloon, Hong Kong China
Tel: (852) 2397 3637; Fax (852)2547.6785
School, tuition, ballroom dance, dancesport
--------------------------------------------------------------------------------
Sunny Wong
7/F United Chinese Bank, 18 Tai Po Road CN-Kowloon, Hong Kong China
Tel. (852) 2332 6962; (852) 9329888; (852) 93299088
School, tuition, ballroom dance, dancesport
--------------------------------------------------------------------------------
Teresa Wood
1st Floor, Kai Kwong, 13 Wyndham Street CN-Central, Hong Kong China
Tel. & Fax (852)2987.0592
http://www.teresawood.com
School, tuition, ballroom dance, dancesport
--------------------------------------------------------------------------------
Louie Lui Yam Woon
3/F, Lai Wah Mansion, 871 King's Road CN-North Point, Hong Kong China
Tel. (852) 2561 2406; Fax (852) 2562 0596
--------------------------------------------------------------------------------
Charles Wu
Far East Consortium Building, 204-6 Nathan Road CN-Kowloon, Hong Kong China
Tel: (852) 2332 9770; Fax (852) 2749 1222
School, tuition, ballroom dance, dancesport
--------------------------------------------------------------------------------
(Christine) Tam Fung Yee
5/F Englong, 184 Nathan Road CN-Kowloon, Hong Kong China
Tel. (852) 2317 1897; Fax (852) 2317 0897
School, tuition, ballroom dance, dancesport
--------------------------------------------------------------------------------
Jimmy Yek
1/F, 210 Prince Edward Road West CN-Kowloon, Hong Kong China
Tel. (852) 2391 2691; Fax (852) 2390 6887
School, tuition, ballroom dance, dancesport
--------------------------------------------------------------------------------
Carol Yek
1/F, 210 Prince Edward Road West CN-Kowloon, Hong Kong China
Tel: (852) 2391 2691; Fax (852) 2390 6887
School, tuition, ballroom dance, dancesport
--------------------------------------------------------------------------------
Alan Young
PO Box 90547, T.S.T Post office CN-Kowloon, Hong Kong China
Tel. (852) 2719 0972; (852) 7888 9997; Fax (852) 2719 6870
Organization, ballroom dancing and Dancesport