.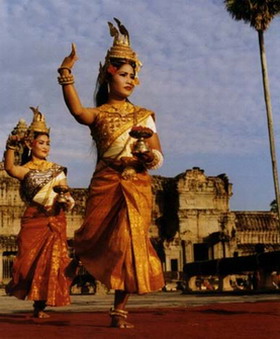 Epic Arts, Cambodia National Ballet Phnom Penh, are just a few of the Cambodian dance companies, Cambodian dance schools, Khmer dancing organizations and dance wear suppliers that that can be found in our comprehensive Directory of Cambodian Dance Companies. When thinking about dancing in Cambodia we often use the traditional name Khmer which is the ancient name of the Khmer people who have long had a civilization in Southeast Asia and now the Khmer people mostly occupy the area we know now as Cambodia. SO if you are looking for information about Khmer dance companies and Khmer dance schools then you have found the right place.
Traditional Cambodian Dance
I think that dance has the power to capture our imagination and emotions. As we watch a dance or start to move our bodies, dance movements have the ability to transport us to other times and places. Dance can be enchant us, make us dream, tell stories, and have a spiritual meaning. In Cambodian classical dance, this is so very true. It has been said that Dance is the Spirit of Cambodia!

Classical Cambodian dance movements are very slow. Dancers are trained for many years to learn the different hand gestures, facial expressions, and bows. When I watch a classical Cambodian dancer hands, sometimes I see flowers or sometimes butterflies or birds. Sometimes the dancers - moving across the stage, are telling a myth from ancient times in Cambodia, illustrating a legend, or enacting a spiritual blessing.

Classical Cambodian dance traces it roots back to the carvings of asparas (angels in Cambodian) on Cambodian's oldest temple, Angkor Wat. These dances were created more than a 1,000 years ago and have been passed down from mother to daughter for many, many generations.

These traditional dances tell stories and they are populated with princes and princesses, giants, monkeys, peacocks, and other mythical figures. While many works are tell stories or famous legends of love and war and magic, others are considered "pure" dance -- or dancing for the joy of dancing without telling a story.
Beth Kanter Please support Beth and her friends at cambodia4kidsorg who do a great job supporting children in need in Cambodia
Featured Cambodian Dance Company
Epic Arts
Epic Arts works mainly in Phnom Penh, but also travels to the provinces for both teaching and performance. Generally these will be staged on tarpaulin under trees, to attract a wide audience in the community, and sometimes a few chickens!
In January 2005, Epic took a group of 20 children, some physically disabled, and some deaf, to tour around 10 schools in Kampong Speu district. They performed a dance piece and a theatre piece, aiming to raise awareness about disability issues. 2000 children saw the show and it was also televised to increase awareness.
Epic Arts also has a group of professional performers, who perform at conferences discussing issues of inclusion and disability awareness. The dance pieces speak about equality, and respect for otherís differences. Each member is valuable and crucial to the working of the piece, and we hope this will reflect what is possible within society.

If you would like your Cambodia Dance Company, Dance Organization, Dance School featured here then please email bangkokcompanies@gmail.com
There are many fine dance schools in Cambodia. I know I am in contact with them as we supply a range of high quality dancewear products like leotards, dance pants, dance dresses and other dancing apparel.
Bangkok Companies supplies an amazing range of dancewear from Thailand. I have looked at these dance garments and dance accessories in detail. There is only one word to describe them Superb. For more details click on the pictures or send an email to bangkokcompanies@gmail.com We regret at this time we can only satisfy Cambodia wholesale dancewear requests.
"Dancewear designed by dancers for dancers"
| | | | | |
| --- | --- | --- | --- | --- |
| Dance Dresses | Kids Leotards | Adult Leotards | Dance Bras | |
| | | | | |
| | Dance Pants | Tutu's | Dance Shorts | |
| | | | | |
| Dancewear | Dancewear Organizers | Dance Bags | Dance Backpacks | |
| | | | | |
Bangkok Companies is a full service product sourcing company in Thailand. For All your dancewear needs please email bangkokcompanies@gmail.com with your requests.
---
Dance Schools in Cambodia, Dancewear Suppliers, Dancing Organizations
Isabelle Mammar
9 rue du Poteau FR-75018 Paris France
(33)6.2646.3075; (855)012.664.262
Dance Teacher, researcher, dancer, Cambodian dances
--------------------------------------------------------------------------------
Sophiline Cheam-Shapiro
375 Redondo Avenue, Suite 156 CA 90814 Long Beach U.S.A.
(562)472.0090; Fax.(562)472.0097;
www.khmerartsacademy.org
Cambodian classical dance choreographer, teacher, performer
--------------------------------------------------------------------------------
Kunthea Ken
151 rue du Midi BE-1000 Brussels Belgium
+32(2)286 98 32; Fax +32(2)286 98 89
www.kunthea.com
Cambodian Dance, Khmer Dance, classical and popular dancer, choreographer, teacher
--------------------------------------------------------------------------------
Katie MacAbe
PO Box 737 Kampot Cambodia
00855 (0) 33 932 247
www.epicarts.org.uk
Dance and disability. We use dance as a way to foster integration between people of all ability and disability. We run workshops and also use performance as advocacy to change people's attitude about
--------------------------------------------------------------------------------
Chamroeun Yin
27 Burd Avenue PA 19082.1801 Upper Darby, Pennsylvania U.S.A.
(610)352.6878
www.users.rcn.com/tskramer/dance.html
Cambodian Classical Dance, Khmer Dance, Reamker, Ramayana, Apsara.
--------------------------------------------------------------------------------
Commission Nationale pour l''UNESCO
UNESCO Office, B.P. 29 KH-Phnom Penh Cambodia
Tel. (855.23)426.163, 426.945; Fax (855.23)426.299, 426.726
Organization
--------------------------------------------------------------------------------
Proeung Chhieng
KH-Phnom Penh Cambodia
http://www.danceinfo.fi/english/links/gr
Dance School
--------------------------------------------------------------------------------
Patrice Samonn-Oum
29 rue du 11 Novembre FR-93330 Neuilly sur Marne France
Tel. & Fax 01 43 09 72 27
http://www.hanumann.org
Cambodian Dance Company, Cambodian dances
--------------------------------------------------------------------------------
Eberhard Rebling
Seestrasse 18 DE-15751 Ziegenhals Germany
Tel. (49.3375)50.16.79
Historian, European ballet, classical dances of India, Indonesia, Cambodia, Thailand, Laos, Burma, Vietnam)
--------------------------------------------------------------------------------
Cambodian American Heritage Inc.
3700 S. Four Mile Run Drive VA 22206 Arlington, Virginia U.S.A.
Tel. 703.370.8980
Cambodian royal dance performance and instruction