.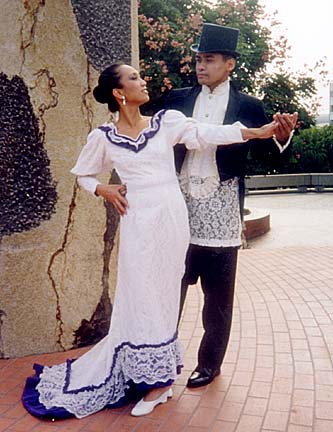 Philippine Baranggay Folk Dance Troupe, Royal Rose Ballet Studio, Ballet Philippines Inc, are just a few of the dance companies, Philippines dance schools, dancing organizations and dance wear suppliers that that can be found in our comprehensive Directory of Philippines Dance Companies.
Traditional Philippines Dance
The kundiman folk music is a popular music form that is unique to the Philippine islands. It is music that is a combination of both words and music. Also popular with Filipinos is folk dancing. There are many variations of dances, both ceremonial and traditional, that are performed for many different occasions.
There are several types of dance in the Philippines, those with Muslim or Spanish influences as well as those from the lowlands and mountains.

With over a million Muslim Filipinos residing mainly on the island of Mindanao, there are several dances that are heavily influenced by Islam. A popular dance, the langka-baluang is one that is performed by male dancers as an angry monkey. One of the oldest Filipino dances, the singkil is a noble and difficult dance that is based upon a legend of the Maranao people of Mindanao. This legend, written during the 14th century, retells the plight of a princess in the middle of a forest. While she is in there the forest fairies or diwatas start an earthquake, and only by avoiding trees, along with her slave, is she finally able to be saved by a prince.

The Spanish influence in the Philippines brought about many dances that use a Maria Clara dress (a character in Noli Me Tangere) and an embroidered long-sleeve short made from pineapple fibers for their costumes. The Filipinos adapted these Spanish dances by using bamboo castanets and Asian fans. Carinosa, which means loveable or affectionate, is a dance that is known all through the Philippines. The dancers "flirt" using a handkerchief or fan, by playing hide and seek with them. Part of a wedding ritual, the sabalan lulay, is a dance that begins with a man dancing around a woman (his partner) until she consents to dance with him.

The mountainous areas of the Philippines (Northern Luzon - Central Cordillera region) are home to numerous tribes that have many rituals and dances that are an integral part of their life. Dance is a part of many daily functions from celebrating good weather to fending off bad luck. The Apayao Courtship Dance, from the northernmost mountain region, is performed by having a couple swing their arms in the air to similate a flying bird while the woman wears a ceremonial blanket draped around her. The man moves in a way similar to that of a strutting cock who preens himself. The Kalinga (one of the mountain tribes) have a bloody tradition that is revered, headhunting. Kayaw, takes place when a peace pact (budong) between villages is broken. The village who was affronted is allowed to attack the other and take as many heads as possible for trophies. A successful bird hunt is supposed to take place when they listen to a mysterious bird, Idao. AsianInfo.org
Featured Philippine Dance Company
Philippine Baranggay Folk Dance Troupe
For the past 60 years, the Philippine Baranggay Folk Dance Troupe has traveled to different stages of the world as they provided a window to the complex and culturally rich history of the Philippines.
The troupe continues to preserve and showcase beautiful Philippine traditions - its diverse multi cultural ways of life, customs, traditions, its various religions, the gaiety and friendliness of the people by performing the native arts in their authentic form. The folk like and unaffected atmosphere of their performances have won the world over as they present the story of the Philippines through a panorama of songs, dances and music.
---
Ballet Philippines - Beyond Perspective - 36 years of Leadership in Philippine dance
Moving forward and pushing dance beyond its boundaries, Ballet Philippines is the country's premiere dance company. It has the sole distinction of being the first artistic performing group of the Cultural Center of the Philippines with 36 years of leadership in the artistic arena of Philippine dance.
The company evolves continuously as it uses the disciplines and tenets of the West and combines it with the Filipinos' innate imagination and creativity. It is foremost in the development and production of innovative works that bring out the best in its dancers.
Its impressive repertoire of over 359 works accumulated over the past 36 years is unmatched by any other dance company in the Southeast Asian region. Although wide in range, the most prominent dance creations are uniquely Filipino in terms of movement, theme, design and inspiration.
Its repertoire of dance masterpieces are without equal and it displays the company's potent dance tradition, flexibility of style and electrifying sense of theater. Bestowed with worldwide critical and popular acclaim, most of the choreographies combine the formal beauty of ballet and contemporary dance expressions.
As it celebrates another milestone, Ballet Philippines continues its legacy of making dance a vital and dynamic art form. The various dance pieces that are part of this season are an embodiment and reflection of the Philippines today – grateful with the wisdom of the past yet very much an active participant of the ever-changing present. These dances will stimulate minds, expand the horizons, and stir the souls of the viewing public.
This is our commitment – Ballet Philippines, beyond dance, beyond ballet.

If you would like your Philippines Dance Company, Dance Organization, Dance School featured here then please email bangkokcompanies@gmail.com
There are many fine dance schools in Philippines . I know I am in contact with them as we supply a range of high quality dancewear products like leotards, dance pants, dance dresses and other dancing apparel.
Bangkok Companies supplies an amazing range of dancewear from Thailand. I have looked at these dance garments and dance accessories in detail. There is only one word to describe them Superb. For more details click on the pictures or send an email to bangkokcompanies@gmail.com We regret at this time we can only satisfy Philippines wholesale dancewear requests.
"Dancewear designed by dancers for dancers"
| | | | | |
| --- | --- | --- | --- | --- |
| Dance Dresses | Kids Leotards | Adult Leotards | Dance Bras | |
| | | | | |
| | Dance Pants | Tutu's | Dance Shorts | |
| | | | | |
| Dancewear | Dancewear Organizers | Dance Bags | Dance Backpacks | |
| | | | | |
Bangkok Companies is a full service product sourcing company in Thailand. For All your dancewear needs please email bangkokcompanies@gmail.com with your requests.
---
Dance Schools in Philippines, Dancewear Suppliers, Dancing Organizations
Philippine Heritage Dance Troupe
Ph-1116 Quezon City Philippines
Founder and Executive Director of Philippine Heritage Dance Troupe
--------------------------------------------------------------------------------
Pancholito V. Garfillo
Sulo, Mabini PH- Batangas Philippines
09173948241
Dancer
--------------------------------------------------------------------------------
Bayanihan Mindanao Dance Troupe
Davao Philippines
http://members.tripod.com/~payodavao/
Ensemble, amateur group, dances of the Philippines.
--------------------------------------------------------------------------------
Joy Coronel Dancers Inc.
13 Macapuno St., Valle Verde I PH-1600 Pasig City Philippines
Tel/Fax(632) 671-3186
A non-profit organization founded & artistically directed by Ms. Coronel on Nov.1994 for the purpose of training underprivileged children in Jazz, Classical & Modern Ballet for free. Scholars are even
--------------------------------------------------------------------------------
Philippine Baranggay Folk Dance Troupe
20 Bat-Bato St., Mira-Nila PH-1116 Tandang Sora, Quezon City Philippines
(632) 9316344
www.phil-baranggay.com
Group, Filipino folk dances
--------------------------------------------------------------------------------
Stanley Alexander
Suite 603 Manila Luxury Condominiums Pearl Drive PH-1605 Philippines Pasig City Ortigas Center Philippines
Tel. +6324101719 or +639219889444
www.ppdsa.org
Dance Teacher Training with certification & Amateur Medal Tests for Physical Education Teachers and their students within Philippine education system in all forms of Dance & Dance Sport
--------------------------------------------------------------------------------
Felimon B. Blanco
23 Osmena Street, Tambulig PH-7025 Zamboanga del Sur Philippines
Tel. (63) 916.4836241, Fax 6362-3531020
Folk dances group performing Philippine dances, Subanen dances
--------------------------------------------------------------------------------
Mirella G. Clarete
House of Dance
11, V. Salumbides, BF HOMES QUEZON CITY, PHILIPPINE 1120 Philippines
632-931-6276; 632-952-6702; 63-926-717-4004 Mobile; 63-917-812-8070 Mobile
http://www.houseofdance.ph
Dance School specializing in jazz, ballet, hiphop, breakdance, contemporary/modern dance. Extends choreography services to companies/individuals and tutorials in folk dances.
--------------------------------------------------------------------------------
Joy Coronel
13 Macapuno Street, Valle Verde 1 PH-Pasig City, Metro Manila Philippines
Tel. & Fax (632)6713186
International dances, modern ballet
--------------------------------------------------------------------------------
Shirley Halili-Cruz
1227, Quezon Avenue PH-1001 Quezon City Philippines
Tel. +632-4130804, FAX +632-3724607
Ballet classes and training, teachers and choreographers training, dance concerts and performances - a school with studios in six different localities with about 1000 students.Dance training/ performances. Ballet School with activities as recital and performances all over the Philippines and abroad.
--------------------------------------------------------------------------------
Pastor Ed Lapiz
Complex Roxas Boulevard 1306 Folk Arts Theatre, Pasay City Philippines
Tel. +63 2 832 1120, FAX +63 2 551 4411
www.daybyday.com
.ph research, documentation, preservation, promotion and staging of Filipino indigenous music and dance;
indigenization of Christian church liturgy; prooting dance in Christian worship
--------------------------------------------------------------------------------
Roldan Lozano
20 Bato Bato St.,, Mira Nila, Tandan Sora, Q.C. PH-1116 Manila Philippines
(632) 9316344
www.phil-baranggay.com
Project Director, Choreographer ; Folk Dance
--------------------------------------------------------------------------------
Don McRobert
Suite 603 Manila Luxury Condominiums PH-1605 Pasig City Philippines Pearl Drive Ortigas Cen Philippines
Telefax: +63 2 439 1038
http://ppdsa-aatd.tripod.com
Dance Teacher certification & Amateur Medal Tests for Professional Dance Teachers and their students in all forms of Dance & Dance Sport covering competitive dance in performing arts, street or popular dancing
--------------------------------------------------------------------------------
Reggie Perico
1605 Pasig City PH Manila Luxury Condominium, Pearl Drive Philippines
632.43.91.038;Fax632.43.91.038
http://ppdsa-aatd.tripod.com
Ballroom & Latin American Dance Teacher
--------------------------------------------------------------------------------
Clarissa Reyes-Lopez
Bahay Lahing Kayumanggi, Gen. Taino St.,Pagsanjan PH-4008 Laguna Philippines
(6349) 8210576, Fax. (6349) 8210576
www.lahingkayumanggi.org
Philippine Folk Dance Group, Participated in different International events and festivals. Artistic works was internationally recognized.
--------------------------------------------------------------------------------
Saee Rosen
#1603a, Fort bonifacio PH-1634 Makati, Regent Parkway Philippines
Tel. 63 2 8160875 639278867699 Fax. 63 2 8160875
www.saee.multiply.com
Dancer, teacher, choreographer, IN , FUNK, SHOW JAZZ, FREESTYLE AND BELLYDANCE
--------------------------------------------------------------------------------
Dennis Valiente
1605 Pasig City PH Manila Luxury Condominium, Pearl Drive Philippines
632.43.91.038;Fax632.43.91.038
http://ppdsa-aatd.tripod.com
Ballroom & Latin American Dance Teacher
--------------------------------------------------------------------------------
Basilo Esteban Vilaruz
Metro Manila PH-1101 Diliman, Quezon City Philippines
Tel. (63)9296963, 4287772, 3648763
choreographer, choreologist, critic, Philippine folk dance group
--------------------------------------------------------------------------------
Aerobics Wear, Capezio Boutique
Shangrila Edsa Plaza PH-1550 Mandaluyong Philippines
Tel. (632)633.7871, Tel. (632)634.3180
Supplier, dancewear
--------------------------------------------------------------------------------
Ballet Philippines
Ma Daniel Building PH-1000 Metro Manila Philippines
Tel. (632)526.2060
School, dance tuition, ballet
--------------------------------------------------------------------------------
Bobby Ongkiko Dance Centre
6778 Adalla PH-1200 Makati Metro Manila Philippines
Tel. (632)895.9907
School, dance tuition
--------------------------------------------------------------------------------
Body Skin
843 Laurel PH-1500 Mandaluyong Philippines
Tel. (632)724.3476
Supplier, dancewear
--------------------------------------------------------------------------------
Capezio Ballet and Aerobics Wear
Shangri-La Plaza PH-1500 Mandaluyong Philippines
Tel. (632)634.3180
Supplier, dancewear
--------------------------------------------------------------------------------
Eugenio Ral'S Galeen Dance Center
25 Annapolis Street PH-1500 Metro Manila Philippines
Tel. (632)722.0410
School, dance tuition
--------------------------------------------------------------------------------
Goldcrest Dance Workshop
Goldcrest Village Square PH-1200 Makati Philippines
School, dance tuition
--------------------------------------------------------------------------------
Maki Dance Centre
on Go Cho Ti Building PH-1400 Caloocan Philippines
Tel. (632)363.5532
School, dance tuition
--------------------------------------------------------------------------------
Royal Rose Ballet Studio
Virra Mall Complex PH-1500 Metro Manila Philippines
Tel. (632)721.3638
School, dance tuition, ballet
--------------------------------------------------------------------------------
Sanghiyas Folk Dance Troupe
Philippine High School PH-4030 Mt. Makiling, Los Bauos, Laguna Philippines
Tel. (63)(049)536.2862
Philippine High School for the Arts, National Arts Center
--------------------------------------------------------------------------------
Steps Dance Studio
66 Estrella Avenue PH-1200 Makati Philippines
School, dance tuition
--------------------------------------------------------------------------------
Yvonne's Ballet Shoe
Makati Cinema Square, F-21 Amorsolo Lane PH-1200 Makati Philippines
Tel. (632)844.1407
Supplier, dancewear
--------------------------------------------------------------------------------
Yvonne's Ballet Shoes
Virra Mall PH-1500 Mandaluyong Philippines
Tel. (632)721.0868
Supplier, dancewear
--------------------------------------------------------------------------------
Riza S. Amaguin
Iloilo National High School La Paz PH-5000 Iloilo City Philippines
Tel. (63)63.33.320.0846 / 942.0937, Fax (63)63.33.320.4852
Contemporary, Modern, and Philippine Folk Dances (Dance-Drama)
--------------------------------------------------------------------------------
Jaime Zobel De Ayala
Roxas Boulevard PH-Manila Philippines
Tel. (632) 551.0144; 551.1003; Fax (632) 551.0144, 833.3244
http://www.ballet.com.ph
Company, modern dance
--------------------------------------------------------------------------------
Crisostomo B. Barrera
West Visayas State University PH-La Paz Iloilo City Philippines
Tel. (63)3.200.879, Fax 3.200.879
Philippine Folk Dance & Choreographed singing (Folk songs and other Visayan compositions)
--------------------------------------------------------------------------------
Rev. Benigno P. Beltran
PO Box 2036 PH-Manila Philippines
Tel. (63.2) 255-41-81; Fax (63.2) 255-74-55
Folk dances and dances and rituals of indigenous ethnic communities
--------------------------------------------------------------------------------
Myra Victoria C. Beltran
11 Bulletin street, West Avenue PH-1104 West Triangle, Quezon City Philippines
Tel. (632)3732946; Fax(632)9285249
Choreographer, Dance Forum, Classical, Contemporary
--------------------------------------------------------------------------------
Myra Beltran
11 Bulletin Street, West Triangle PH-1104 Quezon City Philippines
Tel. 63-2-3732947; Fax 63-2-3732946; mobile 63-917-5269724
Choreographer, dancer
--------------------------------------------------------------------------------
Gener Caringal
Claro M. Rector PH-1000 Manila Philippines
Tel. (63)735.8550
Group, Philippine Folk, Jazz, Contemporary Dances
--------------------------------------------------------------------------------
April Caro
KM 39 Pulong Buhangin PH-03022 Santa Maria, Bulacan Philippines
Tel. 632.044.641.2405
Christian sacred dance ministry
--------------------------------------------------------------------------------
Marilinda Claravall-Yee
50 Lourdes Street, Teoville, Bgy BF PH-1700 Paranaque City, Manila Philippines
Tel. 632 . 8259980, 632. 8203653; Fax 632 . 8290681
School, Classical, Royal Academy of Dance
-------------------------------------------------------------------------------
Guimbo M. Datu
indanao State University Cultural Affairs Office PH-Marawi City Philippines
Tel. (63)0918 471.6690 Fax (63)521.002
Company, ethnic dances
--------------------------------------------------------------------------------
Brother Jun Desoyo
82 Gen. Tinio Street PH-1400 Caloocan City, Manila Philippines
Christian sacred dance ministry
--------------------------------------------------------------------------------
Maryo R. Eugenio
Bitas PH-Cabanatuan City Philippines
Tel. (63)463.6481, Fax (63)463.0952
Ensemble, Philippine folk dances
--------------------------------------------------------------------------------
Kat Fonacier
FilipinaFilipina Philippines
Tel. +63917-9345709
Dancer, Teacher, Choreographer, Dancer (Belly Dancing); Dancer (Jazz, Street and Hiphop); Member of Baila Universal Dance
--------------------------------------------------------------------------------
Alfie Franco
MIA Road PH-1300 Pasay City Philippines
Tel. (63)832.3763 / 832.3767 Fax 832.0593
Group, Filipino folk dances
--------------------------------------------------------------------------------
Larry Gabao
Philippine Normal University, Taft Avenue PH-1000 Manila Philippines
Tel. (63)528.0563; Fax 527.0775
Philippine Folk Dances
--------------------------------------------------------------------------------
Noel Garovillo
Municipal Hall Koronadal PH-Cotobato Philippines
Tel. (63.83)228.2671; Fax (63.83)228.3627
Group, Philippine folk and contemporary dances, dance-drama
--------------------------------------------------------------------------------
Crispin C. Gimena
Carlos P. Garcia High School, Quirino Avenue PH-1000 Manila Philippines
Tel. (63.632)508.916, 263.881, 896.2029
Philippine Folk Dances
--------------------------------------------------------------------------------
Robby Hayden
Lyceum University, Intramuros PH-1000 Manila Philippines
Tel. (63)527.8254
Philippine folk and contemporary dance troupe
--------------------------------------------------------------------------------
Corazon G. Ioigo
79 7th Avenue Cubao PH-1100 Quezon City Philippines
Tel. (63.632)911.5221; Fax (632)911.5221
Group, Philippine Folk & Contemporary Dances
--------------------------------------------------------------------------------
Ismael Maeng E. Java
Center for Culture and the Arts PH-6100 Bacolod City Philippines
Tel. (63)434.4560, (63)434.4569, Fax (63)828.70
Philippine folk dance ensemble
--------------------------------------------------------------------------------
Lucila Jojo
38 West Avenue PH-1104 Quezon City Philippines
Tel. (63)372.3039 / 924.4386, Fax (63)928.5249
Classical Ballet, Modern Ballet, Jazz, Philippine Folk Dance, Improvisation/ Composition and Pedagogy
--------------------------------------------------------------------------------
Ferdinand Jose
1742 Taft Avenue PH-1000 Manila Philippines
Tel. (63)525.1685 / 536.8602, Fax (63)525.1685
Philippine folk dances
--------------------------------------------------------------------------------
Noordin Jumalon
Roxas Boulevard PH-Manila Philippines
Tel. (632) 551.0144; 551.1003; Fax (632) 551.0144, 833.3244
http://www.ballet.com.ph
Company, modern dance
--------------------------------------------------------------------------------
Agnes Locsin
Cultural Center of the Philippines PH-1000 Manila Philippines
Tel. 832.3675 / 551.0144, 832.3689 / 551.1003; Fax 833.3244 / 551.0229
Classical ballet and contemporary dance
--------------------------------------------------------------------------------
Robert Claro H. Lopez
Gen. Taieo St., Pagsanjan, Laguna PH-4008 Laguna Philippines
Tel. & Fax (6349)8210027
www.geocities.com/lkdance
Cultural Dances and Contemporary Dances
--------------------------------------------------------------------------------
Jojo Lucila
251F Tandang Sora Avenue PH-1100 Quezon City Philippines
Tel. (63.632)929.1771 / 454.3599 Fax (632)929.1771
Philippine Folk Dances, Contemporary, Ballet and Jazz
--------------------------------------------------------------------------------
Van Cornelius A. Manalo
College of Human Kinetics, Diliman PH-1100 Quezon City Philippines
Tel. (63.632)920.5301; Fax (63.632)920.5301
Philippine Folk and Contemporary Dances
--------------------------------------------------------------------------------
Josie P. Manansala
1011 Jl Escoda PH-1000 Manila Philippines
Tel. (632)524.7737
Teacher, dance tuition
--------------------------------------------------------------------------------
Lisa Martinez-Chingcuangco
26 San Rafael Street, Bario Kapitolyo Pasig PH-1000 Metro Manila Philippines
Tel. (63.632)631.4605; Fax (63.632)631.4577
Jazz, hiphop jazz, tap/jazz, tap, modern dance
--------------------------------------------------------------------------------
Delfin R. Novencido
Bayan High School PH-4201 Bauan, Batangas Philippines
Tel. (63.48)727.1090, Fax (63.48)727.1754
Company, Philippine folk & contemporary dances
--------------------------------------------------------------------------------
Ramon A. Obusan
4 Chapel Road, MIA Housing Area Pasay City PH-1000 Metro Manila Philippines
Tel. 831.0894; Fax 831.0894
Philippine Folk Dance
--------------------------------------------------------------------------------
Ramon A. Obusan
29 Smokey Mountain Temporary Housing PH-1013 Aroma Vitas, Tondo, Manila Philippines
Tel. (63)711.1315; 255 4181; Fax 711 7324
Dance Company, Folk, Community based on Children's group
--------------------------------------------------------------------------------
Neal Oshima
Roxas Boulevard PH-Manila Philippines
Tel. (632) 551.0144; 551.1003; Fax (632) 551.0144, 833.3244
http://www.ballet.com.ph
Company, modern dance
--------------------------------------------------------------------------------
James Paolelli
13 Macapuno Street, Valle Verde 1 PH-Pasig City, Metro Manila Philippines
Tel. & Fax (632)6713186
International dances, modern ballet
--------------------------------------------------------------------------------
Isidro-Genuino Paraluman
SPS 301 De La Salle University, Taft Avenue PH-1000 Manila Philippines
Tel. (63)524.4611, Fax (63)536.0253
Company, Modern jazz, Philippine folk & ethnic Dances
--------------------------------------------------------------------------------
Teresita Veloso Pil
22 Arellano Street PH-6500 Tacloban City, Leyte Philippines
Tel. (053)321.2976/67; Fax (053)369.9212
Company, Philippine folk dance; the group also sings
--------------------------------------------------------------------------------
Denisa Reyes
Ballet Philippines Inc
Roxas Boulevard PH-1000 Manila Philippines
Tel. (632) 551.0144; 551.1003; Fax (632) 551.0144, 833.3244
http://www.ballet.com.ph
Company, modern dance
--------------------------------------------------------------------------------
Isabel Santos
1742 Taft Avenue PH-1000 Manila Philippines
Tel. (63)525.1685 / 536.8602, Fax (63)525.1685
Philippine folk dances
--------------------------------------------------------------------------------
Al Santos
81 regalado Avenue PH-1118 West Fairview, Quezon City Philippines
Tel. (632)3734932; Fax (632)4121954
Dance Theatre
--------------------------------------------------------------------------------
Suzanne Serapio
B3 L7 T.Cruz Str,Cruzville Subdivision Novaliches PH-01123 Quezon City Philippines
Tel. 4197484
Christian sacred dance ministry
--------------------------------------------------------------------------------
Jerry Ong Sibal
Unit 504 Moraga Mansion Plaza PH-Binondo, Manila Philippines
Tel. (63)241.0511 / 942.0937 Fax 942.0937
Filipino and Chinese folk dance ensemble
--------------------------------------------------------------------------------
Cecile Sicangco
Cultural Center of the Philippines PH-1000 Manila Philippines
Tel. (63)832.3675, (63)551.0144, (63)832.3689, (63)551.1003, Fax (63)8
Company, classical, contemporary, neo-classical & neo-ethnic dances
--------------------------------------------------------------------------------
Jennifer J. Torres
Junction II, Bgy. Sand Pedro PH-5300 Puerto Princesa City, Palawan Philippines
Tel. (048) 433.2649
Christian sacred dance ministry
--------------------------------------------------------------------------------
Franco M. Velas
Ayala Boulevard PH-Ermita Manila Philippines
Tel. (63.632)521.4058
Philippine folk dance group
--------------------------------------------------------------------------------
Abigail Yee-Alvia
Unit 205, 1142, Tanay Street, Rizal Village PH-1208 Makati City, Metro Manila Philippines
(632) 8967216; Fax (632) 5239747; mobile (63917) 8501227
www.morethandance.g3z.com
Member of the Association of Ballet Academies, Philippines
--------------------------------------------------------------------------------
Nelson T. Yu
Summit Building, 1853 Ma. Orosa St. PH-1004 Malate, Manila Philippines
Tel. (632)4128451; (632)5246947
Group, Lion Dance, Chinese dances
--------------------------------------------------------------------------------
Bernardo T. Pedere
5516 Merritt Drive CA 94521-4816 Concord, California U.S.A.
Tel. (1.925)672.7877; Fax (1.925)672.8929
Teacher, Specialty in rural lowland Christian dances of the Philippines