.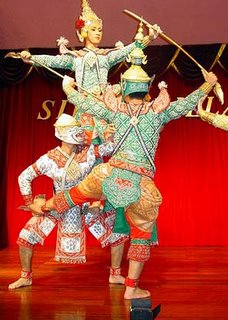 The Dance Centre, Company of Performing Artists Thailand, Silom Dance Studio, are just a few of the Thai dance companies, Thai dance schools, dancing organizations and dance wear suppliers that that can be found in our comprehensive Directory of Thai Dance Companies.
Traditional Thai Dance and Theater

Thai Dancing is poetry in motion. Classical Thai dance performances are largely based on ancient myths and religious stories. The "Fawn Thai" traditional dance was originally an art performed for the royal courts of old Siam. It consists of five classic styles: Fawn Lep (the Fingernails Dance), Fawn Marn Gumm Ber (the Butterfly Dance), Fawn Marn Mong Kol (the Happy Dance), Fawn Tian (the Candle Dance) or Fawn Ngiew (the Scarf Dance). Each region of Thailand has its own flavor of Fawn Thai, they are all accompanied by a band of traditional Thai musical instruments.
The "Fawn Lep" or Fingernail Dance usually consists of five pairs of dancers, each wearing six-inch-long brass fingernails. There are slight different dance movements according to region. The arms and head move gracefully and firmly. The elongated fingernails emphasize the classic hand movements of Thai Dance.

Khon performances are considered the most elegant form of classical, traditional Thai dance. The royalized, all-male, masked dance is based on the Ramakien epic, as depicted by the murals in the Temple of the Emerald Buddha. Since the complete performance lasts many days, selected scenes can be viewed at the National Theater and the Royal Chalermkrung Theater in Bangkok and at the Old Chiang Mai Cultural Center up north.

The costumes and routines of traditional Thai dances come in many forms, depending upon the region the dance originated from. Most major cities offer khantoke dinner and the traditional Thai dance shows for tourists. The Lanna style khantoke dinners originated in Chiang Mai, where a single setting of small sampling of various Thai dishes are placed on a round tray.

Lakhons dances are solely performed a group of females in elaborate costumes, but are less formal than the Khon. These are usually seen at temples or sacred shrines, such as the Erawan Shrine, where devotees make merit by hiring the dancers to perform.

Commonly featured at temple fairs and on TVs, the most popular dance-drama is likay, where performers sing and act out local folklore tales in a comical, satirical way.
Featured Thai Dance Company
The Dance Centre
Since 1985, Dance Centre school of performing arts approved and licensed by the Royal Thai Government Ministry of Education has established itself as Thailand's premiere ballet and modern dance academy. Its teachers are qualified professionals who are working performers.
The Dance Centre teaches various dance/movement of various styles such as classical ballet based on British and Russian styles, jazz, contemporary dance, creative dance, hip-hop, street dance, latin, ballroom, and rhythmic gymnastics.
The school also provides access to a full range of mind/body development courses for both children & adults such as Hatha Yoga, Chi Kung, Tai Chi Ch'uan to Aikido and Kung Fu.
Dance Centre school of performing arts caters to the needs of different groups from the very young, through to professional dancers, adult beginners, teenagers and executives. There are a variety of courses to select from at the school to suit particular individual interests and needs. We encourage all students to enroll and make a commitment on a course basis or longer, and practice. The rewards of completing a courses include both physical and mental improvement.

If you would like your Thailand Dance Company, Dance Organization, Dance School featured here then please email bangkokcompanies@gmail.com
There are many fine dance schools in Thailand. I know I am in contact with them as we supply a range of high quality dancewear products like leotards, dance pants, dance dresses and other dancing apparel.
Bangkok Companies supplies an amazing range of dancewear from Thailand. I have looked at these dance garments and dance accessories in detail. There is only one word to describe them Superb. For more details click on the pictures or send an email to bangkokcompanies@gmail.com We regret at this time we can only satisfy Thailand wholesale dancewear requests.
"Dancewear designed by dancers for dancers"
| | | | | |
| --- | --- | --- | --- | --- |
| Dance Dresses | Kids Leotards | Adult Leotards | Dance Bras | |
| | | | | |
| | Dance Pants | Tutu's | Dance Shorts | |
| | | | | |
| Dancewear | Dancewear Organizers | Dance Bags | Dance Backpacks | |
| | | | | |
Bangkok Companies is a full service product sourcing company in Thailand. For All your dancewear needs please email bangkokcompanies@gmail.com with your requests.
---
Dance Schools in Thailand, Dancewear Suppliers, Dancing Organizations
Roland Amoussou-Guenou
Salsa Concept Co., Ltd.
567/123 , Onut Road, Sualuang TH-10250 Bangkok Thailand
Tel. (669)503.2038;Fax(669)524.5657
www.salsaconcept.com
President Salsa Concept Co., Ltd.
--------------------------------------------------------------------------------
Vararom Pachimsawat
53/3 Sukhumvit Rd. Soi 33, Klongton Nua, TH-10110 Bangkok Thailand
(66)022.598.861;(66)022.589.227; Fax (66)022.589.227
www.dance-centre.com
--------------------------------------------------------------------------------
Le Studio (Art of Dance)
9th Floor 246 Times Square Building, Sukhumvit Road, TH-10110 Klongtoey, Bangkok
(66-2)2500005
Dance studio teaching Classical Ballet, Contemporary Dance, Jazz Dance, Tap Dance, Salsa,Hip Hop, Capoeira and
Muay Thai (Thai kick boxing)
--------------------------------------------------------------------------------
Suphannee Boonpeng
Department of Dance Faculty of Fine and Applied Arts Ch TH-10330 Bangkok Thailand
(66-1)3184449 ; Fax.(66-2)2184619
Western Dance and Thai Classical Dance (theory and skill)
--------------------------------------------------------------------------------
Busakorn Chantaravorameth
Amarin Plaza 5th Floor TH-13330 Bangkok Thailand
Tel. 661-333-4545
http://www.rumpuree.com
Rum Puree Dance Studio, the world dance studio in Bangkok, Thailand. We specialize in New York Salsa, Merengue, Carnival Samba, Samba De Gafieira (Bossanova), Zouk, Argentine Tango, African Dance
--------------------------------------------------------------------------------
Sarawut Chutiwongpeti
8/10 Muban Kanda Ekachai 1, Bangbon 5 Road TH-10150
Bangbon, Bangkhuntian, Bangkok Thailand
www.chutiwongpeti.info
Researcher
--------------------------------------------------------------------------------
Pichet Klunchun
13/13 Suthampong Building 2nd floor, Srinakarindara Rd TH-10260
Pravej, Bangkok Thailand
tel & Fax 662.743.4989; Mobile 661.810.6712
www.pklifework.com
LifeWork Company was founded by Pichet Klunchun, an independent solo dance artist andinternational choreographer who is competent in Thai Classical Dance, Contemporary Dance, and Choreography.
--------------------------------------------------------------------------------
Chinarut Ruangchotvit
365/1039 Buddhabucha Rd Soi 47 10140 Bangmod Thailand
(66)286.93681
www.dancelabs.com
Dance Labs is leading the development of Dance Chalat, a community service program designed to connect children, parents, and neighbors in fun, natural, and playful ways.
--------------------------------------------------------------------------------
Udomsak Sakmungvong
43/87 Phaholyotin Road Anusawaree, Babgkhen TH-10220 Bangkok Thailand
521.08.78; 251.17.01;
Dancer
--------------------------------------------------------------------------------
Arts for Charity Foundation (Mulanithi kusolsilp)
22/9 Ngamwongwan Road TH-11000 Nontaburi Thailand
Tel. 662.580.9020, 662.952.5430/5431; Fax 662.589.3331
Association
--------------------------------------------------------------------------------
Chulalongkorn University, Faculty of Fine Arts, Thai Dance
254 Phyathai Road TH-10330 Bangkok Thailand
Tel. 011 662.216.8833; Fax 011 662.215.4804
School
-------------------------------------------------------------------------------
College of Dramatic Arts
Rachini Road TH-10200 Bangkok Thailand
Association
--------------------------------------------------------------------------------
Company of Performing Artists Thailand
53/3 Sukhumvit Soi 33, Klongton TH-10110 Bangkok Thailand
Tel: 02-259-8861; Tel/Fax: 02-258-9227
http://www.dance-centre.com
The Company of Performing Artists" Thailand (CPA), the Kingdom's first contemporary-dance-theatre-company.
--------------------------------------------------------------------------------
Culture Center of Chulalongkorn University
Phayathai Road, Pathumwan TH-10330 Bangkok Thailand
--------------------------------------------------------------------------------
Dance Centre School of Performing Arts & "The Company of Performing Artists" Thailand
4th Floor, The Racquet Club, Klong Tan Nua TH-10110
Bangkok Sukhumvit Soi 49/9, Wattana Thailand
Tel. (66.2)259.8861; (66.2)258.9227
http://www.dance-centre.com
Dance Centre School of Performing Arts & "The Company of Performing Artists" Thailand.
--------------------------------------------------------------------------------
Festival of Performing Arts, Directorate General of Fine Arts
Dept. Na Phra, That Road Khet, Phra Nakhon TH-10200 Bangkok Thailand
Festival, folk
--------------------------------------------------------------------------------
Institute of Cultural Studies Establishment Project
181 Charoenpradith Road TH-94000 Muang, Pattani Province Thailand
http://www.bunga.pn.psu.ac.th
School
-------------------------------------------------------------------------------
Office of the National Culture Commission
Ratchadapisek Road, Huay Khwang TH-10320 Bangkok Thailand
Association
--------------------------------------------------------------------------------
Silom Dance Studio
3rd Floor, Kasemkij Building (opp. CP Tower) Silom, Bangrak, Bangkok Thailand
Tel. 66+01+1711525
School, studio, ballroom dance
--------------------------------------------------------------------------------
Spafa
81/1 Ayutthaya Road, Theves TH-10300 Bangkok Thailand
Tel. 66.2.280 3023 Fax 66.2.280 4030
Organizer, folk dance festivals
--------------------------------------------------------------------------------
Thailand National Commission for UNESCO
Ministry of Education; Ratchadamnoen - Nok Avenue TH-10300 Bangkok Thailand
Tel. (66.2)628.5646, 47, 48, Fax (66.2)281.0953
http://www.moe.go.th/icpmoe/INDEX.HTML
National organization
--------------------------------------------------------------------------------
Somkid Chotigavanit
Na Phra That Road TH-10200 Bangkok Thailand
Organization for cultural affairs including dance
--------------------------------------------------------------------------------
Jennifer Gampell
868/75-76 Soi Vanich 2 Songwad Road TH-10100 Sampanthawong, Bangkok Thailand
Tel. & Fax (662) 237.3362; (661) 925.7187
http://gampell.com
Vietnam's Doctor of Dance, dancesport, samba, tango, waltz
--------------------------------------------------------------------------------
Ekavidya Nathalang
Ratchadapirek Road TH-10310 Bangkok Thailand
Organizer
--------------------------------------------------------------------------------
Thanpuying Varaporn Pramoj
22 Paholyothin Soi 37 TH-10900 Bangkok Thailand
Tel (66) 2 513 4364 (66)29397659 Fax (66) 2 513 9689
--------------------------------------------------------------------------------
Nantasarn Seesalab
4 Ratchadapisek Road TH-10320 Bangkok Thailand
Tel. 66.2.2470 013 410; 66.2.583 6904; 66.2.248 5841; 66.2.661 0555
Organizer, folk dance festivals
--------------------------------------------------------------------------------
Kim Teinchai
Silom Road, 3rd Floor, Kasemkij Boulexard TH-10500 Bangkok Thailand
Tel. 66.02.2341459; Fax 66.02.234 1459
Latin Dance Teacher, Choreographer, Latin Dancer, International Championships Competitor
--------------------------------------------------------------------------------
Sudhasinee Vajrabul
atchadapisek Road, Huay Khwang TH-10320 Bangkok Thailand
Tel. (662)2585850; Fax (662)2485841
Organization
--------------------------------------------------------------------------------
Sutee Yaemmesee
240/7-242 New City Bldg., Siam Square, Sol 2 TH-10500
Phatumwan, Bangkok Thailand
--------------------------------------------------------------------------------
Aree School of Dance Arts
BTS Phra kanong (exit 1) 1521/2 Sukhumvit Pra Khanong
Nua Watthana Bangkok 10110 Bangkok
Tel: 02 714 0812-3
--------------------------------------------------------------------------------
Alliance Francaise
29 Sathorn tai road
Tel: 02 670 4234
ankana.srisuk@alliance-francaise.or.th
--------------------------------------------------------------------------------
Bangkok City Ballet
6th Fl. City Resort 49 39 Sukhumvit Rd. Soi 49
Tel: 02 662 7933
www.bangkokcityballet.com
--------------------------------------------------------------------------------
Pilates & Dance Studio (Studio 31)
289/2 Sukhumvit 31 Wattana
Mbl: 084 070 4060 (Patricia)
www.pilatesanddancestudio.com
--------------------------------------------------------------------------------
Varaporn Kanchana Ballet School
BTS Chitlom 51/5 Soi Langsuan Ploenchit Road Pathumwan 10330 Bangkok
Tel: 02 252 8704