.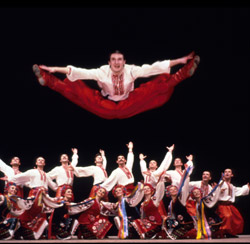 Veryovka National Academic Folk Chorus, Ukrainian Ballet Academy, Ukrainian Cossacks, are just a few of the dance companies, Ukrainian dance schools, dancing organizations and dance wear suppliers that that can be found in our comprehensive Directory of Ukraine Dance Companies.
Traditional Ukrainian Dance
Many of the dynamic and colorful folk dances of Ukraine also reflect a rural or Cossack lifestyle. The oldest dances are the "khorovody," agricultural dance games associated with the cult of the sun. Originally, folk dances were either accompanied by songs or by instruments. They were also exclusively female, such as the "metylytsia," or exclusively male, such as the "arkan;" today both males and females participate in the same dances. Numerous Ukrainian dance troupes cultivate the traditional folk dances.
The kolomeyka
A traditional Ukrainian dance that features a medley of leaps, kicks, and spins.
Dev'yatka
A favorite at public festivals, this 19th century folk quadrille originated in the village of Medzhibozhi in the province of Khmelnitsky.
Viteretz
A traditional Ukrainian dance with a style and technique set in ballet. Men take flight and women twirl as the wind wisps at their heels in this swift paced Kozachok.
Krutak
In the mountain villages of Transcarpathia, this flirtatious dance is often performed at parties. The syncopation of steps and vibrant colors of the costumes are sure to excite the audience.
Verbychan'ko
Women played the key role in ancient Ukrainian dances, when it was believed that certain movement and gestures had magical power and could win the forces of nature to mankind's side. In this contemporary, lyrical dance, the little weeping willow is used as a metaphor for the resilience of Ukrainian woman throughout history. Although she is bent by the harsh winds of life, her spirit remains unbroken and, at the end, she triumphs and stands tall as the sun comes out.
Kozaky
The rivalry between short and tall men ends in camaraderie as men attempt to out do each other in feats of strength, agility and acrobatics.
Khorovod-Hulyanka
In the traditional Khorovod, which is danced during the festival of Ivana Kupalo, the girls cast their wreaths into the water in hope that their future love will come upon it.
Hopak
This is the most famous and beloved dance of Ukraine. Hopak embodies the essential qualities of Ukrainian Dance: manliness, heroism, physical strength and acrobatic agility in the men are contrasted with the femininity, gracefulness, gaiety and nobility of the girls.

Featured Ukranian Dance Company
Veryovka National Academic Folk Chorus
The music, songs and dances of Veryovka reflect the sparking energy and versatility of the Cossacks and Chumak people and include delightfully humourous songs, tender ballads and colourfully costumed folk dances, brilliantly choreographed in the tradition of centuries past. Based in Kyiv, the ensemble of virtuoso performers consists of a hundred extraordinary dancers that delight and enchaut, singers that charm and provoke, and musicians that soothe and stimulate….it is no wonder the Gogol once wrote "The Ukraine rings with song".
Famous Ukrainian composer and conductor Grygoriy Veryovka was its founder father and artistic director. It was under his guidance that the choir's unique artistic manner of performing Ukrainian folk song was developed. The choir's repertoire's highlight is E. Stankovich's folk- opera-ballet "The Flower of the Fern" in which folk motifs have been successfully synthesized with modern methods of composition and arrangement.
At the present time, the choir singing skills that they are capable of performing musical pieces that earlier were considered impossible for choir singing.
The group including dancing, orchestral, and choral groups can work. We will be glad to cooperate with organisations and private persons in Ukraine as well as abroad.

If you would like your Ukraine Dance Company, Dance Organization, Dance School featured here then please email bangkokcompanies@gmail.com
There are many fine dance schools in Ukraine. I know I am in contact with them as we supply a range of high quality dancewear products like leotards, dance pants, dance dresses and other dancing apparel.
Bangkok Companies supplies an amazing range of dancewear from Thailand. I have looked at these dance garments and dance accessories in detail. There is only one word to describe them Superb. For more details click on the pictures or send an email to bangkokcompanies@gmail.com We regret at this time we can only satisfy Ukraine wholesale dancewear requests.
"Dancewear designed by dancers for dancers"
| | | | | |
| --- | --- | --- | --- | --- |
| Dance Dresses | Kids Leotards | Adult Leotards | Dance Bras | |
| | | | | |
| | Dance Pants | Tutu's | Dance Shorts | |
| | | | | |
| Dancewear | Dancewear Organizers | Dance Bags | Dance Backpacks | |
| | | | | |
Bangkok Companies is a full service product sourcing company in Thailand. For All your dancewear needs please email bangkokcompanies@gmail.com with your requests.
---
Dance Schools in Ukraine, Dancewear Suppliers, Dancing Organizations
Ukrainian Ballet Academy
Tereshenkovskaja 5, fl. 10 UA-01044 Kiev Ukraine
Tel. (380)443.343.909;
--------------------------------------------------------------------------------
Olga Tarnovetskaya
Str. Chehova, 14, study 15. Ru 98600 Ukraine, Crimea, city Yalta
+38 (0654) 240-161, mobile +38-050-180-86-33
http://dolcemodel.sitecity.ru
show - ballet - dances in style modern, national, variety show, jazz, modern.
--------------------------------------------------------------------------------
Lyfar International Ballet Competition Theatre Agency
Sichnevogo Povstannia 17 UA-01015 Kyiv Ukraine
(38)442.542.746 Office; Fax (38)442.542.711 Office
Ballet Competition
--------------------------------------------------------------------------------
Oksana Talama
22\29 Sichovyh Striltsiv street UA-82400 Striy Ukraine
(0038)067.907.8008 ; +380322970595
Modern ballet Release is youth non-profit organization, specializes in folk modern dances
--------------------------------------------------------------------------------
Lysenko Kharkov State Academic Opera and Ballet Theatre
Sumskaya Street 25 UA-310.057 Kharkov Ukraine
Tel. (380.572)477.216
Company, ballet, professional, performing
--------------------------------------------------------------------------------
State Opera and Ballet Theatre
Pt. K. Marksa 72a UA-320.000 Dniepropetrovsk Ukraine
Tel. (380.562)449.326
Company, ballet, professional, performing
--------------------------------------------------------------------------------
Yuriy Chayka
K. Marx Prospect 72 UA-320.000 Dniepropetrovsk Ukraine
Tel. (380.562)445.667
Company, modern, ballet
--------------------------------------------------------------------------------
Natalie Forostenko
Pr-t Kommunisticheski 7, kv.88 UA-55000 Yuzhnoukrainsk, Nikolaev region Ukraine
Tel. (380 44) 248-4120, Fax (380 44) 248-4120
http://www.uis.kiev.ua/culture/choreogra
Folk dance, ballet. Performances
--------------------------------------------------------------------------------
Olga Forostenko
Pr-t Kommunisticheski 7, kv.88 UA-55000 Yuzhnoukrainsk, Nikolaev region Ukraine
Tel. (380.44) 248-4120, Fax (380.44) 248-4120
Choreographer: folk dance, ballet
--------------------------------------------------------------------------------
Valeriy Kovtun
Richna Street 4 UA-252135 Kiev Ukraine
Tel. (380.44)216.4871, 229.6146, Fax (380.44)216.4871
Company, ballet, classical
--------------------------------------------------------------------------------
Viktor Lytvynov
Volodymyrska Street 50 UA-252003 Kiev Ukraine
Tel. (380.44)2255134
Company, ballet, classical
--------------------------------------------------------------------------------
Anatoly Mokrenko
Vladimirskaya 50 UA-252030 Kiev Ukraine
Tel. (380.44)229.2359
Company, ballet, professional, performing
--------------------------------------------------------------------------------
Vasily Motsjo
Pr. Svobody 28 UA-290.008 Lvov Ukraine
Tel. 0322 728562, 728561
Company, ballet, professional, performing
--------------------------------------------------------------------------------
Gerogy Selikhov
Sumskaya Street 25 UA-310.057 Kharkov Ukraine
Tel. (380.572)477216, 476503, Fax (380.572)478064
www.opera.kharkhov.ua
Company, ballet
--------------------------------------------------------------------------------
Valentyn Semenov
Tchaikovsky Provulok 1 UA-270.026 Odessa Ukraine
Tel. (380.482)224.904, Fax (380.482)246.762, (380.482)229.293
Company, ballet, classical, professional, performing
--------------------------------------------------------------------------------
Yury Aleksandrovich Stanishevsky
Prospekt 40, letiya Oktyabrya 97-A, kv.89 UA-252.127 Kiev Ukraine
Tel. (380.44)261.7120
Researcher, ballet and music theatre in the Ukraine
--------------------------------------------------------------------------------
Valeriy Stasevych
Artema Street 82 UA-340.055 Donetsk Ukraine
Tel. (380.622)930.969
Company, modern, ballet
--------------------------------------------------------------------------------
Herman Yusupov
Kulisha Street 6A UA-290.058 Lviv Ukraine
Tel. (322)728362, 728561
Company, ballet, classical
--------------------------------------------------------------------------------
Tatiana Kalishenko
Leontovicha 11, fl. 54 UA-01046 Kiev Ukraine
Tel. (224)99.83;
--------------------------------------------------------------------------------
Roman Mazur
1341 W.Dundee Rd. IL 60089 Buffalo Grove U.S.A.
(847)947.8698;(847)506.9390;Fax(847)947.8698
www.mazurdance.com
President of International Dance Company and Dance School "Mazurdance", former (1965-1997) founder and Artistic Director of world well known Dance Ensemble "Poliot", Kiev, Ukraine.
--------------------------------------------------------------------------------
Ukrainian Ballet Academy
Tereshenkovskaja 5, fl. 10 UA-01044 Kiev Ukraine
Tel. (380)443.343.909;
--------------------------------------------------------------------------------
Alvina Kalchenko
Tereshenkovskaja 5, fl. 10 UA-01044 Kiev Ukraine
Tel. (380)443.343.909;
--------------------------------------------------------------------------------
Oleg Kalishenko
Leontovicha 11, fl. 54 UA-01046 Kiev Ukraine
Tel. (224)99.83;
www.dancecentre.kiev.ua
--------------------------------------------------------------------------------
Maria Mitsek
pr. Pobedy 43, ap.38 UA-03057, Kiev Ukraine
(380)445.709.101; Fax(380)442.418.626
--------------------------------------------------------------------------------
The Center of Contemporary Choreography
PO Box 109 UA-01032 Kiev-32 Ukraine
--------------------------------------------------------------------------------
Iryna Cherednik
Veryovka National Academic Folk Chorus
Shevchenko Blv. 50-52 Ua-01032 Kiev Ukraine TEL:
+380(44) 236 51 09 , +380(44) 236 96 06; FAX: +380(44) 236 96 06
www.veryovka.kiev.ua
Administrator
--------------------------------------------------------------------------------
Valentina Maslenko
building 5, Sichnevogo povstannya 21 UA-01015 Kiev Ukraine
38 (044) 280 90 52; 38 (044) 237 91 93; Fax 38 (044) 280 90 52
Called to carry public policy in rebirth, preservation and development Ukrainian culture, culture of national minorities, and establishment culture connection with ukrainian diaspora.
--------------------------------------------------------------------------------
Oksana Mikitenko
19 Wolodymirska Street, apt. 22 UA-252025 Kiev Ukraine
Historian, dance
--------------------------------------------------------------------------------
Anna Smirnova
Flat 19, House NO1, Yerevanskaya UA-03087 Kiev Ukraine
Tel. (38044)2422443,380-506551152
Nakshatra,theatre of indian dances is brain child of Anna Smirnova. the theatre teaches classical indian dances as bharatnatyam, odissi, chhau, kathak and indian way of yoga and meditation.
--------------------------------------------------------------------------------
Druzhba
21, b. 5, Sichnevogo Povstannya st. UA-252015 Kiev Ukraine
044 2905455
--------------------------------------------------------------------------------
Ukrainian Cossacks
Popudrenko 22/14 UA-02100 Kiev Ukraine
Tel. & Fax 38044552.4167; 38044552.2058
Company, ensemble, Ukrainian dances, horse and dance show
--------------------------------------------------------------------------------
Ukrainian National Commission for UNESCO
Ministry of Foreign Affairs; Mykhailivska Square 1 UA-01018 Kiev Ukraine
tel. (380.44)212.82.96, 212.82.20, Fax (380.44)229.59.26, 226.31.69
http://unesco.org.ua
National organization
--------------------------------------------------------------------------------
Viterets Kiev Folk Dance Ensemble
Institutska UA-1252001 Kiev Ukraine
Tel. 228.67.43
Company, performing Ukrainian dances
--------------------------------------------------------------------------------
Elen Arkhipenko
Av. Perova-8, Apt. 48 UA-252125 Kiev Ukraine
Tel. & Fax (380.44)224.95.06
Dance
--------------------------------------------------------------------------------
Vera Bilyk
P.O. Box 329 UA-252034 Kiev 34 Ukraine
Tel. 380/44/224 91 07; Fax 380/44/246 58 29
Institute
--------------------------------------------------------------------------------
Valeriy Debelyi
Richna Street 4 UA-252135 Kiev Ukraine
Tel. (380.44)244.4945, 227.7069, Fax (380.44)227.7069
Company, folk, Ukrainian dances, performing
--------------------------------------------------------------------------------
Igor Filimonov
Gaydar Str. 27, apt. 41 UA-01033 Kiev Ukraine
Tel. & Fax 38044 2482495
Teacher, judge
--------------------------------------------------------------------------------
Natalie Forostenko
Pr-t Kommunisticheski 7, kv.88 UA-55000 Yuzhnoukrainsk, Nikolaev region Ukraine
Tel. (380 44) 248-4120, Fax (380 44) 248-4120
http://www.uis.kiev.ua/culture/choreogra
Folk dance, ballet. Performances
--------------------------------------------------------------------------------
Larysa Kadyrova
PO Box 329, Yaroslaviv val 14; Union of Theatre Artists UA-252034 Kiev 34 Ukraine
Tel. 380 44 224 91 07; Fax 380 44 246 58 29
Organisation
--------------------------------------------------------------------------------
Jurij Kolesnichenko
Institutska 1 UA-252001 Kiev Ukraine
Tel. 228.67.43
http://www.fortunecity.com/victorian/sti
Group
--------------------------------------------------------------------------------
Valeriy Kovtun
Richna Street 4 UA-252135 Kiev Ukraine
Tel. (380.44)216.4871, 229.6146, Fax (380.44)216.4871
Company, ballet, classical
--------------------------------------------------------------------------------
Viktor Lytvynov
Volodymyrska Street 50 UA-252003 Kiev Ukraine
Tel. (380.44)2255134
Company, ballet, classical
--------------------------------------------------------------------------------
V. Maslenko
21, b. 5, Sichnevogo Povstannya Street UA-252.015 Kiev Ukraine
Tel. & Fax (044)2249506
Company
--------------------------------------------------------------------------------
Anatoly Mokrenko
Vladimirskaya 50 UA-252030 Kiev Ukraine
Tel. (380.44)229.2359
Company, ballet, professional, performing
--------------------------------------------------------------------------------
Alexandra Saitan
Pyrogovskogo 6/40 UA-03110 Kievo Ukraine
Tel. 0038044 2458637; Fax 0038044 2458637
Organization, Greek Folk Dances
--------------------------------------------------------------------------------
Yury Aleksandrovich Stanishevsky
Prospekt 40, letiya Oktyabrya 97-A, kv.89 UA-252.127 Kiev Ukraine
Tel. (380.44)261.7120
Researcher, ballet and music theatre in the Ukraine
--------------------------------------------------------------------------------
Myraslav Vantukh
Shevtchenko Boulevard 50/52 UA-252032 Kiev Ukraine
Tel. (380.44)274.8123, 228.5812, Fax (380.44)216.8316
Company
--------------------------------------------------------------------------------
Ukrainian National Folk Dance Ensemble Named After P.Virsky
Kiev
--------------------------------------------------------------------------------
Veryovka National Academic Folk Chorus
Kiev
--------------------------------------------------------------------------------
Junist Ensemble
Lviv
--------------------------------------------------------------------------------
Halychyna Folklore Dance and Song Ensemble
Lviv
--------------------------------------------------------------------------------
Kvity Ukrayiny Model Children & Youth Dance Ensemble
Yuzhnoukrainsk
--------------------------------------------------------------------------------
Veseli Cherevychky Folk Children Dance Ballet
Lviv
--------------------------------------------------------------------------------
Donbas Song and Dance Ensemble
Donetsk
--------------------------------------------------------------------------------
Barvinok Dance Ensemble
Vinnytsia
--------------------------------------------------------------------------------
Politechnic Folk Dance Company
Kiev
--------------------------------------------------------------------------------
Krynychenka National Folk Dance Ensemble
Rivne
--------------------------------------------------------------------------------
Tritsvit Ukrainian Folk Dance Group
Nikolaev
--------------------------------------------------------------------------------
Viterets Folk Dance Ensemble
Kiev
--------------------------------------------------------------------------------
Youth of Podillya Folk-Dance Ensemble
Khmelnytsky
--------------------------------------------------------------------------------
Lelechenky Ukrainian Folk Dance Ensemble
Kiev