.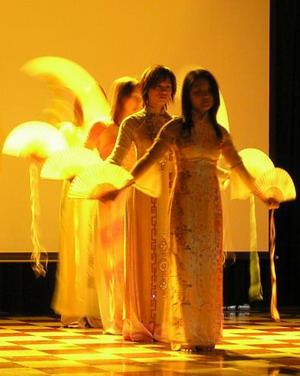 Hong Lac Vietnamese Dance Ensemble, Nguyen Dance Company, Vietnamese Institute for Musicology, are just a few of the dance companies, Vietnamese dance schools, dancing organizations and dance wear suppliers that that can be found in our comprehensive Directory of Vietnamese Dance Companies.
Traditional Vietnamese dance

Traditional Vietnamese dance includes several different forms. These include: dance as performed in Vietnamese theatre and opera, dances performed at festivals, and royal dances of the imperial court. Dance is thought to have been an integral part of Vietnamese culture since ancient times, as depicted by engravings found on Dong Son drums.

Dance is predominantly a folk tradition, still practised in ethnic communities and remote villages. However, the custom is waning and efforts are being made to conserve the dances that remain and, where feasible, revive those that have already disappeared.

The Vietnamese acoustic arts generally have symbolic, expressive and emotional features. Traditional stage relates closely to the audience and is a combination of music and dance forms. The Vietnamese dance has few strong and tough actions, but contains many smooth and curling features with closed feet and a lot of arm-dancing actions.
Featured Vietnamese Dance Company
Vietnamese Institute for Musicology, formerly the Musicology Division of the Culture and Arts Bureau, was established in 1950. Undergoing many changes in organization structure and belonged directly to such different organizations as Music and Dancing Research Division, Department of Arts, Music and Dancing Bureau, Arts Institute, it was, up to 1976, officially separated to an independent institute with the name of Vietnam Musicology Institute. Vietnamese Institute for Musicology (VIM) at present is an institution belonging to Hanoi National Conservatory of Music under the Ministry of Culture and Information.


If you would like your Vietnam Dance Company, Dance Organization, Dance School featured here then please email bangkokcompanies@gmail.com
There are many fine dance schools in Vietnam. I know I am in contact with them as we supply a range of high quality dancewear products like leotards, dance pants, dance dresses and other dancing apparel.
Bangkok Companies supplies an amazing range of dancewear from Thailand. I have looked at these dance garments and dance accessories in detail. There is only one word to describe them Superb. For more details click on the pictures or send an email to bangkokcompanies@gmail.com We regret at this time we can only satisfy Vietnam wholesale dancewear requests.
"Dancewear designed by dancers for dancers"
| | | | | |
| --- | --- | --- | --- | --- |
| Dance Dresses | Kids Leotards | Adult Leotards | Dance Bras | |
| | | | | |
| | Dance Pants | Tutu's | Dance Shorts | |
| | | | | |
| Dancewear | Dancewear Organizers | Dance Bags | Dance Backpacks | |
| | | | | |
Bangkok Companies is a full service product sourcing company in Thailand. For All your dancewear needs please email bangkokcompanies@gmail.com with your requests.
---
Dance Schools in Vietnam, Dancewear Suppliers, Dancing Organizations
To Ngoc Thanh
Hoi Van nghe dan gian Viet Nam , Nha E1, Ngo 29 VN-Ta Quang Buu street, Hanoi Vietnam
Tel. (84)486.860.51; Mob. (84)091.320.3631; Fax. (84)486.826.07;
Specialist in folk music and folk dance of Vietnam's ethnic minorities, author
--------------------------------------------------------------------------------
Asa Thorp-Trinh
41 ngach 4/27, Phuong Mai VN-Hanoi Vietnam
(410)928.3713;(410)845.228.22 office in Vietnam
International coordinating
--------------------------------------------------------------------------------
Ngo Thanh Phuong
30, Phan Xich Long Str. VN-848 Ho Chi Minh Vietnam
Tel. 848443928
dancer
--------------------------------------------------------------------------------
Jennifer Gampell
868/75-76 Soi Vanich 2 Songwad Road TH-10100 Sampanthawong, Bangkok Thailand
Tel. & Fax (662) 237.3362; (661) 925.7187
http://gampell.com
Vietnam's Doctor of Dance, dancesport, samba, tango, waltz
--------------------------------------------------------------------------------
8 Khuc Hao Street VN-Hanoi Vietnam
Tel. (84.4)199.3510, 199.3518; Fax (84.4)823.0702
Organization
--------------------------------------------------------------------------------
UNESCO Field Office in Hanoi
23 Cao Ba Quat VN- Hanoi Vietnam
84 4 747 0275/6 ; 84 4 747 0274
--------------------------------------------------------------------------------
VietNam National Commission for UNESCO
8 Khuc Hao Street VN- Hanoi Vietnam
Tel. (84.4)199.3510, 199.3518; Fax (84.4)823.0702
Organization
--------------------------------------------------------------------------------
Vietnam Cultural Window
46 Tran Hung Dao Street VN-Hanoi Vietnam
Tel. 84.4.8253841; Fax 84.4.8269578
Organization
--------------------------------------------------------------------------------
Vietnamese Institute for Musicology
Nguyen Thai Hoc 32 VN-Hanoi Vietnam
Tel. 844 845-7368, 747-0830 ; Fax 844 843-4953
http://www.vnstyle.vdc.com.vn/vim
Institute for Musicology
--------------------------------------------------------------------------------
Le Hai
207 Giai Phong Road VN-84 Hanoi Vietnam
09.135.12680
Teacher, ballroom dances
--------------------------------------------------------------------------------
Loan Dang Hoanh
32, Nguyen Thai Hoc VN-Hanoi Vietnam
Tel. 84.4.845 7368; Fax 84.4.843 4953
http://vn-style.com/vim
Ethnomusicology; musicology; music education; training in music schools; pedagogy; musical life; impact of foreign music on domestic musical life; musical taste/psychology of the younger generation.
--------------------------------------------------------------------------------
Ann Trinh Hoang
351 Cypress Street MD 21651 Millington U.S.A.
Vietnamese Dance Group