.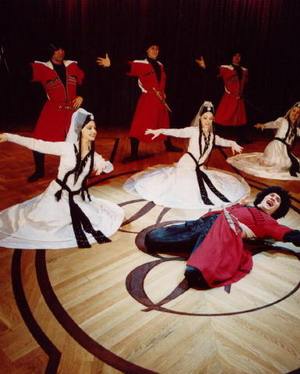 Tbilisi Dance School, The Georgian State Dance Company, Folkart, are just a few of the Georgian dance companies, Georgian dance schools, dancing organizations and dance wear suppliers that that can be found in our comprehensive Directory of Georgian Dance Companies.
Traditional Georgian Dance

Georgian dance is generally characterized by the graceful floating gait of the female dancers. With bodies erect and leaning very slightly forward, the women create lovely formations and turns in an appearance that has been said to form the illusion of ice skating along the floor. The hand, arm and head movements are flowing and gentle while travelling in this quick floating manner. The modern dress is commonly a floor length gown fitted at the torso and long sleeved, in a solid usually pastel colour. A type of pillbox hat is worn with a veil attached to the back.

The most characteristic element of the male Georgian dance is the acrobatic, or gymnastic movements including knee spins, aerial cartwheels, splits and kicks and many other such feats. But the most amazing to most viewers is the fast and varied manner of dancing on the knuckles of the toes. The dancers wear soft soled boots and often jump continually on the toe knuckle, with the body straight and strong, the arms in a very heroic posture, the men often shout or proudly stare as they do this spectacular feat. It is said that it is done in preparation for battle, to show virility to the commanding officer and others. The men's costuming consists of a long, almost knee length jacket with long sleeves which are sometimes rolled up or may hang well below the hand. Two of the most prominent features of the Georgian men's costuming is the tall fur hat and the eight little pockets on each side of the jacket breast, containing ammunition cartridges. The colours for the jacket are usually dark often black, grey, brown or a dark red often adorned with medals or braid or gold trim, with dark tight fitting pants, dark shirt and the straight leather boots
Georgian Dance Video
Featured Georgian Dance Company
The Georgian State Dance Company
From the former Soviet Republic of Georgia, the Georgian State Dance Company has performed to over 50 million people in 87 countries. In 1990 the performances of the Georgian State Dance Company was announced as the "Best show of the Year on Broadway".

If you would like your Georgia Dance Company, Dance Organization, Dance School featured here then please email bangkokcompanies@gmail.com
There are many fine dance schools in Georgia. I know I am in contact with them as we supply a range of high quality dancewear products like leotards, dance pants, dance dresses and other dancing apparel.
Bangkok Companies supplies an amazing range of dancewear from Thailand. I have looked at these dance garments and dance accessories in detail. There is only one word to describe them Superb. For more details click on the pictures or send an email to bangkokcompanies@gmail.com We regret at this time we can only satisfy Georgia wholesale dancewear requests.
"Dancewear designed by dancers for dancers"
| | | | | |
| --- | --- | --- | --- | --- |
| Dance Dresses | Kids Leotards | Adult Leotards | Dance Bras | |
| | | | | |
| | Dance Pants | Tutu's | Dance Shorts | |
| | | | | |
| Dancewear | Dancewear Organizers | Dance Bags | Dance Backpacks | |
| | | | | |
Bangkok Companies is a full service product sourcing company in Thailand. For All your dancewear needs please email bangkokcompanies@gmail.com with your requests.
---
Dance Schools in Georgia, Dancewear Suppliers, Dancing Organizations
Association of Culture Development and Renaissance of Georgia
18 Rustaveli Avenue, GE-0108 Tbilisi Georgia
Tel/Fax:(995)329.211.13
Association of Culture Development and Renaissance of Georgia. There are united about 40 folk dancing and singing ensembles of different ages in our association. They are dancing and singing the traditional songs and dances of Georgia.
--------------------------------------------------------------------------------
Folkart
P.O.Box #44 GE-0108 Tbilisi-8 Georgia
(995)323.929.70; Fax (995)325.318.16
Folkart was founded in 1994, 1997 was founded choreographer's club at FOLKART, Since 1997, Folkart issued Catalogue of children's folk groups.
--------------------------------------------------------------------------------
Georgian Association of Folk Ensembles
22, Rustaveli ave. GE-0108 Tbilisi Georgia
Tel/fax: (99532) 998406 ; fax: (99532) 001153, 988731 ; Mob: (99599) 553601
Georgian Folk dance
--------------------------------------------------------------------------------
Magi E.S. Ltd
22 Chavchavadze Avenue, 3-rd floor GE-380.079 Tbilisi Georgia
(995)322.908.62
--------------------------------------------------------------------------------
S. Zaqariadze
Traditional and Modern Art State College
Panaskerteli 20, FI 25 GE-0194 Tbilisi Georgia
(995)329.530.84; (995)323.351.69; (995)995.108.84
Dance Ensemble presenting Georgian dances
--------------------------------------------------------------------------------
Tbilisi State Medical University Ensemble "Georgian Folklore"
9 Begleti Street GE-380.003 Tbilisi Georgia
(995)995.792.69; Fax. (995)329.425.19; (995)320.0 11.27;
www.ensemble.tsmu.edu
Dance Ensemble presenting Georgian folk dances
--------------------------------------------------------------------------------
Gelodi Potskhishvili
National Ballet "Metekhi"
Balanchivadze 69 GE-380071 Tbilisi Georgia
(995)323.326.67;(995)991.534.47mobile; Fax (995)320.011.53
Chief Choreographer, National Ballet "Metekhi"
--------------------------------------------------------------------------------
Maria Bitska
Tbilisi Univ., Chavchavadze 13 GE-380079 Tbilisi Georgia
(00995)32.221728, (097)7442462(Greece)
--------------------------------------------------------------------------------
Roman Archaia
Tsinamdzghvrishvili 121, St. Room 4-15 GE-0164, Tbilisi Georgia
+995 32 943856 ; +995 77 551101
www.dance-gnc.ge
Promotion of professional dancing in Georgia
--------------------------------------------------------------------------------
Khatia Chanishvili-Malone
123-A, Aghmashenebeli Ave. GE 0164 Tbilisi Georgia
Telefax: 995-32 958570 Cell: 995-99-153308
www.gnb-sukhishvili.ge
--------------------------------------------------------------------------------
Manana Goshadze
22 Chavchavadze Avenue, 3-rd floor GE-380.079 Tbilisi Georgia
Tel. 99532290862
Dance Group
--------------------------------------------------------------------------------
Ketevan Kandelaki
Ministry of Foreign Affairs, 4 Chitadze GE-0118 Tbilisi Georgia
(995)322.847.40;Fax(995)322.846.78
Secretary-General
--------------------------------------------------------------------------------
Giorgi Khuzaurashvili
f30,#2 B.Khmelnitski str., 0136 Tbilisi Georgia Tel:
(995 93) 14 11 32; (995 98) 16 12 45; (995 93) 41 56 40
Folk Dance
--------------------------------------------------------------------------------
George Kiknadze
Folkart
P.O.Box #44 0801 Tbilisi-8 Georgia
(995)323.929.70;Fax(995)325.318.16
Folkart was founded in 1994, 1997 was founded choreographer's club at FOLKART, Since 1997, Folkart issued catalogue of children's folk groups.
--------------------------------------------------------------------------------
Tinatin Koiava
20. FL 25, Panaskerteli GE-0194 Tbilisi Georgia
Tel. (+99599) 414 - 727
Dance Teacher, Choreographer of folk dance.
--------------------------------------------------------------------------------
Badri Matchavariani
me-8 polkis dasaxleba GE-380.090 Tbilisi Georgia Tel.
(995)32773506; Fax (995)32942519
www.tsmu.edu/folk
Dance Group, Folk Dance
--------------------------------------------------------------------------------
Javar Nachkebia
18, Rustaveli Avenue 0108 Tbilisi Georgia
Tel. (+995 32) 92 11 13, FAX (+995 32) 92 11 13
Folk Dance Ensembles
--------------------------------------------------------------------------------
Geogra Pilishvili
#65, Gldani 8.m/r korp 7. 380102 Tbilisi Georgia
Tel. +995 99 935001
www.egrisi.com
Choreographer
--------------------------------------------------------------------------------
Nino Sukhishvili
132A, Aghmashenebeli Ave. GE 0164 Tbilisi Georgia
995-32-958579;Fax 995-32-958570
www.gnb-sukhishvili.ge
--------------------------------------------------------------------------------
Ilia Sukhishvili
132A, Aghmashenebeli Ave. GE 0164 Tbilisi Georgia
Tel. 995-32-958579;Fax 995-32-958570
www.gnb-sukhishvili.ge
--------------------------------------------------------------------------------
Demur Surmava
22, Rustaveli ave. GE-0108 Tbilisi Georgia
Tel/fax: (99532) 998406 ; fax: (99532) 001153, 988731 ; Mob: (99599) 553601
Folk dance
--------------------------------------------------------------------------------
Inga Tevzadze
132A, Aghmashenebeli Ave. GE-0164 Tbilisi Georgia
Tel. 00995 32 950611; 00995 32 955183; 995-32-958579
Fax 00995(32)958570; 00995; (32) 941184
www.gnb-sukhishvili.ge
Ballet teacher, Company, ballet
--------------------------------------------------------------------------------
Mikheil Tsitsishvili
24 Bakhtrioni Street GE-0194, Tbilisi, (Eastern Europe) Georgia
+995 32 360052
www.rustavi.org
Georgian Traditional Dance and Song Company
--------------------------------------------------------------------------------
Maya (Maka) Virsaladze
Krilov str.9 GE-0102 TBilisiCaucasus Georgia
+995 32 950962 ;+995 32 232528 ; +899 253474mobile www.composers21.com/compdocs/virsalam.html
In 1998 year I composed the Ballet "Mirror"
--------------------------------------------------------------------------------
Georgia National Commission for UNESCO
Ministry of Foreign Affairs ; 4 Chitadze Street GE-0118 Tbilisi Georgia
Tel. (995.32)98.94.29, 98.93.77; Fax (995.32)98.94.29, 99.72.49, 98.94.56
http://georgia.comnat.unesco.org
National organization
------------------------------------------------------------------------------
Stichting Caucasus Foundation; International Center for Culture and Science
45 I. Chavchavadze ave GE Tbilisi, 0162 Georgia
Tel 995. 322.943.06; Tel/Fax: 995 322.500.89
--------------------------------------------------------------------------------
Tengiz Gachechiladze
D. Agmashenebeli Avenue, 182, Mushtaidi GE-380.012 Tbilisi Georgia
Tel. (995)3234618867, Fax (995)32.965275
Dance Organization, dancesport
--------------------------------------------------------------------------------
Etery Nikolaevna Gugushvili
Purtseladze 12 GE-380.000 Tbilisi Georgia
Tel. (883) 93.20.59
Dance Researcher, Dance Teacher, folk dances
--------------------------------------------------------------------------------
Rusudan Jgenti
14, l. Abashidge street GE-380.079 Tbilisi Georgia
Tel. (995.32)932455, 224797; Fax (995.32)234023
Dance Groups
--------------------------------------------------------------------------------
Levan Kasradze
22 Av. Rustaveli GE-380.008 Tbilisi Georgia
Tel. 995.3293 6381; 995.3252 7290; Fax 995.3200 1153; 995.3252 7381
Dance Festival, folk, organizer
--------------------------------------------------------------------------------
Irina Shaduri
14 I. Abashidze GE-380.079 Tbilisi Georgia
Tel. (995)32.221.516, 32.932.455, Fax (995)323.4023
Researcher, historian, Festival, folk
--------------------------------------------------------------------------------
Iliko Sukhishvili
123 Agmashenebeli Avenue GE-380.002 Tbilisi Georgia
Tel. 00995 32 950611; 00995 32 955183;
Fax 00995 (32)958570; 00995; (32) 941184
http://www.gnb-sukhishvili.ge
Ballet chief choreographer, Company, ballet
--------------------------------------------------------------------------------
Demutri Surmava
Rustaveli 22 38008 Tbilisi Georgia
00995-32933492; Fax 005-32001153
--------------------------------------------------------------------------------
Juri Toradze
127, Av. Agmachenebeli, Centre de Cultures GE-380.000 Tbilisi Georgia
Tel. 641219, 8 77 498199, 893 36 5025; Fax 0099532 955870
Georgian Folkdance Group "Skhivi"
--------------------------------------------------------------------------------
Maya Virsaladze
9 Krilov GE-380.002 Tbilisi Georgia
Tel: 995 32/ 95.09.62
Composer