.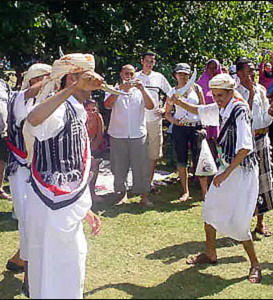 Sabrina Kadri, Faraj Matari, are just a few of the Yemen dance companies, Yemeni dance schools, dancing organizations and dance wear suppliers that that can be found in our comprehensive Directory of Yemeni Dance Companies.
Traditional Yemeni Dance

My first impression of dance in Yemen. The women were talking about a wedding that would soon be taking place. I thought it would be an appropriate time to ask about what went on at the weddings and if there was any music or dancing. Due to the conservative nature of Yemeni society, I had not yet ventured upon this subject. Because my husband and I planned to live in Yemen for many years, and I in no way wanted to jeopardize our position there, I did not want word to get out that I was a professional dancer, nor did I want to say or do anything that would cause my morals to be questioned.

The response to my question as to whether there was any music or dance was an enthusiastic, "Oh, yes!" I explained that I'd been to Lebanese weddings and seen Lebanese dance and to Egyptian weddings and seen Egyptian dance. It was then quite natural to ask about dance at Yemeni weddings.

Anissa, a young woman in her late teens jumped up and began demonstrating a few steps. Rugaya, Anissa's mother, who was hosting the gathering that day, put on a cassette. Hoda, another young woman who lived in the neighborhood, also got up and the two young women performed a dance that is danced in pairs. It was called "Laheji", named after the region of Lahj, where the dance originates. When I asked why a dance from Lahj was done in Sanaa, I was told that, because it was easy to do and pretty to watch, it had become very popular in Sanaa. The basic footwork is a type of "1-2-3" step, somewhat like the "cha cha" step in the States.

I inquired if there were a dance from Sanaa. The two younger women began to show me some other steps only to be interrupted by Khadija, Hoda's mother-in-law. Khadija began demonstrating a dance that at first looked deceivingly simple. Upon closer observation, however, I saw the steps were highly intricate, changing according to the rhythm.

I later learned that this "Sanaani" style of dance is usually done by older women, sometimes 2, 3 or more, all dancing in a line. Because it is more complicated, many of the younger women cannot dance the" Sanaani" style properly.

Knowing that the hostess, Rugaya, was from Hadhramawt Valley in the southern part of Yemen, I could not resist asking her about dance in Hadhramawt. Anissa started with the basic "1-2-3" step but then began to throw her hair from side to side in a way similar to "Khaligy" or Arabian Gulf style. This similarity in styles is not surprising when one considers the strong historical and cultural ties between the Hadhramawt valley and both Saudi Arabia and the United Arab Emirates. Many of the well-known "Saudi" or "Khaligy" singers are, in fact, of Yemeni origins. Abu Bakr Salim Belfaqeeh and Badwi Zubahr are from Hadhramawt and both Mohamed Abdu and Ahmed Fat'hi are from Hodeida, on the Red Sea coast. I later found out that Anissa and many other Yemeni women could also dance the Khaligy style superbly.

Another woman who lived in the area, Hanan, had been quietly observing what was going on. Finally, she got up to demonstrate the dance of her homeland, Marib, once the capital of the ancient kingdom of Saba or Sheba. Although there was no cassette of appropriate music, she did her best. The dance looked like no other I've seen before. Unfortunately, I never got to see Hanan dance again nor did I ever get to travel to Marib to see the dancing first hand.
Living in Yemen - Lorraine Zamora Chamas
Featured Yemeni Dance Company
Nizar M. Ghanem
Researcher, performing arts; Dance group within a music school, as part of Yemeni organization. Researcher in African influence on Yemeni dances. Teaching music in notes of traditional Yemeni representations.
If you would like your Yemen Dance Company, Dance Organization, Dance School featured here then please email bangkokcompanies@gmail.com
There are many fine dance schools in Yemen. I know I am in contact with them as we supply a range of high quality dancewear products like leotards, dance pants, dance dresses and other dancing apparel.
Bangkok Companies supplies an amazing range of dancewear from Thailand. I have looked at these dance garments and dance accessories in detail. There is only one word to describe them Superb. For more details click on the pictures or send an email to bangkokcompanies@gmail.com We regret at this time we can only satisfy Yemen wholesale dancewear requests.
"Dancewear designed by dancers for dancers"
| | | | | |
| --- | --- | --- | --- | --- |
| Dance Dresses | Kids Leotards | Adult Leotards | Dance Bras | |
| | | | | |
| | Dance Pants | Tutu's | Dance Shorts | |
| | | | | |
| Dancewear | Dancewear Organizers | Dance Bags | Dance Backpacks | |
| | | | | |
Bangkok Companies is a full service product sourcing company in Thailand. For All your dancewear needs please email bangkokcompanies@gmail.com with your requests.
---
Dance Schools in Yemen, Dancewear Suppliers, Dancing Organizations
Sabrina Kadri
Bayt al-Ajami, rue du 26 Septembre B.P. 2660 YE-Sanaa Yemen
(33)47.276.9562 (France); (967)(1).275.417; Fax (967)(1)270725; Mobile (967)713.58932 .
research, dancer with companies in France, African and Arabic dance
--------------------------------------------------------------------------------
Faraj Matari
1234, Zubyri P.O.Box:3264 YE-009671 Sanaa Yemen
Tel. 009671219092; FAX 009671280213
Yemeni Jambia Dance
--------------------------------------------------------------------------------
Bustan Alkheir
26 September Str., PO Box 12642 YE-Sana'a Yemen
Tel. (967.1)200.478/481, 214.612/615, Tel. & Fax (967.1)200.480; Fax (967.1)214.613
Organization
--------------------------------------------------------------------------------
Yemeni National Commission for UNESCO
Bustan Alkheir, 26 September Str., PO Box 12642 YE- Sana'a Yemen
Tel. (967.1)200.478/481, 214.612/615, Tel. & Fax (967.1)200.480; Fax (967.1)214.613
http://www.yncecs.gov.ye
National organization
--------------------------------------------------------------------------------
Erika Freund
PO Box 4420 YE-Taiz Yemen
Tel. & Fax 967 4/204 239
Researcher, Ethiopian dance; Akhdam minority (Yemen), music & dance
--------------------------------------------------------------------------------
Nizar Ghanem
Box 11394 YE-Sana'a Yemen
Tel. (967.1)234384
Musicologist, folk music & dance ensemble
--------------------------------------------------------------------------------
Nizar M. Ghanem
PO Box 8090 Amarat SD-1010 Khartoum Sudan
249)112.418..10; Fax(249)114.779.00
Researcher, performing arts; Dance group within a music school, as part of Yemeni organization. Researcher in African influence on Yemeni dances. Teaching music in notes of traditional Yemeni representations.
--------------------------------------------------------------------------------
Olga Druzhuk
8-1-360, Oleko Dundich str. RU 192283, Saint-Petersburg Russia
7 (812) 345-2439;7 (812) 176-0478;7 (921)579-2593
www.oazis-dance.narod.ru
Dancing culture (ethnic) peoples of Israel, Mediterranean and East Europe countries. Arabian and Kurdish debkies, womanly dances of Persia and Greece, vigorous Hasidim and colorful Yemen dance.