.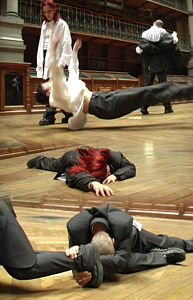 Mulleras Dance Company, Ecole de Danse Tiny, Compagnie Passaros, Studio de Danse, are just a few of the French dance companies, French dance schools, dancing organizations and dance wear suppliers that that can be found in our comprehensive Directory of French Dance Companies.
Featured French Dance Company
Mulleras Dance Company
Magali Viguier-Mulleras & Didier Mulleras, French choreographers, based their dance company in Béziers (South France) in 1986. They actually work in their own studios, the CED center, where they create and teach. They both have had a rich and pluralistic training (dance, music, theater).

Didier had earlier a musical training (piano, voice, percussions), then toured in various bands playing Jazz and Brazilian music. Since 1990, he composes the original music for all the company's stage works, in an eclectic melting-pot of synthetic and acoustic sound.

Magali and Didier Mulleras are part of the new generation of artists who do not wish to remain subjugated to established styles, as much in the writing of movement as in the places of representation. Their creative process using multimedia, notably internet, is today appreciated as a new path to be taken. Their curious look at the world allows them to confront their dance to the technical improvement of this millenium, showing a new dance in ever-changing settings.
French Dance Video
There are many fine dance schools in France. I know I am in contact with them as we supply a range of high quality dancewear products like leotards, dance pants, dance dresses and other dancing apparel.
Bangkok Companies supplies an amazing range of dancewear from Thailand. I have looked at these dance garments and dance accessories in detail. There is only one word to describe them Superb. For more details click on the pictures or send an email to bangkokcompanies@gmail.com We regret at this time we can only satisfy France wholesale dancewear requests.
"Dancewear designed by dancers for dancers"
| | | | | |
| --- | --- | --- | --- | --- |
| Dance Dresses | Kids Leotards | Adult Leotards | Dance Bras | |
| | | | | |
| | Dance Pants | Tutu's | Dance Shorts | |
| | | | | |
| Dancewear | Dancewear Organizers | Dance Bags | Dance Backpacks | |
| | | | | |
Bangkok Companies is a full service product sourcing company in Thailand. For All your dancewear needs please email bangkokcompanies@gmail.com with your requests.
---
Dance Schools in France, Dancewear Suppliers, Dancing Organizations
Dr. Mr. Benoit Lesage, President
Europeenne de Danse Therapie
France
lesagebenoit.albrici@wanadoo.fr
Association
--------------------------------------------------------------------------------
Mr. Emile Glele
UNESCO sector for culture
France
Tel. (33)145684745; Fax (33)145685591
Dance Organisation
--------------------------------------------------------------------------------
Ecole de Danse Tiny
25 rue Andre Citroen France
Tel. (33.4)78 90 69 99
Dance School, dance tuition, classes
--------------------------------------------------------------------------------
Biennale Nationale de Danse du Val-de-Marne
FR- France
Tel. (33)0146861761; Fax (33)0146867070
biennale@danse94.com
http://www.danse94.com
Contemporary Dance
--------------------------------------------------------------------------------
Ms. Jacqueline Rosemain
FR- France
Dance Researcher, music, dance, Antilles, folk
--------------------------------------------------------------------------------
Ms. Veronique Molieres, Contact
Mulleras Dance Company
FR- France
Tel. (33.6)82.38.91.32, (33.4)67.62.53.00
mail@mulleras.com
http://www.mulleras.com
Danse & nouvelles technologies
--------------------------------------------------------------------------------
Ms. Zoe Margari
FR- France
Tel. (33)43.24.48.85
Dance Researcher, Folk Dance, Greek dances
--------------------------------------------------------------------------------
Rocking-Chair
2010 avenue Chambery FR- France
Tel. (33.4)79 72 62 78, 79 72 60 09
Dance hall, discotheque
--------------------------------------------------------------------------------
Le N.P.A
41 rue Ponts Neufs FR- France
Tel. (33.2)43 23 31 42
Dance hall, discotheque
--------------------------------------------------------------------------------
Titanic Club
rte Esquelbecq FR- 59470 Wormhout France
Tel. (33.3) 28 62 96 70
Dance hall, discotheque
--------------------------------------------------------------------------------
Mr. Stephan Bertry
Compagnie Passaros
3 rue du Poitou FR-01000 Bourg-en-Bresse France
Tel. (33)04 74 51 87 40, 06 61 94 04 44
passaros@free.fr
Danse et musique improvisees, danse contact improvisation, creation
Comtemporaine, Creations de spectacles et stages - ateliers
--------------------------------------------------------------------------------
Ms. Emilie Borgo
Compagnie Passaros
3 rue du Poitou FR-01000 Bourg-en-Bresse France
Tel. (33)04 74 51 87 40, 06 61 94 04 44
passaros@free.fr
Danse et musique improvisees, danse contact improvisation, creation comtemporaine,
Creations de spectacles et stages - ateliers
--------------------------------------------------------------------------------
Ms. Jeanine Burgos, Director
Compagnie de Dance Christine Burgos
2 rue Beaumarchais FR-01000 Bourg-en-Bresse, Ain France
Tel. (33)74.21.79.08, (33)74.24.64.79
Dance Company, contemporary, professional, performing
--------------------------------------------------------------------------------
Discotheque le Blue Night
en Bioliere FR-01190 Ozan France
Tel. (33.3)85 51 80 18
Dance hall, discotheque
--------------------------------------------------------------------------------
Ms. Denyse Bidault, President
Confederation Nationale & Federation des Groupes Folkloriques de Grande Bourgogne
39 rue Franche FR-01190 Pont-de-Vaux, Ain France
Tel. (33)03.85.30.32.52, Fax (33)03.85.30.32.31
Dance Organization, folk dance groups, French dances
--------------------------------------------------------------------------------
La Grange e Danses
21 ruelle Marion FR-01200 Bourg-en-Brese, Ain France
Tel. (33)04 74 24 77 15
Dance School, dance tuition, classes
--------------------------------------------------------------------------------
Ecole de Danse Kentucky
26bis rue Versoix FR-01210 Ferney-Voltaire, Ain France
Tel. (33)04 50 42 82 58
Dance School, dance tuition, classes
--------------------------------------------------------------------------------
Mr. Nelson Verestegui
Encuentro de Dos Mundos
9 rue de Geneve, Maison Saint-Pierre FR-01210 Ferney-Voltaire, Ain France
encuentr@multimania.com
http://www.multimania.com/encuentr
Dance School, Dance teacher, tango, tuition
--------------------------------------------------------------------------------
La Riviera et L'American Paradise
pont de Chazey FR-01800 Villieu Loyes Mollon France
Tel. (33.4)74 61 93 33; Fax (33.4)74 61 90 79
Dance hall, discotheque
--------------------------------------------------------------------------------
Ms. Janine Chard-Hutchinson
16 rue Edouard Branly FR-02000 Laon, Aisne France
Tel. (33)03 23 23 17 35
Dance Teacher, dance tuition, classes
--------------------------------------------------------------------------------
G. Dadian
31 rue Pierre Curtil FR-02000 Laon, Aisne France
Tel. (33)03 23 23 37 04
Dance Teacher, dance tuition, classes
--------------------------------------------------------------------------------
Le Normandy
8 rue Bonnot FR-02000 Laon, Aisne France
Tel. (33)03 23 23 25 42
Ballroom, dance hall, discotheque
--------------------------------------------------------------------------------
Bed'Y Musette Guinguette
1312 rue Saint Quentin FR-02100 Essigny Le Petit, Aisne France
Tel. (33)03 23 07 91 48
Ballroom, dance hall, discotheque
--------------------------------------------------------------------------------
Le Smart
190 rue du President John Kennedy FR-02100 Saint Quentin, Aisne France
Tel. (33)03 23 08 35 02
Ballroom, dance hall, discotheque
--------------------------------------------------------------------------------
Studio de Danse Muriel Gresant
23 rue Claude Chappe FR-02100 Saint Quentin, Aisne France
Tel. (33)03 23 62 43 89, (33)03 23 61 06 80
Dance School, dance tuition, Dance classes
--------------------------------------------------------------------------------
Caliel Danse
34 rue Emile Zola FR-02100 Saint Quentin, Aisne France
Tel. (33)03 23 62 28 58
Dance School, dance tuition, classes
--------------------------------------------------------------------------------
Ms. Angelique Didier
39 rue Antoine Lecuyer FR-02100 Saint Quentin, Aisne France
Tel. & Fax (33)03 23 64 32 18
Dance Teacher, dance tuition, classes
--------------------------------------------------------------------------------
Ms. Catherine Petit
Ballerina - Catherine Petit
57 boulevard Richelieu FR-02100 Saint Quentin, Aisne France
Tel. (33)03 23 67 78 98
Dance School, dance tuition, classes
--------------------------------------------------------------------------------
Ms. Sylvaine Polard
7bis rue Notre Dame FR-02100 Saint Quentin, Aisne France
Tel. (33)03 23 62 67 69
Dance Teacher, dance tuition, Dance classes
--------------------------------------------------------------------------------
Ms. Nathalie Prevot
8 rue Saint Jacques FR-02100 Saint Quentin, Aisne France
Tel. (33)03 23 64 71 21
Dance Teacher, dance tuition, Dance classes
--------------------------------------------------------------------------------
Compagnie Routell's
24 rue d'Arrs FR-02100 Saint-Quentin, Aisne France
Tel. (33)23677736
Dance Association, Traditional dance
--------------------------------------------------------------------------------
Magic Night
Rue Paulin Pecqueux FR-02110 Bohain en Vermandois, Aisne France
Tel. (33)03 23 07 42 10
Ballroom, dance hall, discotheque
--------------------------------------------------------------------------------
Studio de Danse Muriel Gresant
Place Lesur FR-02120 Guise, Aisne France
Tel. (33)03 23 61 06 80
Dance School, dance tuition, Dance classes
--------------------------------------------------------------------------------
Discotheque Arc en Ciel
41 rue Vailly FR-02160 Borg et Comin, Aisne France
Tel. (33)03 23 24 41 02
Ballroom, dance hall, discotheque
--------------------------------------------------------------------------------
Discotheque le Must
1 place de l'Eglise FR-02160 Moulins, Aisne France
Tel. (33)03 23 24 46 08
Ballroom, dance hall, discotheque
--------------------------------------------------------------------------------
Centre Contre Temps Arabesque
3bis rue Porte Crouy FR-02200 Saint Quentin, Aisne France
Tel. (33)03 23 53 73 97
Dance School, dance tuition, Dance classes
--------------------------------------------------------------------------------
Le Riviera
1bis rue Ernest Ringuier FR-02200 Soissons, Aisne France
Tel. (33)03 23 59 26 81
Ballroom, dance hall, discotheque
--------------------------------------------------------------------------------
Le Borsalino
2 avenue Cheteau Thierry FR-02200 Soissons, Aisne France
Tel. (33)03 23 53 49 76
Ballroom, dance hall, discotheque
--------------------------------------------------------------------------------
Bar Dancing Le Caprice
5 rue de la Resistance FR-02200 Soissons, Aisne France
Tel. (33)03 23 53 27 85
Ballroom, dance hall, discotheque
--------------------------------------------------------------------------------
Ms. Colette Fontaine
7 rue Pot d'Etain FR-02200 Soissons, Aisne France
Tel. (33)03 23 53 38 11
Dance Teacher, dance tuition, Dance classes
--------------------------------------------------------------------------------
Le Night
1 rue Bois les Pargny FR-02270 Chatillon les Sons, Aisne France
Tel. (33)03 23 20 02 33, (33)03 23 20 61 51
Ballroom, dance hall, discotheque
--------------------------------------------------------------------------------
Ms. Annie Rocca
Academie Annie Rocca
15 rue du General Leclerc FR-02300 Chauny, Aisne France
Tel. (33)03 23 39 41 92, (33)06 80 73 21 83
Dance School, dance tuition, Dance classes
--------------------------------------------------------------------------------
Les Chemins de la Danse
4 rue Barriere FR-02300 Chauny, Aisne France
Tel. (33)03 23 39 54 06, Fax (33)03 23 38 27 00
Dance School, dance tuition, classes
--------------------------------------------------------------------------------
Le Madison
2 rue de la Mairie FR-02320 Lizy, Aisne France
Tel. (33)03 23 80 93 90
Ballroom, dance hall, discotheque
--------------------------------------------------------------------------------
Le Sirius
10 place Herriot FR-02370 Vailly sur Aisne, Aisne France
Tel. (33)03 23 54 70 51
Ballroom, dance hall, discotheque
--------------------------------------------------------------------------------
La Guinguette
Pont du Canal FR-02370 Vailly sur Aisne, Aisne France
Tel. (33)03 23 54 70 67, Fax (33)03 23 54 88 34
Ballroom, dance hall, discotheque
--------------------------------------------------------------------------------
SODDEM
9 hammeau Michettes FR-02380 Coucy le Cheteau Auffrique, Aisne France
Tel. (33)03 23 38 86 11
Ballroom, dance hall, discotheque
--------------------------------------------------------------------------------
L'Ecole de Danse Mafa
2 place des Etats-Unis FR-02400 Cheteau Thierry, Aisne France
Tel. (33)03 23 83 21 39
Dance School, dance tuition, classes
--------------------------------------------------------------------------------
Association Art et Danse
5b rue Pasteur FR-02400 Cheteau Thierry, Aisne France
Tel. (33)03 23 83 00 47
Dance School, dance tuition, Dance classes
--------------------------------------------------------------------------------
Societe Nouvelle Les Trois Pointes
18 Grande Rue FR-02440 Hinacourt, Aisne France
Tel. (33)03 23 63 22 01
Ballroom, dance hall, discotheque
--------------------------------------------------------------------------------
Discotheque Relayer
Grande Rue FR-02450 Fesmy Le Sart, Aisne France
Tel. (33)03 23 60 06 12
Ballroom, dance hall, discotheque
--------------------------------------------------------------------------------
Xenon Discotheque
RN 44, hammeau Cornet d'Or FR-02690 Urvillers, Aisne France
Tel. (33)0323683940, (33)0323682068, Fax (33)0323681010
Ballroom, dance hall, discotheque