.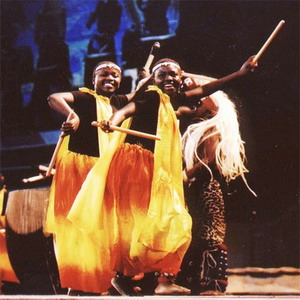 Uganda Arts Outreach, Inc, Queen's Dance School, Kampala Dance School, Kampala Ballet and Modern Dance School, are just a few of the dance companies, Ugandan dance schools, dancing organizations and dance wear suppliers that that can be found in our comprehensive Directory of Uganda Dance Companies.
The Embaga Dance of Buganda
Embaga was created during the reign of Kabaka Mwanga II (circa 1887). He used to enjoy music and dance from Busoga, and so invited artists from there to his palace. This inspired palace artists from Buganda to create a new dance called embaga.

Today embaga is performed for weddings, and through dance and song newly wedded couples are advised about marriage: about sex, raising children, cooking, house- keeping, etc. A typical performance will consist both of choreographed dances for eight or more dancers, and free-form sections. Underpinning all the dance styles is a fast-shaking hip movement, which is emphasised by a cleverly designed costume.

Albert Ssempeke told us that the dance used to be called ngoma by'ebisoko, which means "drum with many variations", and today the dance is constantly evolving. Each group will add newly created variations to their choreographies, often by first creating a drum variation, and then finding a new movement to go with it. Also, the dance allows individuals to express their own personality whilst maintaining the basic hip movement.

The Dances of Busoga

The oldest dance is thought to be irongo, a dance created to celebrate the birth of twins. Having twins is thought to be a blessing from God - a sign that "you have a good relationship with the spirits".

When you hear the irongo rhythm in a village, you'll know that twins have been born and a celebration is about to begin. Villagers will gather grass or dried banana leaves and tie these around their waists before joining the dance. This makeshift costume accentuates the movement of the waist, and makes the dance more beautiful.

The movements have sexual connotations. For example, when girls dance the okunyola variation, they move their waist in a circular motion, and place their hands on their breast to tease men. Or when the husband dances okunyola, he positions his hands as though he is holding a spear.

Tamenhaibuga has been danced since the eighteenth century. The name of the dance means "don't break the gourd" - a gourd is used as a cup in Busoga, and is a symbol of unity.

The dance is performed at the funerals of old people to celebrate their life. Funerals last several days and this dance is performed on the last day so that the family can release their sorrow. One of the songs says Amusika tiga isa, which means "tears don't bring back the dead". It is a happy dance, and i is danced in the different places where the dead person had been. amadinda

Featured Ugandan Dance Company
Uganda Arts Outreach, Inc believes that dance and the arts are critical components of poverty eradication, peace building, and educational efforts. Our goal is to increase international cooperation with Uganda in the arts to facilitate empowerment, growth, collaboration, and artistic training. Three goals guide our work:
Bring dance and the arts to a greater number of under-served Ugandans
Increase the impact of the arts in Uganda as tools to promote culture, well-being, and self-esteem
Strengthen the linkages between artistic communities in Uganda and the United States

Uganda Arts Outreach, Inc. grew out of a meeting between Uganda's Bugandan Queen and an American consultant on mission for the World Bank in Uganda. The Queen's experience laying the foundation for her country's first dance school paralleled similar experiences the consultant had led in Argentina and the United States. United in their love of Uganda and their commitment to the arts and poverty eradication, the two shared a vision to expand the scope of arts education in Africa. After a year volunteering as the International Development Director for the Queen's dance school, formerly the Kampala Ballet and Modern Dance School, an opportunity arose to forge more formal partnerships with international institutions seeking to assist the Ugandan effort.


If you would like your Uganda Dance Company, Dance Organization, Dance School featured here then please email bangkokcompanies@gmail.com
There are many fine dance schools in Uganda. I know I am in contact with them as we supply a range of high quality dancewear products like leotards, dance pants, dance dresses and other dancing apparel.
Bangkok Companies supplies an amazing range of dancewear from Thailand. I have looked at these dance garments and dance accessories in detail. There is only one word to describe them Superb. For more details click on the pictures or send an email to bangkokcompanies@gmail.com We regret at this time we can only satisfy Uganda wholesale dancewear requests.
"Dancewear designed by dancers for dancers"
| | | | | |
| --- | --- | --- | --- | --- |
| Dance Dresses | Kids Leotards | Adult Leotards | Dance Bras | |
| | | | | |
| | Dance Pants | Tutu's | Dance Shorts | |
| | | | | |
| Dancewear | Dancewear Organizers | Dance Bags | Dance Backpacks | |
| | | | | |
Bangkok Companies is a full service product sourcing company in Thailand. For All your dancewear needs please email bangkokcompanies@gmail.com with your requests.
---
Dance Schools in Uganda, Dancewear Suppliers, Dancing Organizations
Roger Masaba
Uganda National cultural Center; PO Box 24357 UG-3187 Kampala Uganda
(25)677.504.674;(25)675.630.681;Fax(25)641.349.812
Choreographer, dancer, engaged in contemporary African Dance, and developing traditional ethnic movement.
--------------------------------------------------------------------------------
Mbabi-Katana
PO Box 7062 UG-Kampala Uganda
Professor of music
--------------------------------------------------------------------------------
Kayizzi Arthur Colin
P.O.BOX 16391 UG-East Africa Kampala Uganda
(256)782.140.088;
www.akadinda1.tripod.com
Teacher/Performing Artist
--------------------------------------------------------------------------------
Twine Matsiko Geoffrey
P.O.Box 1087 UG-MBARARA Uganda
00256-77-454273
Music & Dance research
--------------------------------------------------------------------------------
Walusimbi Haruna
P.O Box 1527 UG- Jinja Uganda
Tel. (256)756.275.18
Professional cultural performing group
--------------------------------------------------------------------------------
James Isabirye
P.O. BOX 9819 Kampala Uganda
+256 782 721 506 or +256 712 424 759
Holding folk arts festivals; both regional and national and collecting them by writing and audio visual documentation.
--------------------------------------------------------------------------------
James Isabirye
P.O. Box 7490 Kampala UG-7490 Kampala East Africa Uganda
Tel. (256)71 834 942
National Folklore Organisation dealing all musical arts including Dance research, Documentation, development and transmission.
--------------------------------------------------------------------------------
Crested Towers
Hannington Road, PO Box 4962 UG-Kampala Uganda
Tel. (256.41)259.713, 234.440/1.9, Fax (256.41)258.405,234.920
Organization
--------------------------------------------------------------------------------
Uganda National Commission for UNESCO
Embassy House, King George VI Way; PO Box 4962 UG- Kampala Uganda
Tel. (256.41)259.713, 234.440/1.9, Fax (256.41)258.405, 234.920
http://www.unesco-uganda.org
National organization
--------------------------------------------------------------------------------
Nandaha Abud
Malukhu Road Plot 35/39 Mbale Uganda
Tel. +256(0)78361389/071184633
--------------------------------------------------------------------------------
Augustine Bazaale
PO Box 930 UG-Kampala Uganda
Tel. 256/41/251229, 256/41/232350; Fax 256/41/345598
Institute
--------------------------------------------------------------------------------
Charles Drive
PO Box 58 UG-Kampala Uganda
Tel. (256)077.428.881, 41.345.214, Fax (256)41.241.776
Festival, folk
--------------------------------------------------------------------------------
Chitra Grover
PO Box 26969, 81B Solent Avenue UG-Kampala Uganda
Tel. (256 .77)505414; Fax (256 . 41)343034
Odissi, Performing Artist
--------------------------------------------------------------------------------
Samuel Kahunde
PO Box 310 UG-Masindi Uganda
Tel. (256)0465.20281, Fax (256)0465.20411
Festival, folk
--------------------------------------------------------------------------------
Kokolo Kampala
PO Box 58 UG-Kampala Uganda
Tel. (256)077.428.881, 41.345.214, Fax (256)41.241.776
Festival, folk
--------------------------------------------------------------------------------
Julius Lugaaya
PO Box {256} UG-3187 Kampala Uganda
Tel. (256)75630681
Dance company Uganda: Contemporary dance.
--------------------------------------------------------------------------------
Moses Matovu
PO Box 930 UG-Kampala Uganda
Tel. 256/41/251229, 256/41/232350; Fax 256/41/345598
Institute
--------------------------------------------------------------------------------
Constantine Mpungu
Box 5537 UG-Kampala Uganda
Tel. 256.41.250 988; 256.41.250 988; 256.41.341242
Organizer, folk dance festivals
--------------------------------------------------------------------------------
Mulindwa
PO Box 10859 UG-Kampala Uganda
Tel. 077.468060
Contemporary Dance and Hip Hop
--------------------------------------------------------------------------------
Annet Nandujja
PO Box 1643 UG-Kampala Uganda
Tel. 077.435555
Dance group
--------------------------------------------------------------------------------
Jackson Ndawula
PO Box 930 UG-Kampala Uganda
Tel. 256 41 251 229, 232350; Fax 256 41 345598
Organisation
--------------------------------------------------------------------------------
Steven Rwagyezi
International Conference Centre; P.O. Box 11353 UG-Kampala Uganda
Tel. & Fax 256-41-341776
Group
--------------------------------------------------------------------------------
Stephen Rwangyenzi
PO Box 11353 UG-Kampala Uganda
Tel. 077.200104, 041.341776
Dance group
--------------------------------------------------------------------------------
Robert Serumaga-Karundi
Unganda National Theatre
UG-3187 Kampala Uganda
--------------------------------------------------------------------------------
Sewakiryanga
PO Box UG-Kampala Uganda
Tel. 075.649380
Central Ugandan Dances
--------------------------------------------------------------------------------
Christopher Kizza Ssalongo
PO Box 930 UG-Kampala Uganda
Tel. 256/41/251229, 256/41/232350; Fax 256/41/345598
Institute
--------------------------------------------------------------------------------
Bbosa Basil Ssettemba
PO Box 58 UG-Kampala Uganda
Tel. (256)077.428.881, 41.345.214, Fax (256)41.241.776
Festival, folk
--------------------------------------------------------------------------------
Richard Tuwanjye
PO Box 26714 UG-Kampala Uganda
Tel. 077636689
Contemporary and Hip Hop
--------------------------------------------------------------------------------
Milton Wabyona
PO Box 21109 UG-Kampala Uganda
Tel. 077.604082
Contemporary
--------------------------------------------------------------------------------
E. Walakira
Box 3187 UG-Kampala Uganda
dancer