.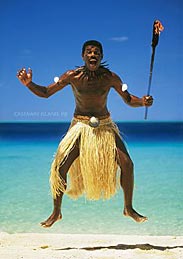 Shobana Chanel Dance Company, Club Paradise, These are just a few of the Fiji dance companies, Fiji dance schools, dancing organizations and dance wear suppliers that that can be found in our comprehensive Directory of Fiji Dance Companies.

Traditional Fijian Dance - The Meke
A meke is a traditional Fijian dance. It is typically performed during celebrations and festivals. Males and females each perform a separate dance never dancing together. The male dance is called the meke moto usually involving long spears. The dance is meant to symbolize the ancient warriors of the village. The female dance is called the seasea and involves the performers making rapid motions with their hands and arms.

Different types of meke include the war dance, men's club dance, men's spear dance, as well as the men's or women's fan dance, women's standing dance and the sitting dance performed by men or women. All these meke are group dancers in which the overall appearance and group co-ordination are important. Men's dance movements are vigorous and virile while women's are controlled and graceful with lots of hand and body movements.

The music for the dance is provided by bamboo tubes and the lali, a wooden drum. The performers illustrate the meaning of the meke through the lyrics of the songs. The songs and their lyrics are created by the daunivucu, a Fijian composer, specifically for each meke

Fijian Dance Video


Featured Fijian Dance Company
The Center for Pacific Islands Studies at the University of Hawai'i, in collaboration with Pacific Studies at Victoria University of Wellington, devoted its 9-12 November 2005 conference to dance in Oceania. This was the first international conference on the topic that brought together choreographers, scholars, and performers of traditional, contemporary, and hip hop music and dance. This was also the first time that the annual Pacific Islands Studies conference was held overseas, and for this we chose the venue of Wellington, Aotearoa New Zealand, a creative, vibrant and active center of Pacific arts. The gathering was convened at and co-hosted by the Museum of New Zealand Te Papa Tongarewa.

Dance and music have always been central forms of spiritual, political, artistic, physical and intellectual expression throughout Oceania. It is through dance in particular that those living in or connected to this ocean engage and reflect both their lived and ancestral worlds from Wellington, Los Angeles, and Sydney to Apia, Suva, and Tarawa. Yet the current scholarship on dance is often marginalized in the academy and more work needs to be done that recognizes the importance of dance to the creative survival of Pacific peoples. This conference brought together choreographers, dancers, composers, curators, costume makers, scholars, writers, musicians, and artists to participate in a discussion on the knowledge and practice of dance in Oceania across cultural, national, academic, and aesthetic boundaries.

If you would like your Fiji Dance Company, Dance Organization, Dance School featured here then please email bangkokcompanies@gmail.com

There are many fine dance schools in Fiji. I know I am in contact with them as we supply a range of high quality dancewear products like leotards, dance pants, dance dresses and other dancing apparel.

Bangkok Companies supplies an amazing range of dancewear from Thailand. I have looked at these dance garments and dance accessories in detail. There is only one word to describe them Superb. For more details click on the pictures or send an email to bangkokcompanies@gmail.com We regret at this time we can only satisfy Fiji wholesale dancewear requests.

"Dancewear designed by dancers for dancers"
| | | | | |
| --- | --- | --- | --- | --- |
| Dance Dresses | Kids Leotards | Adult Leotards | Dance Bras | |
| | | | | |
| | Dance Pants | Tutu's | Dance Shorts | |
| | | | | |
| Dancewear | Dancewear Organizers | Dance Bags | Dance Backpacks | |
| | | | | |
Bangkok Companies is a full service product sourcing company in Thailand. For All your dancewear needs please email bangkokcompanies@gmail.com with your requests.
---
Dance Schools in Fiji, Dancewear Suppliers, Dancing Organizations
Mikaele Mudreilagi
P.O.Box 33 SUVA, Fiji Islands Fiji
(679) 9963383 [Mobile] / (679) 3313585 (Work)
Communicate Movement & Dance as a form of social
--------------------------------------------------------------------------------
Karen Marks
13854 Edmore MI 48205 Detroit U.S.A.
313-527-4086 or 313-433-9194
www.marksdesigns.com
Hawaiian, Tahitian, Maori New Zealand, Samoan, Tongan, Fijian dance.
--------------------------------------------------------------------------------
Katerina Teaiwa
Moore 215, 1890 EW Rd. 96822 Honolulu U.S.A.
808-9562659, FAX 808-9567053
www.hawaii.edu/cpis/dance
Researcher and graduate course instructor in Pacific dance studies (UH Manoa), Pacific dance conference convenor, former performer in contemporary Pacific dance with Oceania Dance Theater (Suva, Fiji)
--------------------------------------------------------------------------------
Fiji National Commission for UNESCO
Ministry of Education ; Marela House FJ- Suva Fiji
Tel. (679)220.415, 314.477; Fax (679)315.245, 303.511
National organization
--------------------------------------------------------------------------------
Club Paradise
155 Karangahape Road (K'Road) TO-Auckland City Tonga
Tel. (09)275.8001
Club, island dances (Tongan, Samoan, Fijian), hip-hop, r&b, reggae and many more