.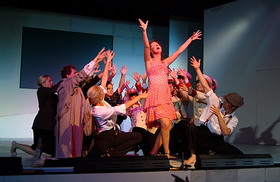 Der Tanzclub Liechtenstein is just one of the Liechtenstein dance companies, Liechtenstein dance schools, dancing organizations and dance wear suppliers that that can be found in our comprehensive Directory of Liechtenstein Dance Companies.
Theater, Dance in Liechtenstein
In a very small area, the Principality of Liechtenstein presents a diverse and well-structured theater selection. The best-known theater in Liechtenstein is the Theater am Kirchplatz . This professionally operated stage has offered a unique and varied range of performances over the years. These include classical theater productions as well as concerts for the discerning audience and the integration of new media. The cabaret Schlösslekeller offers a more intimate ambience. It seats an audience of about 120 and is particularly known for its cabaret productions. In addition to these two stages, there are many amateur groups in Liechtenstein who actively implement their ideas of theater and stage with much energy and talent. A wide selection is also available in the field of dance.
Featured Liechtenstein Dance Company
Der Tanzclub Liechtenstein (TCL), gegründet im Jahre 1980, empfiehlt sich für Tanzkurse aller Art. Kurse in den Standard- und Lateinamerikanischen Tänzen, Disco-Fox, Salsa sowie HipHop werden jeweils in der Landespresse und im Internet unter www.tcl.li ausgeschrieben. Zudem bieten wir Tanzkurse für Firmen, Clubs, Vereine oder kleine Gruppen an. Jeden Dienstagabend findet im Gemeinschafts-Zentrum Resch in Schaan das wöchentlich geführte Training für Clubmitglieder des TCL statt.
Freitags ist jeweils freies Training.

If you would like your Liechtenstein Dance Company, Dance Organization, Dance School featured here then please email bangkokcompanies@gmail.com
There are many fine dance schools in Liechtenstein. I know I am in contact with them as we supply a range of high quality dancewear products like leotards, dance pants, dance dresses and other dancing apparel.
Bangkok Companies supplies an amazing range of dancewear from Thailand. I have looked at these dance garments and dance accessories in detail. There is only one word to describe them Superb. For more details click on the pictures or send an email to bangkokcompanies@gmail.com We regret at this time we can only satisfy Liechtenstein wholesale dancewear requests.
"Dancewear designed by dancers for dancers"
| | | | | |
| --- | --- | --- | --- | --- |
| Dance Dresses | Kids Leotards | Adult Leotards | Dance Bras | |
| | | | | |
| | Dance Pants | Tutu's | Dance Shorts | |
| | | | | |
| Dancewear | Dancewear Organizers | Dance Bags | Dance Backpacks | |
| | | | | |
Bangkok Companies is a full service product sourcing company in Thailand. For All your dancewear needs please email bangkokcompanies@gmail.com with your requests.
---
Dance Schools in Liechtenstein, Dancewear Suppliers, Dancing Organizations
Griechischer Vereinim
F. Liechtenstein
Postfach 433 LI-9494 Schaan Liechtenstein
Group, folk, Greek dances
--------------------------------------------------------------------------------
Ulrich Feisst
Fallsgasse 488 LI-9492 Eschen Liechtenstein
Tel. (423)3.733569, (423)3.736670, Fax (423)3.736671
Organization, dancesport
--------------------------------------------------------------------------------
Matt Gunther
Tanzclub Liechtenstein
Gapetschstrasse 89 LI-9494 Schaan Liechtenstein
Tel. +423 232 55 31; Fax +423 232 55 34
http://www.tcl.li

Liechtensteiner Unterland

Liechtenstein Guitar Days LiGiTa
LiGiTa (Liechtensteinische Gitarrentage)
Eichenstrasse 58
9492 Eschen
Tel. +423 373 62 33
Fax +423 373 62 33
office@ligita.li
www.ligita.li
A special tip for lovers of guitar sounds! The top stars of the international guitar scene pay their respects for one week at the LiGiTa.

Vaduz

International Master Courses
Internationale Meisterkurse
Postfach 435
Tel. +423 235 03 30
Fax +423 235 03 31
info@meisterkurse.li
www.meisterkurse.li
The list of Master Course instructors alone is a miniature "who's who?" of the music world. Would wouldn't want to listen in on one of the unique concerts performed here?

Balzers

Operetta Stage
Operette Balzers
Gatter 12
FL-9496 Balzers
www.operette-balzers.li

Operettenbühne Vaduz


Georg Fausch, Präsident




Postfach 29




FL-9490 Vaduz


www.operette.li

Operetta has a long tradition in Liechtenstein. Since the 1940's, the two Operetta Stages in Balzers and Vaduz have produced top-quality performances.

Vaduz

Opera Vaduz
Opernverein Vaduz
Schinderböchel 7
9490 Vaduz
info@opernvereinvaduz.li
www.opernvereinvaduz.li
You don't have to travel to Zurich or Vienna to experience high-quality opera. Since 1999, opera lovers have been able to enjoy this fascinating musical genre in Liechtenstein.

Vaduz

Jazz and Blues in the Courtyard
Jazz und Blues im Hof
Innenhof der Liechtensteinischen Landesbank
Hauptsitz
9490 Vaduz

www.llb.li
Under the stars, in the heart of the Vaduz Städtle, jazz and blues bands perform in a personal atmosphere. This is summer at its best.

Eschen

Tangente
Tangente
Haldengasse 510
9492 Eschen
Tel. +423 373 28 17
Fax +423 373 49 49
info@tangente.li
www.tangente.li
A meeting point for everyone who gets excited about good concerts and interesting art exhibits. Especially for friends of jazz.

Balzers

Liechtenstein Musical Company LMC
Liechtenstein Musical Company LMC
Postfach 202
9496 Balzers
Tel. +423 384 23 81
Fax +423 384 23 40
lmc@lmc.li
www.lmc.li
Every two years, 200 performers stand on the musical stage and draw the audience into their orbit. With well-known melodies from "Hair", "Evita", or "Jesus Christ Superstar".

Balzers

Open-Air Wave Jam
Openair Wavejam
Postfach 407
9496 Balzers
info@wavejam.li
www.wavejam.li
This is the music culture of today. At the Openair Wavejam, newcomer bands from Liechtenstein and the region present themselves to the public. Dedicated and unadulterated.

Schaan

Theater on the Kirchplatz (TaK)
TaK (Theater am Kirchplatz)
Reberastr. 10
9494 Schaan
Tel. +423 237 59 69
Fax +423 237 59 61
vorverkauf@tak.li
www.tak.li
Who performs when and where and whom you're very likely to meet at the TaK Bar in the lobby after the performance, you'll find out on the TaK website.