.
Kenya Performing Arts Group, Kenya Drama theatre and Education Association, are just a few of the Kenyan dance companies, Kenyan dance schools, dancing organizations and dance wear suppliers that that can be found in our comprehensive Directory of Kenyan Dance Companies.
Traditional Kenyan Dance & Music

Kenyan music originates from many sources. The Nomadic tribes of this region share some common ground in the use of songs and chants, particularly among Maa speaking groups.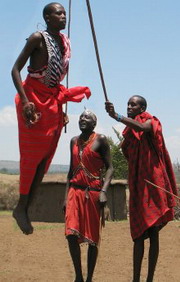 Maa song has always played a large role in ceremonial life, and continues to. One of the best known Maasai ceremonial songs is the Engilakinoto, sung after a victorious lion hunt. Structured around a deep rhythmic chant it is accompanied by a spectacular dance in which warriors display their strength and prowess by leaping directly and vertically into the air.

Elsewhere, the use of drums became widespread and central to elaborate traditional dances. The word Ngoma (drum) is still used to describe most forms of traditional music and dance.

A variety of drums were used throughout the country. The Luhya of Western Kenya developed a very distinctive dance style called Sikuti after the local name for a drum. This extremely energetic dance is usually performed by paired male and female dancers, and accompanied by several drums, bells, long horns and whistles.
Kenyan Dance Video
Featured Kenyan Dance Company
Kenya Performing Arts Group
K-PAG Company is a Post-Contemporary Dance and Physical Theatre Company. Dancers of the company are trained within KPAG and come from all over Kenya. They are internationally exposed through the international performance and exchange tours. Current Repertoire: Evolutions, Flamingo Flamenco and Tri-Changes.
Kenya Performing Arts Group (K-PAG) was founded by Odak Onyango and Saskia Ottenhoff in September 2003. It is registered with the department of Culture in the ministry of Gender, Sports, Culture and Social services. Dance in Kenya, as an academic and theatrical category, has a very short history. K-PAG started from the idea that Kenyan artists deserve better in terms of competition, quality work, professionalism and exposure which can be achieved through training. Educational aspects become part and parcel of our programs in enhancing the understanding of "our state of arts". In this case we speak about the Performing Arts, theatre in which it is about family and society. We want to theatre to be in this country where it was born for- to reaffirm where we are as human beings in our environment.

If you would like your Kenyan Dance Company, Dance Organization, Dance School featured here then please email bangkokcompanies@gmail.com
There are many fine dance schools in Kenya. I know I am in contact with them as we supply a range of high quality dancewear products like leotards, dance pants, dance dresses and other dancing apparel.
Bangkok Companies supplies an amazing range of dancewear from Thailand. I have looked at these dance garments and dance accessories in detail. There is only one word to describe them Superb. For more details click on the pictures or send an email to bangkokcompanies@gmail.com We regret at this time we can only satisfy Kenya wholesale dancewear requests.
"Dancewear designed by dancers for dancers"
| | | | | |
| --- | --- | --- | --- | --- |
| Dance Dresses | Kids Leotards | Adult Leotards | Dance Bras | |
| | | | | |
| | Dance Pants | Tutu's | Dance Shorts | |
| | | | | |
| Dancewear | Dancewear Organizers | Dance Bags | Dance Backpacks | |
| | | | | |
Bangkok Companies is a full service product sourcing company in Thailand. For All your dancewear needs please email bangkokcompanies@gmail.com with your requests.
---
Dance Schools in Kenya, Dancewear Suppliers, Dancing Organizations
Suki Mwendwa
PO Box 46274 KE- Nairobi Kenya
Tel. (254) 2 725366/ 0733.223890; Fax 254.2.725366
Teacher, researcher
--------------------------------------------------------------------------------
Kenya Performing Arts Group
The Kenya Cultural Centre / The Kenya National Theatre
room 5, 1st floor, Harry Thuku Road,
P.O. Box 356-00200, NAIROBI
www.kenyaarts.com
infokpag@yahoo.com , odak3@yahoo.com
Phone: (+254)-(0)20-242032 Fax: (+254)-(0)20-242032
Mobile: (+254)-(0)734-742217 / (+254)-(0)723-628028 / (+254)-(0)734-742216 / (+254)-(0)723-644398
Current Repertoire: Evolutions, Flamingo Flamenco and Tri-Changes.
--------------------------------------------------------------------------------
Kenya Drama/theatre and Education Association
Street PO Box 13015 Kenya
City Nairobi
Phone (254 2) 334244 / (254 2) 339112
kdea@arcc.or.ke
Association
Professional network of teachers of drama, theatre and cultural practitioners. Its main aim is to promote the positive role of drama in cultural life and education.
--------------------------------------------------------------------------------

Mathiew Ondiege
Maison Francaise, PO Box 52320, Loita/Monrovia KE-14000 Nairobi Kenya
Tel. (254)0733914214
Choreographer. Modern African Dance Theatre.
--------------------------------------------------------------------------------
Ch. V. Barberis
PO Box KE-46119 Nairobi Kenya
(002542)720621
--------------------------------------------------------------------------------
Umadevi Hasslauer
Box 72383 KE-Nairobi Kenya
61111 d, 567261 b
--------------------------------------------------------------------------------
Jose-Luis Bonnijacio Rodriguez
Kitisuru Est off Peponi Road
KE-14929 Nairobi 00800 Kenya
Tel. 521712
School, tuition, Ballroom, Latino american
--------------------------------------------------------------------------------
Joseph Bonnifacio Rodriguez
KE- Nairobi Kenya
Tel. (254)-206 7676195
P.O. Box 14929 KE-14929 Naiobi 00800 Kenya
Dancer
--------------------------------------------------------------------------------
Anthony Badewa
3900, Eastern Avenue OH 45226 Cincinnati, Ohio U.S.A.
Tel. 513-321-1333; Fax 513-271-6207
www.bi-okoto.com
Professional, traditional African Drum & Dance Co. natl & interntl performances, master classes, dance classes from Nigeria, Ghana, Togo, Senegal, Guinea, Kenya
--------------------------------------------------------------------------------
Claire Gelineau
46 rue Servan FR-75011 Paris France
Tel. & Fax (33.1)48.05.50.94
www.watoo.net/gaara
Organization, African contemporary dance (Kenya)
--------------------------------------------------------------------------------
Opiyo Okach
46 rue Servan FR-75011 Paris France
Tel. & Fax (33.1)4805.5094
www.watoo.net/gaara
Organization, African contemporary dance (Kenya)
--------------------------------------------------------------------------------
Kenya National Commission for UNESCO
P.O. Box 72107; Ministry of Education, KE-00200 Nairobi Kenya
Tel. (254.2)33.89.80, 33.44.11; Fax (254.2)21.30.25
National organization
--------------------------------------------------------------------------------
Paa Ya Paa Arts Center
Ridgeways Rd., off Kiambou Road, Box 49646 KE-14000 Nairobi Kenya
Tel. & Fax (254.2)512257
Dance Center
--------------------------------------------------------------------------------
Shruti -K.-Shah
PO Box 49025 KE-Nairobi Kenya
Tel. (254-2)746924 / 745471; Fax (254-2)331491 / 331778
--------------------------------------------------------------------------------
Solomon Abongo
Kisumu ... Kenya
Tel. 0726988706
--------------------------------------------------------------------------------
Ezekiel B. Alembi
P.O. Box 43844 KE- Nairobi Kenya
Researcher, folklorist, folk narrative research
--------------------------------------------------------------------------------
Nyambura Mpesha
Department of Literature, Kenyatta University KE- Nairobi Kenya
Researcher, folklorist, folk narrative research
--------------------------------------------------------------------------------
Opiyo Mumma
PO Box 13015 KE-14000 Nairobi Kenya
Tel. 254 2 334244, 254 2 562 170; Fax 254 2 33 6885
Organisation
--------------------------------------------------------------------------------
Phillda Ragland Njau
Ridgeways RD, off Kiambu Road, PO Box 49646 KE-14000 Nairobi Kenya
Tel. & Fax (254.2)512.257
School
--------------------------------------------------------------------------------
Fred Oduor
PO Box 13015 KE-Nairobi Kenya
Tel. 254/2/562170, 254/2/334244 ext 28081 Fax 254/2/33 6885
Institute
--------------------------------------------------------------------------------
Opiyo Okach
c/o Maison Francaise, Box 49415 KE-14000 Nairobi Kenya
Tel. 254 2 33 62 63
www.watoo.net/gaara
Organization (foundation), African contemporary dance
--------------------------------------------------------------------------------
Daniel Onyango-Okul
P.o Box 59850-00200 KE-Nairobi Kenya
Fax.1206 219 4254 ; Phone,254 725 300 861
Dance company
--------------------------------------------------------------------------------
Muigai Wa-Gachanja
Department of Literature, Kenyatta University KE- Nairobi Kenya
Researcher, folklorist, folk narrative research