.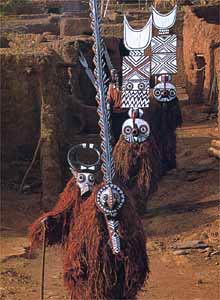 Dehcontee Liberian Dance Company, Inc., Paasewe Productions, are just a few of the Liberian dance companies, Liberian dance schools, dancing organizations and dance wear suppliers that that can be found in our comprehensive Directory of Liberian Dance Companies.
Traditional Liberian Dance

Music and dance are an integral part of village life in Liberia. The people dance and sing for the departed souls of the dead, at celebrations and weddings, on behalf of important visitors, and just for fun. Liberian dances are often noted for the energy and passion displayed by the dancers. As with most African dance forms, Liberian dances often reference not just the physical, but the spiritual as well. These dances are a way to preserve and transmit important stories and traditions.

Dance styles vary according to different tribes and region. Some of the best known forms of Liberian dance include Kru dances, Vai dances, Kpelle dances and Bassa dances.

Masked Dances of Liberia

In the indigenous groups of Liberia, masks play an important part in connecting the living with the ancestral spirits and ancient deities. It is a means by which people strive to gain knowledge and insight into the future. The dancer "becomes" the mask, thus it is traditionally important that the human identity is not revealed to the public.
Featured Liberian Dance Company
Dehcontee Liberian Dance Company, Inc.
Dehcontee, which means "Everything has a Time," is an Oakland-based Liberian dance company which focuses exclusively on the cultures of the ethnic groups that comprise the nation of Liberia. Funds will be used to secure assistance from a master dancer/artist Kasumo Massaquoi from March to May to teach the dance company new dances, drum rhythms, and longs of the ethnic groups of Liberia. This mentorship will help Dehcontee in its goal to maintain the authenticity of the Liberian ethnic traditions, costumes, drums and songs that the company presents in public performances.
---
Paasewe Productions is an African production and a promotional company founded by two Liberian artists, Kaikpai, also known as Eric Paasewe , and Cleo Bryant, now, Cleo Paasewe.
Visiting many countries to share their culture, both artists are true Ambassadors of Liberian culture and arts. The couple has been in the United States for the past ten years promoting the unique Liberian cultural art form. Today the Paasewes are taking their dream for Liberian culture to a higher level by establishing a promotional company to produce and promote Liberian artists in and out of the United States and other artists of Africa.
Paasewe Productions will promote and produce traditional and contemporary African music, dance, story-telling and comedy. The company products will be available in audio tapes, CDs , videos, and books.
paaseweproductions@sbcglobal.net
If you would like your Liberia Dance Company, Dance Organization, Dance School featured here then please email bangkokcompanies@gmail.com
There are many fine dance schools in Liberia. I know I am in contact with them as we supply a range of high quality dancewear products like leotards, dance pants, dance dresses and other dancing apparel.
Bangkok Companies supplies an amazing range of dancewear from Thailand. I have looked at these dance garments and dance accessories in detail. There is only one word to describe them Superb. For more details click on the pictures or send an email to bangkokcompanies@gmail.com We regret at this time we can only satisfy Liberian wholesale dancewear requests.
"Dancewear designed by dancers for dancers"
| | | | | |
| --- | --- | --- | --- | --- |
| Dance Dresses | Kids Leotards | Adult Leotards | Dance Bras | |
| | | | | |
| | Dance Pants | Tutu's | Dance Shorts | |
| | | | | |
| Dancewear | Dancewear Organizers | Dance Bags | Dance Backpacks | |
| | | | | |
Bangkok Companies is a full service product sourcing company in Thailand. For All your dancewear needs please email bangkokcompanies@gmail.com with your requests.
---
Dance Schools in Liberia, Dancewear Suppliers, Dancing Organizations
Davis-Paul Harris
P.O.Box 1303 Chocolate city LR-Gardnersville, Monrovia Liberia
Tel. (23)177.007.289; Fax. Darlington Korubo Orugbani
69 Carey Street LR- Monrovia Liberia
Dancer
--------------------------------------------------------------------------------
Liberian National Commission for UNESCO
R.413, E.G.W. King Plaza, Broad Str, PO Box 9012; Mini LR- Monrovia Liberia
Tel. (231)226.406, 226.216, 225.008; Fax (231)226.144
National organization
--------------------------------------------------------------------------------
Dehcontee Liberian Dance Company, Inc.
Yassa Goba, Business Manager
770 55th Street, Oakland, CA 94609
Tel (510) 985-0541, (510) 985-0543 (fax)
Dehcontee@aol.com