.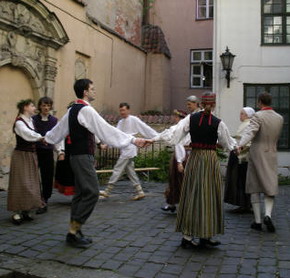 Latvian National Opera Ballet Company, The folk dance group "Dandari" , The Ansis Rutentals Movement Theater, are just a few of the Latvian dance companies, Latvian dance schools, dancing organizations and dance wear suppliers that that can be found in our comprehensive Directory of Latvian Dance Companies.
Traditional Latvian Dance

Latvian folk Dances portray day-to-day life of the rural communities (i.e. sowing, harvesting, fishing), as well as specific events (i.e. courtship, marriage, birth) and reflect on surroundings important to the Baltic culture (animals, birds and nature in general). There are dances to celebrate the changes of the seasons.

Over time, the folk dances have been formalized into choreographed presentations based on traditional dance patterns. Dancers wear folk costumes made of wool and linen. The decorative elements incorporate the signs of ancient, pre-Christianity deities and the costumes are chosen to represent specific areas of Latvia where a dancer's family has its origins. The woman's marital status is shown by her headdress.
Latvian Dance Video
Featured Latvian Dance Company
The Ansis Rutentals Movement Theater
The eternal current of time in its calm, continuous movement. The peaceful flow of nature in its harmony of rhythm and change of seasons. And there is human being with his restless soul; with his emotions and thoughts; with his contradictions; with his endless search for harmony, proving his essence.
The harmonious vibrations in time and nature perceived by man through his intuition, hearing, sight, feelings form an enormous and integral part of his inner self. The sound is one of the strongest types of harmonious vibrations perceived by man. He can grasp it in the motion of the wind, the murmur of the waves, the voice of the birds and in many other occurrences. The man has created music, dance, poetry by transforming these harmonious vibrations. This is the origin of the Movement Theater.
The Ansis Rutentals Movement Theater was founded in 1978. Its creative style is based on the visual interpretation of music, using various elements, such as movement form, spatial composition, color and light. The choreography is a product of this visual interpretation. The spectator is offered a broad associative palette, rather than specific subject matter. In addition to staged works, The Ansis Rutentals Movement Theater participates in video installations and performance art pieces, and collaborates with other artists and musicians.
---
The folk dance group "Dandari" of the University of Latvia unites young people who are interested in folklore, especially folk dances. The group was established in 1980 by Ernests Spīčs, a well-known ethnochoreographer, who was the first to prove that ethnic dance also today is exciting and thrilling to both the audience and the dancer. The founder of the group involved "Danadari" participants in the study and collection of folklore materials which became a part of the group's repertoire.

The repertoire of "Dandari" consists of dances and games from different regions of Latvia as well as choreographic arrangements starting with common social life and seasonal tradition performances until a modern folklore theatre as well as specially designed programmes to present the Latvian culture.
The folk dance group "Dandari" acquires also singing, oral folklore and traditions.
Many details of national costumes are made by participants themselves. Musicians of "Dandari" achieve an original sound using old instruments and imitating the playing manner of folk musicians.
"Dandari" has participated in such festivals in Latvia as "Baltica", "Gaudeamus", "Sudmaliņas" "PEPT".

Group's performances on tour have taken place in Georgia, Poland, Russia (Siberia), Germany, Norway, Sweden, the USA, Finland, Spain and France; ever so many times in neighbouring countries Lithuania and Estonia. "Dandari" has represented the culture of Latvia in the festival of Folk Life organized by Smithsonian Institute (Washington, the USA), EXPO 2000 (Hanover, Germany) as well as in the events organized by embassies of Latvia.

The group's rehearsals take place every Monday and Thursday from 7.00 p.m. in the hall of the University of Latvia, Faculty of Physics and Mathematics Zeļļu Street 8 (Agenskalns).
If you would like your Latvia Dance Company, Dance Organization, Dance School featured here then please email bangkokcompanies@gmail.com
There are many fine dance schools in Latvia. I know I am in contact with them as we supply a range of high quality dancewear products like leotards, dance pants, dance dresses and other dancing apparel.
Bangkok Companies supplies an amazing range of dancewear from Thailand. I have looked at these dance garments and dance accessories in detail. There is only one word to describe them Superb. For more details click on the pictures or send an email to bangkokcompanies@gmail.com We regret at this time we can only satisfy Latvia wholesale dancewear requests.
"Dancewear designed by dancers for dancers"
| | | | | |
| --- | --- | --- | --- | --- |
| Dance Dresses | Kids Leotards | Adult Leotards | Dance Bras | |
| | | | | |
| | Dance Pants | Tutu's | Dance Shorts | |
| | | | | |
| Dancewear | Dancewear Organizers | Dance Bags | Dance Backpacks | |
| | | | | |
Bangkok Companies is a full service product sourcing company in Thailand. For All your dancewear needs please email bangkokcompanies@gmail.com with your requests.
---
Dance Schools in Latvia, Dancewear Suppliers, Dancing Organizations
Dailrade
Maza Gilde Amatu iela 3/5 LV-1041 Riga Latvia
www.tda-dailrade.lv
Folk dance ensemble
--------------------------------------------------------------------------------
International Baltic Ballet Festival
Baznicas Iela 4 LV-1010 Riga Latvia
Tel. (371)722.0513;
--------------------------------------------------------------------------------
Ansis Rutentals Movement Theatre
Pernavas iela 69-2 LV - 1009 Riga Latvia
371.914.7425
www.arkt.lv
visual interpretation
--------------------------------------------------------------------------------
Folk dance ensemble "Lelde"
Lachplesa street 11 LV-1010 Riga Latvia
(371)724.2600; Fax. (371)724.2601
Folk dances
--------------------------------------------------------------------------------
National Youth Council of Latvia
Kalpaka bulvaris 10 - 18, LV-1050 Riga Latvia
Tel. (371) 722.1402; Fax (371) 721.3307; Mob. (371) 991. 6635
www.ljp.lv
--------------------------------------------------------------------------------
Olga Zitluhina Dance Company
Dzirnavu Str. 46-23, LV-1010, Riga Latvia
371 921.1203
www.dance.lv
Contemporary dance, dance theatre
--------------------------------------------------------------------------------
Olga Zitluhina Modern Dance Company
Kurzemes pr. 63-44 LV-1067 Riga Latvia
371.742.8078;371.964.3439;F:371.706.2436
--------------------------------------------------------------------------------
Student and Middle age dance group "Mara"
Lachplesa street 11 LV-1010 Riga, Latvia Latvia
(371)724.2600; Fax (371)724.2601
Folk dances - authentic and dances in modern way
--------------------------------------------------------------------------------
Velta Leja Dimzens
15A, Dambja LV-3002 Jelgava Latvia
Tel. mob. 8801113 home 3025107
www.dimzens.lv
Dimzens is a Latvian folklore group formed in September 1993 at the Jelgava Arts Centre. Our repertoire is based on traditionally sung Latvian folk songs and dances from the Zemgale region of Latvia.
--------------------------------------------------------------------------------
Inga Drele
Atbrivosanas 112-43 LV-4600 Rezekne Latvia
tel. 4607172, fax. 4607205;Tel. (00371) 46.25273, 46.22720
Ensemble, Latvian folk dances
--------------------------------------------------------------------------------
Deja Edmunds-Rudzitis
231, Brivibas LV-5000 Ogre Latvia
dance
--------------------------------------------------------------------------------
Dance groups "BITITE" and "AUDA''
Latvia 37129472295
Leader of dance groups "BITITE" and "AUDA''; Representative of the International Europeade Committee in Latvia since 1994; Director of the Europeade Committee of Latvia
--------------------------------------------------------------------------------
Julia Holodova
Grivas 11/7-7 LV-1055 Latvia 9339424
www.sausan.lv
bellydance, african rhytms, playing on drums, caratalles, brazilian dances, flamenko.
--------------------------------------------------------------------------------
Anna Karkle
Sporta 43-5 LV-5316 Livani, Preili Latvia
Tel. (+371) 53-42913; fax (+371) 53-43623
http://folklora.lv/kopas/ceiruleits/en.s
Ensemble, amateur group, dances of Latvia.
--------------------------------------------------------------------------------
Maria Kerpe
36/1 - 57 Zolitudes street, Riga LV-1029 Riga Latvia
Modern and International
--------------------------------------------------------------------------------
Aivars Leimanis
Aspazijas blvd. 3 LV-1050 Riga Latvia
Tel. (371)722.3436, Fax (371)722.8930
Company, ballet
--------------------------------------------------------------------------------
Lilija Lipora
Jurmalas 17 LV-2107 Pinki, Riga Latvia
37129472733
Working on shows, performances and theatrical dance productions. Combine dance, puppet and object theaters.
--------------------------------------------------------------------------------
Sergey Ostrenko
24, Kugu 24, Radisson SAS, MBC LV-1048 Riga Latvia
Tel. +371 8205089, +380 50 44 10046, FAX +371 7061800
www.iugte.com
The mission of IUGTE consists in the research of the world theatre traditions and their influence on contemporary theatre.
--------------------------------------------------------------------------------
Ilmars Pumpurs
The folk dance group "Dandari"
Lermontova 3-3 LV-1002 Riga Latvia
Tel. (+371) 7617643; 9138299
http://dandari.folklora.lv/eng
Ensemble, amateur group, dances of Latvia.
--------------------------------------------------------------------------------
Maris Puris
A. Caka 125-25 LV - 1011 Latvia 7297121;
fax. 7297131
www.piektapozicija.lv
We have the only tap dance school in Baltic and also we organize International tap dance festival "Tap in Riga".
--------------------------------------------------------------------------------
Gunta Raipala
Basteja Bulv.12 - 17 Lv-1050 Riga Latvia
+371 6405942
www.gatve.lv
folk dance
--------------------------------------------------------------------------------
Inga Ryazanoff
24 Kugu Street, Magnet Business Centre, Radisson SAS LV-1048 Riga Latvia
+371 6403999; 371 838 11 60;380 50 44 100 45; Fax +371 7061800
iugte@mail.ru
Organization of courses, seminars, festivals, conferences for professional dancers, choreographers, teachers.
--------------------------------------------------------------------------------
Inese Shubevica
empes 28-30 LV 3407 Liepaya Latvia
+3719845750
I'm a volunteer part time worker in non- governmental organization! We are working with young people in regional and European level.
--------------------------------------------------------------------------------
Baiba Steina
Zemitena laukums10 – 5, LV-1006 Riga Latvia
371 7 553 883;Mob. 29495751 Latvia
www.tda-dailrade.lv
Latvian folk dance group
--------------------------------------------------------------------------------
Ilze Zarina
trugu street 4 LV 1050 Riga Latvia
0037129453434
--------------------------------------------------------------------------------
Olga Zitluhina
9, Auces str., apt.10 LV-1048, Latvia
(00371)-29643439
http://www.dance.lv
Contemporary dance choreographer, Artistic director of Olga Zitluhina Dance Company, Headmaster and contemporary dance teacher of Department of Modern Dance at the Latvian Academy of Culture, Director
--------------------------------------------------------------------------------
Puantas Ltd.
T.Kosciuskos str. 11, Vilnius LT - 01100, Lithuania Lithuania
tel. 370 687 16344; fax 370 2614841
www.puantas.lt
Dance wear trading. Dance shoes and garments trading in Lithuania and Latvia.
--------------------------------------------------------------------------------
Kestutis Vaitiekus
Kosciuskos g. 11 LT-2600 Vilnius Lithuania
Tel. (5) 2614841; (5) 2627521 ; 8 687 16344 ; fax. 370 2614841
www.puantas.lt
Dancewear trading. Dance shoes and garments trading in Lithuania and Latvia.
--------------------------------------------------------------------------------
Agris Danilevics Dance Company Dzirnas
Krimuldas pagasts LV - 2144 Ragana Latvia
371.949.010
Folk, ballroom, modern
--------------------------------------------------------------------------------
Aladins Night Club
Chaka str. 32 LV-1050 Riga Latvia
Tel. (371)728.8781
Night-club, dance entertainment industry
--------------------------------------------------------------------------------
Centre for Young People Daugmale
Jekabpils iela 19a LV-1003 Riga Latvia
Centre for young people Daugmale (includes many dance classes and groups)
--------------------------------------------------------------------------------
Latvia Rock''n''Roll Federation
42-23 Murjanu Street LV-1064 Riga Latvia
Tel. & Fax 371 7248655
Teacher, judge
--------------------------------------------------------------------------------
Latvian Dance Sport Federation
A. Caka iela 46-16 LV-1011 Riga Latvia
Tel. (371)7287162; Fax (371)7505223
School
--------------------------------------------------------------------------------
Latvian Dancesport Federation
A. Caka iela 46-16 LV-1011 Riga Latvia
Tel. (371) 7287162; Fax (371) 7505 223
Organization, dancesport
--------------------------------------------------------------------------------
Latvian National Commission for UNESCO
Pils Laukums 4-206 LV-1050 Riga Latvia
Tel. (371)732.51.09, Tel. & Fax (371)722.27.62
http://www.unesco.lv
National organization
--------------------------------------------------------------------------------
Latvian National Opera Ballet Company
Aspazijas blvd. 3 LV-1050 Riga Latvia
Tel. 7 225 747; Fax 7 228 930
Company, ballet
--------------------------------------------------------------------------------
Latvian Professional Ballet Association
Dzirnavu Str. 135 LV-1433 Riga Latvia
Tel. 7 287 895; Fax 7 287 895
Company, ballet
--------------------------------------------------------------------------------
Mario Club
Ozolciema Street 10/5-84 LV-1010 Riga Latvia
Tel. (371.7)670.167
Club, dancesport, ballroom, competition, partner dancing
--------------------------------------------------------------------------------
Riga Choreographic School
Kalnciema Str. 10/12 LV-1048 Riga Latvia
Tel. 7 615 870
Company, Choreography
--------------------------------------------------------------------------------
Rigas Skolenu Pils
Kr. Barona 99 LV-1843 Riga Latvia
School, tuition, classes
--------------------------------------------------------------------------------
Rihtera Deju Skola
Daugavpils Street 62/66 LV-1000 Riga Latvia
Tel. (371.7)205.215
Club, dancesport, ballroom, competition, partner dancing
--------------------------------------------------------------------------------
Sudmalisas Folk dance Ensemble
Rigas 42 LV-4700 Valka Latvia
Tel. (00371) 47.24038
http://folklora.lv/kopas/sudmalinas/en.s
Ensemble, Latvian folk dances
--------------------------------------------------------------------------------
Svings Club
Peitavas 10/12 LV-1000 Riga Latvia
Tel. (371.7)221.010
Club, dancesport, ballroom, competition, partner dancing
--------------------------------------------------------------------------------
Lita Beiris
8-11 Pulkveza Brieza LV-1010 Riga Latvia
Tel. (371) 7220513, 9288318; Tel. & Fax (371) 73 31 682
Researcher, Festival, Ballet
--------------------------------------------------------------------------------
Ligita Bergmane
kolas iela 6 LV-2125 Baldone Latvia
Fax (371)7332414, (371)2932067
Latvian national stringed instrument (kokle) group
--------------------------------------------------------------------------------
Viesturs Burkans
Centralais laukums 1 LV-3001 Jelgava Latvia
http://members.tripod.com/~Ritums
Ensemble, Latvian folk dances
--------------------------------------------------------------------------------
Janis Erglis
4 Vagnera iela LV-1664 Riga Latvia
Tel. (2)227165, Fax (2)213497
Company
--------------------------------------------------------------------------------
Andris Kapusts
Pils Square 4 LV-1365 Riga Latvia
Tel. (371)722.8985, Fax (371)722.7405
Festival, folk
--------------------------------------------------------------------------------
Karine
Aleksej Siverenko / P.Lejina 6-124 LV-1029 Riga Latvia
Tel. 00371 7423624
http://www.karinedance.era.lv
Bellydance, oriental dance and music show.
--------------------------------------------------------------------------------
Anna Karkle
Sporta 43-5, Preili district LV-5316 Livani Latvia
Tel. (371) 53.42913; Fax (371) 53.43623
http://folklora.lv/kopas/ceiruleits
Ensemble, Latvian folk dances
--------------------------------------------------------------------------------
Marija Kerpe
36/1 - 57 Zolitudes street LV-1029 Riga Latvia
Tel. 00371 7404566; 00371 9631483, Fax 00371 7280829
Modern dance, International dance, Jazz, Classical, National. We are dancing Latvian national dances; Russian dances; International dances. Have a mini-theatre (modern style dance and jazz).
--------------------------------------------------------------------------------
Arnold Klotinsh
Pils Laukums 4 LV-1365 Riga Latvia
Tel. (371)2.224419, (371)2.334360, Fax (371)2.227916
Festival, folk dances
--------------------------------------------------------------------------------
Janis Kurpnieks
Pils Laukums 4 LV-1365 Riga Latvia
Tel. (371)7228985, Fax (371)7227405
Folk dance and folk arts organization, groups, festivals
--------------------------------------------------------------------------------
Gunta Liepina
LV Latvia
tel +371 26589779
Dancer
--------------------------------------------------------------------------------
Liana Ose
K. Valdemara 5, Bullu 33/II-47 LV-1010 Riga Latvia
Tel. 371.2.732 0398, 246 0777; Fax 371.2.732 6035
Organizer, folk dance festivals
--------------------------------------------------------------------------------
Liga Ozola
Dobeles s. 94-9 LV-3003 Felgava Latvia
Group, folk dance and music, performing
--------------------------------------------------------------------------------
Arnis Ozols
c/o Riga Latvian Society Merkela 13-426 LV-1050 Riga Latvia
Tel. 371/7/947 09 90 (mobile); Fax 371/7/270424
--------------------------------------------------------------------------------
Imants Rihters
Bruninieku 42- 3 LV-1011 Riga Latvia
Tel. (371.7)205.215, (371.7)205.213, (371.2)279.972, Fax (371.7)287.16
Organization, dancesport, ballroom, competition, partner dancing
--------------------------------------------------------------------------------
Brigita Silina
c/o Riga Latvian Society Merkela 13-426 LV-1050 Riga Latvia
tel. 371/7/947 09 90 (mobile); Fax 371/7/270424
www: http://itilatviancenter.homestead.cInstitute
--------------------------------------------------------------------------------
Skaidra Smeltere
Rigas 42 Lv-4700 Valka, Vidzeme Latvia
Tel. (+371) 47-24038
Ensemble, amateur group, dances of Latvia.
--------------------------------------------------------------------------------
Ernests Spics
Raina Bulvaris 19 LV-1586 Riga Latvia
Tel. 7223025, Fax 7820113, 7225039
Folk dance teacher and researcher
--------------------------------------------------------------------------------
Elita Treilone
Dzirciema 16 Lv-1007 Riga Latvia
Teacher. Ensemble, folk dances
--------------------------------------------------------------------------------
Maris Vainovskis
Indranu Street 8-13 LV-1012 Riga Latvia
Tel. (37)1921.7549, Fax (37)1733.1920
Standard competitive dancing, shows, demonstrations, coaching, adjudicating
--------------------------------------------------------------------------------
Guna Zeltina
Riga Latvian Society, Merkela 13 LV-1050 Riga Latvia
Tel. 371 7 222932, 21 08 59; Fax 371 7 212471
Organisation
--------------------------------------------------------------------------------
Anita Strazdina
achplesa street 11 LV-1010 Riga Latvia
(371)724.2600; Fax (371)724.2601
Folklorist, Dance Group