.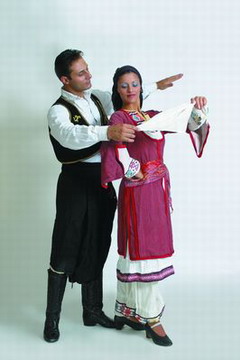 Shakalli Dance School, Cypriot Folklore Club "Herakles", Refugee Dance Group "Adoulotoi", are just a few of the Cypriot dance companies, Cypriot dance schools, dancing organizations and dance wear suppliers that that can be found in our comprehensive Directory of Cyprus Dance Companies.
Traditional Cypriot Dances
Cypriot dances are mainly of the type performed by a confronted pair, invariably two men or two women, or men's solo dances displaying virtuosity and often performed with a hand-held object, either a sickle, knife, sieve, or tumbler. In their steps and general characteristics - such as the movement of the body and limbs - they have features in common with dances of the historic Greek island area (the Asia Minor seaboard, Aegean islands and cities, and the Ionian isles).
Apart from these common features, Cypriot dances are distinguished by steps peculiar to certain localities, such as stamping in one spot with the feet, crossed alternately in front of each other, in the "second" and particularly the "third" ""kartchilamas"" and in the "syrtos" for men. Improvization is another characteristic of Cypriot dances and may be attributed to their being performed by only two people and so to an overriding sense of comparison and, by extension, of competition. But it is to be noted that improvization and the freedom of the dancer to do his own thing are constrained by the community's severe strictures upon any excesses. Indeed, the more inward-looking the community, the more rigorous the restraints.
Read more about Cypriot Folk Dances
Cypriot Dance Video
Featured Cypriot Dance Company
Shakalli Dance School
The dance school Shakalli was founded in 1975 by the dancer, instructor and choreographer Mr. Miki Shiakalli and after many years of continuous attendances and smooth running, it has become known as one of the highest and well respected schools of its time. The school teaches a variety of different types of dance. A large number of students register here at the school every year, in order for them to attend classes according to their individual needs and preferences. The school holds a variety of different classes therefore catering for everyone's different levels. Thus covering the demands of the students who wish to follow a career in dance, down to the ones who only wish to attend classes for pure pleasure or just as a hobby. The dance instructors are very highly trained and qualified in order for the school to secure the highest levels of training. Many of the students continue a professional career in dance, either as dancers themselves or as dance instructors, although a large number of students that graduate continue their studies abroad at dance schools.
Shakalli have dance classes in the following: General Dancing Education, Cypriot Folk Dancing, Greek Folk Dancing, Latin Dances, European Ballroom, Flamenco, Ballet, Jazz (freestyle)

If you would like your Cyprus Dance Company, Dance Organization, Dance School featured here then please email bangkokcompanies@gmail.com
There are many fine dance schools in Cyprus . I know I am in contact with them as we supply a range of high quality dancewear products like leotards, dance pants, dance dresses and other dancing apparel.
Bangkok Companies supplies an amazing range of dancewear from Thailand. I have looked at these dance garments and dance accessories in detail. There is only one word to describe them Superb. For more details click on the pictures or send an email to bangkokcompanies@gmail.com We regret at this time we can only satisfy Cyprus wholesale dancewear requests.
"Dancewear designed by dancers for dancers"
| | | | | |
| --- | --- | --- | --- | --- |
| Dance Dresses | Kids Leotards | Adult Leotards | Dance Bras | |
| | | | | |
| | Dance Pants | Tutu's | Dance Shorts | |
| | | | | |
| Dancewear | Dancewear Organizers | Dance Bags | Dance Backpacks | |
| | | | | |
Bangkok Companies is a full service product sourcing company in Thailand. For All your dancewear needs please email bangkokcompanies@gmail.com with your requests.
---
Dance Schools in Cyprus, Dancewear Suppliers, Dancing Organizations
National Commission for UNESCO, Ministry of Foreign Affairs
CY-1000 Nicosia Cyprus
Tel. (357.2)30.06.96/97; Fax (357.2)66.18.81, 45.18.81
Organization
--------------------------------------------------------------------------------
Mr. Petros Petrou, President
Cyprus Dance Sport Association (CDSA)
Famagusta 11, Aglantzyia CY-1000 Nicosia Cyprus
Tel. (357.2)335.379, (357.2)331.166, Fax (357.2)331.291
Dance Organization, dancesport
--------------------------------------------------------------------------------
Ms. Naso Zerva
Dance School
Iphigenias 46Z CY-1000 Nicosia Cyprus
Tel. (357)2 498366
School, Modern, Folk, Cypriot
--------------------------------------------------------------------------------
Mr. Christos Charalampous
Fred Astaire Dance School
Archiepiskopou Makariou 341 CY-1000 Pano Lakatamia, Nicosia
Tel. (357.2)386998
Dance School, Modern, Latin, Folk
--------------------------------------------------------------------------------
Ms. Maria Sofokleous, Director
Private School of Dance Maria Sofokleous
Evagorou 3 CY-1000 Pera Chorio, Nicosia Cyprus
Tel. (357.2)526046
Dance School, classical ballet
-------------------------------------------------------------------------------
Kinisi Dance School
Nemesseos 16 CY-1035 Latsia Nicosia Cyprus
Tel. (357)2 349031
School
--------------------------------------------------------------------------------
Vaganova Ballet School and Olympic Gymnastics
Leandrou 6 CY-1036 Nicosia Cyprus
Tel. (357.2)439450
Dance School, classical ballet
--------------------------------------------------------------------------------
Greek College of Music
Leonidou 34-36 CY-1036 Nicosia Cyprus
Tel. (357.2)670404; Fax (357.02)665695
School, classical ballet
-------------------------------------------------------------------------------
Ms. Maria Morfitou-Papadimitriou
Salaminos 18, K'kli CY-1036 Nicosia Cyprus
Tel. (357.2)349076
School, classical ballet
--------------------------------------------------------------------------------
"Akrites" Dance School
Kadaras 30 CY-1037 Nicosia Cyprus
Tel. (357)2 345393
Dance School
--------------------------------------------------------------------------------
Rimvos Dance School
Digeni Akrita 15, ap. 102 CY-1055 Latsia, Nicosia
Tel. (357)2 348712,349286
christossharalambous@hotmail.com
Dance School
--------------------------------------------------------------------------------
Refugee Dance Group "Adoulotoi"
Stasinou 31 CY-1060 Latsia Cyprus
Tel. (357.2)439992
Folk dances, Cyprus & Greece
--------------------------------------------------------------------------------
Siakalli Dance School
Stasinou 31, ap. 10 CY-1060 Latsia Cyprus
Tel. (357.2)439992
Dance School, classical ballet
--------------------------------------------------------------------------------
Siakalli Dance School
Alkaiou 1, ap. 601 CY-1060 Nicosia Cyprus
Tel. (357.2)758391
School, classical ballet
--------------------------------------------------------------------------------
Mr. P. Herakleous
Cypriot Folklore Club "Herakles"
Bouboulinas 17 CY-1060 Nicosia Cyprus
Tel. (357.2)48893
Dance Group, folk, Greek-Cypriot, performing, amateur
--------------------------------------------------------------------------------
Mr. Mikis Siakallis
Refugee Folklore Club "Adouloti Kyreneia"
Stasinou 31 CY-1060 Nicosia Cyprus
Tel. (357.2)474.086, (357.2)473.365
Group, folk, Greek-Cypriot, performing, amateur
--------------------------------------------------------------------------------
Mr. G. Anastasiadis
Cypriot Dance Group "Vraka"
Griva Digeni 37 CY-1066 Nicosia
Tel. (357.2)661062
Dance Group, folk, Greek-Cypriot, performing, amateur
--------------------------------------------------------------------------------
Ms. Zoi Nikolaidou
La Danceteria Dance School
Chalkokondyli 5A CY-1071 Latsia, Nicosia
Tel. (357)2 377772
Dance School
--------------------------------------------------------------------------------
Latin Dancing
Avlonos 9G CY-1075 Nicosia Cyprus
Tel. (357)2 763081
Dance School, Latin Dance
--------------------------------------------------------------------------------
Ms. Avgi Papakyriakou
Motion Art Studio
Zenonos Sozou 40 CY-1075 Nicosia Cyprus
Tel. (357.2)768651
avgismotion@cytanet.com.cy
School for classical ballet (R.A.D.), modern, jazz and contemporary
--------------------------------------------------------------------------------
Ms. Sylvia Chatzigeorgiou
School of Recreational Dance
A. Araouzou 12D CY-1076 Nicosia
Tel. (357.2)374715
Dance School, classical ballet
--------------------------------------------------------------------------------
Mr. Kipros Kiprianou
Sousta Greek Dance Group
PO Box 4988 CY-1080 Nicosia Cyprus
Tel. (357.2)666935
Group, folk, Greek-Cypriot, performing, amateur
--------------------------------------------------------------------------------
Ms. L. Savvidi
Sousta Greek Dance Group
PO Box 4988 CY-1080 Nicosia Cyprus
Tel. (357.2)666935
Dance Group, folk, Greek-Cypriot, performing, amateur
--------------------------------------------------------------------------------
Mr. Christos Trachonitis, Secretary
Vraka Folkloric Organization
Griva Dhigeni 37 CY-1082 Nicosia Cyprus
Tel. (357)2 661062, 9 628281; Fax (357)2 668813
trachoni@spidernet.com.cy
Folk, Group
--------------------------------------------------------------------------------
Mr. Konstantinos Groutidis
Folk Dance Group "O Groutas"
Kasou 20, K51 Agioi Omologites CY-1086 Nicosia
Tel. (357.2)316646, 385388; Fax (357.2)316841
Researcher, teacher, Cypriot & Greek folk dances
--------------------------------------------------------------------------------
Mr. H. Haralambous
"I Rizes Mas" Dance Group
Evias 7, Anthoupoli CY-1087 Nicosia Cyprus
Tel. (357.2)441.142
Group, folk, Greek-Cypriot, performing, amateur
--------------------------------------------------------------------------------
Ms. Claire Andreou-Merchiant
Kassandras 2 CY-1100 Nicosia Cyprus
Tel. (357.2)774336
Dance School, classical ballet
--------------------------------------------------------------------------------
Music & Ballet Academy
Evanthous 16 CY-1101 Nicosia Cyprus
Tel. (357.2)772426
School, classical ballet
--------------------------------------------------------------------------------
Dance & Theatrical expression Workshop
Ilioupoleos 5A CY-1101 Nicosia
Tel. (357.2)781104
School, classical ballet
--------------------------------------------------------------------------------
Ms. M. Theodotou
"Ligeri" Dance Group
PO Box 5018 CY-1306 Nicosia Cyprus
Tel. (357.2)441.142
Dance Group, folk, Greek-Cypriot, performing, amateur
--------------------------------------------------------------------------------
Mr. G. Zachariadis
Ministry of Education and Culture, Development Department
Ministry of Educataion and Culture CY-1434 Nicosia Cyprus
Tel. (357.2)800840, 800841, 402303
Organizer
--------------------------------------------------------------------------------
"Alakati" Dance Group
PO Box 1251, Latsia CY-1505 Nicosia
Group, folk, Greek-Cypriot, performing, amateur
--------------------------------------------------------------------------------
Music & Ballet Academy
H. Papakyriakou 34 CY-2003 Strovolos, Nicosia Cyprus
Tel. (357.2)378830
School, classical ballet
--------------------------------------------------------------------------------
Michael's School of Dancing
A. Assioti 1 CY-2007 Strovolos, Nicosia Cyprus
Tel. (357)2 490444
Dance School
--------------------------------------------------------------------------------
Ms. Chloi Mitletton
Al. Constantinou 60 CY-2024 Strovolos, Nicosia Cyprus
Tel. (357.2)426065
School, classical ballet
--------------------------------------------------------------------------------
Vraxos Dance School
Konstantinoupoleos avenue 76A CY-2038 Strovolos, Nicosia
Tel. (357)2 321273, 321285
Dance School
--------------------------------------------------------------------------------
Braziliero School of Dance
Athinon 38A CY-2040 Strovolos, Nicosia Cyprus
Tel. (357.2)425753
School
--------------------------------------------------------------------------------
Ms. Dora Ypsilanti
Athinon 38A CY-2040 Strovolos, Nicosia
Tel. (357.2)425753
Dance School
--------------------------------------------------------------------------------
Siakalli Dance School
Serron 9A CY-2040 Strovolos, Nicosia Cyprus
Tel. (357.2)510311
School, classical ballet
--------------------------------------------------------------------------------
London School of Ballet
Salaminos 8A CY-2044 Strovolos, Nicosia Cyprus
Tel. (357.2)323611
School, classical ballet
--------------------------------------------------------------------------------
Repel Dancers
Strovilou 149 CY-2048 Strovolos, Nicosia Cyprus
Tel. (357)2 316137
Dance School
--------------------------------------------------------------------------------
Dancanto School of Dance
Komninou 27H, ap. 102 CY-2062 Strovolos, Nicosia
Tel. (357.2)315826
Dance School
-------------------------------------------------------------------------------
Refugee Association "Lapithos" & Neolea "Adouloti Kerinia"
Ag. Ioannou 7, 3940 Strovolos CY-2063 Nicosia
Tel. (357.2)456.464, Fax (357.2)36882
Group, folk, Greek-Cypriot, performing, amateur
--------------------------------------------------------------------------------
London School of Ballet
Imittou 2 CY-2113 Nicosia Cyprus
Tel. (357.2)332574
School, classical ballet
--------------------------------------------------------------------------------
Elxis Dance group
Kerynias 132 CY-2113 Nicosia Cyprus
Tel. (357.2)339783; Fax (357.02)339782
School, classical ballet
--------------------------------------------------------------------------------
Mr. Xenis Vattis
Vattis Art of Dance
Kerynias 132 CY-2113 Plati, Nicosia
Tel. (357.2)339783; Fax (357.2)339782
School, Ballet, modern, flamenco, jazz, choreography, tap dance, Greek folk
--------------------------------------------------------------------------------
Mr. Tryfonas Anastasiadis
Gypsou 4A CY-2114 Nicosia Cyprus
Tel. (357)2 336063
Dance School
-------------------------------------------------------------------------------
Folk Association "Akrites"
Latsion 1 CY-2200 Geri Cyprus
Tel. (357.2)484900; Fax (357.2)487501
Folk, Cyprus
--------------------------------------------------------------------------------
Mr. Nikos Herakleous
Dance Group Alasia
Athalassis 21 CY-2221 Latsia, Nicosia
Tel. (357.2)483685
Folk dance, Cyprus
--------------------------------------------------------------------------------
New Studio of Ballet
D. Loizou 7 CY-2224 Latsia, Nicosia Cyprus
Tel. (357.2)480373
School, classical ballet
--------------------------------------------------------------------------------
Mr. Christos Andreou
Eptanisou 24 CY-2302 Nicosia Cyprus
Tel. (357.2)383220
Dance School
--------------------------------------------------------------------------------
Mr. Stelios Mesimeris
Evoias 7 CY-2303 Nicosia Cyprus
Tel. (357)2 382233
Dance School
-------------------------------------------------------------------------------
Ms. Annita Hadjieftychiou
The Dance Studio
Kyriakou Matsi 5E CY-2373 Agios Dometios, Nicosia
Tel. (357.2)780876; Fax (357.02)780512
School, Ballet, modern, jazz
--------------------------------------------------------------------------------
Dance School "Oi Xoreftes"
Likabitou 16B CY-2401 Egomi, Nicosia Cyprus
Tel. (357)2 356494
School
--------------------------------------------------------------------------------
Mr. Christos Trachonitis
Smirnis 52 CY-2401 Engomi Cyprus
Tel. (357.2)453788, (357.9)628281; Fax (357.2)439500
trachoni@spidernet.com.cy
http://www.nasiatrachonitou.com
Folk, Group
--------------------------------------------------------------------------------
Mr. Stelios Mesimeris
25 Martiou 25A CY-2408 Egomi, Nicosia Cyprus
Tel. (357)2 356480
School
--------------------------------------------------------------------------------
Mr. Constantinos Groutidis
Bolero School of Dance
Strovolou 11B CY-2480 Tseri, Nicosia Cyprus
Tel. (357.2)385388 Fax (357.2)316841
Dance School
--------------------------------------------------------------------------------
Mr. Andronikos Groutas
Folklore Association "Paradosi"
Evropis 3 CY-2540 Dali, Nicosia Cyprus
Tel. (357.2)523.583; Fax (357.2)486.335
groutas@avacom.net
http://www.groutas.cjb.net
Association, Cyprus and Greek folk dances
--------------------------------------------------------------------------------
Ms. Florentia Kiprianou
Folklore Association of the University of Cyprus
Harilaou Mouskou 3 CY-2540 Dali, Nicosia Cyprus
florentiaK@hotmail.com
Association, dancer, Greek folk dances
--------------------------------------------------------------------------------
Dance School & Conservatory of Kallithea, Elioupolis
Tinou 2 CY-2548 Kallithea, Dali, Nicosia Cyprus
Tel. (357)2 489881
Dance School
--------------------------------------------------------------------------------
Mr. Mihail Pitsillides
"To Mantili" Folk Dance Group
2643 Ergates CY-2643 Nicosia Cyprus
Group, folk, Greek-Cypriot, performing, amateur
--------------------------------------------------------------------------------
Morphou Dance Group
Aghias Phylaxeos 122 CY-3000 Kapsalos, Limassol
Tel. (357.5)67067
Group, folk, Greek-Cypriot, performing, amateur
-------------------------------------------------------------------------------
E.D.O.N. Dance Group
Anexartissias 178 CY-3000 Limassol Cyprus
Tel. (357.5)53158
Group, folk, Greek-Cypriot, performing, amateur
--------------------------------------------------------------------------------
Ms. Chilia Charalampous
M. Kalomoiri CY-3000 Limassol Cyprus
Tel. (357)5378150
Dancing Club, School, Jazz, Modern, Fitness
--------------------------------------------------------------------------------
Mr. Michalis Loizos
S.E.K. Dance Group
PO Box 266 CY-3000 Limassol Cyprus
Tel. (357.5)51766
Dance Group, folk, Greek-Cypriot, performing, amateur
--------------------------------------------------------------------------------
P.E.O. Dance Group
Young Workers' Office, Box 151 CY-3000 Limassol
Group, folk, Greek-Cypriot, performing, amateur
--------------------------------------------------------------------------------
Rania Dance School
Egomis 16 CY-3010 Limassol Cyprus
Tel. (357.5)587343
School
--------------------------------------------------------------------------------
Ms. Sofi Georgiadou
Ouralion 1 CY-3010 Limassol Cyprus
Tel. (357.5)372951
School, classical ballet
-------------------------------------------------------------------------------
Ms. Zelia Georgiadou
Ouralion 1 CY-3010 Limassol Cyprus
Tel. (357.5)372951
School, classical ballet
--------------------------------------------------------------------------------
Ms. Sotiroula Zeniou
Dodekanissou 25 CY-3021 Limassol
Tel. (357.5)358104
School, classical ballet
--------------------------------------------------------------------------------
Ms. Foula Solomonidou
Dorieon 1 CY-3021 Limassol Cyprus
Tel. (357.5)361017
School, classical ballet
--------------------------------------------------------------------------------
Ms. Froso Chatzigeorgiou
Iparxou 6 CY-3027 Limassol Cyprus
Tel. (357.5)355156
School, classical ballet
--------------------------------------------------------------------------------
Ms. Maria Efstratiou
E. Papachristoforou 6 CY-3030 Limassol
Tel. (357.5)365628
Dance School, classical ballet
--------------------------------------------------------------------------------
Laographikos Omilos Lemessou (Limassol Folklore Group)
Euripidou 13 CY-3031 Limassol Cyprus
Tel. (357.5)365.076
Group, folk, Greek-Cypriot, performing, amateur
--------------------------------------------------------------------------------
Mr. Marios Sofroniou
International Folklore Festival Children
Euripidou 13 CY-3031 Limassol Cyprus
Tel. (357)5.365.076, Fax (357)5.368.390
Festival, folk
--------------------------------------------------------------------------------
Ms. Ioanna Spanou
Gladstonos 128 CY-3032 Limassol
Tel. (357.5)362633
School, classical ballet
--------------------------------------------------------------------------------
Ms. Ninetta Lambrou
Mitilinis CY-3048 Limassol Cyprus
Tel. (357.5)395050
School, classical ballet
--------------------------------------------------------------------------------
Mr. Spiros Kiprakou
Parthenon Dance Group
Psaron 3, Aghios Ioannis CY-3060 Limassol
Tel. (357.5)377.724, 390.649
Group, folk, Greek-Cypriot, performing, amateur
-------------------------------------------------------------------------------
Mr. Marinos Philippou
Sperchiou 29 CY-3060 Limassol Cyprus
Tel. (357)5367030
Dance School
--------------------------------------------------------------------------------
Mr. Akis Nettos
Dance School
Agias Sofias 102 CY-3066 Limassol
Tel. (357.5)334601
Dance School
--------------------------------------------------------------------------------
Ms. Myra Nikolaou
Achaias CY-3071 Limassol Cyprus
Tel. (357.5)384789
School, classical ballet
--------------------------------------------------------------------------------
Niki Ballet School
N. & D. Pattichi 34 CY-3071 Limassol
Tel. (357.5)334418
School, classical ballet
--------------------------------------------------------------------------------
Ms. Giola Irodotou
Spyrou Trikoupi 14 CY-3077 Limassol
Tel. (357.5)331180
Dance School
--------------------------------------------------------------------------------
Ms. Andri Liasi
Avgerinou 10B CY-3083 Limassol Cyprus
Tel. (357.5)337222
School, classical ballet
--------------------------------------------------------------------------------
Mr. Andreas Lanitis
"Dionysus" Dance Group
Tirteou 3 CY-3090 Limassol Cyprus
Tel. (357.5)341.113, 342.488
Group, folk, Greek-Cypriot, performing, amateur
--------------------------------------------------------------------------------
Ms. Natia Nikolaidou
G. Zalokosta 3A CY-3091 Limassol
Tel. (357.5)369644
School, classical ballet
--------------------------------------------------------------------------------
Ms. Stala Kikkidou
Narkissou 4 CY-3091 Limassol Cyprus
Tel. (357.5)722611
School, classical ballet
--------------------------------------------------------------------------------
Friends of Dance Association
Zalacosta & Simonidou CY-3091 Limassol Cyprus
Tel. (357.5)366.312, (357.5)369.644, Fax (357.5)343.678
dance@cyprus24.com
Dance Association
-------------------------------------------------------------------------------
Mr. Lambros Lambrou, Artitistic Director
Friends of Dance Cultural Association
Zalokosta 3A CY-3091 Limassol Cyprus
Tel. (357.5)366312; Fax (357.5)343678
lambroulambros@hotmail.com ; dance@cyprus24.com
http://www.cyprus24.com
choreographer, ballet, ballet teacher, coach, consultant
--------------------------------------------------------------------------------
Ms. Maria Mesi
Agias Irinis 8 CY-3095 Limassol Cyprus
Tel. (357.5)361692
School, classical ballet
--------------------------------------------------------------------------------
Ms. Nadina Mougiasi
Konstantinou Palaiologou 6, ap.3 CY-3095 Limassol
Tel. (357.5)342732
School, classical ballet
--------------------------------------------------------------------------------
Ms. Nadina Loizidou
Konstantinou Palaiologou 6, ap.4 CY-3095 Limassol
Tel. (357.5)370679
School, classical ballet
--------------------------------------------------------------------------------
Ms. Natasha Georgiou
Vryxellon 15 CY-3101 Limassol Cyprus
Tel. (357)5583343
Dance School
--------------------------------------------------------------------------------
Russian School of Classical Ballet Vania Vronti
Ipatias 16 CY-3105 Limassol Cyprus
Tel. (357.5)584459
School, classical ballet
--------------------------------------------------------------------------------
Ms. Stella Panagidou
Griva Digeni 30 CY-3106 Limassol
Tel. (357.5)586128
School, classical ballet
--------------------------------------------------------------------------------
Ms. Loula Theodosiou
G. Seferi 11A CY-3107 Limassol
Tel. (357.5)590066
School, classical ballet
-------------------------------------------------------------------------------
Niki Ballet School
Alois 10 CY-3110 Limassol Cyprus
Tel. (357.5)335991
School, classical ballet
--------------------------------------------------------------------------------
Ms. Olga Ioannou Galati
Mane 3 CY-3110 Limassol Cyprus
Tel. (357.5)384444
School, classical ballet
--------------------------------------------------------------------------------
Ms. Evi Chatzikyriakou
Garivaldi CY-3116 Limassol Cyprus
Tel. (357.5)732700
Dance School
--------------------------------------------------------------------------------
Mr. Panagidis
"Zindros" Dance Group
PO Box 3577 CY-3303 Limassol
Tel. (357.5)336.304
Group, folk, Greek-Cypriot, performing, amateur
--------------------------------------------------------------------------------
Mr. Marios Sofroniou
Limassol Folklore Association
Evagora Papachristoforou 8 CY-3485 Limassol Cyprus
Tel. (357.5)65076
Dance Group, folk, Greek-Cypriot, performing, amateur
--------------------------------------------------------------------------------
Ms. Clea Pitsillidou
Kosti Palama 102 CY-4002 M Gitonia, Limassol Cyprus
Tel. (357.5)726566
Dance School, classical ballet