.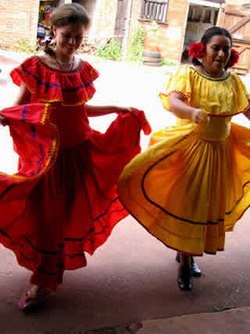 The Victor Romeo Theater, Rubén Darío National Theater, are just a few of the Nicaraguan dance companies, dance schools, dancing organizations and dance wear suppliers that that can be found in our comprehensive Directory of Nicaraguan Dance Companies.
Traditional Nicaraguan Dances

Baile del Zopilote - Vulture Dance
This dance, according to a folkloric expert, is very old and has already disappeared from the popular traditions. Currently the dance is only performed in professional dances. The dance represents the death and the burying of the 'vulture', which is a negative person characterized by this carrion bird.

Las Inditas
The dance is still performed in the traditional festivities in Masaya, and it represents the hard-working women in this town. Movements are slow and attractive, just like the traditional marimba dance. The dance is performed by either one or several dancers during traditional celebrations or during professional shows.

Mestizaje dance
This romance dance is gallant and sensual. The man dances with elegance next to neatly dressed woman, courting her with his movements while marimba music plays. This dance can be observed in presentations of folkloric dances by professional or amateur groups.

Los Agüizotes
This dance is performed every last Friday of October in Masaya, during the patronage celebrations honoring San Jerénimo. The dance is nowadays also starting to become implemented in the performance of professional dance presentations. The dance is performed with rhythmic movements related to the character, with festive music and gabble from the chicheros (musical group).
Featured Nicaraguan Dance Company
The Victor Romeo Theater or Theater "Victor Romeo", depending on how you prefer to say it, is located beside Managua's Las Palmas park, a lovely area which draws artistic types. You will find the theater of Victor Romeo inside the building belonging to the Association of Contemporary Dance. This excellent non-profit organzation devoted to contemporary dance in Nicaragua does much to promote the development of arts and culture in the country, for the benefit of all. The theater is carefully managed by this association.

Victor Romeo Theater is relatively small, especially when compared with the impressive Ruben Dario National Theater. Despite its only having capacity for an audience of 100, the Victor Romeo Theater still boasts a fine selection of performances. For the comfort of those attending performances, including dances, theater and music, there is air conditioning. The stage has good lighting and is equipped for special effects. Both local and foreign performers, professionals, amateurs and students have given wonderful performances in the Victor Romeo Theater and many audiences have gone away pleased with their money well spent.

The Association of Contemporary Dance is also responsible for a number of other projects. Held in the center is the School of Dance 'Expacio Abierto' for those who desire to become professional dancers and also for individuals interested in learning Latin dances. The Company of Contemporary Dance of Nicaragua, based here, has organized several presentations within and outside of the country. Between 14 October and 23 October the International Dancing Festival is hosted here. Also enjoyable is the Cultural Forum 'Art-Café', a bar which often holds concerts.
---
The Rubén Darío National Theater. Named for the famed Nicaraguan poet Rubén Darío, this theater is an important center for the performing arts including music, theater productions and the visual arts. Not only does the Rubén Darío Theater present fine performances, but it also houses an art exhibition of top sculptors and painters from around the country. Certainly, if you are looking for an evening of entertainment when in Managua, the Rubén Darío National Theater is the place to go.

If you would like your Nicaragua Dance Company, Dance Organization, Dance School featured here then please email bangkokcompanies@gmail.com
There are many fine dance schools in Nicaragua. I know I am in contact with them as we supply a range of high quality dancewear products like leotards, dance pants, dance dresses and other dancing apparel.
Bangkok Companies supplies an amazing range of dancewear from Thailand. I have looked at these dance garments and dance accessories in detail. There is only one word to describe them Superb. For more details click on the pictures or send an email to bangkokcompanies@gmail.com We regret at this time we can only satisfy Nicaragua wholesale dancewear requests.
"Dancewear designed by dancers for dancers"
| | | | | |
| --- | --- | --- | --- | --- |
| Dance Dresses | Kids Leotards | Adult Leotards | Dance Bras | |
| | | | | |
| | Dance Pants | Tutu's | Dance Shorts | |
| | | | | |
| Dancewear | Dancewear Organizers | Dance Bags | Dance Backpacks | |
| | | | | |
Bangkok Companies is a full service product sourcing company in Thailand. For All your dancewear needs please email bangkokcompanies@gmail.com with your requests.
---
Dance Schools in Nicaragua, Dancewear Suppliers, Dancing Organizations
Gloria Bacon
P.O. BOX 2575 MANAGUA Nicaragua
Tel. (505) 266.6738
Teacher, choreographer and dancer of modern dance Producer of International Modern Dance Festival in Nicaragua
--------------------------------------------------------------------------------
Aydee Palacios Vivas
Restaurante Aragon 10 cuadras al norte y/o NI-Managua, Reparto Linda Vista Nicaragua
Tel. (505)268.0559, Fax (505)222.2070
Company, folk, performing
--------------------------------------------------------------------------------
Alejandro Cuadra
Reparto San Antonio I-102 NI-Managua Nicaragua
Tel. (505)222.4040, Fax (505)222.2070
Company, folk, performing
--------------------------------------------------------------------------------
Blanca Guardado
Reparto San Antonio I-102 NI-Managua Nicaragua
Tel. (505)228.4181, Fax (505)222.2070
Company, folk, performing
--------------------------------------------------------------------------------
Nicaraguan National Commission for UNESCO
(Comision Nacional Nicaraguense de Cooperacion con la UNES
Ministerio de Educacion, Complejo Civico, Modulo "K", A NI- Managua Nicaragua
Tel. & Fax (505)265.03.42
National organization
--------------------------------------------------------------------------------
T. M. Scruggs
IA 52242 Iowa City U.S.A.
Tel. (1.319)335.1617; Fax 335.2637
Researcher, Nicaraguan music and dance
--------------------------------------------------------------------------------
Roberto Marenco
Apartado 3514 & 3269 NI-Managua Nicaragua