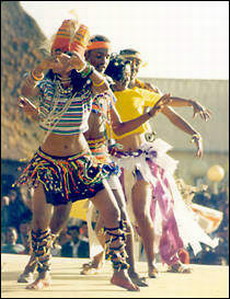 Mocha Ethiopia Dance Group, Ethiopian National Theatre, Beta Dance Group, are just a few of the Ethiopian dance companies, Ethiopian dance schools, dancing organizations and dance wear suppliers that that can be found in our comprehensive Directory of Ethiopian Dance Companies.
Traditional Ethiopian Dance
Ethiopia is the only independent country in Africa and one of the oldest country in the world. (over 3000 year history) Ethiopia has a very unique culture and variety of folk dance. Folk dance is one of the symbol of this unique culture. All Ethiopian people love dancing, and it is one part of their life.
Ethiopian dance is quite different from other African dance styles. It is based on sensuous and refined movement of the upper body, especially the shoulders and neck. This basis ripples into passionate and physically intense flow to the entire body creating a revitalizing spiritual experience…and an invigorating workout!

Dances of Abyssinia features three styles of celebration dances performed at various social gatherings in Ethiopia and Eritrea. The first part features the high-energy dance of the Gurage of Ethiopia, which also depicts women making Kocho, traditional food made from the insides of banana trees. Next is the Tigrigna dance from Eritrea & Ethiopia. This style is flowy and graceful, traditionally performed in two parts:- In the slow Kuda part, every one flows together in a circle while in the faster Dirib part, the emphasis is on dancing with isolations of the neck, shoulders and chest. The last part is Eskesta, the popular dance of Ethiopia from the Amhara people. It is a dance which also focuses on the upper body in a more relaxed form than the Tigrigna. Socially, all three styles emphasize community as well as individual interpretation
Ethiopian Dance Video
Featured Ethiopian Dance Company
Mocha Ethiopia Dance Group
Our aim is to serve as a bridge between the people of Japan and Ethiopia in order to strength their friendship by performing Ethiopian folk dance and promoting Ethiopian culture. Mocha Ethiopia Dance group promotes Ethiopian culture by participating many international exchange and friendship events held in Japan,
We practice the Ethiopian folk dance every Saturday in the Embassy of the Federal Democratic Republic of Ethiopia, Takanawa-dai, Minato-ku, Tokyo.

If you would like your Ethiopia Dance Company, Dance Organization, Dance School featured here then please email bangkokcompanies@gmail.com
There are many fine dance schools in Ethiopia. I know I am in contact with them as we supply a range of high quality dancewear products like leotards, dance pants, dance dresses and other dancing apparel.
Bangkok Companies supplies an amazing range of dancewear from Thailand. I have looked at these dance garments and dance accessories in detail. There is only one word to describe them Superb. For more details click on the pictures or send an email to bangkokcompanies@gmail.com We regret at this time we can only satisfy Ethiopia wholesale dancewear requests.
"Dancewear designed by dancers for dancers"
| | | | | |
| --- | --- | --- | --- | --- |
| Dance Dresses | Kids Leotards | Adult Leotards | Dance Bras | |
| | | | | |
| | Dance Pants | Tutu's | Dance Shorts | |
| | | | | |
| Dancewear | Dancewear Organizers | Dance Bags | Dance Backpacks | |
| | | | | |
Bangkok Companies is a full service product sourcing company in Thailand. For All your dancewear needs please email bangkokcompanies@gmail.com with your requests.
---
Dance Schools in Ethiopia, Dancewear Suppliers, Dancing Organizations
Abdu Negash
Ethiopian National Theatre
PO Box 13987 ET-Addis Abeba Ethiopia
Tel. (251)151.3468; Fax. (251)151.7454;
Ethiopian National Theatre
--------------------------------------------------------------------------------
Negash Abdu
PO Box 13987 ET-Addis Ababa Ethiopia
Tel. (251.1)51.34.68; Fax (251.1)517.454
Company
--------------------------------------------------------------------------------
Lakew Yirga
P.O.Box 1907 ET-Addis Ababa Ethiopia
--------------------------------------------------------------------------------
Anne Damon-Guillot
14 rue des catalpas FR-69400 Gleize France
0033474650716
56 bis, Avenue Alsace-Lorraine FR-42600 Montbrison France
Tel. 0677795477
PhD student in Ethnomusicology and teacher in Saint-Etienne university (Temporary Attache in Teaching and Research), studying the liturgical music and dance of the Ethiopian Christian Orthodox Church.
---------------------------------------------------------------------------------
Ethiopian National Commission for UNESCO
PO Box 2996 ET- Addis Ababa Ethiopia
Tel. (251.1)55.25.19; Fax (251.1)55.16.55
National organization
--------------------------------------------------------------------------------
Oromia Festival; Amhara Festival; Tirgray Festival
Ministry of Culture
PO Box 1907 ET-Addis Ababa Ethiopia
Festival, folk
--------------------------------------------------------------------------------
Aga Alemu
Box 5533 ET-Addis Ababa Ethiopia
Researcher, ICTM member
--------------------------------------------------------------------------------
Tesfaye Ayalew
PO Box 3547 ET-Addis Ababa Ethiopia Ph:
(251 1 2) 77 26 11, (251 1 5) 53 19 86 ; Mobile: (251 9 11 ) 23 16 47 ; Fax: (251 1) 50 19 41
Dance company
--------------------------------------------------------------------------------
Tibor Vadasi
Thokoly ut 91 HU-1146 Budapest Hungary
Tel. (36.1)2235169
Folk dance, Ethiopian Folk dance
--------------------------------------------------------------------------------
Erika Freund
PO Box 4420 YE-Taiz Yemen
Tel. & Fax 967 4/204 239
Researcher, Ethiopian dance; Akhdam minority (Yemen), music & dance
--------------------------------------------------------------------------------
Saba Alemayehu-Asfaw
1700 Eglinton Ave E, #809 M4A 2X4 Toronto, Ontario Canada
647.833.0752
www.nouvelexpose.com
Dancer, teacher, choreographer: Ethiopian (Eskesta, Oromo, Gurage, Wolayta, Tigrigna), Congolese Soukous N'Dombolo Coupe Decalle, Bellydance