.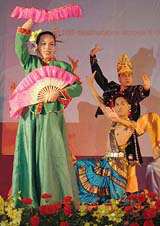 Sirocco Secrets Dance Troup, Kuala Lumpur Dance Theatre, Kuala Lumpur Performing Arts Centre, are just a few of the dance companies, Malaysian dance schools, dancing organizations and dance wear suppliers that that can be found in our comprehensive Directory of Malaysian Dance Companies.
Traditional Malaysian Dances
Mak Yong
Amongst the many different traditional theatres of the Malays, no other dance drama has a more captivating appeal than theMak Yong. This ancient classic court entertainment combining many romantic stories, operatic singing and humour.

Joget Dance
The Joget is the most popular traditional dance of Malaysia. It is a lively rendition with fast upbeat tempo and performed by couples who combine fast hand and leg movements. The Joget has its origins traced back to the Portuguese folk dance which was introduced to Malacca during the era of the spice trade.

Sumazau Dance
The Sumazau is the national dance of Sabah. Dancers comprising two rows of men and women, dance facing each other in a slow rhythmic movement, with hand gestures imitating the flight of birds. Candle Dance Dancers hold a small saucer to which a lighted candle is firmly stuck. With graceful body movements, dancers turn saucers upside down without allowing candles to be extinguished.

Kuda Kepang Dance
The Kuda Kepang dance is performed by nine dancers who are seated astride a two dimensional 'horse' made of hide. The dancers re-enact the early Islamic battles in enthusiastic gestures and vigorous action. This dance-drama is performed in accompaniment to a rich and exotic rendition of traditional music played with indigenous instruments such as gongs, tambourines and angklungs.

Chinese Opera
Seen on special Chinese festivals such as the Festival of Hungry Ghosts, actors in heavy make-up and elaborate costumes perform period dramas laced with songs backed by traditional music.

Datun Julud Dance
The Datun Julud is a popular dance of Sarawak. It symbolizes the happiness of a prince for being blessed with a grandson. It was from this divine blessing that the dance became widespread among the Kenyah tribe of Sarawak. The Sape, a musical instrument renders the dance beats which are often accompanied by singing and clapping of hands.

Classical Indian Dances
Classical Indian dances are traditionally performed in temples by devadasi (servants of God) because these dances are regarded as an offering to God, higher than offerings of donations, flowers or mantras (prayers).

Bharata Natyam Dance
One such temple dance is the Bharata Natyam which originated in South India in the 3rd century. Bharata Natyam has great religious significance. The traditional obeisance to God is always observed by the dancer before performing the dance.Bharata Natyam involves six stages in the performance which combine the elements of Nritta (pure dance) and Nritya (expressive dance). Nritta comprises basic dance units called Adavus. Each Adavus contains three elements-the standing position, the movement of legs and feet and the hand gestures. Music is based on ragas (tunes).

Bhangra Dance
The Bhangra Dance, is very much a feature of the Sikh community and has its roots in Punjab, India. A harvest dance, it incorporates dexterity of the dancers and a host of stunts. The Bhangra is a vibrant and colourful dance accompanied by a medley of folk songs and a musical instrument such as the drum tambourine and a musical clapper.

Featured Malaysian Dance Company
Sirocco Secrets Dance Troup
For women of all ages, regardless of shape or size, belly dancing – or Raks Sharki, as it is known in the Middle East – improves health and self-esteem! Every gesture sensuous, every movement womanly, belly dance is a joyous expression of the soul and a celebration of the body.
Known to be one of the oldest dance forms in the world, belly dancing has steadily been growing in popularity in recent times. Besides being a gentle form of exercise, it gives the dancer an outlet to express her creativity, to release the stresses of daily life, as well as to enhance her body's strength, flexibility and coordination!
Mysterious and exciting like the desert winds, the dancers of Sirocco Secrets will enchant you with their grace and energy.
Sherlyn - Our troupe director, instructor and mentor is known for her beautiful and very graceful movements. Sherlyn has been dancing since the tender age of 12 and was inspired to take up bellydance in 2003. She specialises in Raks Sharki (classical Egyptian dance) and modern fusion dance, and is a regularly featured performer in corporate shows, private parties and more. Sherlyn teaches Beginners', Intermediate and Advanced classical Egyptian belly dance, and is a popular workshop instructor and belly dance event organizer. She is currently Malaysia's best-known producer of workshops and shows featuring distinguished instructors from around the globe.


If you would like your Malaysia Dance Company, Dance Organization, Dance School featured here then please email bangkokcompanies@gmail.com
There are many fine dance schools in Malaysia. I know I am in contact with them as we supply a range of high quality dancewear products like leotards, dance pants, dance dresses and other dancing apparel.
Bangkok Companies supplies an amazing range of dancewear from Thailand. I have looked at these dance garments and dance accessories in detail. There is only one word to describe them Superb. For more details click on the pictures or send an email to bangkokcompanies@gmail.com We regret at this time we can only satisfy Malaysia wholesale dancewear requests.
"Dancewear designed by dancers for dancers"
| | | | | |
| --- | --- | --- | --- | --- |
| Dance Dresses | Kids Leotards | Adult Leotards | Dance Bras | |
| | | | | |
| | Dance Pants | Tutu's | Dance Shorts | |
| | | | | |
| Dancewear | Dancewear Organizers | Dance Bags | Dance Backpacks | |
| | | | | |
Bangkok Companies is a full service product sourcing company in Thailand. For All your dancewear needs please email bangkokcompanies@gmail.com with your requests.
---
Dance Schools in Malaysia, Dancewear Suppliers, Dancing Organizations
Judimar Hernandez De Monfils
166-2-1 Kiara Park, Jalan Burhanuddin Helmi My-60000 Wilayah Persekutuan Malaysia
(603)430.1034;Fax(603)430.1034;Mobile(603)133.30.0686
Dancer, dance teacher and choreographer, contemporary
--------------------------------------------------------------------------------
Lee Lee Lan
No 1-3 Rd 14/22, The Right Angle MY-46100 Petaling Jaya Malaysia
(603)795.734.13;Fax(603)795.702.26
--------------------------------------------------------------------------------
Kuala Lumpur Dance Theatre
Performing company of the Federal Academy of Ballet
My-50480 Kuala Lumpur Malaysia
Tel. (60)178.858.050
Dancer, Choreographer, contemporary, jazz, basic hip hop dance, ballet background. Some traditional Malay styles. Am currently involved with 2 French, 2 Chinese and another Malaysian in a contemporary style.
--------------------------------------------------------------------------------
Artis Penjuru Alam (APA)
158-4b Blok K, Flat Tun Razak, Jalan Tun Razak MY-54000 Kuala Lumpur Malaysia
Group for folk dance, song and music
--------------------------------------------------------------------------------
Aurora School of Dance
31, Jalan Ss18/1B MY 47500 Subang jaya Malaysia
Tel. +603 56343914, FAX +603 56343914
Dance theatre
--------------------------------------------------------------------------------
Behagian Kebudayaan, Kementerian Kebudayaan, Kesenian dan Pelancongan
Tingkat
34, Menam Dato' Onn, Jalan Tun Ismail MY-50694 Kuala Lumpur Malaysia
Organization for traditional dance, drama and music, sponsored by the Ministry of Culture
--------------------------------------------------------------------------------
Kuala Lumpur Dance Theatre
75 Jalan 14/29, Selangor Darul Ehsan MY-46100 Petaling Jaya Malaysia
Malaysian folk dance theater
--------------------------------------------------------------------------------
Ramli Ibrahim
12 Persiaran Titiwangsa 3 MY-53200 Kuala Lumpur Malaysia
T: 603 4021 1092, F: 603 4023 2548
www.sutradancetheatre.com
School
--------------------------------------------------------------------------------
Sherlyn Koh
Damansara Heights, Mount Kiara MY-TTDI, KL Malaysia
6012-3112277
www.sherlyndance.com
Malaysia Belly dance, Rak Sharki, Middle Eastern Dance
--------------------------------------------------------------------------------
Ellie Lai
47 Taman Sea, ss 23/15 MY-47400 Petaling Jaya Malaysia
Tel : +603-78045600
RAD ballet, professional dance course, classical Chinese dancing
--------------------------------------------------------------------------------
Karen Liew
1, Jalan 14/38e My-52100 Kuala Lumpur Malaysia
Tel. 006013 3088006
www.cdfm.org
Serve as a consultation center to educate, network and provide resources, training, encouragement, vision and fellowship in dance and other related movement arts.
--------------------------------------------------------------------------------
Chang Tsing Mew
12A Jalan 20/16A MY-46300 Petaling Jaya Malaysia
Tel. 603.787 787 06; Fax 603.787 787 06
www.mydancealliance.org www.rivergrass.com
Malaysian Chapter of World Dance Alliance. Performance, Workshop, Seminars. Contemporary, Traditional, Folk dancing
--------------------------------------------------------------------------------
Mohamed Ghouse Nasuruddin
No. 23 Jalan Pantai Jerjak 15 Sg. Nibong MY-11900 Penang, Malaysia
604.657.77.96
Dancer, Malaysian dances, choreographer, teacher, author
--------------------------------------------------------------------------------
Lawrence Ng
47-3-1, Medan Putra Biz Center MY-53200 Kuala Lumpur Malaysia
60362744153 Fax: 60341088833
www.mengkok.com
Acrobatic and traditional lion dance, luminous dragon dance
--------------------------------------------------------------------------------
Anis Mohd Nor
Lembah Pantai MY-50603 Kuala Lumpur Malaysia
Tel. (60.3)750 3458; Fax (60.3)759 3576
http://www.um.edu.my
Researcher, folk dance, Malay dance in SE'Asia; dances of Malayo-Polynesian societies in Asia-Pacific, Malay dance traditions in North Borneo and the Philippines
--------------------------------------------------------------------------------
Rosalina Ooi
1 Persiaran Kinta 32050 Ipoh, Perak Malaysia
6012 505 2192;605 255 8352
Promotion of Ballet, Dance and Performing Arts teaching.
--------------------------------------------------------------------------------
Gan Chih Pei
3B Lorong Kasawari 4A, Taman Eng Ann MY-41150 Klang Malaysia
Tel. (12)390 3242; Fax 03.33420396
Actively involves in choreographing, teaching, and dancing. Main background is Ballet (RAD, UK), and also contemporary. Graduated from University of Kansas, USA, Bachelor of Arts (Dance), and minor in
--------------------------------------------------------------------------------
Khavita Kaur Rendhawa
10-6-2, Tivoli Villas, Jalan Medang Tanduk MY-59100 Bukit Bandaraya, Kuala Lumpur
03-23002088; Fax: 03-20947584
North Indian Folk Dance & Indian Classical Dance
--------------------------------------------------------------------------------
Roobalavaniah Samy
100, No.37 Jalan 4/47 MY-46050 Petaling Jaya Malaysia
6 016 694 2087 ; 6 03 7781 9524 ; 6 012 2198478
Teacher, for Indian Classical Dance, Vocalist, Veena, string
--------------------------------------------------------------------------------
Choy Su-Ling
Bhd, Menara Star, 15, Jalan 16/11, Section 16 MY-46350 Petaling Jaya, Selangor Malaysia
00 603 7966 8388
http://break-a-leg.blogspot.com
Dance Criticism, Performing Arts Review
--------------------------------------------------------------------------------
Revathi Tamilselvam
12, Persiaran Titiwangsa 3 53200 Kuala Lumpur Malaysia
40211092/40229669, FAX 40232548
www.sutradancetheatre.com
principle dancer in this dance academy under the world renowed dancer, Ramli Ibrahim; classical dance, ie. Bharathanatyam and Oddissi.
--------------------------------------------------------------------------------
Celeste Theunissen
No. 24B Jalan Mamanda 4, Ampang Point MY-68000 Ampang, Selangor Malaysia
017-6016396
School, dance as a career, jazz dance as a performing art
--------------------------------------------------------------------------------
Weijun
Kuala Lumpur Performing Arts Centre
KLPACSentul Park, MY 51100 Kuala Lumpur Malaysia
0132082450
www.wjpowerhouse.com
POP CONTEMPORARY DANCE. choreography & music by WEIJUN danced by Eden Lim, Kiea KuanNam, Teresa Chian, Steve Goh,Loke Soh Kim and Weijun.
--------------------------------------------------------------------------------
Aida Redza
J.H Van den Broekstraat 32 NL- 3071 Rotterdam Netherlands
0031 0616202324
Malaysian dancer, Choreographer and Teacher. New dance Intervention and Reinvention rooted in Traditional Malaysian theatre forms.
--------------------------------------------------------------------------------
Aaron Khek - AHPY
117c Killiney Road SG-239554 Singapore
+65 9125 1670
AHPY is a Singapore-Malaysia based contemporary art collective founded by Khek Ah Hock Aaron, Hong Kong trained dancer/choreographer and Wong Thien Pau Ix, former dancer with the City Contemporary Dance
--------------------------------------------------------------------------------
Actors Studio Bangsar
285 Jalan. Maarof,Level 3,New Wing,Bangsar Centre MY-59000 Kuala Lumpur,
Bukit Bandar Raya Malaysia
Tel. 2094 0400/1400; Fax: ?2093 8400
Dance theater
--------------------------------------------------------------------------------
Actors Studio Sjoppe
Lot 10, Plaza Putra, Dataran Merdeka, Jalan Raja, MY-50050 Kuala Lumpur Malaysia
Tel. 2694 5400/2692 5927; Fax: ?2692 4505
School, Supplier, dance articles
--------------------------------------------------------------------------------
Akademi Seni Kebangsaan
33rd. Floor, Empire Tower, Jalan Tun Razak MY-50400 Kuala Lumpur Malaysia
03.2164.9180; Fax 03.2164.9186; 019-3991452
www.dancemalaysia.com
--------------------------------------------------------------------------------
Batu Dance Theatre
No.1, (3rd Fl), Persiaran Pegaga MY-41200 Klang, Selangor Malaysia
Tel. 03.3324 7568; Fax 03.3324 7569
www.batudt.com.my
Theater
--------------------------------------------------------------------------------
Choy Lee Futt Lion Dance Association
2 Jalan BK 3/1D, Bandar kiarara, Puchong MY-47100 Petaling Jaya Malaysia
Tel. 603.5768518; Fax 603.7934568
Organization
--------------------------------------------------------------------------------
Dance Society of Malaysia
26 Jalan Tanjong 5/4, Petaling Jaya MY-46000 Selangor Malaysia
Tel. 3 756 8945; Fax 3 457 0294
School
--------------------------------------------------------------------------------
Dua Space Dance Theatre
Mines Shopping Fair, MSF Box 228,
Jalan Dulang MY-43300 Seri Kembangan, Selangor D.E. Malaysia
Tel. (603)8943 8695 ;8943 8696; Fax (603)8943 8707
www.duaspace.com.my
Ensemble
--------------------------------------------------------------------------------
Kluang Modern Dance Studio
47 Jalan Intan 2/1, Taman Intan MY-86000 Kluang, Johor Malaysia
Tel. (07)7741948, Fax (07)7725061, (10)7261878
School, ballroom dancing
--------------------------------------------------------------------------------
MCA Melaka Dance Group
Wisma MCA, 32C, Jalan Hang Tuah MY-75300 Melaka Malaysia
Tel. 60.6.2839 988 / 2832; Fax 60.6.2846 363
Company
--------------------------------------------------------------------------------
Meng Kok Lion Dance Association
42-1-1, Jalan 4/62D Medan Putra MY-55100 Kuala Lumpur Malaysia
Tel. 603.637 1007; Fax 603.637 2729
Group, Lion Dance, Chinese dances
--------------------------------------------------------------------------------
My Dance Alliance
12A Jalan 20/16A MY-46300 Petaling Jaya Malaysia
Tel/Fax: 03 - 78778706
Organization
--------------------------------------------------------------------------------
MyDance Alliance
12A Jalan 20/16A MY-46300 Petaling Jaya Malaysia
Tel. & Fax 03 - 78778706
Organization
--------------------------------------------------------------------------------
Nanyang Wushu Federation of Sarawak Kuching
43 Jalan Pinhorn MY-11600 Penang Malaysia
Tel. (604) 282.9351; Fax (604) 633.8364
Group, Lion Dance, Chinese dances
--------------------------------------------------------------------------------
Negeri Sembilan Foundation Dancers
Jalan Yam Tuam MY-70000 Seremban Malaysia
Tel. 60.6.7628046; Fax 60.6.7631420
Company
--------------------------------------------------------------------------------
Pahang Cultural Dance Group
Lot 57100 Jalan Telok Sisek MY-25000 Kuantan Malaysia
Tel. 60.9.5555466; Fax 60.9.5552466
Company
--------------------------------------------------------------------------------
RiverGrass Dance Theatre
12, 1st Floor, Jalan 20 / 16A, MY-46300 Petaling Jaya, Selangor Malaysia
Tel. & Fax 03 . 787 787 06
http://rivergrass.com.my/home.html
Company
--------------------------------------------------------------------------------
Robert & Sweetie Dance Studio
9 Jln Dungun MY-11600 Penang Malaysia
School, ballroom & Latin American dancing
--------------------------------------------------------------------------------
Selendang Perak Dance Group
Pejabat Setiausaha Bahagian
Pentadbiran dan Kewangan MY-30000 Ipoh Malaysia
Tel. 60.5.5225160; Fax 60.5.2422403
Ensemble
--------------------------------------------------------------------------------
Tari Commonwealth Dance Festival
Ministry of Culture, Arts & Tourism
139 Jalan Ampang MY-50450 Kuala Lumpur Malaysia
Tel. (60.3)264.9180, Fax (60.3)264.9186
Festival, folk
--------------------------------------------------------------------------------
R. Chandramohan
11A Lorong Silibin, Taman Grand Silibin MY-30100 Ipoh, Perak Darul Ridzuan Malaysia
Tel. (60.5)5267237
School, tuition, performer, Indian dances, Kuchipudi
--------------------------------------------------------------------------------
Sook Fun Chen
26 Lintang Sungai Keramat 9B, Tmn Klang Utama MY-42100 Klang, Selangor Malaysia
Tel. 603.32903619
Teacher, ballet and Pilates for all ages, contemporary dancer
--------------------------------------------------------------------------------
Joseph Gonzales
139 Jalan Ampang; 33rd Floor Empire Tower, Jalan Tun Ra MY-50450 Kuala Lumpur Malaysia
Tel. (1.603)2164 9180; Fax (1.603)2164 9186
Traditional and western dance forms
--------------------------------------------------------------------------------
Jalan Low Ti Kok
MY-43000 Kajang Selangor Malaysia
Group, Lion Dance, Chinese dances
--------------------------------------------------------------------------------
Y. S. Lee
LE-18 LG, Pudu Plaza, Jalan Landak MY-55100 Kuala Lumpur Malaysia
Tel. & Fax (603)244.9088, (603)2456939, (010)6637277
School, ballroom & Latin American dancing, dancesport
--------------------------------------------------------------------------------
Zaridah Abdul Mallik
41 Jalan 1/1, Taman TAR MY-68000 Ampang, Kuala Lumpur. Malaysia
Tel. & Fax 603 42563757; 012 2886405
School, movements based on classical Malay court dance.
--------------------------------------------------------------------------------
Kayla Maxey
Kuala Lumpur Malaysia
Tel. 016 348 5019
A professional Flamenco dancer Kayla choreographs, teaches and performs. Kayla has been dancing flamenco for over 20 years and teaching for the last 3 years in Malaysia.
--------------------------------------------------------------------------------
Premalatha Murali
No 8, Bangsar Lucky Garden MY-59100 Kuala Lumpur Malaysia
Tel. 0122810189
wdamyd.com.my
Dancer , teacher and researcher of Indian classical dance, bharathanatyam
--------------------------------------------------------------------------------
Jiva Nagarasan
Johor bahru MY-81750 Malaysian Malaysia
Tel. 6072551322
Dancer and teacher in baratanatyam and odissi, classical malay dance
--------------------------------------------------------------------------------
Adeline Owi
Dance Street 88 MY-55100 Kuala Lumpur Malaysia
School, dance classes
--------------------------------------------------------------------------------
Siow Ho Phiew
90 Jalan 18A, SG Way, MY-47300 Petaling Jaya, Selangor Darul Ehsan Malaysia
Tel. 603.78762025; 603.78758745
Group, Lion Dance, Chinese dances
--------------------------------------------------------------------------------
Jalan Raja
Plaza Putra, Dataran Merdeka, Jalan Raja MY-50050 Kuala Lumpur Malaysia
http://www.theactorsstudio.com.my
Dance theater
--------------------------------------------------------------------------------
Ibrahim Ramli
12 Persiaran Titiwangsa 3 MY-53200 Kuala Lumpur Malaysia
Tel. (91.60.3)718.0972, (91.60)421.1092; Fax (91.60)719.6954
Dancer, guru, performer, Indian dance, Odissi
--------------------------------------------------------------------------------
Jiva Ravindran
BLKG#01-01 Mon Bisca APT, Permas 6/18, Permas Jaya MY-81750 Johor Bahru, Johor Malaysia
Dancer
--------------------------------------------------------------------------------
Dalilah Salleh
Jalan Selaman 1/2, Dataran Palma Off Jalan Ampang MY-68000 Ampang, Selangor Malaysia
Researcher, Malaysian dances
--------------------------------------------------------------------------------
H. P. Siow
22 Jalan Bulan U5/5, Bandar Pinggiran Subang, MY-40150 2 Shah Alam Selangor Malaysia
Tel. 60.3.7451239; Fax 60.3.7451229; 60.12.3346458
Group, Lion Dance, Chinese dances
--------------------------------------------------------------------------------
Kong Eu Ton
8, SS 24/12 Taman Megan Petaling Java MY-47301 Selangor Malaysia
Tel. (60)37048985
Dancer
--------------------------------------------------------------------------------
Cyn Dee Too
73 Taman Zaaba, Taman Tun MY-60000 Kuala Lumpur Malaysia
03.7728 1468; Mobile 012.2681770
Teacher, dancer, choreographer
--------------------------------------------------------------------------------
Lee Lee Lan
No 1-3 Rd 14/22, The Right Angle MY-46100 Petaling Jaya Malaysia
(603)795.734.13;Fax(603)795.702.26
--------------------------------------------------------------------------------
Kuala Lumpur Dance Theatre
performing company of the Federal Academy of Ballet
My-50480 Kuala Lumpur Malaysia
Tel. (60)178.858.050
Dancer, Choreographer, contemporary, jazz, basic hip hop dance, ballet background. Some traditional Malay styles. Am currently involved with 2 French
--------------------------------------------------------------------------------
Artis Penjuru Alam (APA)
158-4b Blok K, Flat Tun Razak, Jalan Tun Razak MY-54000 Kuala Lumpur Malaysia
Group for folk dance, song and music
--------------------------------------------------------------------------------
Kuala Lumpur Dance Theatre
75 Jalan 14/29, Selangor Darul Ehsan MY-46100 Petaling Jaya Malaysia
Malaysian folk dance theater
--------------------------------------------------------------------------------
Marguerite Brodie-Eu
Malaysia
www.tangomalaysia.com
A group of individuals passionately fond of Argentine Tango. This is a non-profit organisation that promotes Argentine Tango in Kuala Lumpur
--------------------------------------------------------------------------------
Gillian Chooi-Wan-LEE
54, Jln Datuk Sulaiman Satu, TTDI MY 60000 Kuala Lumpur Malaysia
Hip Hop, Freestyle Funk
--------------------------------------------------------------------------------
Ramli Ibrahim
12 Persiaran Titiwangsa 3 MY-53200 Kuala Lumpur Malaysia
T: 603 4021 1092, F: 603 4023 2548
www.sutradancetheatre.com
School
--------------------------------------------------------------------------------
Karen Liew
1, Jalan 14/38e My-52100 Kuala Lumpur Malaysia
Tel. 006013 3088006
www.cdfm.org
Serve as a consultation center to educate, network and provide resources, training, encouragement, vision and fellowship in dance and other related movement arts.
--------------------------------------------------------------------------------
Indira Manikam
9, Jalan Cumarasamy, Batu 3 1/2 Jalan Ipoh MY-51100 Kuala Lumpur Malaysia
bharatha natyam
--------------------------------------------------------------------------------
Lawrence Ng
47-3-1, Medan Putra Biz Center MY-53200 Kuala Lumpur Malaysia
60362744153 Fax: 60341088833
www.mengkok.com
Acrobatic and traditional lion dance, luminous dragon dance
--------------------------------------------------------------------------------
Anis Mohd Nor
Lembah Pantai MY-50603 Kuala Lumpur Malaysia
Tel. (60.3)750 3458; Fax (60.3)759 3576
http://www.um.edu.my
Researcher, folk dance, Malay dance in SE'Asia; dances of Malayo-Polynesian societies in Asia-Pacific, Malay dance traditions in North Borneo and the Philippines
--------------------------------------------------------------------------------
If you have a Malaysian Dance School, dance company or dancing organization in Kuala Lumpur, Selangor, Petaling Jaya or anywhere in Malaysia and would like to be featured in the Malaysia Dance section then please email bangkokcompanies@gmail.com