.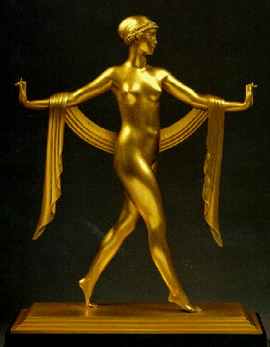 Niki Kontaxaki's Professional School of Dance, Greek National Opera, Seresta Dance Company, are just a few of the Greek dance companies, Greek dance schools, dancing organizations and dance wear suppliers that that can be found in our comprehensive Directory of Greek Dance Companies.
Traditional Greek Dance

Dance has played an important role in the life of Greeks all through their history. In the ancient Greek societies, dance was held in high regard. In fact, in his writings, Plato expresses his belief in the virtue of dancing, by saying that a man who can not dance is uneducated and unrefined. In the Byzantine times, despite the church guidelines, people were dancing in personal or public feasts. During the Turkish occupation, they continued to dance and they also created and passed down to us new dances praising the heroism of the fighters and their desire for independence and freedom, such as the dance of Zaloggos.

In Greece, today, traditional dances are still passed from generation to generation because people enjoy doing them and include them in their celebrations. There are some dances that are considered panhellenic, such as Kalamatianos and Tsamikos, and are known among all Greek communities in Greece and abroad. In addition, each region has preserved its own dances which are done in local feasts. Some of these not widely known local dances are at risk to become forgotten, but fortunately, there are systematic efforts of local organizations to encourage older people to pass their talent and knowledge to the youngsters.
Featured Greek Dance Company
Niki Kontaxaki's Professional School of Dance
Niki Kontaxakiís Professional Higher Private Dance School was established on 1978 and it is a foundation accredited and supervised by the Hellenic Ministry of Culture. The school runs daily morning and afternoon courses for professional and non professional students. Professional students are given the opportunity to study at the Higher Professional Departments of Dance Studies in order to become dance teachers or dancers. The studies at the professional level last 3years-full time and the enrolment at these courses is possible after entering exams on classical ballet, contemporary dance, improvisation and a written essay.

The school aims to develop the studentís dancing ability and to improve their sense about rhythm and about the harmony of movement.. Graduate students of the school are employed as successful dance teachers at dance schools and artistic foundation in Hellas or abroad, while others are active members in state or private dance companies within or out of Greece. The tutoring staff of the school is consisted of approved and experienced teachers. Thus, students are given the opportunity to participate in seminars and dance performances in order to width their knowledge and improve their artistic ability.

If you would like your Greece Dance Company, Dance Organization, Dance School featured here then please email bangkokcompanies@gmail.com
There are many fine dance schools in Greece. I know I am in contact with them as we supply a range of high quality dancewear products like leotards, dance pants, dance dresses and other dancing apparel.
Bangkok Companies supplies an amazing range of dancewear from Thailand. I have looked at these dance garments and dance accessories in detail. There is only one word to describe them Superb. For more details click on the pictures or send an email to bangkokcompanies@gmail.com We regret at this time we can only satisfy Greece wholesale dancewear requests.
"Dancewear designed by dancers for dancers"
| | | | | |
| --- | --- | --- | --- | --- |
| Dance Dresses | Kids Leotards | Adult Leotards | Dance Bras | |
| | | | | |
| | Dance Pants | Tutu's | Dance Shorts | |
| | | | | |
| Dancewear | Dancewear Organizers | Dance Bags | Dance Backpacks | |
| | | | | |
Bangkok Companies is a full service product sourcing company in Thailand. For All your dancewear needs please email bangkokcompanies@gmail.com with your requests.
---
Dance Schools in Greece, Dancewear Suppliers, Dancing Organizations
Niki Kontaxaki-Bakali
Niki Kontaxaki's Professional School of Dance
Ialemou 24, Ano Patissia GR-11142 Athens Greece
(30)210.293.2894; (30)210.291.1135; Fax (30)210.291.1135
www.kontaxaki.gr
Ballet Teacher
--------------------------------------------------------------------------------
Dance Studio Yannis Metsis
Saripolou 12 GR-10682 Athens Greece
Tel/Fax (30)210.821.2984
Dance school, classical ballet
--------------------------------------------------------------------------------
Nicoletta Bakali
Niki Kontaxaki's Professional School of Dance
Ialemou 24, Ano Patissia GR-11142 Athens Greece
Tel. (30)210.293.2894; Fax. (30)210.291.1135
www.kontaxaki.gr
Ballet, Dancer
--------------------------------------------------------------------------------
Alkinoi Kalargyrou
Artakis 103 GR-17124 Nea Smyrni, Athens Greece
(30)228.406.1403 Home; (30)697.697.5049 Mobile
Greek Folk Dancer, Jazz, Classical Ballet, Modern Dance, Latin Dance.
--------------------------------------------------------------------------------
Athanasia (Nancy) Kontonikou
Zoodohou Pigis 85-87, Exarchia GR-11473 Athens Greece
Tel. (30)210 382 7631; 69 3256 1866 m;
Researcher, dance teacher in all key stages and adults choreography, contemporary dance /ballet / stretching and body conditioning.
--------------------------------------------------------------------------------
Jason Michailidis
Otrineon 5 GR-11851 Thisio, Athens Greece
(30)210.347.2254 Office; (30)694.744.7926 Mobile
Dance Ballet
--------------------------------------------------------------------------------
Marina Touane
Garefi 11 GR-11525 Neo Pshihiko, Athens Greece
(30)210.692.5127 Office; (30)210.672.5098 Home
Dance teacher and director of Dance School in Athens; Teacher of Ballet and Dance; Graduate of the Royal Academy of Dance and member; Choreographer since 1985;
--------------------------------------------------------------------------------
Marianthi Marietta Vrettou
Aidiniou 35 GR-17122 Nea Smyrni, Athens Greece
Tel. (30)210 935 4629 h; 69 47 5120 45
Dancer, Teacher, MA in Dance, Ballet, Modern, Martha Graham Technique, Gyrotonic, Gyrokinesis, Pilates
--------------------------------------------------------------------------------
Anastasia Kapetaniou
Laertou 7 GR-11633 Pangrati, Athens Greece
(30)210.766.3074 Home; (30)693.245.4388 Mobile; Fax 210.724.1165 Office
Dance Teacher, Dancer, Ballet
--------------------------------------------------------------------------------
Georgia Mike
Eirinis 39 GR-16452 Argyroupoli, Athens Greece
(30)210.992.4255 Home; (30)210.961.1491 Office; (30)694.426.5737 Mobile;
(30)210.961.1491 fax;
Greek Folk Dance Teacher, Ballet
--------------------------------------------------------------------------------
Magia Sofou
Riga Fereou 14 GR-15122 Marousi, Athens
Greece (30)210.813.4162 Home, Fax (30)210.813.3866; (30)210.722.5011 Office
Choreographer, Dance Teacher, Ballet
--------------------------------------------------------------------------------
Arroyo
Karpenisiotou 62 GR-11524 Athens, Attica Greece
Tel. (30) 210. 6998. 603
Dance School, Ballet
--------------------------------------------------------------------------------
Chorokinisi
Afroditis 39 GR-17561 Palaio Faliro, Athens Greece
Tel. 210. 9849. 829; 210. 9852. 666
dance school, modern & ballet
--------------------------------------------------------------------------------
Christina Soumi
Zaimi 21 GR-17562 Palaio Faliro, Athens Greece
Tel. 210. 9819. 186
dance school, ballet
--------------------------------------------------------------------------------
Dance School Andritsopoulou - Pappa Viki
Pratinou 38 GR-11634 Athens , Attica Greece
Tel. (30) 210. 7230.098
Dance School, Ballet
--------------------------------------------------------------------------------
Dance School Ioannidou Germanou Maria
Komninon 57 GR-11473 Athens, Attica Greece
210. 641. 1401
Dance School, Ballet
-------------------------------------------------------------------------------
Dance School Kinisis
Matrozou 21 GR-11741 Athens - Attica Greece
Tel. (30) 210. 923. 5010
Dance School, Ballet
--------------------------------------------------------------------------------
Dance School Libertango
Dimitrakopoulou 106 GR- Koukaki, Athens Greece
(30)210.921.4404 Office; (30)694.497.2723 Mobile
www.libertango.gr
Dance School, Tango Argentino, Latin, Brazilian Samba, Rock n'Roll, Modern Jazz, Belly Dance, Flamenco, Classic Ballet, tai chi - pilates, Greek Dances.
--------------------------------------------------------------------------------
Dance School Manou Vasia
Lagoumitzi 68 GR-11744 Athens, Attica Greece
Tel. (30) 210. 902. 1411
dance school, ballet
--------------------------------------------------------------------------------
Dance School Nikolaki Evagelia
Dirrachiou 70 GR-10443 Athens, Attica Greece
Tel. (30) 210. 512. 7230
dance school, ballet
--------------------------------------------------------------------------------
Dance School Quick Step
Pratinou 7 GR-11634 Athens, Attica Greece
Tel. (30) 210. 722. 2340
Dance School, Ballet
--------------------------------------------------------------------------------
Dance School Savrami Katia
Ithakis 43 GR-11257 Athens, Attica Greece
Tel. (30) 210. 865. 5428
dance school, ballet
--------------------------------------------------------------------------------
Dance School Sidirourgou Anastasia
Dimitriou An. 51 GR-14234 Kalogreza, Athens Greece
Tel. (30) 210. 279.9395; (30)210.652.4272 FAX
Dance School: classical ballet, modern dance, jazz, character dance, pilates
--------------------------------------------------------------------------------
Greek National Opera
Charilaou Trikoupi 18A, GR-10679 Athens Greece
Tel (30)210.361.4433 (Central number); (30)210.3411700 (for the Ballet); (30)210.3426311 Fax
-------------------------------------------------------------------------------
Konstas Dance
2 Nikis Street, Syntagma GR-10563, Athens Greece
(30)210.323.6642
Supplier, Ballet Articles
--------------------------------------------------------------------------------
Seresta Dance Company
Ierotheou 7A GR-10437 Athens, Attica Greece
Tel. (30) 210. 522. 6359
dance school, ballet
--------------------------------------------------------------------------------
Seresta Dance Company
Ierotheou 7a, Plaka GR-10437 Athens Greece
Tel. 210.52.26.359; 6974.75.91.84 (m); Fax 210.52.29.871
Dance Company and School: Maria Fay's Floor Barre, Ballet, Flamenco, Latin, African Dance, Tai-Chi. Tango Argentina, Tap, Children courses, Jazz, Modern Dance, Callenetics, Belly Dance.
--------------------------------------------------------------------------------
Maria Angelou
Amynandrou 25 GR-11741 Athens Greece
(30)210.923.4345 Office; 210.3428583; (30)693.219.5393 Mobile; 6976.895382 Mobile2
Dance School, Choreographer, School, ballet, modern dance tuition
--------------------------------------------------------------------------------
Yannis Bagourdis
S. Schliemann 40 GR-11526 Athens Greece
(30)210.692.3335 Office; (30)697.735.6285 Mobile; (30)210.923.6927 Home; (30)210.961.6095
Dance School, Choreographer, ballet, modern dance tuition
--------------------------------------------------------------------------------
Phoebe Dafnomili
Aspropotamou 9 GR-17342 Agios Dimitrios, Athens Greece
Tel (30)210.994.3234 hm; (30)694.859.3580 Mb
RAD RTS classical ballet teacher, movement classes for nursery schools, choreographies for summer performances, contemporary dancer-performer, Pilates trainer, personal trainer
--------------------------------------------------------------------------------
Loula Daskalou
29 Mirivili Street GR-16673 Voula, Athens Greece
Tel: 210-8990946 Mobile: 6944205610
Ballet, modern and jazz teaching, improvisation and choreography coaching
--------------------------------------------------------------------------------
Eva Golfi
Vasileiou Laskou 17 GR-11633 Pangrati, Athens Greece
Tel (30)210.7668915; (30)6947499686
Ballet Dance, Musician, Greek Dances
--------------------------------------------------------------------------------
Maro Grigoriou
25-27 Mikinon str. GR-17673 kallithea, Athens Greece
Tel. (30)210.68.43.284; Fax. 210.6893583; Mobile 6944.414508
Dance School, ballet, modern dance tuition
--------------------------------------------------------------------------------
Dorina Kalethrianou
Aigaiou 58 GR-17123 Nea Smirni, Athens Greece
Tel/Fax (30)210.933.8991 Office; (30)210.93.10.979 Office; (30)697.201.7423 Mobile
Dance School, Choreographer, ballet, modern dance tuition, Dance performances
--------------------------------------------------------------------------------
Athena Kotsi
Athanasiou Politi 1 GR-Corfu Greece
Tel: 2661047169 Mobile: 6942424995
Classical Ballet, Tap, Modern, Jazz, Majorettes
--------------------------------------------------------------------------------
Mary Lada
Aristeidou 5 GR-13122 Ilion, Athens Greece
+30 210 2626814
www.marylada.gr
ballet school, rhythmic, modern dance, character, ethnic dances, jazz , R.A.D dance center
--------------------------------------------------------------------------------
Sonia Morianova-Thalassidou
Saradaporou 2 GR-14561 Kifisia, Athens Greece
Tel. 210.807.9184, 210.807.0262, Fax.210.807.0262
www.morianova.com
Dance School; Ballet, modern dance, contemporary, character, pilates, gymnastic
--------------------------------------------------------------------------------
Michalis Nalbantis
6 Asklepiou Street GR-10679 Athens Greece
(30)210.361.4221; (30)697.438.0473; (30)210.653.7049; Fax (30)210.653.7049
School, ballet, modern dance tuition
--------------------------------------------------------------------------------
Persa Stamatopoulou
Sp. Merkouri 56 GR-11634 Pangrati, Athens Greece
(30)210.724.9276 Office; (30)693.704.9932 Mobile
Dance School, Choreographer, ballet, modern dance tuition
--------------------------------------------------------------------------------
Steriani Tsintziloni
Sevastias 38 GR-15771 Zografou, Athens Greece
Tel. & Fax 301 7488170; 30944 415170
Teacher, classical ballet
--------------------------------------------------------------------------------
Maria Tsouvala
121 Solonos str. GR-10678 Athens Greece
Tel. (30)210.3803189
Dance School, ballet, modern dance tuition
--------------------------------------------------------------------------------
Marianna Vasilatou
Leoforos Karea 84 GR-16233 Vyronas, Athens Greece
(30)210.765.2653; Fax (30)210.823.3791; (30)697.482.6587 Mobile
www.danceway.gr
Children, Adult Classes in R.A.D. Ballet, I.S.T.D. Modern, Pilates Matwork & full equipment, Contemporary Dance
--------------------------------------------------------------------------------
Paulina Veremi
55 Omirou Street Gr-10672 Athens Greece
Tel. (30)210.3612263; Fax (30)210.3624357; 6937267396 Mb
School, ballet, modern dance tuition
--------------------------------------------------------------------------------
Catherina Voulgari
Amphiktionos 8 GR-11851 Athens Greece
Tel. (30)210.92.36.927; 96.16.095; 34.51.611; Tel: 2109341331 Mobile: 6973591053
School, ballet, modern dance tuition
--------------------------------------------------------------------------------
Niki Kontaxaki" Modern and Classic Ballet School
24 Ialemou street GR-11142 Ano Patissia, Athens Greece
(30)210.293.2894; (30)210.291.1135; Tel/Fax (30)210.292.1744
www.kontaxaki.gr
Dance School, ballet, modern dance tuition
--------------------------------------------------------------------------------
Ballet of the Greek National Opera
199 Peiraios & 68 Alkminis Street GR-11853 Athens Greece
Tel. (30)210.34.66.438; Fax (30)210.34.66.412
Dance School, ballet, modern dance tuition
--------------------------------------------------------------------------------
Morianova-Trasta Ballet School
Sarantaporou 2 & Tatoiou 64 GR-14561 Kifissia, Athens Greece
Tel. (30)2108079184; (30) 2108070262
www.morianova.com
School, classical Ballet classes
--------------------------------------------------------------------------------
Andreas Papageorgiou "Peris
5 Ardittou Street GR-11636 Athens Greece
Tel. & Fax (30)210.923.2956; Fax 010.7621233
School, ballet, modern dance tuition
--------------------------------------------------------------------------------
Carol Hanis
Salaminos 7 GR-17455 Kalamaki, Athens Greece
Tel. (30)210.981.6310; (30.945)26.7100
Teacher, classical ballet, School, dance tuition
--------------------------------------------------------------------------------
Lucy Hanis-Rattman
Solonos 40 GR-17455 Kalamaki, Athens Greece
Tel. (30)210.988.5371
Teacher, classical ballet
--------------------------------------------------------------------------------
Susan Kastrinoyannaiki-Graham
Solonos 40 GR-17455 Kalamaki, Athens Greece
Tel. (30)210.988.5371
Teacher, classical ballet
--------------------------------------------------------------------------------
Spiros Mantzarlis
Anthrakorichon 14 GR-14235 Athens Greece (30)210.2792376
School, classical, ballet
--------------------------------------------------------------------------------
Maria Micha
Solonos 40 GR-17455 Kalamaki, Athens Greece
Tel. (30)210.988.5371
Teacher, classical ballet
--------------------------------------------------------------------------------
Demetris Papaioannou
Parnassou 2 GR-10561 Athens Greece
Tel. (30)210.321 5465; Fax (30)210.321 5465
Dance School, ballet, modern dance tuition
--------------------------------------------------------------------------------
Isidoros Sideris
2 Laskareos Street GR-11471 Athens Greece
Tel. (30)210.64.69.634; Fax (30)210.64.58.947
Dance School, ballet, modern dance tuition
--------------------------------------------------------------------------------
Xanthippi Leovari
Skiathou 36 GR11254 Athens Greece
(30)210-2281589; 6945889502
--------------------------------------------------------------------------------
Mary Tsouti
25A Voukourestiou Street GR-10671 Athens Greece
Tel. (30)210.36.47.373; 92.36.992; Fax (30).36.47.373; Mobile 6972.377.041
Dance School, ballet, modern dance tuition